Like many urbanites, Pippa Ehrlich had lost her connection with the ocean. Meeting and diving with Craig Foster, the 'octopus whisperer' featured in Blue Planet II, set her on a path of reconnection and opened her eyes to things she never imagined possible.
Words and photographs by
Pippa Ehrlich
Additional photography by
Craig Foster
Words and photographs by
Pippa Ehrlich
This story begins with a tiny shark. I was waist deep in 15 ̊C water when I saw it – a miniature creature swimming close to the surface with a beautiful serpentine pattern running down its back. I had been diving along this coastline for more than five years, but I had never seen a shark as small as this one. I stood frozen as it swam towards me, then, without thinking, I spread my hands and submerged them in the water. The shark pup swam right into them. I was bewildered.
Shysharks are benthic animals, generally sticking close to the ocean floor. What possessed such a tiny, vulnerable animal to swim up the water column into the hands of a land-dwelling giant like me? I shouted to get the attention of my diving companions.
This was my first dive with Craig Foster. I first heard of Craig when I was much younger. He and his brother Damon, made waves in the documentary film world with The Great Dance, a film that gave viewers a glimpse of life and nature through the eyes of the San Bushmen. More recently Craig gave up his career as an award-winning filmmaker to become a naturalist – a modern-day shaman of the ocean wilderness that laps at the shores of Cape Town's urban jungle.
In late 2014 a friend showed me images from his dives with Craig. At that time, I had a job as a journalist for a shark conservation and research organisation and I begged for a diving invitation. Two months later, I found myself holding a week-old shark that had swum into my hands – a seminal moment for a shark journalist.
We spent the rest of that morning diving without wetsuits in the cold waters of the kelp forest. I knew this environment well, but on that day I felt like I had slipped into a new dimension – the mythical 'Golden Forest', as Craig calls it. I watched Craig lift a sleeping catshark and cradle it at the surface. We followed trails in the sand leading to almost invisible sea slugs. I gently held a huge octopus as it suctioned onto my leg. I was conflicted about our contact with these wild creatures; as a science journalist this new way of interacting with nature went against everything I believed, but these gentle exchanges gave me a deep sense of connection that I had not anticipated. I left Craig's house that afternoon feeling calm and alive, but with a headful of questions. It would be more than two years before I found answers.
Additional photography by
Craig Foster
Continue reading...
To continue reading this article – and enjoy full digital access across Oceanographic – sign up to Ocean Hub today! More info below…
Keep reading by signing up for an Ocean Hub subscription
Ocean Hub. More than a magazine subscription.
As well the delivery of all new editions, members unlock access to exclusive products, services and discounts, as well as EVERY digital back issue we have published.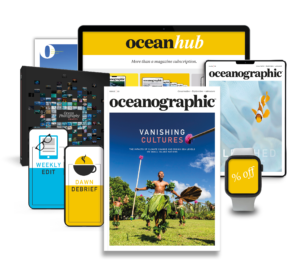 Find out more

about Ocean Hub subscription
Shop window
current issue
Back Issues
Enjoy so much more from Oceanographic Magazine by becoming a subscriber.
A range of subscription options are available.
Sea stories
Beautiful ocean stories straight to your inbox.
Join our community.