Adventure
Behind the lens: Nadia Aly
Behind the Lens places a spotlight on the world's foremost ocean photographers. Each edition focusses on the work of an individual who continues to shape public opinion through powerful imagery and compelling storytelling.
Interview by
Oceanographic Magazine
Interview by
Oceanographic Magazine
Award-winning wildlife photographer, tour guide and founder of Scuba Diver Life, and Ocean Photographer of the Year 2020.
Nadia Aly is a renowned photographer, tour leader and storyteller who has spent recent years shining a light on marine species in desperate need of protection. Her work has been recognised on a number of occasions, including being honoured in the Underwater Photographer of the Year competition and the Sony World Photo Awards.
OCEANOGRAPHIC MAGAZINE (OM): WHEN DID YOU FIRST CONNECT WITH THE OCEAN?
NADIA ALY (NA): I started diving when I was 12 years old, so that was when I really felt that initial connection. When I was younger my parents would ask other families to take me snorkelling on vacations, because they don't actually swim. I didn't really get into scuba diving until 2010, and that was when I went on a diving trip to Fiji through the tourism board. I started Scuba Diver Life immediately after I came home. I thought, this is amazing, the ocean is amazing.
OM: HOW DID YOU CONNECT THE DOTS BETWEEN YOUR PASSION FOR PHOTOGRAPHY AND YOUR PASSION FOR THE OCEAN?
NA: My interest in photography started very young, when I was perhaps seven or eight years old. When I was in high school I got really into digital media, then I went to University in Victoria and I did my undergrad in Photography, so I was in the dark room a lot developing photos. After I did my Masters in Digital Media, I went and worked for Microsoft, Google, and then at Padi headquarters, so I was more into the digital space. It was really after I started Scuba Diver Life that I realised I just needed to make some really great content.
I bought an underwater camera and I sucked at it for a long time. I started with a proper set up in 2012, before that I was using point-and-shoots and Go Pros. I bought my first real rig at the end of 2011. I spent all my money – seriously, all the money I had. It must have been $18,000 at the time. I had no idea what I was doing and my on first trip to Bonaire, all my photos were literally black, I was so frustrated. I was on a trip with Backscatter and they were so good at helping me but I just couldn't figure it out for the first five days. But then it just started coming together. I then went on a ten month extended trip around the world and I just kept at it.
OM: DO YOU FEEL A RESPONSIBILITY TO SHARE YOUR EARLY STAGES OF LEARNING WITH THE UNDERWATER PHOTOGRAPHY COMMUNITY AND THOSE STARTING OUT?
NA: I want to help. People ask me every day about the camera and equipment I use. Since the COVID-19 pandemic has cancelled a lot of tourism and expeditions, I've take the time to put together some training videos. I would love to help more underwater photographers. I think the more photographers there are underwater, the more stories will be told, so that's going to be better for the ocean.
OM: WHAT ROLE DO YOU THINK PHOTOGRAPHY AND UNDERWATER FILM ARE PLAYING IN THE CONVERSATION AROUND GLOBAL WARMING AND HOW THAT'S IMPACTING THE OCEAN?
NA: It's important to have ocean storytellers because the ocean is such an out of sight, out of mind mentality for 90% of the global population. It's important to use tools to bring these stories back into people's minds and to show them what goes on beneath the surface. Like, this is a hairy frogfish, this is a creature that exists in our world. A lot of people know about gorillas and elephants and giraffes, and I feel like marine animals don't have as well-circulated a story. So, the more people that can capture them and share their stories, then more people will start to care for the ocean. We bring back this huge form of education and awareness to people that they didn't have before.
OM: YOU'VE DESCRIBED YOURSELF AS A WHALE ADDICT IN THE PAST – IS THERE SOMETHING PARTICULARLY ADDICTIVE ABOUT CONNECTING WITH MARINE LIFE ONE-ON-ONE?
NA: Connecting with any type of marine life is really special. It's almost like being on another planet; you're in their world, underwater with a limited air supply, trying to interact with these animals. Whales are so aware and it's so clear that there is some sort of intelligence there. It's not like when a seal lion is playing with you. When you're into your second hour of an encounter with a humpback whale that is dancing around you, looking you in the eye and being gentle, it almost leaves you speechless because you're just blown away by the special moment you are having with a 40 tonne animal.
OM: HOW DO YOU FEEL WHEN YOU'RE SHOOTING UNDERWATER?
NA: I can't be underwater without a camera because I need to have that distraction. But I feel very relaxed, almost in a meditative state. I'm in my element, in this state of mind where I'm living my passion, where I am feeding the fuel to my passion and my life's purpose. What I love most about it is problem solving. I think that's why I love photography so much. A great example was when there was this turtle inside a wreck in the Bahamas, and they let me go inside first. The light was terrible and I had to figure out how to get the shot before the two turtles left the wreck. I really like that aspect of problem solving in an effort to try and capture that moment in the best way that I can. When you're underwater, time is really of the essence.
OM: YOU'VE BEEN SHOOTING THE UNDERWATER WORLD FOR OVER A DECADE NOW, HOW HAS THE OCEAN ENVIRONMENT CHANGED FOR YOU PERSONALLY?
NA: There are different areas of the world that I see destroyed. For instance I was in Cairns in Australia doing a tourism shoot and I had to tell the tourism board that we couldn't do anything on the reef because it was just rubble. I said: "This is not something you can promote, people should not be coming here." It looked like the whole entire reef had been bombed. I do see dead reefs around the world, I do experience an increase in ocean temperature. I spend a lot of time in Tonga and I see that when the temperature increases even slightly, maybe half a degree centigrade, it brings in a lot more jellyfish. It really disturbs the water and makes it hard for people to swim. And so that's concerning to me – just that slight shift in ocean temperature can bring in a whole different sleuth of marine life and potential problems. Obviously when I'm in Asia, it's very rare to see a shark. There are things like that where I see the depletion of the reefs, I see the effect on ocean temperatures, I see different marine life.
There's also the other side of that where people are planting corals and restoring reefs, sharks are being protected – slowly but surely. But there are still things that bother me. For example, here in the Bahamas the hammerhead population is less than 30. There's a whole tourism industry run off 28 sharks. But if you go over to Florida and New York, they fish out the sharks. The same sharks that are here, when they leave here, they go to Florida, they go to New York, and it's legal to shark fish there. It's so messed up.
OM: DO YOU THINK PEOPLE ARE DISCONNECTED FROM NATURE AND THE WAY MIGRATORY SPECIES WORK?
NA: There are so many people who love the outdoors, who love exploring and who love travel. I think there is a disconnect for sure. There are some very affluent people who love nature but also love sport fishing, and I just don't understand it. They justify it with 'catch and release', but realistically that marlin, that shark is going to die. I was out in Baja California with Jay Clue and Shawn Heinrichs and there were just no marlins around because of all the trawlers. They had trawled so much that there were dead turtles just floating in the water. Over the week I must have seen around 200. They get caught in the nets, and then they bring up these nets and then toss the turtles back off and then they inflate with gas. It was terrible to see. That's also the first place I saw a dead blue on a shark line.
It is hard to generalise what people are because on one hand you have the extreme conservationists who don't eat any animals at all, but at the other end of the chart, there are those who trophy hunt lions. There are just so many different types of mindset out there and I think that's what's scary is that there are not enough people that care. The last administration in the United States had a terrible outlook towards the environment and now the current government is trying to backtrack those changes. What are the impacts that have been made on our environment? How are we going to move forward? You're dealing with different cultures; you're dealing with different mindsets from around the world. China, for example, has made great steps towards improving it's environment, but still heads out into global waters to decimate fish populations. Are there going to be enough people who care and want to make change? Where are we going to be in 20 years? Are we going to have any fish left in the ocean? Is the ocean going to be warmer? Are we going to be able to scuba dive in 20 years? Because there's going to be so many jellyfish and sea lice in the ocean that it's just going to be too cumbersome and painful to go in? There are so many ifs. Are the shark populations going to be decimated? Are we going to have so many pelagic animals left in our oceans that they're going to completely throw off the whole entire ecosystem of the oceans? It's going to be too late, once we find out, it's going to be too late to recover an ecosystem that's been pushed towards this over 40 to 50 years.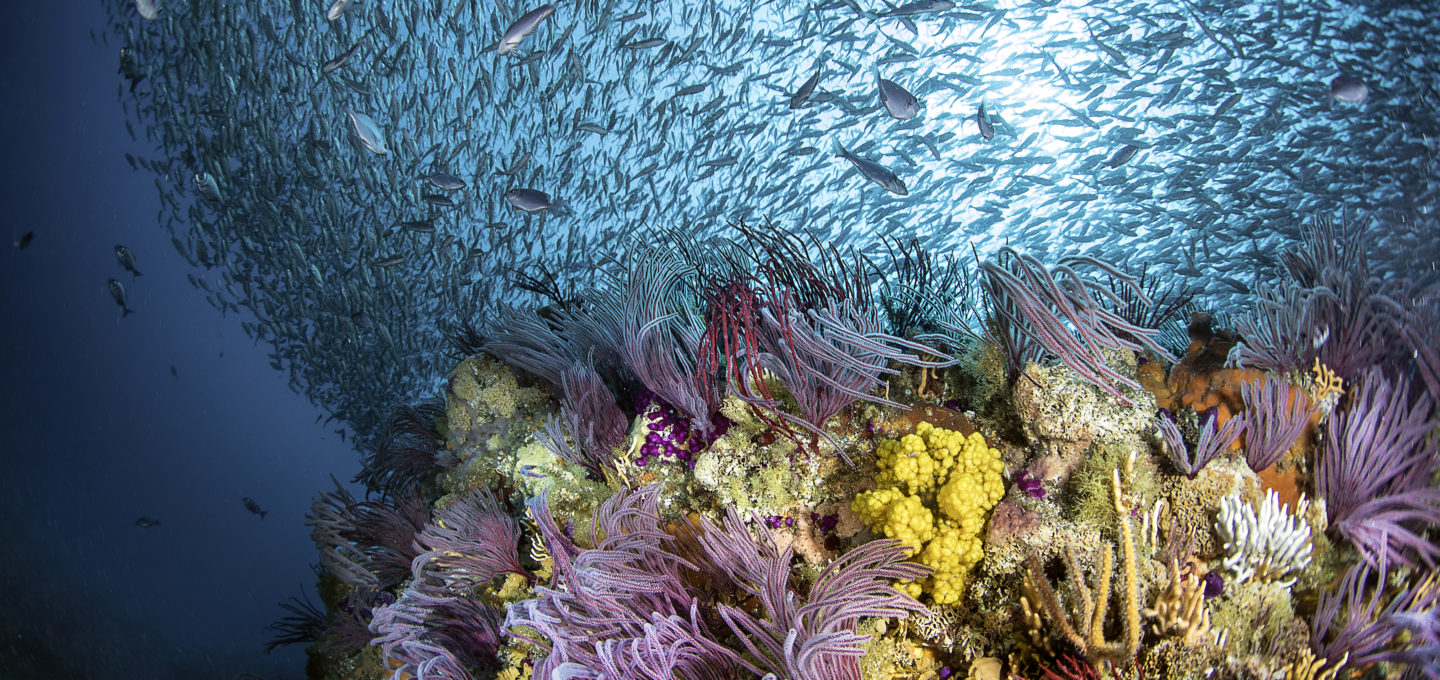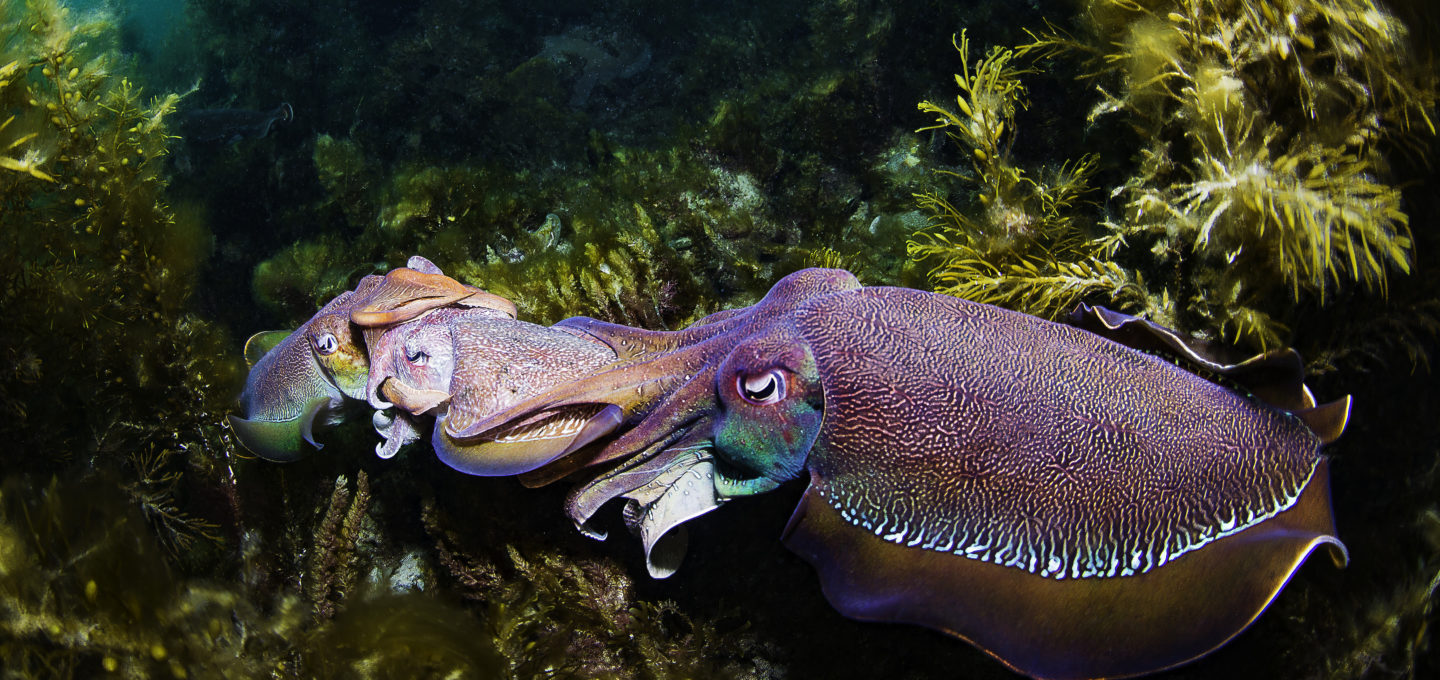 Continue reading...
To continue reading this article – and enjoy full digital access across Oceanographic – sign up to Ocean Hub today! More info below…
Keep reading by signing up for an Ocean Hub subscription
Ocean Hub. More than a magazine subscription.
As well the delivery of all new editions, members unlock access to exclusive products, services and discounts, as well as EVERY digital back issue we have published.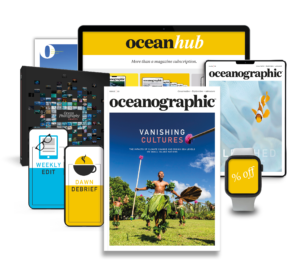 Find out more

about Ocean Hub subscription
Shop window
current issue
Back Issues
Enjoy so much more from Oceanographic Magazine by becoming a subscriber.
A range of subscription options are available.
Sea stories
Beautiful ocean stories straight to your inbox.
Join our community.