Conservation
No hatchling left behind
The Barbados Sea Turtle Project has been running for more than 30 years, its team working tirelessly to protect foraging and resident sea turtles from myriad dangers. As an endangered and keystone species, what more needs to be done to protect them?
Photographs by
John Alexander
A pair of long fins disappear into the hazy teal ocean ahead of me. Local fisherman Stanton Thomas, also known as 'the turtle whisperer', stealthily circles behind a juvenile green turtle distracted by the rest of the group. There is a team of 10 people in the water, all there to assist with a tagging programme run by the Barbados Sea Turtle Project (BSTP). Expertly, Thomas moves in, securing the turtle by its shell, before drifting cautiously back in the direction of the research boat. 
Carla Daniel, director of public education and awareness at the BSTP, is ready and waiting. She deftly hauls the turtle into the boat while giving instructions to her team. The process looks frenetic, but is something she has done hundreds of times in her 14 years with the BSTP. She records the turtle's size and weight measurements before fitting it with a metal flipper tag. This marks it as an individual, meaning it can be easily identified elsewhere around the island. Tagging can provide information on movement patterns, individual growth rates, reproductive life, population trends, habitat residency and sargassum strandings. Tag secured, Carla lowers the turtle back into the water, where it paddles tentatively in her hands for a few seconds, before zipping away into the blue.
"We have a few old turtles that were tagged 18 years ago and are still nesting, [but] there are much higher numbers of turtles that we only ever see once. We can't say what their fate was for sure but there are regional issues," Daniel explains. "There are some islands that still have open seasons on turtles and our turtles often swim past those islands to return to their foraging grounds when they finish nesting. There's a good chance that a number of them are killed in fisheries off other islands. We do our best but once they leave Barbadian waters, they're out of our hands. We really need a cohesive regional sea turtle conservation policy, with all islands on board."
For many years the turtle shell trade boomed in Barbados, a practice that decimated Caribbean populations. Because it was easier to kill a turtle on the beach rather than in the water, nesting females – which always return to the place they were born to lay their eggs – were often targeted. Thankfully, in 1998 the Government of Barbados implemented a moratorium on all sea turtle harvesting, making it illegal to catch any species of sea turtle or to trade in turtle meat, shells or eggs. However, due to myriad other threats, their population has not yet recovered.
There are seven species of turtles worldwide and six of those can be found in the Wider Caribbean Region. Out of those six, there are three that dwell on or around Barbados. Two of those nest on the island, the critically endangered hawksbill turtle and the leatherback turtle, which is listed as vulnerable. Greens are much more common in the water, swimming near the shoreline to feed on algae. "When I first started diving, it was so common to see shells for sale and turtles being butchered. Thanks to the work of the BSTP, Project AWARE and PADI, people are becoming more aware," says André Miller, marine biologist and founder of Barbados Blue dive centre. "Should anyone harm a turtle on my island, I am proud to know that the diving and snorkelling community would go crazy. You can't hurt a turtle in Barbados now."
The project started in 1987 when Professor Julia Horrocks was studying a post-doctoral at Bellairs Research Institute. "She realised that people were calling the research centre to report sea turtle issues but there was nobody on the island doing any work with them," Daniel explains. "There was no one else to call. She gathered a group of other students to respond to the calls and eventually she realised there was a real need." Horrocks lobbied to end the hunting season on the island and has been implementing a sea turtle recovery plan ever since, drawing attention to their plight and researching solutions.
The BSTP emergency hotline is open 24/7 with no exemptions. Daniel tells me about how she had to abandon her 30th birthday dinner with friends to rescue some hatchlings that had fallen into a drain, and how she spent one New Year's Eve watching a female lay her eggs on the beach as fireworks soared into the sky. They need constant attention and monitoring, because the threats to these gentle and vulnerable animals are numerous, complex and often result in a domino effect of disastrous consequences – one threat, such as brightly lit beaches, will lead them into the path of other hazards.
Photographs by
John Alexander
Continue reading...
To continue reading this article – and enjoy full digital access across Oceanographic – sign up to Ocean Hub today! More info below…
Keep reading by signing up for an Ocean Hub subscription
Ocean Hub. More than a magazine subscription.
As well the delivery of all new editions, members unlock access to exclusive products, services and discounts, as well as EVERY digital back issue we have published.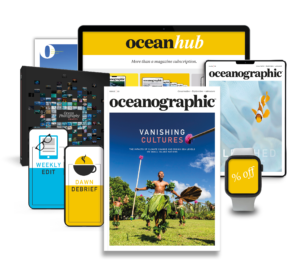 Find out more

about Ocean Hub subscription
Shop window
current issue
Back Issues
Enjoy so much more from Oceanographic Magazine by becoming a subscriber.
A range of subscription options are available.
Sea stories
Beautiful ocean stories straight to your inbox.
Join our community.