Conservation
Nomads of the Sulu Sea
Moving from island to island, and sometimes settling along the coastal areas of the Malay Archipelago, the stateless seafaring Bajau lead a simple life in one of the most enchanting places on Earth. They are some of the last remaining nomads of the sea. 
Words & photographs by
Claudio Sieber
Words & photographs by
Claudio Sieber
Venturing along the east coast of Malaysia's Sabah state on Borneo will not only be rewarded with picturesque scenery and the excitement of the world's finest dive spots, but also with a glimpse of the unique seafaring community of the Bajau Laut who roam the Sulu Sea, an area in the southwestern part of the Philippines, containing numerous different islands and a special natural beauty that can't be found anywhere else on this planet. I made my way here because I'm fascinated by people living extraordinary lifestyles, and living on the ocean is certainly remarkable. Many of us have forgotten how to celebrate locals while enjoying city breaks in distant places. Reason enough for me to hire a personal boat captain in the city of Semporna and to embark on a journey to better understand the seafaring Bajau nomads living here, a community that has inhabited the turquoise waters of this region for millennia. My cultural expedition led me to the islands near the city of Semporna, particularly Tibba Lanos, Maiga, Selakan, Tara Garos, Nusa Tengah, Mabul and Bodgaya, where I got to meet the nomads of the Sulu Sea. 
The Bajau are endemic to the Sulu Sea and, according to estimates, around one million live across Malaysia, Indonesia and the southern Philippines today. They have existed here since an era when no birth certificate was needed to define one's identity. The term Bajau describes all closely related indigenous people who define themselves either as 'Land Bajau' (Bajau Kubang or Bajau Darat) or as 'Sea Bajau' (Bajau Laut). Land Bajau usually only engage with the Sea Bajau for bartering purposes. The Sea Bajau's Lepa Lepa boats have very little space – they offer shelter and space for necessities only, such as fishing and cooking gear and a few other belongings for the family members who live onboard. Sometimes the families disembark to trade their surplus seafood – which mainly consists of fish, lobster and sea cucumber – with nearby islanders. In return, they will stock up on essentials, collect water, or buy cassava to prepare a dish typical for the Bajau, Kasaba Panggykayu. At dusk, everyone returns to the houseboat to eat. Communal cooking is a pillar of Sea Bajau life. 
Due to the increasing frequency of typhoons battering the Philippines, and the ongoing unease in the Mindanao region, many Bajau have migrated to neighbouring Borneo. While some entered into Malaysia through the official immigration process and make a living from local tourism, the vast majority still rely solely on the ocean. Having no citizenship and therefore no formal rights to settle on the Malaysian mainland, they gather in off-shore communities (or occupy small, remote islands) to sustain their maritime hunting skills, which have been handed down through generations. It is a story set to continue for many more generations to come – the Bajau's stateless status means that each new generation of children have no access to government schools.
Continue reading...
To continue reading this article – and enjoy full digital access across Oceanographic – sign up to Ocean Hub today! More info below…
Keep reading by signing up for an Ocean Hub subscription
Ocean Hub. More than a magazine subscription.
As well the delivery of all new editions, members unlock access to exclusive products, services and discounts, as well as EVERY digital back issue we have published.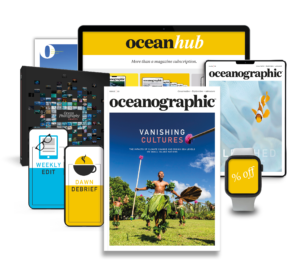 Find out more

about Ocean Hub subscription
Shop window
current issue
Back Issues
Enjoy so much more from Oceanographic Magazine by becoming a subscriber.
A range of subscription options are available.
Sea stories
Beautiful ocean stories straight to your inbox.
Join our community.