Adventure
The Ocean Photographer of the Year 2021
Words by
Oceanographic staff
Words by
Oceanographic staff
Ocean photographers of all disciplines and experience levels – amateurs and professionals alike – were invited to submit their most impactful imagery to be judged by a panel of some of the world's leading ocean photographers, including International Photography Hall of Fame inductee Paul Nicklen, founder of the International League of Conservation Photographers, Cristina Mittermeier, and Emmy Award-winning cinematographer Shawn Heinrichs.
A total of six categories were judged, with the overall winner crowned the Ocean Photographer of the Year 2021. Here are this year's winners…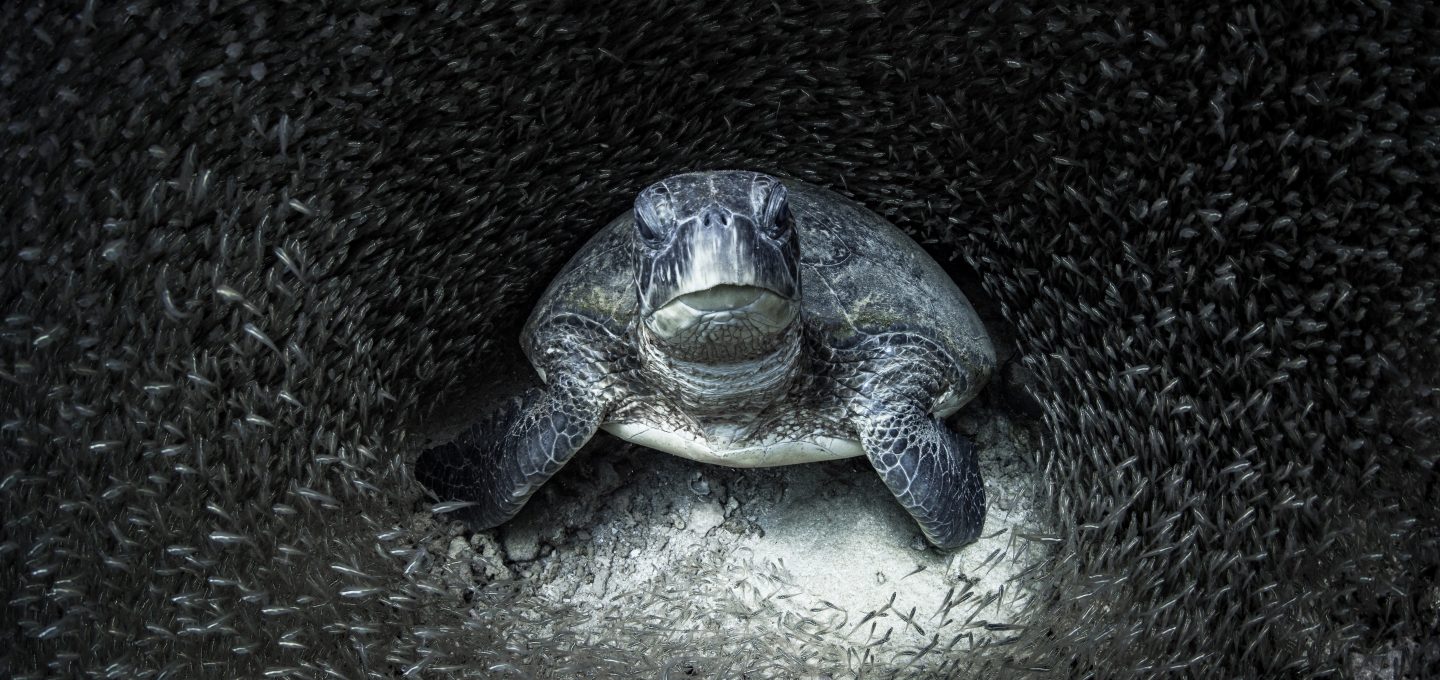 FIRST PLACE: Aimee Jan, Ningaloo Reef, Western Australia 
A green turtle, surrounded by a ball of glass fish, one of four turtle species found on Ningaloo Reef, the world's largest fringing reef. "We were doing a back-of-the-reef snorkel when one of my work friends called me over to tell me there was a turtle under a ledge in a school of glass fish, about 10 metres down," says photographer Aimee Jan. "When I dived down to look, the fish separated around the turtle perfectly and this is what I saw. I said to her: 'I think I just took the best photo I have ever taken'."
In second place…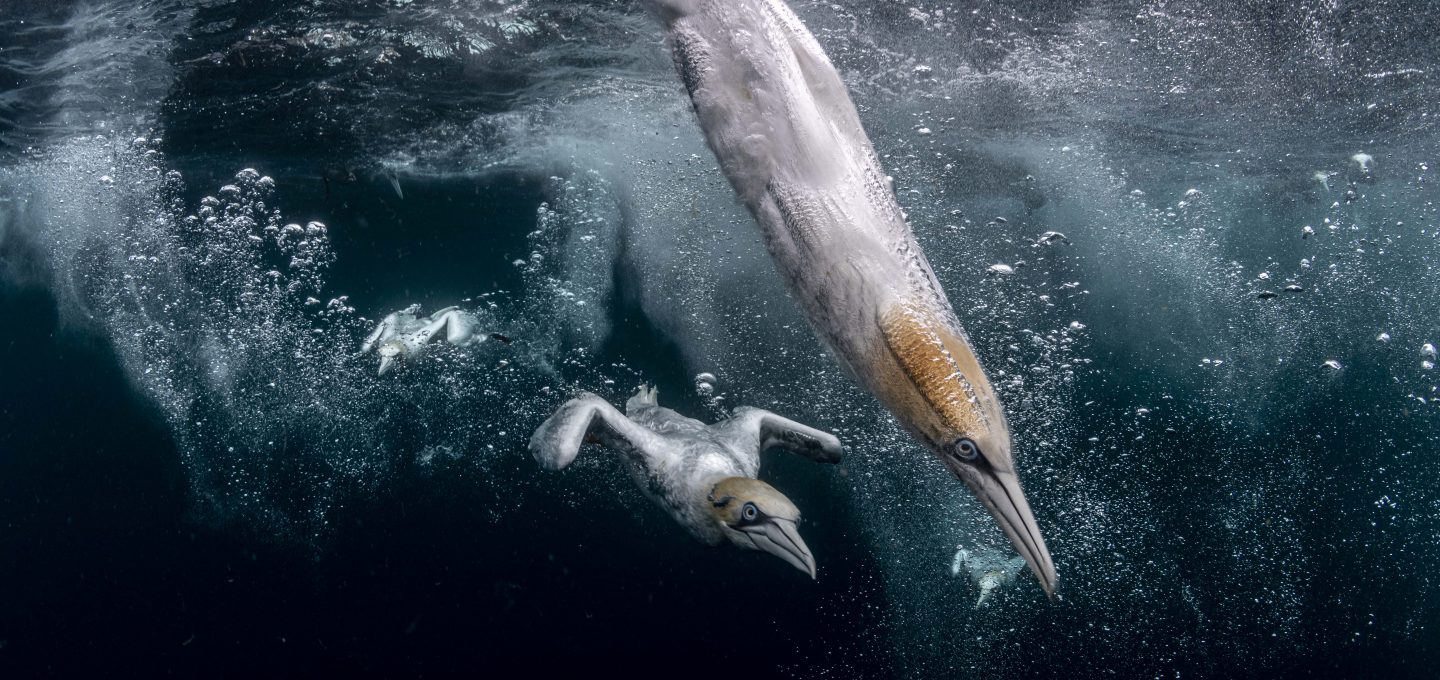 SECOND PLACE: Henley Spiers, Isle of Noss, Shetland, UK
Gannets diving for food. "Diving amidst the barrage of gannets, I witness the violent synchronicity of these impressive seabirds as they embark on fishing dives," says photographer Henley Spiers. "Their piercing glare scans for prey, even as they hit the water at 60mph, an impact they can only withstand thanks to specially evolved air sacs in the head and chest. The agility of the birds transfers from air to sea, swimming with an incredible speed of reaction as other gannets torpedo into the sea."
In third place…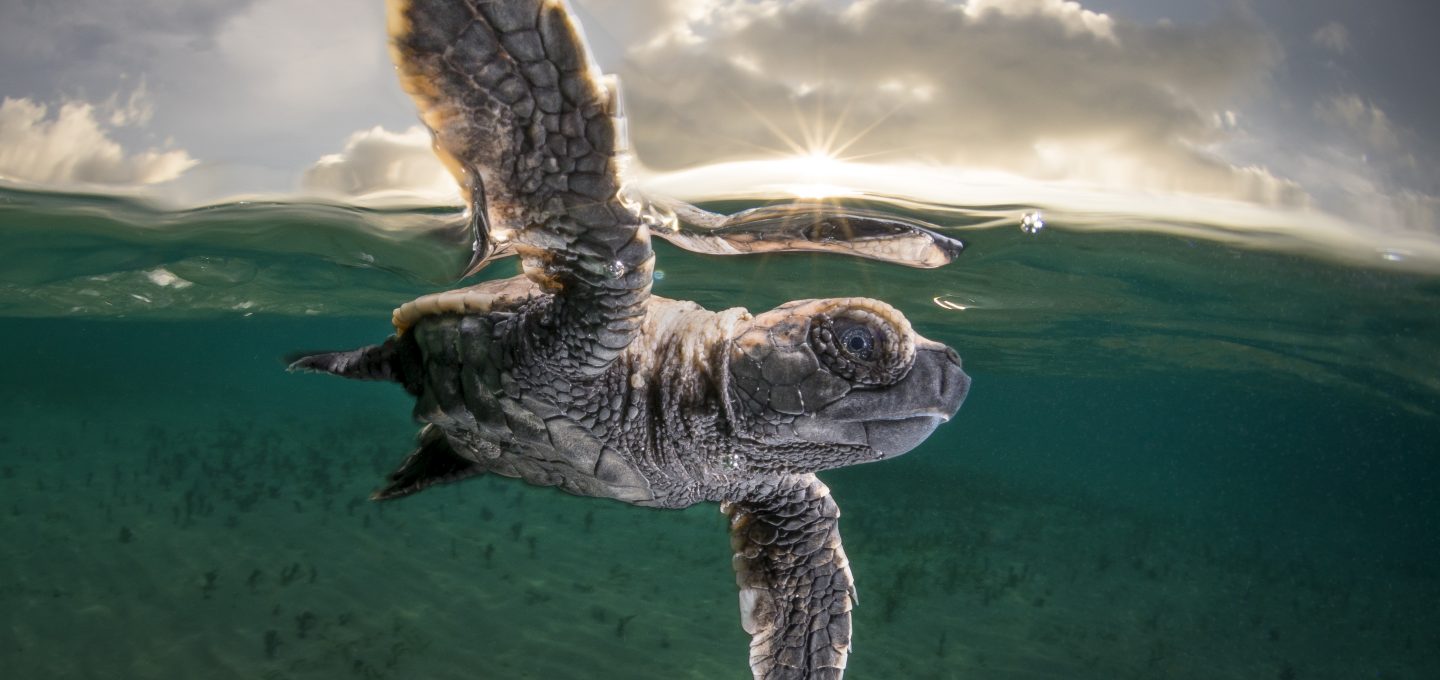 THIRD PLACE: Matty Smith, Lissenung Island, Papua New Guinea
A hawksbill turtle hatchling, just 3.5cm long, takes its first swim. "This turtle had emerged from an egg just minutes earlier with approximately 100 of its siblings," says photographer Matty Smith. "They quickly made their way across the sand and into the ocean to disperse as rapidly as they could and avoid predation from birds and fish. I had to work quickly for this shot."
TO VIEW ALL THIS YEAR'S WINNING PHOTOGRAPHY, VISIT WWW.OCEANPHOTOGRAPHYAWARDS.COM.
Sea stories
Beautiful ocean stories straight to your inbox.
Join our community.