Exploration
Overcoming adversity
Jaimen Hudson's stunning drone footage of marine life is known around the world. Having been confined to a wheelchair since a motorbike accident, his story is one of overcoming adversity and reconnecting with the ocean.
Photographs by
Jaimen Hudson
Turqouise, crystal-clear waters teeming with life, rugged coastlines and lonely beaches, raw deserts and empty dirt roads – Western Australia is a dramatic place with unprecedented natural beauty; a dream for divers, surfers, beach lovers and nature enthusiasts alike. While seeing the region from the ground is a visual treat that leaves most speechless, experiencing it from the air goes far beyond that. Jaimen Hudson, a pioneering drone cinematographer from Esperance in Western Australia, is doing exactly that. He is showing the region from above to millions of people around the world, communicating its beauty in a very special way.
Known as one of the first professional drone operators showcasing whales, dolphins, surfers and Western Australia from the air, Jaimen's stunning images and videos sport vivid colours and rare and intimate wildlife sightings. Since he started operating drones, he has accumulated more than 250 million views on his social media channels by capturing breathtaking drone footage of the region's beaches and remote, crystal-
clear seascapes. Constantly patrolling the coastline near Esperance, he searches for seasonal whale populations, dolphins and many other species from above, while seeking to connect people through the power of photography and videography. "I love to capture magical moments that not many people get to see, especially those from landlocked countries. It makes you realise how lucky you are having all of this on your doorstep. I want to bring the ocean to everyone," Jaimen says with a smile.
What millions of viewers of his content might not immediately realise is that Jaimen has been quadriplegic since a motorbike accident in 2008. He has been confined to a wheelchair since the age of 17. On 27 January, 2008, like so many times before, Jaimen set out on his Honda dirt bike to drive and jump around the sand dunes of Wylie Bay east of Esperance with his friends. But when he tried to jump over a dune, he fell awkwardly on his head. He remembers: "When I was lying on the sand, part of me knew that my life was never going to be the same again." Jaimen was in intensive care for 17 days, after which he slowly learned to come to terms with his new reality. "I tried to focus on the good. Obviously, I had damned days but I wanted to make something out of my life. I kept saying to myself that what is done is done, it can't be changed no matter how much you feel sorry for yourself. You just have to try to move forward, and I did that with the help of my friends and family."
After the accident, the once passionate surfer and scuba diver was looking for an activity that would bring him close to the ocean again. Little did he know that he would soon soar to new heights. "People know me as the ocean guy. It's in my blood," he says. "Aerial photography came in my life by chance. I was at work one day and a guy came into our shop – we own a retail store doing island cruises and charters – and the guy wanted to go to Lake Hillier, that beautiful pink lake you may have seen in some of my footage. It turned out he was the chief marketing officer for DJI and he was getting some promotional footage for the soon-to-be-released Phantom 3 drone. That was before many people had drones; they were really rare. He sent me some of the footage and, immediately upon seeing it, I was hooked."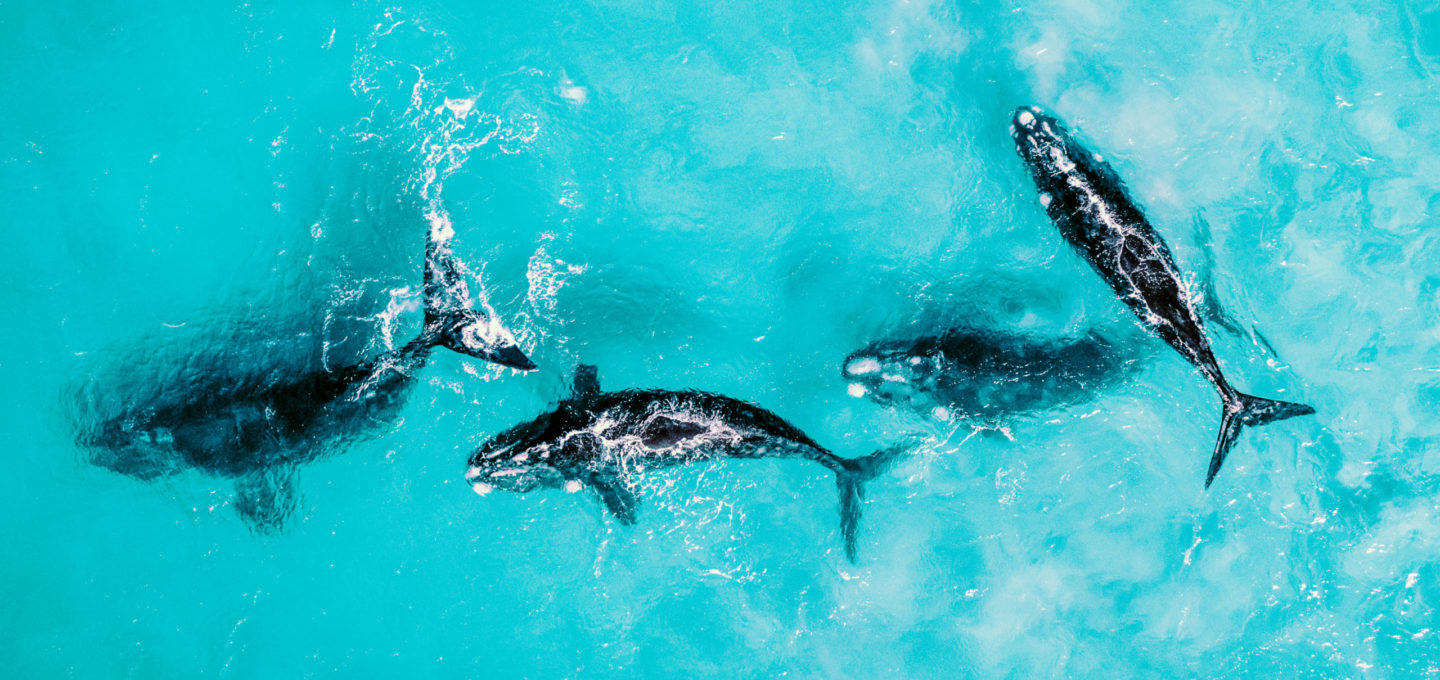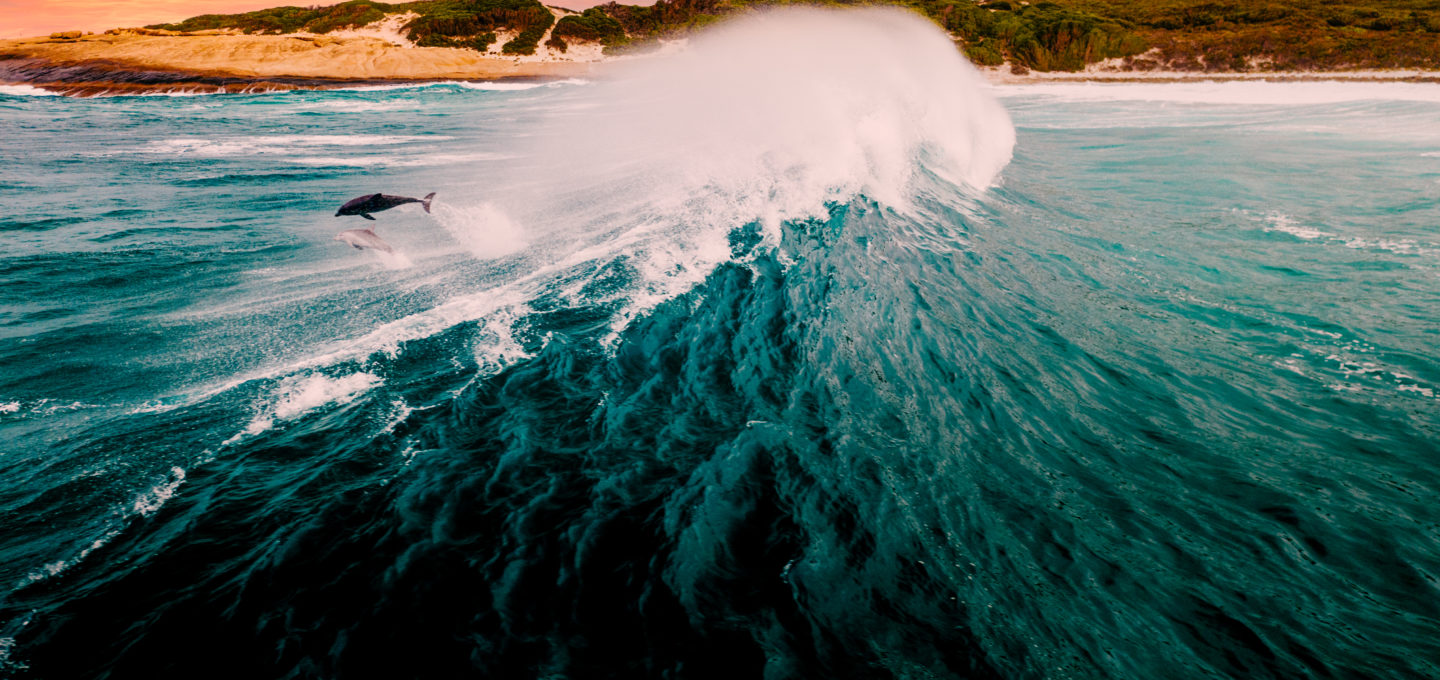 Photographs by
Jaimen Hudson
Continue reading...
To continue reading this article – and enjoy full digital access across Oceanographic – sign up to Ocean Hub today! More info below…
Keep reading by signing up for an Ocean Hub subscription
Ocean Hub. More than a magazine subscription.
As well the delivery of all new editions, members unlock access to exclusive products, services and discounts, as well as EVERY digital back issue we have published.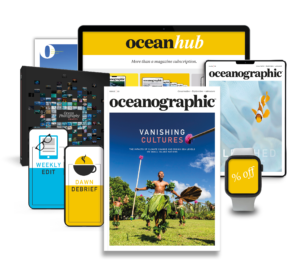 Find out more

about Ocean Hub subscription
Shop window
current issue
Back Issues
Enjoy so much more from Oceanographic Magazine by becoming a subscriber.
A range of subscription options are available.
Sea stories
Beautiful ocean stories straight to your inbox.
Join our community.