Adventure /
Conservation
Paddling against plastic
Interview by
Oceanographic staff
Sian Sykes has just completed the first circumnavigation of Wales on a stand-up paddleboard. Her aim was to highlight the issue of single-use plastics blighting UK waterways. SUP vs SUP.
Oceanographic spoke with Sian shortly after she 'closed the loop' and brought her two-month solo paddle to an end, completing a personal challenge that highlighted one of the great environmental issues of our time – as well as brought positive attention to the beautiful Welsh coastline.
Oceanographic Magazine (OM): How are you feeling after finishing?
Sian Sykes (SS):Exhausted but invigorated and inspired. During the expedition I had the privilege to meet others who were actively involved with protecting our waterways, doing their own litter picks. I encouraged them to make a pledge, as I have, to give up at least one single use plastic item – opting for reusable coffee cups and water bottles, cardboard cotton bud sticks instead of plastic ones, and so on. It was gratifying to see this awareness and people altering their daily consumption habits for the better. I hope this awareness in individuals acting responsibly can continue to reduce our demand and reliance on single use plastics. If we all do our bit, we can help move towards plastic-free coastlines. So while I saw some heart-breaking things during my trip, I'm feeling positive.
OM: How much bigger was this challenge compared with others you've undertaken?
SS:I spent a large amount of time preparing for this circumnavigation: research, testing kit, getting out on the board in all sorts of conditions, getting physically fit and above all identifying potential risks and how to mitigate them. Out of all the expeditions I have led and done personally, this trip was by far the best planned. It still had an element of the unknown, but I felt mentally and physically prepared for it.
OM: How much plastic did you encounter throughout your two-month journey?
SS:I saw plastic bottles bobbing around on the water every day. I started collecting plastics almost immediately after departing Connah's Quay, and continued to do so along each of the waterways I travelled. The most problematic areas were the rivers. I saw a plastic tide of single use bottles lining various banks. It was absolutely awful and I did my best to collect as much as I could.
OM: Where did the idea for 'SUP vs SUP' come from?
SS:I'd already completed the first SUP solo of the National 3 Lakes Challenge as well as the first SUP circumnavigation of Anglesey, where I live. SUP vs SUP was simply a case of me aiming bigger – a tougher physical challenge but also something that stretched beyond personal achievement, something more meaningful.
Highlighting the issue of single use plastics was on obvious choice. I have always appreciated the stunning environment around me, but over the years I've seen an increase of single use plastics washing up on local beaches. I wanted SUP vs SUP to bridge the gap between urban areas and the coastline, to highlight to people that what gets dropped on a canal or in a river ends up floating out to sea.
OM: What do you hope to achieve with the exposure SUP vs SUP has given you?
SS:To inspire and educate consumers about their choices – in terms of both what I saw and how I've lived for these past two months. My expedition was completely free of single use plastic. I used expedition food in biodegradable bags, toothpaste in glass jars, sun cream in a tin, shampoo and deodorant in bars and a toothbrush made from bamboo. If I can do it on a two-month adventure, people can do it at home. I'm hopeful people who hear about this story will change a few key habits and purchasing choices.
OM: Beyond this expedition, paddleboarding is a lifestyle for you. When did you first get into it?
SS:I fell in love with paddleboarding when I was first introduced to it by friends – the freedom to journey without the faff, to get away from it all, to find inner peace and to connect with nature. The great outdoors as it should be!
OM: Had the ocean and outdoors always been an important part of life, or was that first paddle with friends a new and invigorating discovery?
SS:I've always been something of a free spirt – I first went wild camping when I was three weeks old! Mini trips away in my grandparents' old split screen transporter allowed us, as a family, to be wandering souls. It's a consequence of my upbringing that I have a deep-rooted desire to be outside and a huge appreciation for it. It's where I belong, where I feel at home.
Sian Sykes is a regional rep for Surfers Against Sewage and is an ambassador for Starboard UK, Peak UK, Water Skills Academy and Aquapac. She also runs www.psychedpaddleboarding.com.
Interview by
Oceanographic staff
Explore the current issue
Beautiful photography. Captivating storytelling.
Take a look inside the latest issue of Oceanographic Magazine.
DIGITAL SUBSCRIPTIONS
Subscribe to the digital edition for just £20 a year, or enjoy it for free courtesy of Oceanographic's partnership with Marine Conservation Society. No cost, no catch.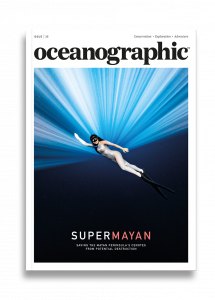 Sea stories
Beautiful ocean stories straight to your inbox.
Join our community.