Adventurer, veterinary surgeon and ocean advocate Cal Major stand-up paddleboarded 800 miles around Scotland's wild coast. Along the way, she made shocking discoveries, met people and communities, and explored the wildlife and ecosystems both above and below the water.
Photographs by
James Appleton
When I first took on the challenge of stand-up paddleboarding around Scotland, I never could have imagined all the things I would see, learn and experience; the immensity of the coastline and its towering cliffs, the unforgiving currents, winds and waves, the joyfulness of daily wildlife encounters, some so profound they would change my life's trajectory, the level of suffering and unfairness at the hands of man, the devastating, untold destruction of our seas, the passion in the people standing against it and the depth of our human connection to the ocean. I hadn't expected how utterly sublime and restorative a sunrise over the ocean in Northern Scotland could be after a sleepless night on the water, with aching body and exhausted mind. And how immersing myself into all of this for 20 to 30 miles a day over ten weeks could completely change my own sense of connection to the ocean, the depth of my love for our seas, and my determination to do everything in my power to share its important stories, and protect it from harm.
A stand-up paddleboard (SUP) is an unlikely vehicle to take to Scotland's wildest stretches of coastline. Nobody had attempted it before. Unlike a kayak, it has very little anchoring it beneath the water, making it vulnerable to even the lightest winds. It doesn't glide through the water quite the same either, and paddling isn't as efficient with just one blade, plus all kit needs to be strapped to the deck. For this expedition, my partner joined me on the water in his kayak, which only served to highlight how vastly different the two vehicles are. However, over the years, my SUP has become my vehicle for adventure, exploration and storytelling. I feel immensely at home standing atop my glorified surfboard. I love the feeling of standing tall, able to watch the underwater world below my board, free from a cramped cockpit, unconfined by a spray deck. I might not be able to paddle as fast or efficiently as in a kayak, but I feel like the rewards from the experience outweigh the additional effort.
The purpose of the expedition was to highlight what is out of sight and out of mind in our seas, right here on our doorstep; to explore the incredibly important role our seas play in all of our lives and in the climate and biodiversity crises made all the more relevant by the impending international climate conference, which was being hosted in Glasgow later that year. So alongside my boyfriend and film-making partner, James Appleton, we set out to document what we found along what was to become a truly epic journey of discovery.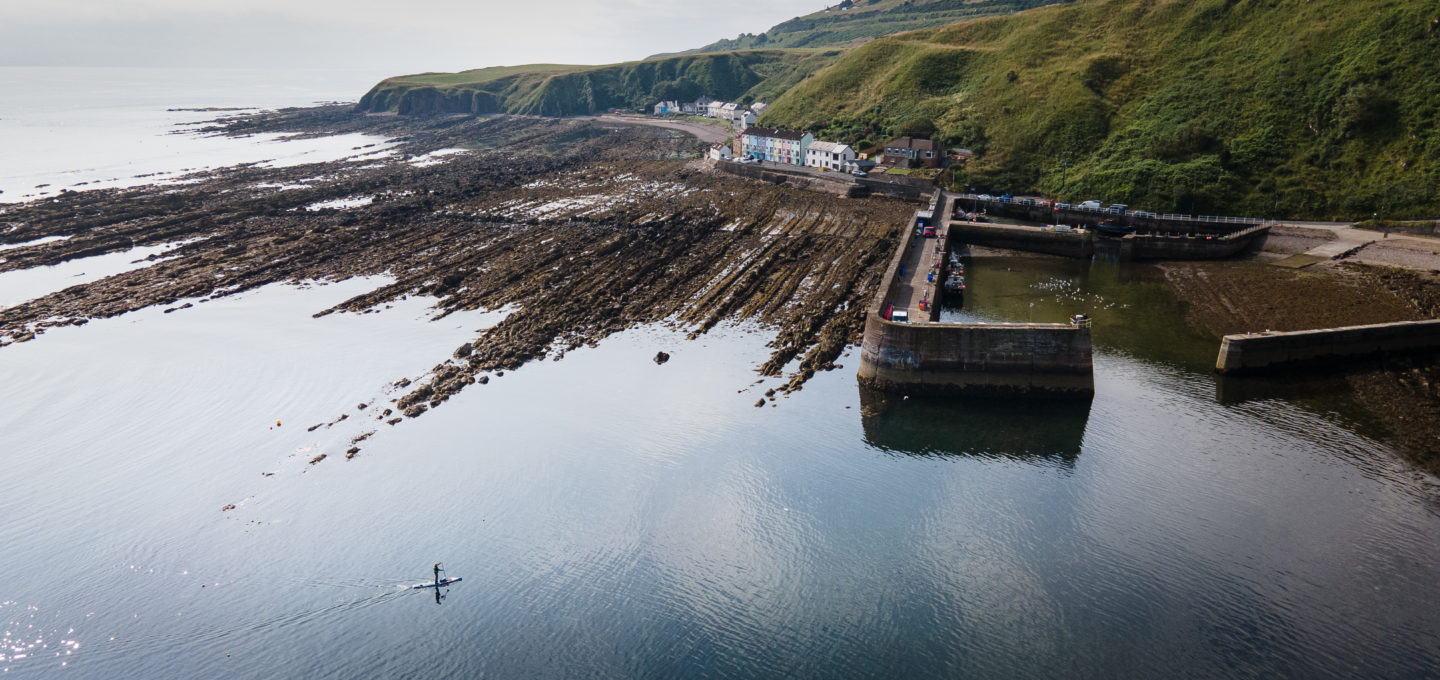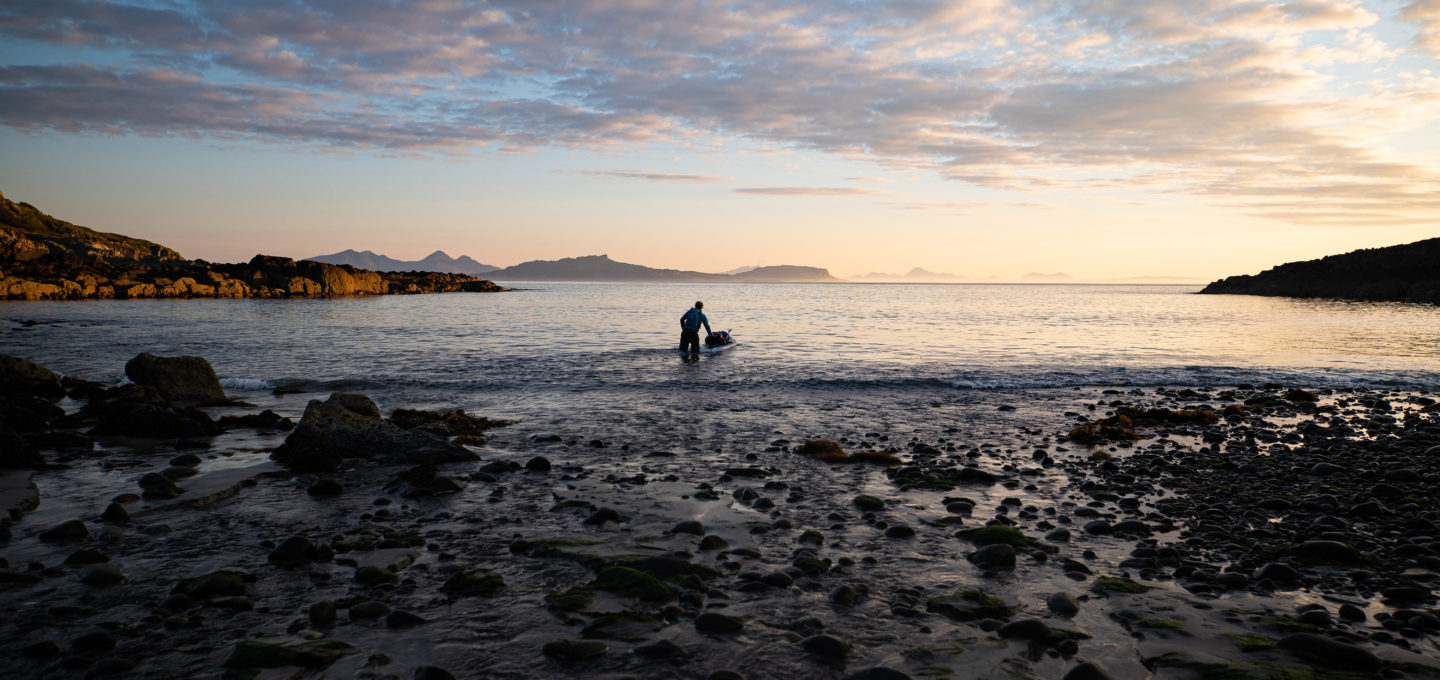 I set off on the River Clyde from outside the building where COP26 would be held, and paddled clockwise around the coast to the last harbour in Scotland on the East coast, Burnmouth: 800 miles of wildly varying coastline, wildlife and people in one small country. The first couple of days' paddling was down the River Clyde, an estuary that connects Scotland's most populated city, Glasgow, directly to the ocean. I watched the industrial cityscape morph into countryside, revelled in pink sunrises and began reacquainting myself with the familiar sounds of oystercatchers, the pull of the tides and the battle against crosswinds. I soon faced my first big crossing of the expedition – a ten-mile paddle from Portencross to the Isle of Arran. Arran is home to a crucially important marine protected area, Scotland's first No Take Zone, where no living thing is allowed to be removed from the ocean. Crucial because most of the rest of the Clyde estuary is open to bottom trawling and scallop dredging, damaging fishing practices which have led to dangerous declines in fish stocks in the Clyde, and around the West coast of Scotland.
Bottom trawling is normally used to catch langoustine or demersal fish and involves dragging a weighted net along the seabed. Scallop dredging uses a series of heavy metal rakes, which dig into the seabed to remove scallops, but is indiscriminate in what else it removes or destroys along with them. The damage they can do underwater is terrifying, leaving barren wastelands of broken shells and turned over seabed. And yet, in Lamlash Bay off the East coast of Arran, where the No Take Zone prohibits dredging or trawling, life is flourishing. An enormous flame shell reef has been discovered. These are ecologically important bivalve molluscs with bright orange tentacles which form biogenic, living reefs on the seabed, in turn providing nursery grounds for scallops, fish and other shellfish. Until the 1980s, bottom trawling wasn't allowed within three miles of Scotland's coastline, specifically to protect fragile inshore habitats like the flame shell reef, or maerl, which is an incredibly slow-growing coralline algae, also forming intricate habitats for other species. But in 1984 this limit was removed.
This has led to the situation we're in today whereby only tiny patches of Scotland's seabed are off-limits to bottom-towed gear. The seabed has been seriously harmed, and the inshore fishing fleet now relies almost solely on shellfish because fin fish stocks have faced such dramatic declines. Reassuringly, there is a campaign and growing movement to reintroduce this three mile limit, and I met several members of the Our Seas campaign during my trip around Scotland's coast – people with a varied interest in, and passion for the ocean, from fishers to conservationists, youth groups to recreational ocean users, all asking for better protection of Scotland's seabed.
The campaign needs public support, but when the ecosystem being fought for is out of sight and out of mind, it's incredibly difficult to relate to. From a scientific and carbon capture viewpoint I could understand the vital importance of seabed protection, but it wasn't until I saw for myself what was at stake that I really connected emotionally to this campaign too. A few days after leaving the Isle of Arran at 3am in a brewing storm, I made it to a very special place – the Argyll Hope Spot. It's an area of ocean that has been designated by the charity Mission Blue as a globally important area of biodiversity. I was about to see for myself why.
Photographs by
James Appleton
Continue reading...
To continue reading this article – and enjoy full digital access across Oceanographic – sign up to Ocean Hub today! More info below…
Keep reading by signing up for an Ocean Hub subscription
Ocean Hub. More than a magazine subscription.
As well the delivery of all new editions, members unlock access to exclusive products, services and discounts, as well as EVERY digital back issue we have published.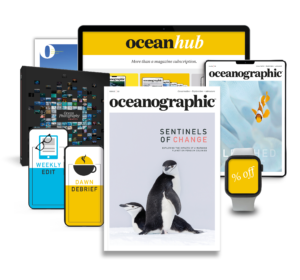 Find out more

about Ocean Hub subscription
Shop window
current issue
Back Issues
Enjoy so much more from Oceanographic Magazine by becoming a subscriber.
A range of subscription options are available.
Sea stories
Beautiful ocean stories straight to your inbox.
Join our community.