Exploration
The most ocean-friendly nation on earth
When it comes to marine conservation, we have a lot to learn from Palau's historical traditions. However, implemented conservation strategies require all nations to commit to a more sustainable future, before it's too late.
Words & photographs by
Henley Spiers
Words & photographs by
Henley Spiers
Palau draws you in with its classic, tropical good looks, but look beneath that fine exterior, and you'll find unusual traditions, forward-thinking marine policies, as well as a tumultuous, bloody history. From an ocean-lovers standpoint, Palau merits our attention as a bucket-list destination, but also for the example it has set as arguably the most ocean-friendly nation of this millennia.
You would think the isolation of this archipelago, far removed from anywhere else in the Pacific Ocean, would have resulted in a blissful, 'Moana' style tribal existence (and yes, having toddlers has clearly impacted my cultural references). The truth, however, is this land has been fought over for centuries, valued as both a trading and military outpost. First claimed by the Spanish in the 16th century, they would lose so many priests on the journey to evangelise the region that they named it the 'Enchanted Islands'. The Spanish then sold Palau to Germany after losing the Spanish – American war in 1898. German rule was short-lived but they left a lasting mark through the creation of an artificial pathway between the lagoon and ocean. Today, as nutrient-rich water flows through the German channel, it attracts reef mantas and has become one of Palau's most famous dive sites. Japan was next, taking over the islands after Germany's defeat in World War I. Fiercely contested during World War II, the United States would ultimately take control of Palau, until it declared sovereignty in 1994 (but still with a great deal of American influence and support).
My first immersion, at Jake Seaplane, the wreck of a WW2 Japanese scouting plane, gives you a small sense of this conflict-ridden history. This plane actually survived the war and was later placed underwater for scuba divers, so the experience is enjoyable without the conflicted emotions of visiting a war grave. A manmade structure is then followed by an ocean-made one at Chandelier Cave. It looks like nothing from the surface, but as we dip below, the sea has carved out an opening in the limestone and we follow our guide into a large opening. We swim into the first of four impressive chambers, surfacing in each to appreciate the hanging stalactites, a chorus of "oohs" and "ahhs" reverberating around as we are able to remove regulators in the large air pockets. All of this and we've barely left Koror, capital city and home to most of Palau's small population of about 20,000.
In 2009, Palau made global headlines as it declared the world's first shark sanctuary, banning all shark fishing within its entire Exclusive Economic Zone, a 600,000 sq km area (about the same size as France). This trailblazing action galvanised a number of other seafaring nations, including the Bahamas and Maldives, who followed suit with their own national shark sanctuaries. A new dawn for shark PR entered the mainstream, with more people becoming aware of the threats faced by these animals. Palau followed that up with the announcement in 2015 of a marine protected area covering 80% of its waters. This huge, California-sized MPA took years of planning and officially came into effect at the start of 2020.
Diving in Palau is certainly a sharky affair, one which could be described as unusual, or normal, depending on your point of view. It is a perfectly natural state of affairs for sharks to be present on reefs, at the top of the ecosystem, but finding them there has become rare in most locations, as an estimated annual global shark catch of 100 million eats away at their numbers. Here in Palau, Grey reef sharks are the most commonly sighted on dives, with the classically pleasing shape of a requiem shark. Unlike the notion of sharks imparted by 'Jaws', these grey reefs are both cautious and timid, sticking together in a small group and rarely coming close to divers. This is problematic for underwater photography purposes, where shooting through more than a couple of metres of water quickly robs us of colour, contrast, and sharpness. I finally catch a break at Peleliu Cut, where after stalking a pack of sharks all dive, they teasingly wait for the moment I give up and turn back, before coming in for a closer investigation. Could it be that over their millions of years of evolution, sharks have developed a sense of humour?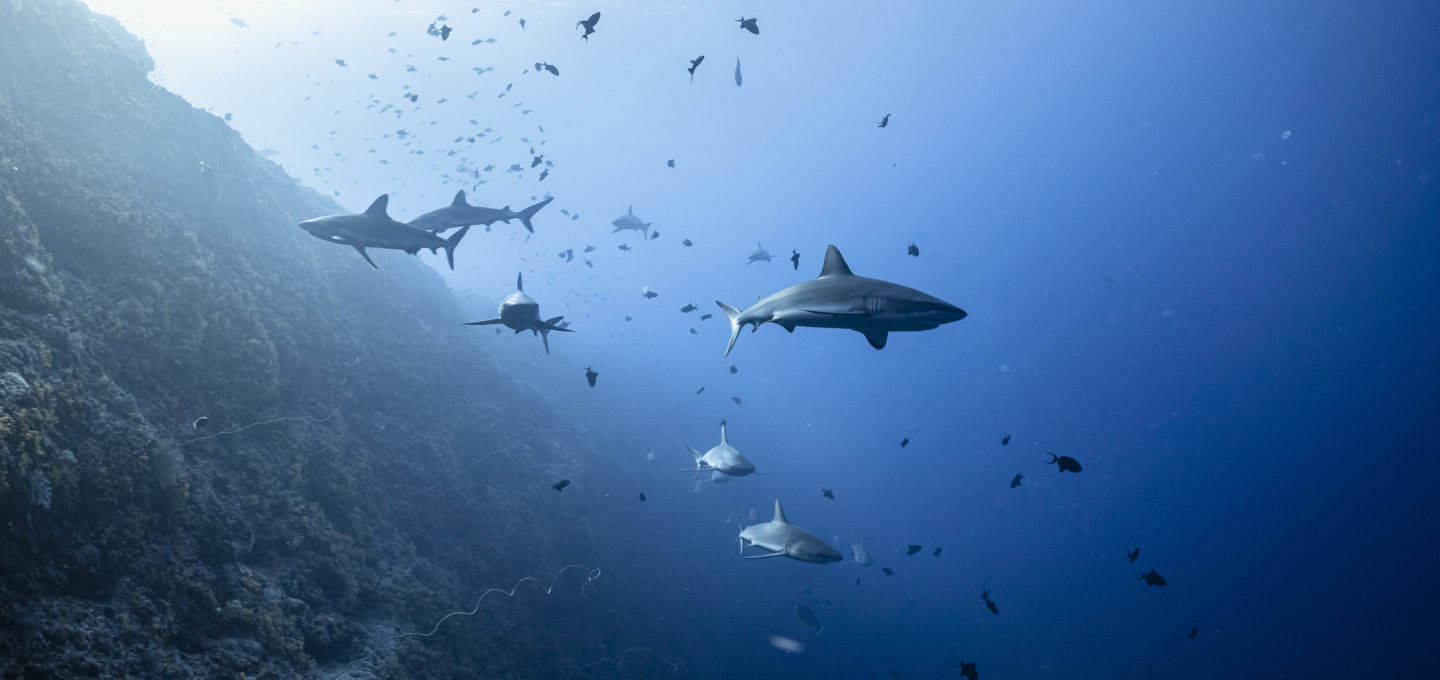 Continue reading...
To continue reading this article – and enjoy full digital access across Oceanographic – sign up to Ocean Hub today! More info below…
Keep reading by signing up for an Ocean Hub subscription
Ocean Hub. More than a magazine subscription.
As well the delivery of all new editions, members unlock access to exclusive products, services and discounts, as well as EVERY digital back issue we have published.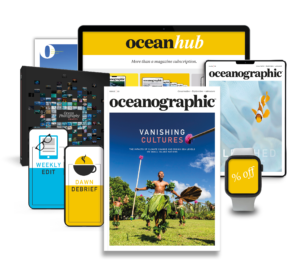 Find out more

about Ocean Hub subscription
Shop window
current issue
Back Issues
Enjoy so much more from Oceanographic Magazine by becoming a subscriber.
A range of subscription options are available.
Sea stories
Beautiful ocean stories straight to your inbox.
Join our community.