Adventure
Behind the lens: Paul Hilton
Behind the Lens places a spotlight on the world's foremost ocean photographers. Each edition focusses on the work of an individual who continues to shape public opinion through powerful imagery and compelling storytelling.
Interview by
Oceanographic Magazine
Photographs by
Paul Hilton
Interview by
Oceanographic Magazine
Award-winning photojournalist and wildlife trade consultant, member of the International League of Conservation Photographers and SeaLegacy Collective member.
Paul Hilton is an Australian photojournalist and conservationist. He has received international acclaim for his work on the shark finning trade and was an important contributor to the global community's decision to give manta rays greater protections in 2013. Accolades include a World Press Photo award and several Wildlife Photographer of the Year awards.
OCEANOGRAPHIC MAGAZINE (OM): WHEN DID YOU FIRST CONNECT WITH THE OCEAN?
PAUL HILTON (PH): I was born in England, but my family emigrated to Australia when I was two or three years old. We emigrated by ship, the SS Australis, journeying around the Cape of Good Hope. I remember looking out to sea on one occasion and in every direction, as far as I could see, were dolphins. The ship was surrounded by them. It was mesmerising. I was in awe.
I have two memories from that voyage. The second one is of being lost, unable to find my cabin and crying. Interpreting the second memory as something of a metaphor, both memories seem rather prophetic now, given where my life has taken me. Then, as a child growing up in Australia, I spent all my time on the beach, fishing with friends, swimming, windsurfing, surf-lifesaving. I was always around the ocean, much like a lot of Aussie kids were – and still are.
OM: WHEN DID YOU FIRST PICK UP A CAMERA?
PH: I was about 14. We took a family holiday to the Snowy Mountains. Someone had given my mum a camera – an old film camera. I remember walking every day with that, trying to photograph birds in their natural habitat. Australia has so many beautiful parrots. I followed crimson rosellas through the bushland and river systems of the mountains. It was beautiful, the birds' bright red and blue plumage so vibrant as they flew across white fields of snow.
I just loved being in the great outdoors with a camera – and a purpose. Growing up in Australia, I was always out on the land – camping, fishing, always outdoors. We had a lot of freedom back then. I think through all those years of doing that I gained a real appreciation for the land. Based in North Queensland we were surrounded by ocean and, at the back, bushland and National Park – literally five minutes from home. You don't realise until you look back but it taught me a lot, served up a lot of lessons in my younger years. I grew up taking it for granted, but the wilderness is infectious, it gets into you. Without knowing, I was developing an appreciation for how everything should to be in its natural place. Spending time on the land and in the ocean allowed me to connect with it all.
OM: AS THAT CONNECTION DEVELOPED, WAS THERE A MOMENT YOU REALISED PHOTOGRAPHY COULD BE MORE THAN SIMPLY SOMETHING THAT OFFERED PURPOSE TO YOUR TIME OUTDOORS?
PH: I'm not sure there was a singular moment, but I went professional around the age of 26. When I finished high school I planned to go into the Parks and Wildlife Service, a rangers service for Australia's National Parks. But my natural curiosity prevented me from doing that – I realised I didn't want to be 21 years old, sitting out in the outback, detached from the world. I ended up spending a year in a combi van driving around Australia. The van ended up being something of a wildlife hospital. At one stage we had a blue-tongued lizard, an olive python, a galah and a magpie. They were great times, full of natural encounters.
From there I ended up in London and decided to enrol myself onto a photography course. It was a six-week course at London's Kennington School of Photography, which gave me the basic foundations of photography. A couple of years later, having bought myself a basic SLR, I met a Dutch corporate photographer in Hong Kong who took me under his wing, eventually offering me an assisting job. I remember at the time he wanted to see my portfolio. I was really proud of it, but he pulled it apart – "that's out of focus", "that composition sucks". It was pretty hard to hear, but he offered me a job. I joined him on different commercial jobs where I learned about lighting, filters and film. Because we photographed everything from weddings and corporate events to helicopter shoots and sporting events, the role gave me a good foundation for what needs to be done in any given photographic situation.
OM: WERE YOU STILL TAKING WILDLIFE PHOTOGRAPHS ALONGSIDE THE COMMERCIAL?
PH: Yes. I was doing a little bit of pro bono work for the WWF and I spent time working on some tiger images, but it was all in safari parks, nothing serious – it was more of a hobby. I never realised I could turn it into a living. Then, in 2001, I met Jill Robinson at the Animals Asia Foundation, an organisation that has been working for many years to shut down bear bile farming in China. It's a barbaric trade. They asked me to document one of their bear rescues, which I did.
OM: WAS THAT THE MOMENT YOU BECAME A WILDLIFE CONSERVATION PHOTOGRAPHER?
PH: It was the moment I realised it was something I wanted to pursue, and that maybe I could make it work as a way of life. One of the first bears ever rescued was of a bear named Andrew, who had lost a leg in the snare in which he was caught. I captured an image of him in a cage after his operation, stitches down his stomach, just three legs. The image ran in National Geographic. To get an image in that magazine, but perhaps more importantly as a young photographer, to get a cheque from National Geographic, that was special. The images went on to feature in other magazines and won awards. I ended up in Hollywood, for an award, where I made a lot of good contacts. It was at that point I realised this was something I could pursue as a career.
OM: YOU'RE CURRENTLY WORKING ON THE PALM OIL TRADE IN SUMATRA. THE LOSS OF SOIL INTEGRITY AND INCREASED RUNOFF MAKE DEFORESTATION A MARINE ISSUE AS MUCH AS A LAND ISSUE. IS THAT SOMETHING YOU SEE IN SUMATRA?
PH: The topsoil run off is a huge factor for the coastal reefs for sure. It's not something my work has focussed on, but yes, deforestation is certainly impacting the ocean. I've been working up in the Leuser Ecosystem, the last place on Earth that tigers, rhinos, elephants and orangutans live under the same canopy. It's a biodiversity hotspot, and it is vast, covering a huge area of more than 2.6 million hectares. It's one of the last places with enough habitat to maintain these vital and viable populations of endangered species. It's so crucial the area is protected, especially in Southeast Asia, where so many other forests are segmented.
I was actually invited up there around 2011/12, having just won a World Press award for my body of shark finning work. I'd always wanted to put the spotlight on the palm oil trade – it was something I really felt strongly about. I ended up covering an orangutan rescue and relocation. We went to this small area of forest surrounded by cleared land and smouldering earth as far as you could see. In that small patch of forest, maybe the size of a football field, was a huge male orangutan. You could see he was stuck. A lot of the Sumatran orangutans won't travel over land because of tigers and other natural predators.
My job was to document the team going through the process of tranquilising this big male. After several darts they managed to hit it and the orangutan slowly fell out of the tree it was sheltering in. But he was still conscious. When he hit the net he looked at me. Directly. I looked back at him. At that moment I realised how wrong everything was, how far we as a species had veered off course. It was almost like looking into another human's eyes, and I wasn't prepared for that. It was so intense, and unjust. After that image and that experience I had to keep going back. I felt the world needed to know about what was happening to this pristine corner of the planet.
OM: AS WELL AS BEING A PHOTOGRAPHER YOU'RE ALSO A WILDLIFE TRADE CONSULTANT HOW DO THE TWO ROLES INTERTWINE?
PH: As a photojournalist I get to meet and interact with wildlife poachers and traders – access most people don't have. I also get access to areas where people don't normally go, and through that access I can get a lot of information. That enables me to produce on-the-ground reports on certain species-related issues. The method I use varies – I have often posed as a buyer, though I'm less able to do that as my profile grows. Ultimately I see the two roles as part of the same thing – highlighting the plight and trade of endangered species. Information and photography both play critical roles in helping to better conserve or protect a species. Fundamentally, I'm more of a conservationist with a camera.
Photographs by
Paul Hilton
Continue reading...
To continue reading this article – and enjoy full digital access across Oceanographic – sign up to Ocean Hub today! More info below…
Keep reading by signing up for an Ocean Hub subscription
Ocean Hub. More than a magazine subscription.
As well the delivery of all new editions, members unlock access to exclusive products, services and discounts, as well as EVERY digital back issue we have published.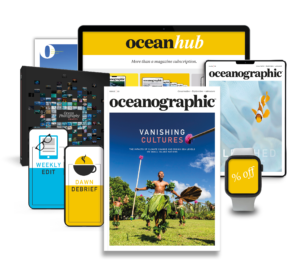 Find out more

about Ocean Hub subscription
Shop window
current issue
Back Issues
Enjoy so much more from Oceanographic Magazine by becoming a subscriber.
A range of subscription options are available.
Sea stories
Beautiful ocean stories straight to your inbox.
Join our community.