Conservation
Healing waters
Interview with
Lizzie Carr
Just a short walk from the main road, rife with cars, a natural oasis unravels ahead like a ribbon.
The River Lea, peppered with canal boats jostling against the banks, is almost completely still. As I round a bend, I spot two ducks nestled in the grass, pecking at the remanence of a plastic bag. Out on the water, I see a coot sitting atop a nest loaded with plastic fragments in a kaleidoscope of colours.
"I had a love/hate relationship with the waterways. I felt so peaceful when out paddling, but I just couldn't ignore all the litter," says Lizzie Carr, paddle boarder and founder of environmental NPO Planet Patrol.
"The problem is magnified when you're right next to it on the water. I saw little chicks eating plastic and building nests out of it. I thought: "What is going on here, why is nobody talking about this? This isn't allowed, this isn't acceptable."
I've joined Lizzie for an afternoon of paddle boarding through the Hackney Marshes in London and I can empathise with her frustration. Every tranquil snapshot is marred by rubbish. Looking down past my paddle I see a traffic cone, a bicycle, a shopping trolley and numerous plastic bottles mottled with algae.
Lizzie first tried paddle boarding in the Isle of Scilly, while in remission for stage two thyroid cancer. Something that started as a gentle hobby snowballed into a passion that was continually interrupted by plastic pollution. Despite returning to work early in her recovery, she quit to find space and to figure out a new path.
"When I quit there was no plan. I hadn't decided I was going to paddle board England. I hadn't decided I was a hardcore environmentalist. I was just trying to find some space in order to figure out what to do next," she says, fishing a bottle out of the water. "I spent a lot of time paddle boarding because it helped me to think. I saw so much rubbish and I got more and more frustrated by it."
Lizzie shot to environmental fame in 2016 when she hopped on a paddle board and travelled 400 miles up the length of England's waterways, documenting the plastic waste she found along the way. It took her 22 days to paddle from Godalming in Surrey to Kendal in Cumbria. "I had to do something, and that was the only thing I knew how to do," she says. "I don't come from a science background. I know how to paddle board and I can definitely photograph and pick up litter. So that was that was the contribution that I could make."
In the years since, her story has become widely known across the UK. She's paddled across the English Channel, down the length of the Hudson River and has launched her Planet Patrol app, so others can also log the pollution they find in bodies of water local to them. People reach out to her from all over the world asking how they can get involved. Today, the app is brimming with information, all of which is analysed by a team at the University of Nottingham. The current campaign, #OneforOne, aims to collect one million pieces of plastic. The team of scientists deciphers the different types, the distribution and the brands, so that factual evidence can be applied to accountability.
"Planet Patrol has never been about naming and shaming. I don't think it's helpful. We have to find ways to work together and find solutions. We need to understand the problems at every level and tackle that problem collectively," she explains. "This is an unprecedented problem. We're in an unprecedented time. There's a blame culture between government, industry and individuals. It's everyone's problem. Everyone just needs to do their little bit and that's a step forward."
The combination of paddle boarding and environmentalism feels logical. The mindfulness that comes from the sport can be directly applied to the attitude needed in finding solutions. By slowing down, I realise how we have to learn from what happened with plastic rather than retrospectively condemn its creation. We've dubbed plastic as evil, but it was an incredible innovation and has served a great purpose. Now, it's about finding solutions but not rushing into them. Lizzie uses the example of paper straws and how if we start using more significant amounts of that material, that will mean cutting down more trees, which in turn will have some negative environmental impact.
"It's easy to look at alternatives to plastic, but we need to make sure we don't get into another bad situation just because something looks like a great solution now," she says. "Whatever single-use material we use comes at an environmental cost."
Lizzie takes Planet Patrol all around the UK running litter picking events, often atop paddle boards, always free of charge. I look at my board, which now has a small pile of trash oozing river water in front of me. A familiar brand's packaging stirs something in the pit of my stomach. Even though I try hard to avoid single-use plastics, my life is still riddled with the stuff. On a previous Planet Patrol event, we were in the middle of a beach clean-up at the Royal Docks when a local resident wandered over to us to express his support. He told us he worked in sustainability within the mining industry and that it was so important that people did things like this, all while sipping beer from a single-use plastic cup. Our current reality is one of serious disconnection between our morals and behaviours.
"Everyone's aware of how big and bad the problem of single-use plastics is now. One of the only ways we're going to tackle this problem on the ground is if everyone understands that we have to make a few sacrifices," she says when I raise this. "We can't have everything as easily and conveniently as we're used to. We have to get our heads around that."
One of the main objectives of Planet Patrol is to get people to properly engage with the problem and the pollution in their own towns. Lizzie's approach takes into account that, for many, hearing about the billions of pieces of microplastics floating out in the middle of the ocean isn't easy to comprehend. Finding something that people can relate to and find community in is of paramount value. "We're in the middle of Hackney right now. Think how densely populated this area is," she says. "We can say how much we found on one kilometre of water and that if we don't intercept it, it will flow out into the oceans. That has so much power because suddenly, people realise that it's about their home and their community."
Like with so many aspects of conservation, community is the kingpin. It's easy to look at Planet Patrol and think that it's just a group of people out litter picking, but it's clear that there's so much more to it. It really seems to bring people together, both through the simplicity of focusing on an activity and the power of feeling like you're making a difference. Unsurprisingly, this combination of community and action has provided noticeable mental health benefits for many plastic patrollers, including Lizzie.
"At first, it was just me on this solo crusade. But then over the last four years, I've watched how it's evolved and how many people care," she says, smiling. "Not just because they contact me to tell me, but because they give up their time to Planet Patrol and to trying to be part of the solution."
"There's a community of us who have all gone on the same journey, discovering paddle boarding as cancer survivors. It's really difficult talking about that side of my experience, but it encourages me to do it more when I get messages from people going through something similar."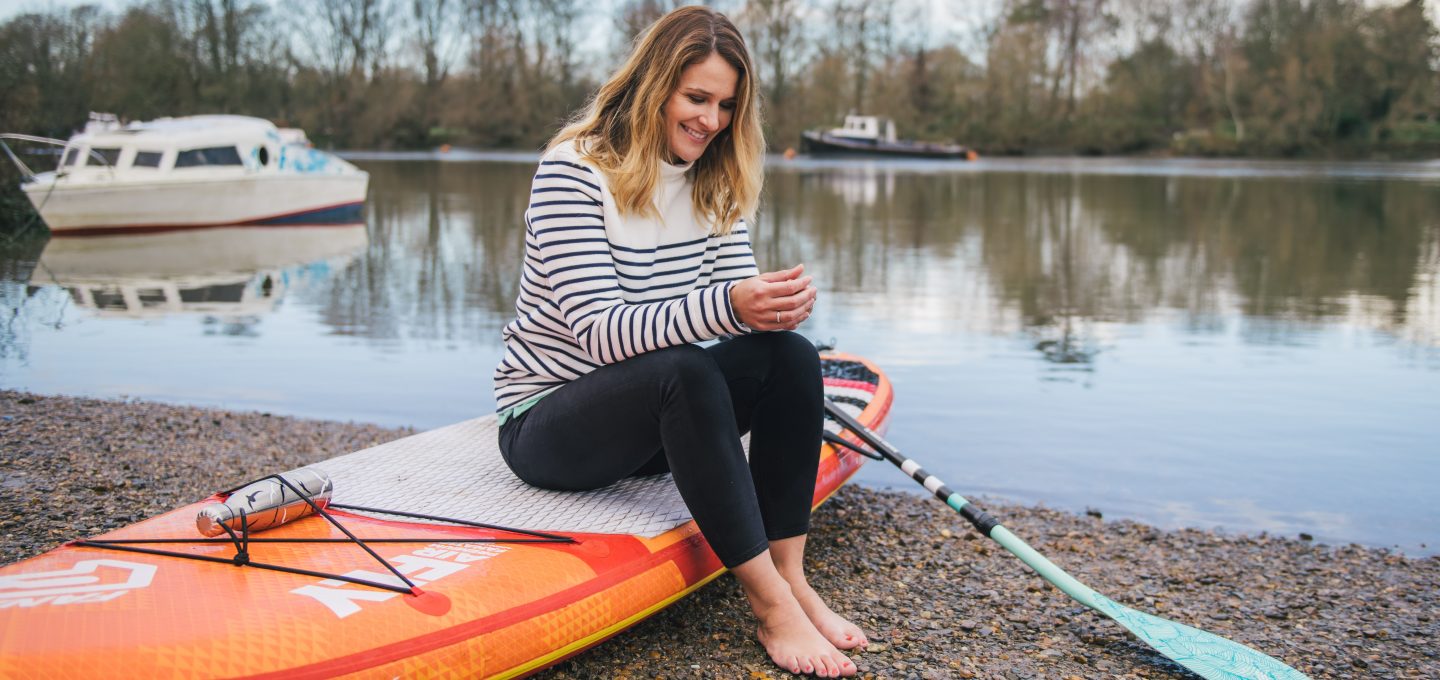 We glide over the surface of the water, slowing to watch a gaggle of ducklings scramble to cross the basin. I find it incredible that we're still in London, one of the busiest cities in the world where a fast-paced lifestyle seems to be the only viable option. But there's something amazing about seeing the city from the water. It's like looking up from the bottom of a pool, seeing distorted shapes slide in and out of sight, hearing the muffled murmurs of traffic far away.
"I wasn't aware when I started paddle boarding that I needed that kind of support and it's been incredible for me. Even now, if I have low days, I just want to get out on the water to reset. I sometimes wonder now if I hadn't have found that, would my recovery have been as positive as it was? Would I be on the same journey?"
Lizzie's story is one for the ages – a classic tale of the phoenix rising from the ashes. It teaches people that nobody is too small to have a voice, nobody is too small to make a difference and the acts of an individual can be so powerful.
"I don't think anything can give you a better perspective than being faced with your own mortality and having to figure out what you value in life," she says earnestly. "Planet Patrol really helps me keep that perspective. It's a reminder of the promise I made to myself about how I'd live. I think I've been true to it."
Photographs courtesy of: Planet Patrol, Crew Clothing / Andy Hughes, John Linford, Robert Boulton and Joel Caldwell.
You can read 'The Crazy 8', Lizzie's first-hand account of her experiences paddling the Hudson River in Issue 05 of Oceanographic Magazine.
Interview with
Lizzie Carr
Sea stories
Beautiful ocean stories straight to your inbox.
Join our community.