Exploration
Protecting Palawan
Tourism can be destructive. It can also be transformative. In Northern Palawan, one ethical tour company is creatively harnessing sustainable tourism to create jobs, support communities and improve living standards. They are also reducing the prevalence of dynamite fishing.
Photographs by
Scott Sporleder
As rolling waves crash into the bow of our small boat and storm clouds gather overhead, I can't escape thoughts of being stranded on a remote island or, worse, being thrown overboard and left helpless at the mercy of the high seas. I am aboard the Palawenya: a tour boat embarking on a five-day expedition from Coron to El Nido through the stunning Philippine archipelago of Palawan. We are already two days behind schedule due to the very real threat of Tropical Storm Usman, which killed at least 68 people in the mountainous Bicol region a few hundred kilometres northwest of our current location, and while I trust the judgement of our worldly-wise and windswept captain, Benje, I can't shake that niggling feeling that a tiny change in wind direction or navigational error could set us on a catastrophic collision course with a deadly typhoon.
My trepidation is assuaged by the fact the company I am travelling with, TAO Philippines, has been leading expeditions around Northern Palawan since 2006, and their safety record is exemplary. And sure enough, after a couple of hours of sailing from the Port of Coron, as we drop anchor at our first stop-off location, Ditaytayan Island, the clouds begin to disperse and we are bathed in the comforting glow of the mid-morning sunshine. As the waves lap gently on the shore and our crew's two expert kayakers, Rafael and Erwin, ferry the weaker swimmers from the boat to the island, the rest of us grab a snorkel and plunge into the clear water, thoughts of thunderous clouds left behind. 
The reef is beautiful. Striking blue and green giant clams pop with colour amongst the coral, while tiny clownfish dart between the swaying tentacles of sea anemones, warning us away from their habitat if we get too close. As we drift along with the current, immersed in what is an underwater wonderland, we come across a section of reef where few fish venture. Devoid of colour and with its coral and rock formations destroyed, it is a stark contrast from the bountiful beauty on show just a few metres behind us. "How did this happen?" I ask our expedition leader, Ton, as I haul myself back onto the boat. His answer is as depressing as the sight itself: "Dynamite fishing".
I fill with rage. How could somebody do this to their own environment? Ton explains that the local fishermen are desperate. With little to no employment on the islands, apart from fishing, the area's fish stocks have dwindled in recent years, forcing local fishermen to resort to this destructive practice in order to feed their families. It is a vicious cycle, which will ultimately lead to the complete destruction of the local environment and the livelihoods of the local people. 
The Philippines has taken extreme measures to protect its environment against another onslaught – unsustainable tourism. The country's original paradisiacal location, Boracay, only recently reopened following a six-month 'cooling off' period in order to allow it to recover. There is speculation amongst Palawan's residents that their neighbourhood will be next to shut down.
There is hope, though. Unlike many other tour companies, TAO ('human' in Filipino) employs only local people to lead its expeditions. This means that visitors benefit from a crew with unrivalled local knowledge, but also – and more significantly – that those crew members benefit from the opportunity to earn a decent salary and learn invaluable new skills. Today, TAO has grown into a thriving community of more than 200 islanders, made up mainly of the young fishermen who could so easily have been dynamiters. Instead, they are trained to crew expedition boats, taught English and set on a trajectory that will allow them to work their way up to becoming an expedition leader. The importance of the income cannot be understated. One of our crew members, Than, supports his entire extended family with his income. And it's not just the men who benefit. So far the TAO Women's Association has trained more than 40 women to become qualified massage therapists, and they pay a fair salary to local women who create natural soaps and sew the bed linen and clothing used by guests and crew members.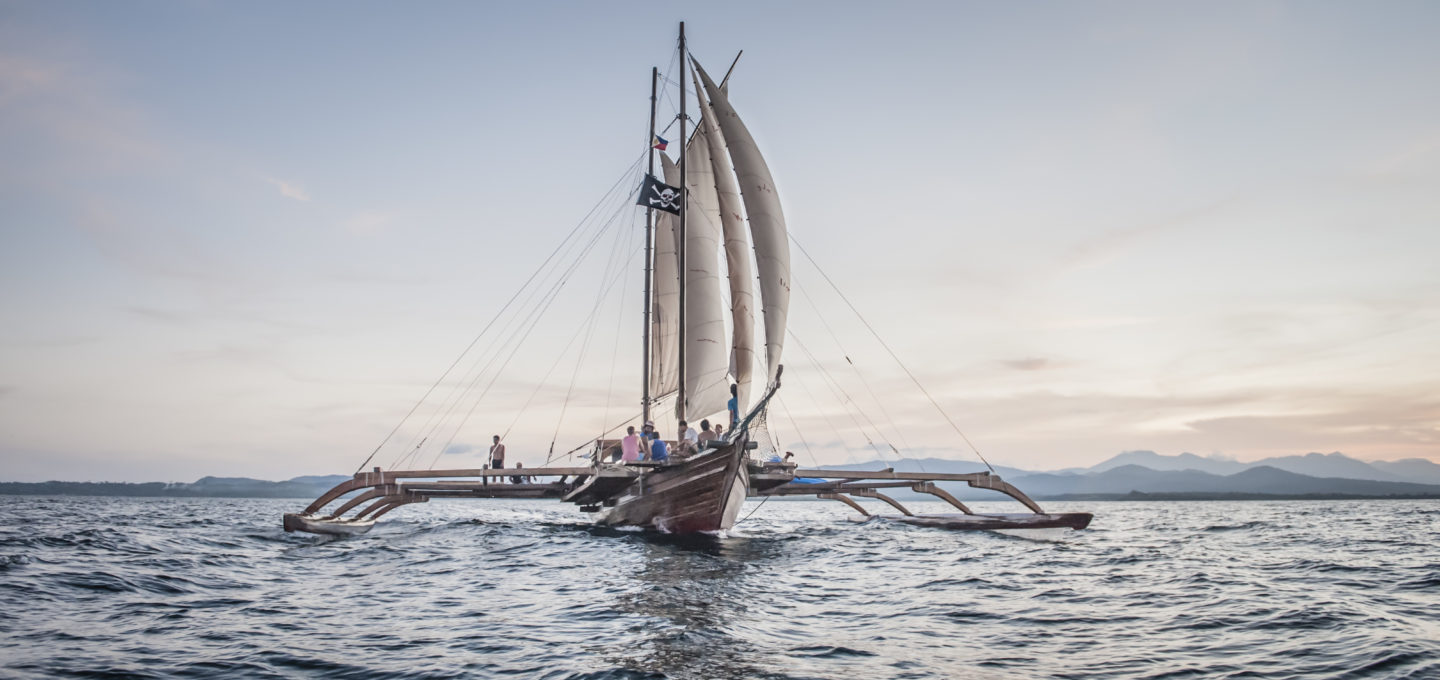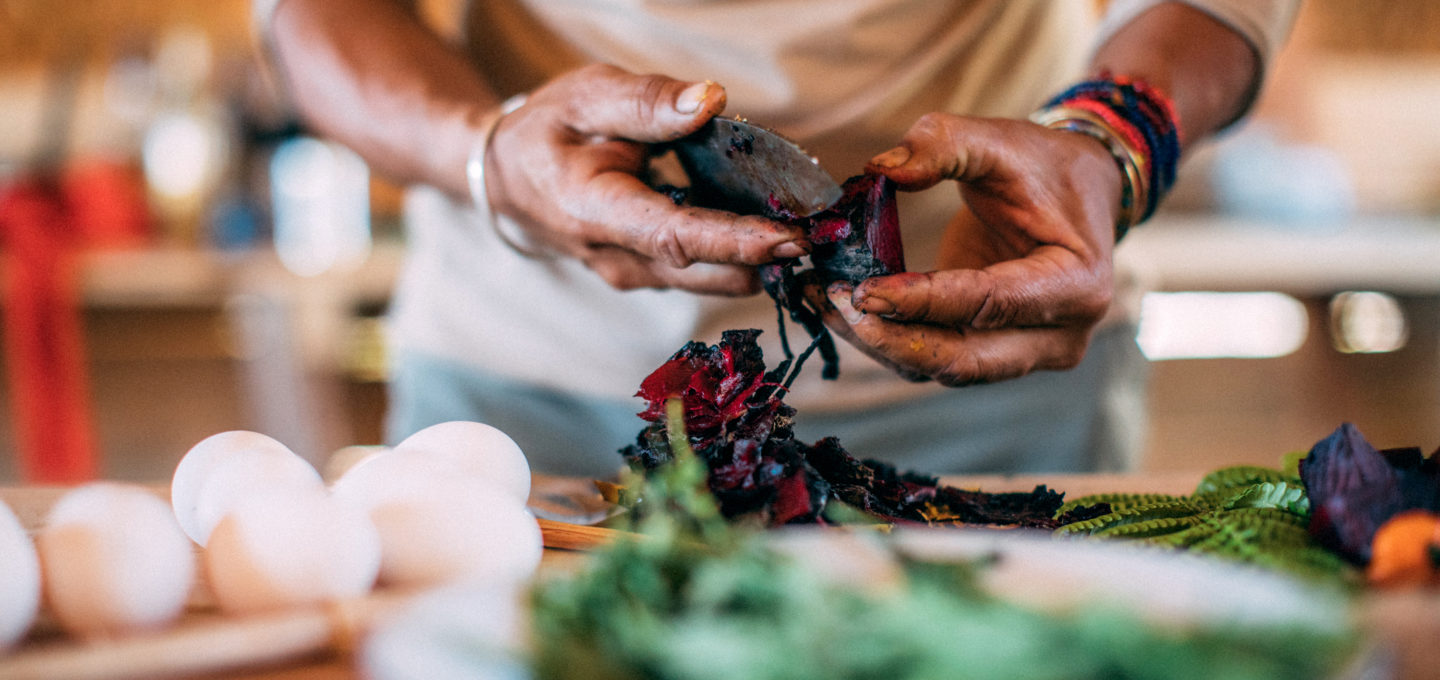 Filipino Power
With a sharp blast on a conch, Ton signals lunchtime. Everyone – including the Palawenya's Jack Russel, Galit, who excitedly hops aboard a kayak – makes their way back to the boat. Mealtimes are an important part of any TAO trip. Every crew member is trained as a chef before they graduate to other roles on the boat, meaning standards are high. And the food isn't just good in the context of having been prepared in a small galley at the back of the boat; thanks to the quality and freshness of the ingredients and the incredible talent of our young chef, Bal, our humble boat lunch is something more akin to high-end restaurant cuisine. From crunchy organic bean salad to creamy coconut vegetable curry, everything is beautifully presented and delicious. And every meal is accompanied by TAO's homemade infused vinegars as well as a generous spoonful of what the crew enthusiastically refer to as Filipino Power, more commonly known as white rice. It's at least a three-hour sail to our basecamp for the night, so with full bellies, we find a shady spot on the stern of the boat, lie back and revel in the surroundings. 
We reach our island basecamp just as the sun is setting. The camp is a series of simple huts made from sustainably-sourced bamboo. TAO has built more than a dozen camps similar to this one throughout Palawan, and the expedition leader decides which to stay at each night based on the tides and weather conditions. Crucially, TAO hasn't purchased any of the land for its basecamps. Instead the land is rented from local residents, ensuring they receive a fair and regular income.
After an evening full of laughter and anecdotes with the crew, we turn in for the night. As we stroll along the pebble beach back towards our hut, skimming stones into the water as we walk, something extraordinary happens: bioluminescence. As the water is disturbed great flashes of green light erupt in vivid bursts – a magical way to end the first day of the expedition.
The following morning we are up early and on our way to another nearby island, to buy a pig. Known as Lechón, whole spit-roasted pig is a traditional celebratory meal in the Philippines, and it just so happens that today is New Year's Eve – the perfect excuse for the crew to treat us to a taste of their favourite dish. As soon as we land on the beach, we are greeted by a group of young children, who show us their fishing nets and challenge us to a game of tag. By the time we have got our breath back, Ton has returned from the village with our evening meal and it's time to head back to the boat and be on our way.
Photographs by
Scott Sporleder
Continue reading...
To continue reading this article – and enjoy full digital access across Oceanographic – sign up to Ocean Hub today! More info below…
Keep reading by signing up for an Ocean Hub subscription
Ocean Hub. More than a magazine subscription.
As well the delivery of all new editions, members unlock access to exclusive products, services and discounts, as well as EVERY digital back issue we have published.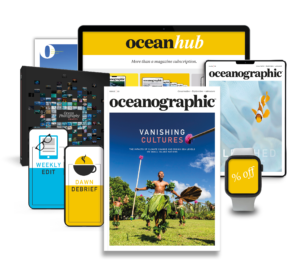 Find out more

about Ocean Hub subscription
Shop window
current issue
Back Issues
Enjoy so much more from Oceanographic Magazine by becoming a subscriber.
A range of subscription options are available.
Sea stories
Beautiful ocean stories straight to your inbox.
Join our community.