Conservation
In deep water
Atlantic puffins are one of the world's most charismatic seabird species. But their survival is threatened by climate change, habitat loss and, for one colony, an invasive plant. The SOS Puffin Project in Scotland is working hard to turn the tide.
Words and photographs by
Frederic Ferrando
Additional photographs by
Francesca Page
Words and photographs by
Frederic Ferrando
Bass Rock lies a few kilometres offshore from the idyllic Scottish town of North Berwick. Home to the largest colony of Northern gannets on the planet, it is one of the world's wildlife wonders. A small cluster of nearby inhabited islands in the Firth of Forth – Craighleith, Fidra and Lamb – attract various other breeding seabird colonies from March to October each year. I travelled to the area to meet the team at the Scottish Seabird Centre, which has been protecting seabirds for more than 20 years, to learn more about one of the most charismatic seabirds in the region.
Atlantic puffins, the instantly-identifiable 'clowns of the sea', rely on the ocean for food. Pollution, climate change, disease and overfishing are just a few of the many challenges facing the species today. Listed on the International Union for Conservation of Nature (IUCN) Red List as Endangered in Europe and Vulnerable worldwide, it is estimated that there are between 7.4 and 8.2 million mature individuals globally. Populations in Europe have decreased by 68% in the last 50 years, according to Birdlife data. There are a number of reasons for this decline.
Atlantic puffins live out in the open ocean for most of the year, returning to selected North Atlantic coastlines and islands to breed. In Scotland, puffins come ashore on the isles of May, Fidra, Craigleith, Handa, St Kilda, Orkney and Shetland, amongst other locations, from March to August, to gather at so-called puffinries, or nesting sites, which tend to be burrows on grass-covered clifftops. Around North Berwick they can be seen from April to July. Their range spans from the eastern coast of Canada and northern United States to the western coast of Europe and northern Russia. Iceland is home to an estimated 60% of the world's puffin population.
The species' main food source, sandeels, is under immense pressure. The small fish species is highly susceptible to changes in water temperature. With global warming causing sea temperatures to rise around the UK, as in other parts of the world, sandeel numbers are also declining. As a result, puffins are struggling to find enough food to feed their chicks. Overfishing is exacerbating the problem.
According to a recent study led by The Zoological Society of London (ZSL), reduced food accessibility and prolonged periods of stormy weather caused by climate change could see 68% reduction in puffin nesting sites in Western Europe by the end of the century unless urgent measures are taken. "These birds face double the challenges as they breed on land but rely on the sea for survival; by living across these two worlds, they are essential to both ecosystems and give us a glimpse into the health of wildlife in otherwise hard-to-monitor areas of the ocean – meaning their loss would impact countless other species and their conservation," says Henry Häkkinen, ZSL Institute of Zoology post-doctoral fellow, who was involved in the study.
During 2021 and 2022, Highly Pathogenic Avian Influenza (HPAI) hit seabird colonies around the UK. Although Low Pathogenic Avian Influenza (LPAI), also known as avian flu, has been circulating for many years, this highly contagious and deadly new form has only recently reached the UK's shores. In the summer of 2022, Bass Rock, which is ordinarily packed tightly with 150,000 noisy and rambunctious gannets fighting for space, was sparsely occupied. An aerial count at the peak of the season, carried out by the Scottish Seabird Centre in partnership with the University of Edinburgh in June 2022, showed more than 5,000 dead birds, and the scientists believe that many more may have perished.
Although the other islands in the Firth of Forth, including the national nature reserve of the Isle of May, were closed to visitors for some of the 2022 seabird breeding season to minimise disturbance and avoid biosecurity risks, these seabird populations, including razorbills, guillemots, cormorants, shags, and gulls,
were also affected. Puffin numbers, however, have seen the most dramatic drop in recent years. In response to this, the Scottish Seabird Centre started the 'SOS Puffin' project alongside the RSPB, NatureScot, landowners, and volunteers to protect and restore the puffin populations on the islands. "In the early 2000s, on Craigleith Island alone, puffin numbers had been reduced from about 10,000 individuals to the chilling figure of less than 1,000," says Emily Burton, conservation officer at the Scottish Seabird Centre.
Alongside diminishing sandeel numbers and avian flu, puffins face another threat. Approximately 300 years ago, tree mallow was imported to Bass Rock. The plant has medicinal properties and the military occupying Bass Rock at the time used it as an expectorant and anti-inflammatory remedy for the troops. Back then, the vegetation was dominated by grasses, but over the last 30 years due to milder winters and warmer summers, the tree mallow has spread significantly, including to other islands. Growing up to 3 metres high, with a large root system and a dense mass of stems and leaves, the plants pose a serious threat to puffins, which dig tunnels of 1 to 2 metres to lay their eggs. Puffins need open grassy slopes with soft soil for nesting, not densely vegetated areas with root-filled earth. Less nesting space means fewer puffin pairs arriving and settling on the island, while existing pairs cannot reach their burrows.
Additional photographs by
Francesca Page
Continue reading...
To continue reading this article – and enjoy full digital access across Oceanographic – sign up to Ocean Hub today! More info below…
Keep reading by signing up for an Ocean Hub subscription
Ocean Hub. More than a magazine subscription.
As well the delivery of all new editions, members unlock access to exclusive products, services and discounts, as well as EVERY digital back issue we have published.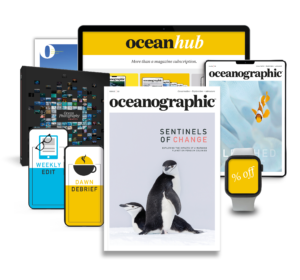 Find out more

about Ocean Hub subscription
Shop window
current issue
Back Issues
Enjoy so much more from Oceanographic Magazine by becoming a subscriber.
A range of subscription options are available.
Sea stories
Beautiful ocean stories straight to your inbox.
Join our community.