Conservation
Rebuilding Coralarium
Photographs by
Cat Vinton
A small, tranquil face appears from the blue.
Eyes closed, her face tilts skyward as sunlight flickers over her stone skin. She stands just below the surface of the water in an idyllic white sand bay. Tiny fish dart around her shoulders while plants sway lazily around her feet. I swim past her and head into the shade of a vast metal cube, which casts streaks of shadow across the placid ocean. In here, an array of abstract human figures stand stoically observing their surroundings, concrete corals bursting out of their heads, chests, arms and legs. Up above, stone figures look down at me from atop the cube.
I return to shore. Jason deCaires Taylor's 'Coralarium' is still visible from the beach of the Fairmont Sirru Fen Fushi Hotel in the Maldives' Shaviyani Atoll. I sit with him and we sip coffee, watching waves scramble up the sand. "We're all connected to the sea in some way, so for me it feels like a very sacred experience going into the underwater world," he says. "I've always felt a bit uncomfortable about just making works, having exhibitions and then storing or selling them, it didn't really sit well with me. Then I realised that I could make art that had a secondary purpose, that was functional and could also tell stories and at the end of the day, whether you like the art or not, it actually served a practical purpose. I felt much happier about that, I felt it was a more valid contribution."
This design is intricate. The metallic cube seems to act like a mediator between the three core elements; the coarse underwater trees and figures that act as artificial reefs, semi-submerged statues that indicate the changing sea levels, and the humans pondering the effects of climate change on top. "It's the idea that all these three levels are connected and reliant on each other," he says. "It's not just ocean versus land, it's all one entity and we need to constantly be thinking about how dependent and fragile it is."
Taylor has carefully selected a variety of non-toxic materials for the Coralarium – some course, some pock-marked and others mixed with stones and shells – that encourage wildlife to make homes  and corals to put down roots on the figures so that over time, it will be difficult to see the original shapes through a mass of marine life. "I certainly feel that conservation is at the heart of it. They've been designed to have marine life growing and living on them, but they also aim to tell stories about the environment and to create a bridge to the underwater world. It allows them to look into a completely different world and, hopefully, fall in love with its fragility and its vulnerability, to the extent that they want to protect it."
Fast-forward four months. I'm back in London and Taylor has left Sirru Fen Fushi after eight long months of work. An order has been announced for the Maldivian Army to rip the statues down for being anti-Islamic, and pictures emerge online of policemen destroying the figures with angle grinders, hammers and pickaxes. It's desperately sad and unapologetically violent. It's April 2019 before I get the chance to speak to Taylor again.
"I've worked in Islamic countries before and I realise it's a very sensitive issue, so from a very early stage we checked everything over and over again," explains Taylor. We did all the designs for the sculptures, we presented the designs to the government, we did lots of planning and we consulted numerous religious leaders on the project. We really made sure that we were doing everything in a sensitive way. When it was finished, governmental representatives came to the island to see the sculptures and final presentations, and they said they didn't see any issues with it. When the installation opened, there was a bit of criticism from a local community, but not a lot, and the government didn't respond to that in any way."
They heard nothing until two days before the Presidential elections. On the September 20, 2018 they were given a court summons for the following day. "It was ruled that all the sculptures would have to be taken out by the army. They gave us 15 minutes to respond, and then the offices were closed for the weekend," Taylor says. "The government sent in the army, sent in local media and made a big ceremony of ripping the sculptures out. We offered to remove them so that we could keep them, and they didn't respond to that – they wanted it to be a spectacle. It was a political thing, the President was courting the religious vote in the Maldives and wanted to be seen as defending Islam. It was a publicity stunt. Two days later he lost the election, which makes it even more pointless."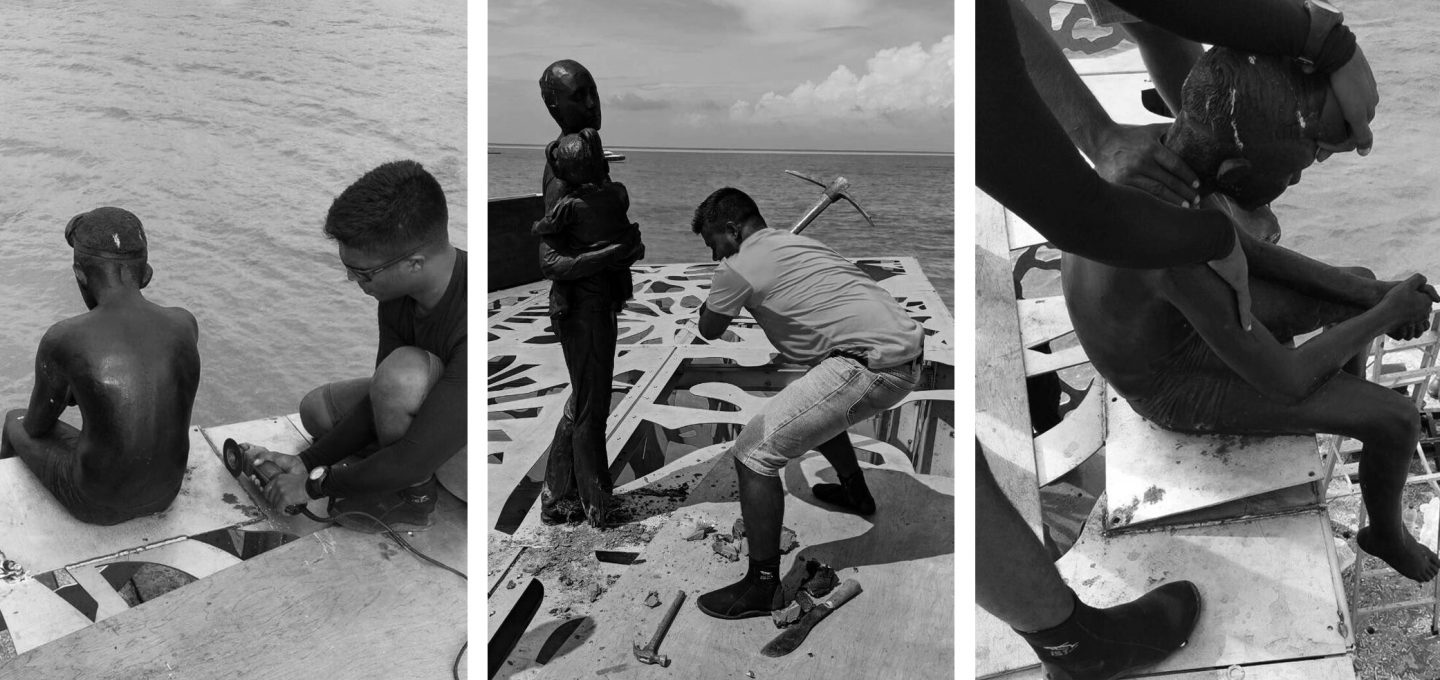 Taylor had to watch events unfold from afar. "It's a difficult thing. You have to be very sensitive about people's feelings towards religion, but I didn't feel this was really about that," he adds. "But it's definitely got a story now. If artworks don't stimulate public debate, then they're not functioning as art. I think it's good to have a reaction and I think that story is a very important part of the Coralarium."
This spring, Taylor's team will be flying out to the Sirru Fen Fushi to replace the destroyed works with new abstract shapes. By the end of June, it will be completed for the second time. "They're just organic, cellular formations, but they've been designed to attract marine life. I think they'll work well inside the cube – they're certainly not figurative or based on anything that you can recognise," he says. "The message will definitely be different now. The previous sculptures were all about our integration, us living in harmony with nature, a symbiotic relationship. It was also about how sea levels are rising and the threats to those coral atolls, so while this is still the case, it will be slightly different."
Taylor has by no means been kicking his heels in the aftermath of the destruction. A loud voice on behalf of ocean conservation, he has been working on projects around the world with the aim of rejuvenating marine wildlife. Currently, he's working on creating an underwater forest in Cyprus and on other projects in Cannes, Norway and the Caribbean. Most notably perhaps is his upcoming installation on the Great Barrier Reef, which will be a large underwater, botanical greenhouse. "We'll be planting lots of different corals, using a lot of the research from James Cooke University and the Australian Institute of Marine Sciences," he says. "We'll be incorporating some of the 'hybrid' and temperature resistant corals that they're currently experimenting with. It will be the first time that any kind of artistic structure has been placed underwater on the Great Barrier Reef. That's exciting."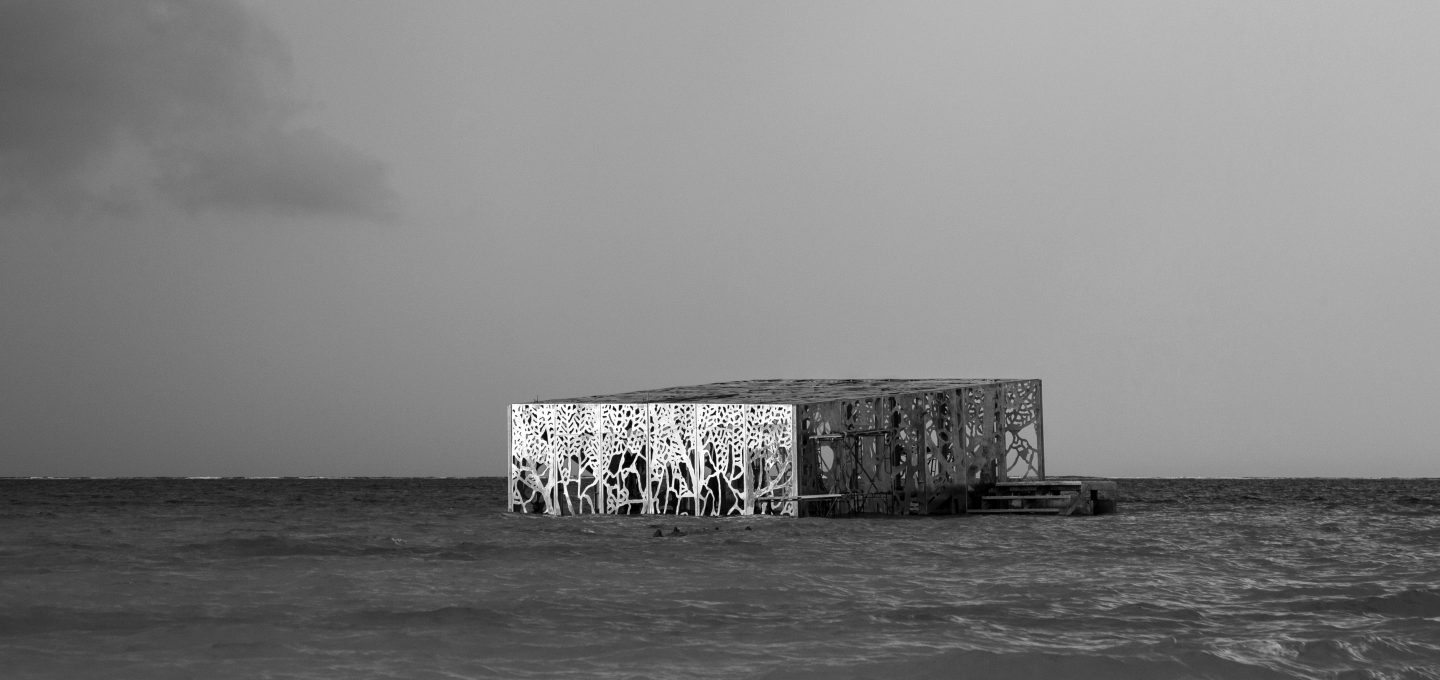 "We're also doing some sculptures that change colour according to ocean temperatures. The warmer the ocean gets, the more risk there is of coral bleaching. There will be sculptures above the water that will indicate that, making people aware that the corals are in danger."
No matter what, conservation remains at the heart of his work. And despite the fact that a portion of the Coralarium is now missing, it's already harbouring an astonishing array of new inhabitants. It's located at the centre of a large and pristine sandy bay, offering a rare sanctuary of shade where hard corals, schools of fish and tunicates are thriving. The Coralarium will be completed once again later this year. Until then, nature continues to build.
To read our original story about Taylor's innovative Coralarium and to see more of Cat Vinton's stunning photography, check out Issue 03 of Oceanographic.
Photographs courtesy of Cat Vinton, Jason deCaires Taylor and Twitter.com / Maldives Police.
Photographs by
Cat Vinton
Sea stories
Beautiful ocean stories straight to your inbox.
Join our community.