Adventure
Shaping a village
If we asked around, I think most divers would agree that travel and scuba go very well together. Diving adds depth to a place and presents another dimension to the exploration and discovery of a new place. For some, diving alone defines their itinerary and destination. But our seemingly innocuous holiday activity, especially when practiced in far flung areas, has the power to shape places and their communities, in good and sometimes bad ways, above and below water.
Words & photographs by
Lucia Pinto
Words & photographs by
Lucia Pinto
While being environmentally conscious is not a new topic, protecting marine habitats specifically is somewhat newer to the general public. With the UN Ocean Decade now in its third year, there is a growing sense of responsibility for marine ecosystems, but as this awareness grows, with an infinite source of images and videos of marine life streaming around the world, so does the desire for this kind of interaction grow, taking people to ever more remote places to find it. Scuba diving companies have succeeded in offering this, but at what cost?
If we look beyond the environmental impact of the activity in itself, which at times betrays the original sentiment that calls us to dive, there is another argument, just as important, which is seldom discussed: the human impact of diving operations, its implications on local coastal communities and their way of life.
I was miles away when I started planning my short trip to Bali, there were hundreds of options to choose from and it was also incredibly hard to gain insight on these human aspects before arrival. Dive shops often advertise about their focus on conservation and ecology, but very little information is found on their relationship with the neighbouring coastal community. Sadly, it's not considered relevant. This may be because we are more focussed on what we would like to see in the water, and easily overlook aspects about what is going on out of the water, on dry land, forgetting we are guests in someone else's home ground, where regular people live their lives.
Just like we would enquire on the environmental practices, here are some questions we could ask before booking a diving holiday: Is the local community involved in the diving operations or are they alienated? What is the relationship like? Who owns the business and where are they from? Are there equitable training programs for locals to become dive guides? Do they take local children diving? How does the dive centre and their operations contribute to the local economy? Are they looking after the marine environment? The answers could lead to better choices and an enhanced experience, knowing there is a positive human impact to our visit.
During my time between Tulamben and Amed I realised there was something particular going on there, I picked up a few interesting details and in conversation with the locals I was able to appreciate their unique dynamic between the local community and the diving operations. The area of Tulamben, with its adjacent 14km strip of fishing villages, is not the typical white-sand and lush green beachfront location one might picture when imagining a holiday in Bali.
The coastline here is defined by black volcanic sand and rounded cobble stones that cover most of the beach and extend into the sea. Gazing at the horizon gives no indication of what lies beneath, a sharp contrast to the more photogenic turquoise waters that suggest a marine paradise below, with the alluring shades of green and blue often featured in postcards.
This is a very different landscape, one shaped by Mount Agung, the island's highest point and an active volcano looming over the sea, influencing the surrounding people and terrain. My online meanderings had led me to a YouTube video that narrowed down my search and zoomed into my latest addiction, nudibranchs. The author was Jérôme, a charismatic French underwater macro photographer and videographer, owner of Plouf Diving based in Amed for over 11 years.
At first, I felt a slight hesitation because I prefer booking with a local company, aiming to contribute more directly to the local economy. As it turned out, there was no need for any concern for diving in this region is intimately tied to its local people. And even if Jérôme is a foreigner, his operation hinges entirely on the community and the human infrastructure that evolved here due to scuba diving.
Nyoman, Jérôme's right hand man, reckons it all started about 45 years ago as the USAT Liberty wreck became popular. He was a young kid then and his large family farmed rice and corn for a living. He witnessed the progressive change in his village of Tulamben, not knowing his life too was to become connected to scuba diving till this day.
Nyoman has run the logistics and back office of the dive centre since it started, which is why Jérôme fondly calls him 'the Boss'. Always arriving before time, he picked me up from my accommodation in the morning and happily tolerated my nosy interrogations.
His village name Tulamben is derived from the word batulambih, which roughly translates as 'many stones', a reference to the pebbles that lie on the beach and the destructive volcanic eruptions that have affected this part of Bali over time. The eruption of 1963 is perhaps the most important one in this story because it was the resulting earthquake that dislodged the 120-metre US Army ship Liberty off the beach and into deeper water, forever changing the fate of this region.
The US had just entered World War II in 1941 when the USAT Liberty, then en-route in the Pacific, was torpedoed by a Japanese submarine. It was being towed to safe harbour, but ultimately the damage was too severe for the voyage to continue and a plan to salvage her cargo was made by beaching the vessel on the shore of Tulamben.
There it remained for 21 years until Mount Agung sprang to life again in 1963, destroying many nearby villages, killing nearly 2,000 inhabitants, and incidentally shaking the Liberty down from the shore into shallow water. In the shadow of this event the ship slowly decayed, in this same spot, a mere 20 meters from the shore, becoming one the most accessible wreck dives in the world.
As Nyoman grew up, he and a whole generation benefited from this otherwise sad and devastating event. The underwater wreck, theming with marine life, became known over time and as scuba grew into an established sport so did the popularity of this dive site.
Five main dive resorts appeared in the 90's and then the restaurants came along. The change may have been slow but significant in the long run. Nyoman, who would have most likely ended up transmigrating to farm somewhere in Sumatra or become a policeman far away in Papua, started working for a dive resort instead. At first the dive guides were foreigners, but later one of these resorts started developing their own local team. A small but critical step that defined the future of Tulamben and also Amed.
These Divemasters proliferated and are now the main protagonists of their own businesses and the most knowledgeable guides in the region. Jérôme understood my desire to see and photograph nudibranchs, so he organised a dedicated divemaster just for me, to help me identify the millimetric creatures I was so fascinated about.
Uji, who prefers to freelance nowadays, dives on a regular basis and knows what has been seen lately and where. After a brief chat we loaded our dear and tanks and headed to the dive site a short drive away. On arrival we were greeted by a small group of locals, a family who lived in a very humble home by the sea. They were there to help us and in a few minutes all our heavy gear wad been whisked away, carried over all the boulders and put down precisely where our dive was to begin. It struck me at this point just how much the locals had adapted to cater for this curious bubble blowing clientele. I was intrigued, I did my pre-dive checks and walked into the sea keen to find out more.
I must confess my first impression underwater was strange, the scene was very dark and bare. Had I made a mistake in coming here? I followed Uji as he glided down the gentle slope, and then one after the other, there they were. It was surprising to see them so brightly coloured in the dark black sand, moving lazily about their lives, with no fear or protective shell. As I finished photographing a nudibranch, Uji would direct me to another. Some were so small I wondered if he was pointing at anything at all!
Before long, it was time to surface and wait out the surface interval. The atmosphere was relaxed and I sat on the black pebbles warming myself for a moment. Soon the same family served us tea and coffee under the cooler shade of the trees. Between light-hearted jokes, technical discussions and species ID the time flew by. The second dive was just as rewarding with more unique nudis, a yawning frogfish, a couple of ghost pipefishes and a peacock mantis shrimp. As we surfaced, I was led to the concrete reservoirs thoughtfully built by the family for the divers to rinse all our gear with fresh water. We wrapped-up with a feeling of accomplishment in the air and after a delicious mahi-mahi and nasi goreng lunch in Amed, I returned to my accommodation and the rest of the afternoon went by with ease, soaked with an enduring feeling of post-diving happiness.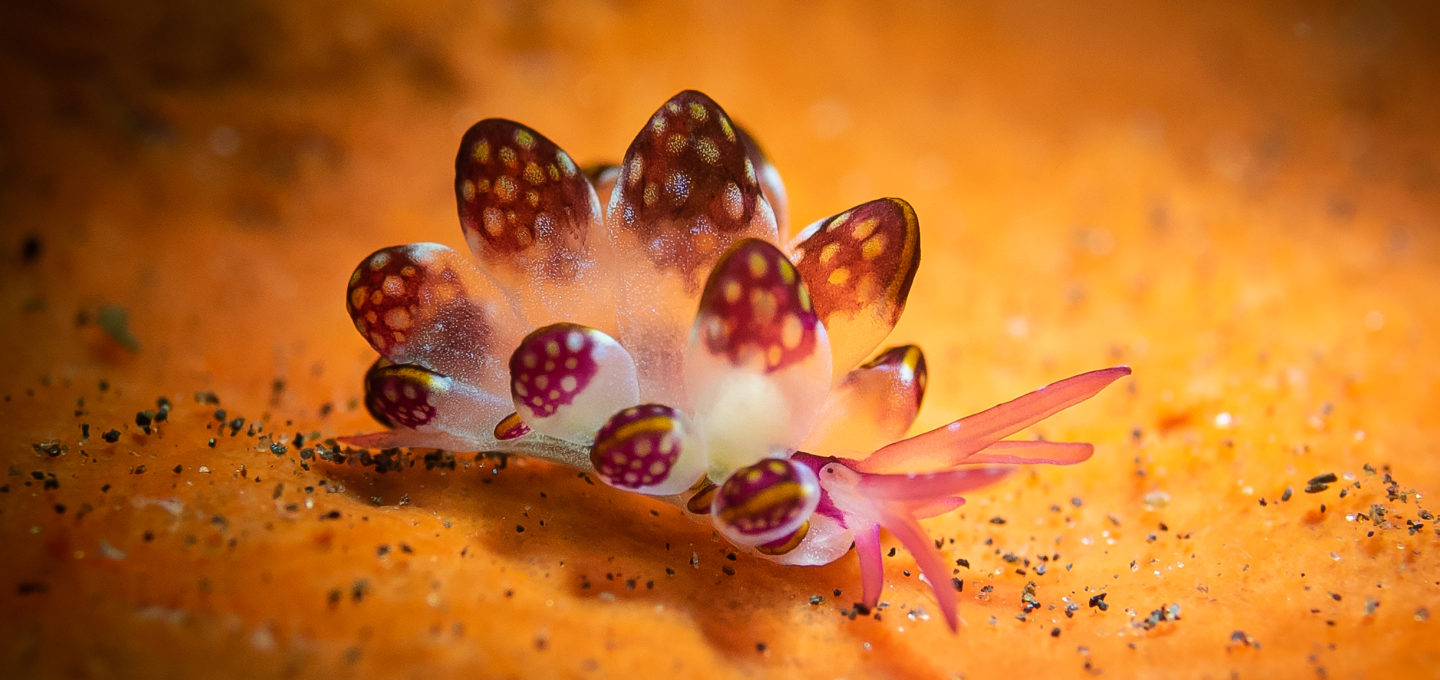 If the first day had been quiet and relaxed, the second was faster paced. As soon as we arrived near the dive site, I noticed the increased commotion. There were vehicles and numerous people moving about, and along the pebbly beach small groups of divers were getting ready with their local dive guides, while porters were coming to and from the coast to a tank filling station nearby. We were at the site of the Liberty shipwreck, the beating heart of Tulamben.
Hard to miss was the fact that all the porters were female, gracefully carrying multiple dive weights and two tanks at a time. They were all part of the Diving Helpers Club, a local group that operates as a co-operative. They charge the resorts and dive operators a small fee per diver and at the end of the day the money is equally split between the helpers, while 20% goes to the club itself, for community-based needs, such as funding school projects or buying new musical instruments for their gamelan orchestra. I admired their balance and strength, and they indulged me with a photograph.
We started off with a muck dive, similar in terrain to the previous dives, but this time we had a mission to spot the elusive algae shrimp recently seen in the area but particularly hard to find. It took a little while, but Uji found one, of course, with his well-trained eye.
We surfaced a bit hungry, so Jérôme led the way to the main square for coffee and pancakes. I often enjoy this surface interval time as it is usually great for meeting other divers and guides and to absorb the local atmosphere. We were still dripping wet when walking there, the space opened up to a few different designated areas: free public showers, a car park, a couple of food terraces around the square and to the side, the dive tank depot and a local hangout spot. There were quite a few people around and the air was alive with their chatter. They were guides, drivers and porters, sipping tea and coffee, playing some rounds at the pool table while waiting for their divers.
A man casually came up to me with some original Liberty Wreck t-shirts and locally made aluminium pointer sticks. I acquired one at a good price. Everyone around me seemed to have something to do with scuba, earning a living by meeting our needs as divers. Between all dive guides, porters, drivers, dive schools, tank filling staff, hotels, small homestays and the restaurants, the whole village is financially and emotionally invested in what they are doing, they understand how dive tourism can benefit everyone in the area.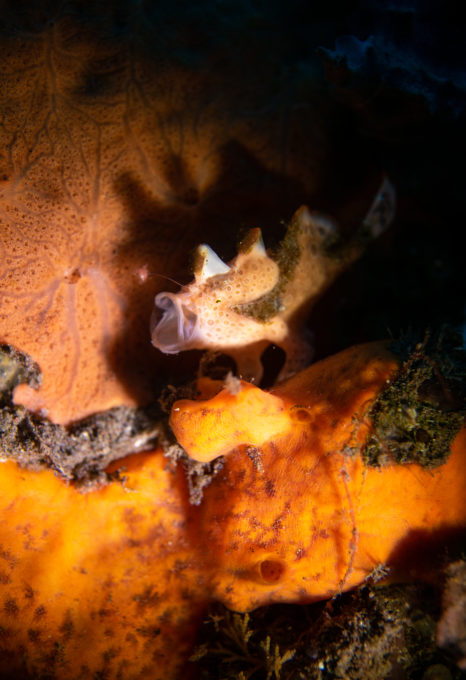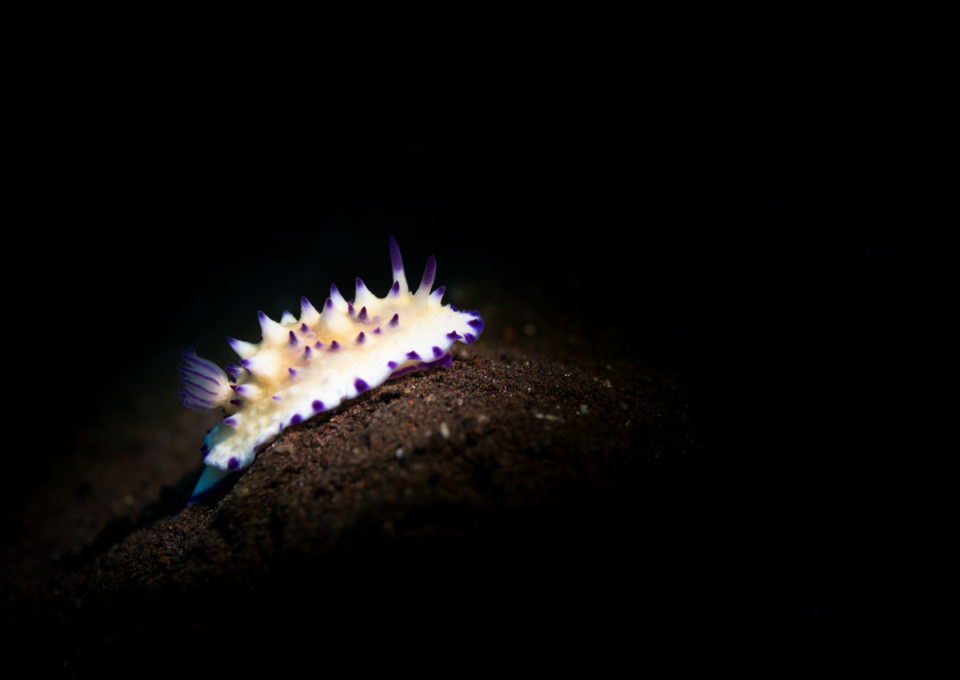 During my break, I learnt that all the dive tanks are owned and filled by two companies that maintain and supply them for everyone. Taking away the burden of investing in expensive hardware (dive tanks and compressors) has helped small locally owned dive businesses flourish. Unlike most dive operations elsewhere, scuba diving in this area of Bali is run more like a collective business, there is a strong sense of care and responsibility among the locals, demonstrated by the kindness and dedication of those involved, the absence of rubbish above and below water and the conservation efforts put in place. The village and the fishing community made a deal banning all fishing activities near all diving areas to help preserve the natural ecosystem that sustains their livelihoods.
With the sweet taste of honey and banana in my mouth, I returned to the water for another dive. The stillness in the water suspended me with curiosity and then awe as her stern come slowly into sight, dark and even ominous at first, but then displaying an array of colour and texture I had not seen before. The USAT Liberty wreck promised and delivered. Every inch of the structure was covered with marine life, a large and busy collective organism. Hard and soft corals, gorgonians and sea fans, ascidians, sponges, and hundreds of fishes of all sizes spread around between different areas and depths leading you in a most enchanting underwater meander. Its history merging poetically with the sea, softening its sharp edges.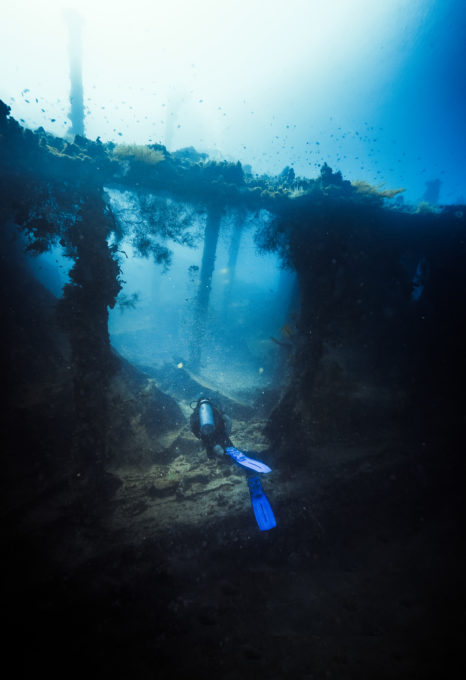 My last hours in Amed were spent by the shore, gazing at the dark grey sea. Savouring what I had witnessed below, and contemplating just how well things can work when local people and professional divers work together for mutual gain, in the interest of both tourism and the marine environment.
Even through the challenges of Covid this small community has kept on going, engaged, participating, helping one another and hoping Mount Agung, forever looming, remains quiet for a long time.

Shop window
current issue
Back Issues
Enjoy so much more from Oceanographic Magazine by becoming a subscriber.
A range of subscription options are available.
Sea stories
Beautiful ocean stories straight to your inbox.
Join our community.