Conservation
Rewilding Scotland
Words by
Dr Richard J. Lilley
Photographs by
Lewis Jefferies
Words by
Dr Richard J. Lilley
Seawilding, a native oyster reintroduction and seagrass restoration project based in Scotland, shows how community-led efforts can achieve real change.
'Ten more years to restore the planet' – these words weigh heavily on me today as I walk down from the boat shed to the water's edge, no doubt a hangover from the deep conversations of the night before. 'There has never been a more urgent need to revive damaged ecosystems than now.' These words echo in my head as I find myself at the water's edge, staring out over the tranquil waters of Loch Craignish in Scotland. The enormity and immediacy of the task at hand is intimidating, and yet somehow the grandeur and tranquillity of my surroundings act as a soothing escape for a moment. I'm lost deep in thought as I watch Danny Renton manoeuvre the small Seawilding hard boat towards me. Ripples run out in waves from the squat bow as he nudges the outboard over, steering towards us.
It's a September morning, and in Argyll this means that the dawn air is much cooler now. Summer, it seems, has long gone. The leaves are showing their age, the first real signs of autumn are already showing. I wade out to meet the boat, scrambling over the rocky shoreline to find myself standing to one side of a verdant green seagrass meadow. Sunlight breaks through a gap in the clouds, the warmth of the sun on my face is most welcome. Perhaps summer is not over just yet as the sun glitters across the surface.
The loch's water is relatively warm at this time of year, a legacy of the summer that does persist long after the seasons end, and the seagrass meadows here are teeming with life; just below the surface a school of juvenile Atlantic Herring school past me, their scales glinting in the light. But my trance is broken as the herring suddenly dart away as Danny arrives with our transport.
I hope we get to see them during filming later, I think to myself, or perhaps capture them on our camera traps. Lucy Coals and Bethan Thomas, my colleagues from Project Seagrass are nearby setting up a new remote underwater camera system using a smartphone app. They want to deploy the system for five days. Using the app, they will program the camera to switch on and start filming for 60 minutes each morning and evening. In total, they want to record ten hours of footage, to get a snapshot of the abundance and diversity of species that are using this seagrass meadow as a habitat at this time of year.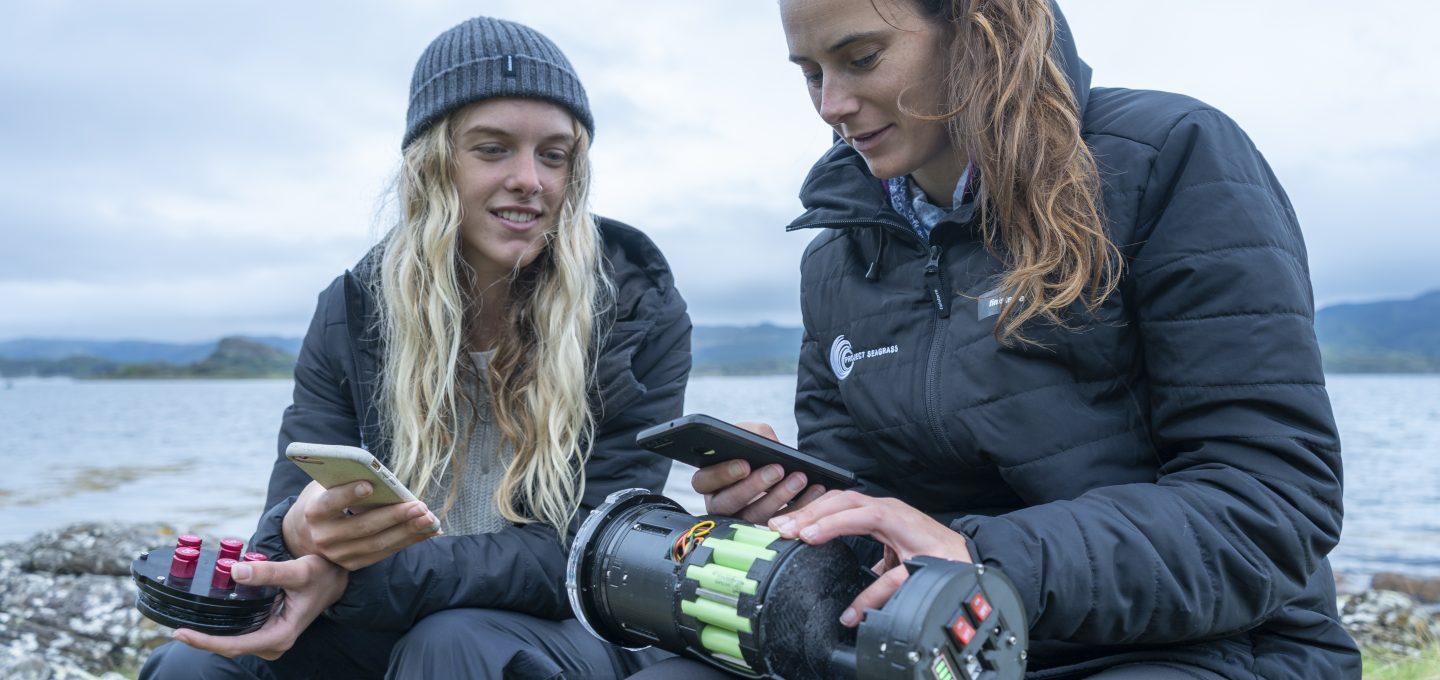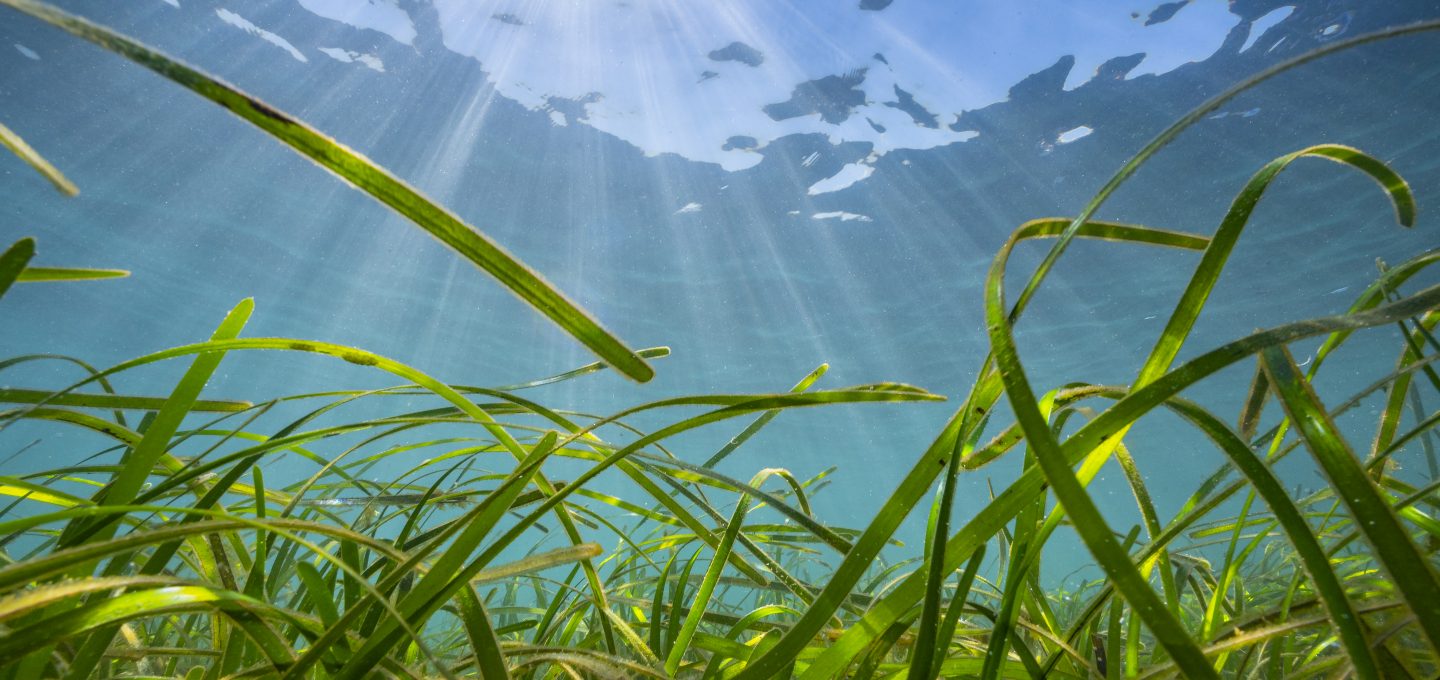 Today I'm leaving the science to them, and instead I'm joining Lewis Jefferies and Jake Davies who are heading out to film Seawilding, a film documenting the efforts of the community-led native oyster and seagrass restoration charity of the same name. Seawilding was born of the voluntary association of CROMACH (Craignish Restoration of Marine and Coastal Habitats) and has become the medium through which this community is now fulfilling its hopes, dreams, and aspirations.
The three of us load our kit onto the boat, and Danny steers us back out into the loch. We spend a few hours with Danny, dropping in and out of the water for filming. Danny showed us the native oyster nursery and talked passionately about the successes they were now having growing the oysters on Seawilding's bespoke floating cages before they are released back into selected sites around the loch.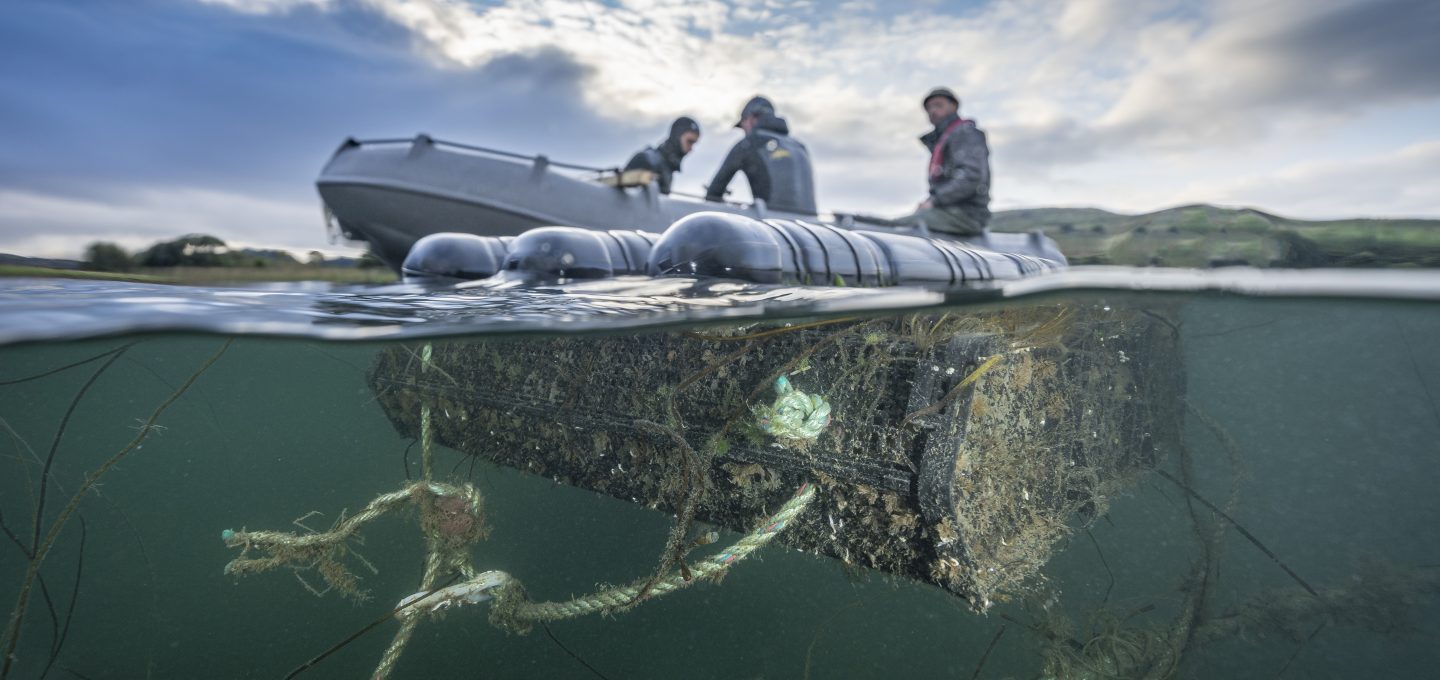 Danny spoke of their hopes and aspirations as a community. The excitement over the new seagrass seed processing facilities and the opportunities the projects were providing for engaging with community members of all ages. He was candid about their successes and their failures, the trials and errors, their highs, and their lows. Listening to him talk I could have been mistaken for thinking this was a longstanding operation such was his knowledge. Yet it isn't, this is a pioneering community project, and what we were really listening to was the cumulative hours of learnings from across the community, a collective knowledge since collated by Danny, from a passionate group of individuals each driven by positive energy and a belief that together they could restore their loch's ecosystems to their former glory.
I was blown away. Humbled by what this community was achieving together. I sat on the portside and stared out at the Sound of Jura as we made our way back in after spending the morning filming. Here was a community, in a remote corner of Scotland, taking matters into their own hands.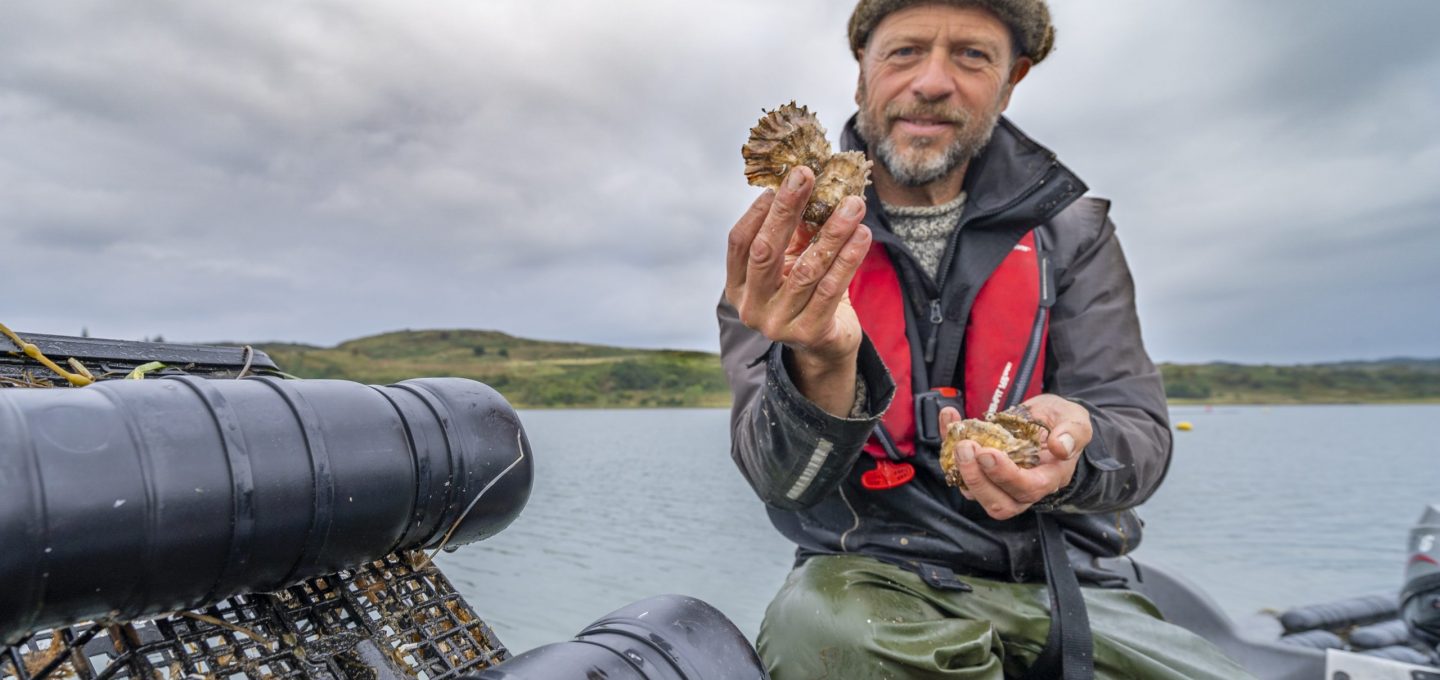 In the afternoon we switched ecosystems, from native oysters to seagrass, and we were entering the water on the beach of Dunvulig Bay. I climbed back into my wetsuit, slipped on my fins, pulled down my mask and kicked off the bank so I could glide out over the meadow that was unfolding beneath me.
A seagrass meadow. I was back in familiar surroundings. This morning's school of herring were now long gone, but this was no surprise, as now the humans had arrived in great numbers. It was an incredible site to see, the community had come out in force to participate in the project. Folk were packing hessian bags with sand and children as young as seven were out in the seagrass meadows, swimming through meadows and picking seeds as they passed.
I flicked my fins, extending my glide and continuing my momentum further out over the meadow. As I coasted through the crowds of volunteers, I notice Will Goudy snorkeling out towards the meadow's edge. He was with some other snorkelers who had some small hessian bags of seagrass seeds with them. I watched as he diligently marked out a restoration site before the group took turns to freedive down and individually plant a bag of seagrass seeds onto the sandy bottom.
I snorkelled over for a closer look. I often reflect that in many respects seagrass restoration is just underwater gardening; picking seeds from existing plants and then planting them where we think the seeds will grow best. When it comes to restoration, there is no substitute for participation, as people learn so much just by doing and from experiencing the process for themselves. Watching the hive of activity around me got me excited – this is what community-led restoration is all about.
I'm lost in the moment. While experiencing a flood of Dopamine, I cast my mind back to my work with a wonderful community researching seagrass meadows in Greece.
There's an old Greek proverb that translates to 'Society grows great when old men plant trees whose shade they know they shall never sit in'. It struck me that this philosophy speaks to the Seawilding ideology, that there's a depth of meaning that we can bring to our lives when we act for something greater than ourselves.
As happy as I am in that moment, I'm getting cold. It's been a long day of filming and so I get out of the water, grab my towel and some warm clothing and sit on a rock to reflect. Whilst the planting of a hessian bag full of seeds is clearly a visible act of restoration, it's just the end of a journey of decisions that were taken to reach that point. We can all make changes in our own lives that will contribute to the cultural transformation and goals of nature restoration that we collectively need to achieve.
What I had witnessed today was collectivism and camaraderie on another level, a real energy and drive from a community which I'd personally never witnessed before. Communities (by definition) are often identified by commonalities, such as norms, values, customs, or identity, and here was a community with a clear identity, one which was sharing a collective vision for marine ecosystem restoration.
For the second time today I was truly humbled. This was a model that shows how ecosystem restoration could be achieved at a larger scale – mass participation by a community towards that common goal.
We all know that ecosystems support all life on earth. The healthier our ecosystems are, the healthier the planet – and its people. The UN Decade on Ecosystem Restoration aims to prevent, halt and reverse the degradation of ecosystems on every continent and in every ocean. It can help to end poverty, combat climate change and prevent a mass extinction.
But it will only succeed if everyone plays a part.
Watch Seawilding here:
Photographs by
Lewis Jefferies
Sea stories
Beautiful ocean stories straight to your inbox.
Join our community.