Adventure
Upcycled adventure
Two young architects refit a decommissioned lifeboat for an upcycled – and stylish – ocean adventure. Leaving the south coast of the UK behind, they head for the west coast of Norway – just themselves, the ocean and their inquisitive dog, Shackleton.
Photographs by
David Schnabel
Click click, tap tap, separated by our two laptops David and I irregularly discuss our work; an interesting new client, a trusty builder gone rogue, an slow planning department causing further delays. The mundane chatter of two 28-year-old architects, probably much the same as everywhere and little different from the generic back and forth that characterises offices and co-working spaces around the world. Then the more unusual excerpts:
"Did you pump the grey water tank?"
"How's the solar doing today?"
"My hands smell of mackerel…"
Suddenly not such normal workplace conversations. Turning from my laptop I look out to my left over mirror-like water, reflecting a busy cloudscape above. To my right a sparsely vegetated island, no doubt home to a few dozen sheep, or perhaps an angry ram to intimidate my curious retriever, Shackleton. We're floating at 70 degrees north, in one of many archipelagos that scatter the western coast of Norway, having emerged from one of the many indented fjords. With the backdrop to our office a constant distraction, our commitment to emails does not last long. We're four months into life aboard our converted lifeboat, Stødig, meaning steady or reliable in Norwegian. She spent twenty years as Clansman Lifeboat No.1, indigenous to the Western Isles of Scotland aboard a Calmac Ferry, as an means of escape designed to carry 100 people to safety in the worst conditions. Rigorously designed and tested, and costing six figures new, these lifeboats are unlikely to be put to use, instead spending their life well maintained, always ready for a potential calamity, but rarely fulfilling the purpose for which they are designed. 
In February 2018, after concluding her service in Scotland, being gently lowered off the ferry she had served, little did this lifeboat know about the adventure ahead. Unaware that meanwhile in Newhaven, East Sussex, two architects were planning a meticulous conversion prior to a 5,000km voyage beyond the Arctic Circle. 
It is all too easy for dreams of adventure to remain as that, dreams of a parallel life. Similarly many grand plans become distilled, as the realities of our commitments, relationships or jobs can make that ultimate trip seem unattainable. In our case however, what started as a modest hiking trip, grew and mutated into a greater beast than we had ever expected. Sitting in our respective offices in 2018, not long after we had both completed the onerous eight years of architectural education, planning our Norwegian adventure provided an escape from the routine and responsibilities of our work. I was running construction projects in Northern Haiti, David designing beautiful houses in South Wales. By phone and email we would scheme and dream, eager for adventure. Over a number of years the idea of a move to Norway had gestated, before a curveball. I became fascinated by the potential of a converted lifeboat as an ultimate expedition craft, having seen a small converted survival craft on the River Thames and researched their indestructible fabric. From a family of seafarers, a boat seemed a natural way to explore Norway with its fragmented and dramatic coastline. Despite being from a more land-loving family, I knew David would be the perfect crewmate and so set about convincing him of the viability of the idea. 
The lifeboat arrived in Newhaven one snowy morning in February and we set about our project in earnest, working freelance to earn funds to pay for the conversion and initially working evenings and weekends on the boat. Gradually the boat, as boats often do, took over all aspects of our lives. As we began work on Stødig, the scale of the task started to become apparent and our original departure in the summer of 2018 was quickly forgotten. Essentially starting with a fibreglass blank canvas, we leapt at the opportunity to design something for ourselves, unfortunately something that evades most young architects. Unbound by any preconceptions of what a converted lifeboat should be like, we went about creating a comfortable and uplifting interior, contrasting the utilitarian and functional exterior. Keen to survive in remote places for extended periods we packed the hull with 15cm of insulation, installed a wood burner, a composting toilet, solar panels and a wind turbine. Embracing the opportunity to do all the work ourselves, we were able to keep costs down whilst also developing an intimate and useful knowledge of the boat and her workings. Months disappeared, as we became part of the fabric of the boatyard and were rarely seen by those who did not also frequent the muddy tidal waters where we had our mooring. Everything else was pushed to the side as our departure date in the early summer of 2019 crept closer.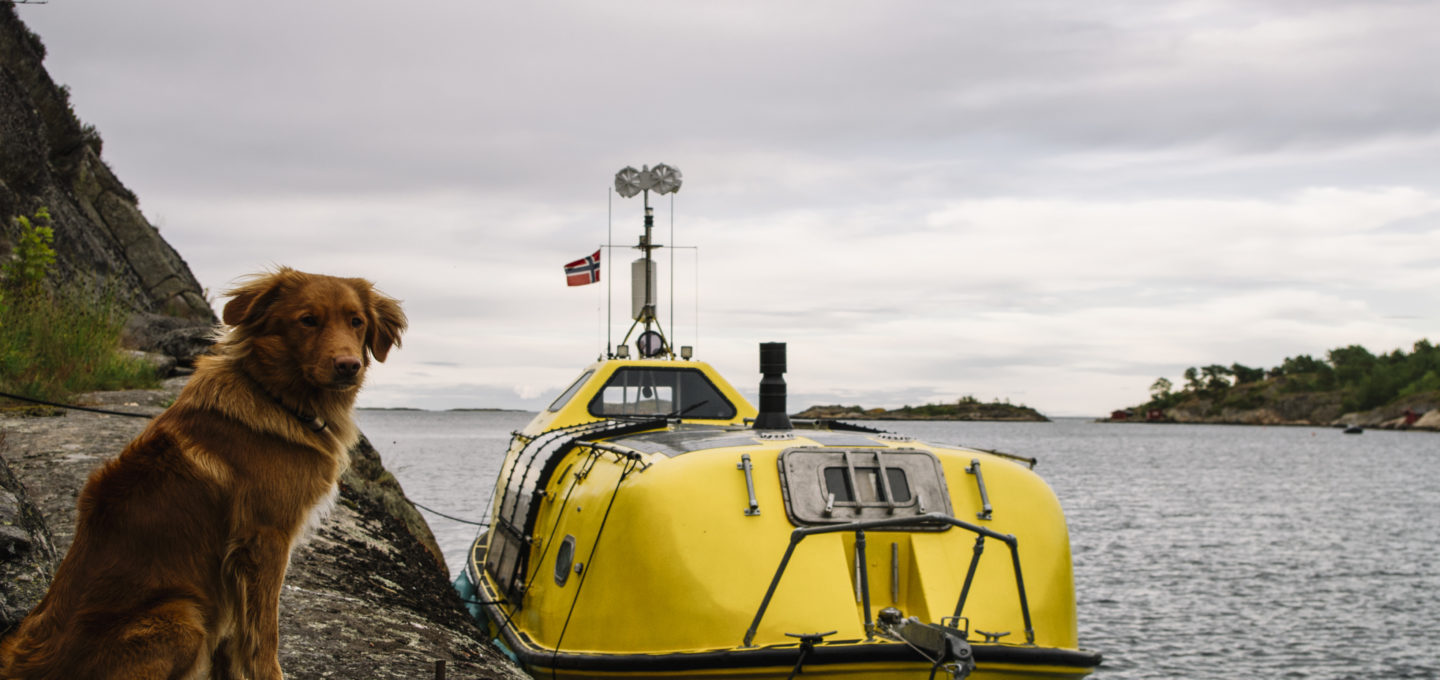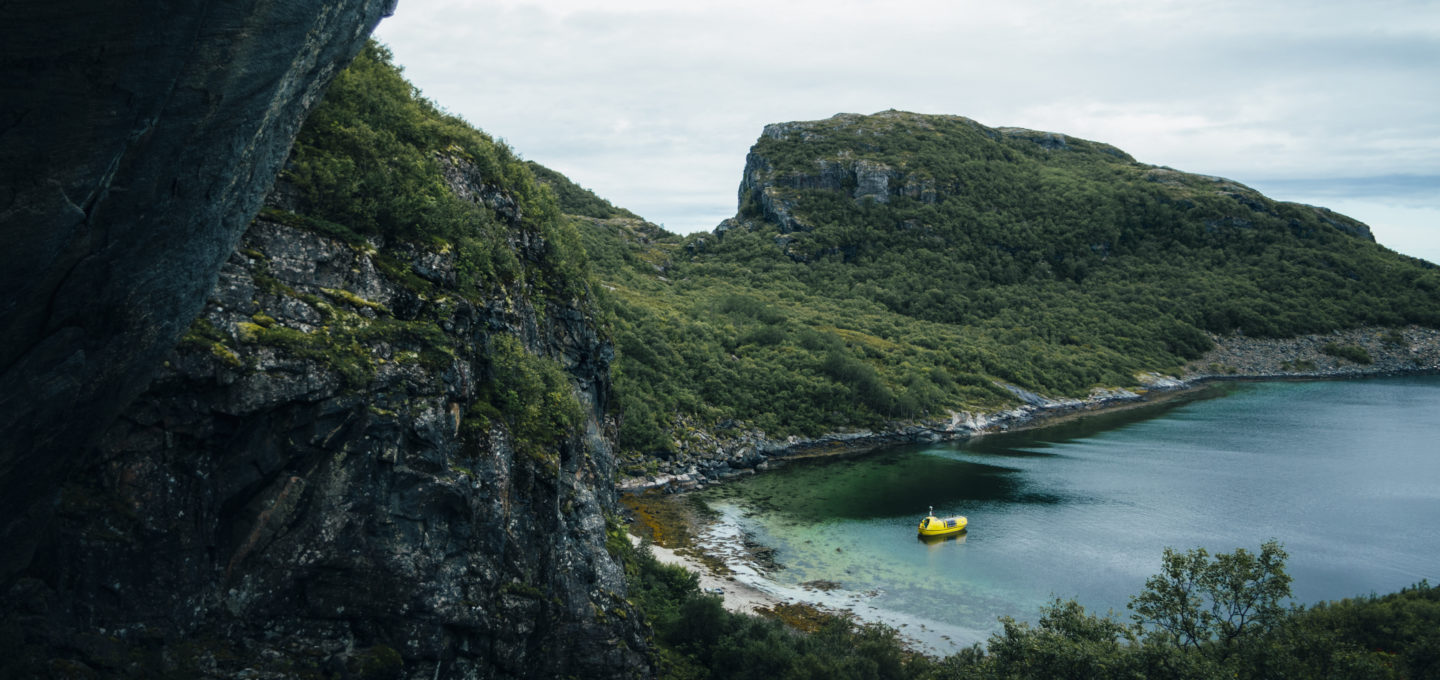 Perhaps in preparation for our voyage, our day to day lives became intertwined with the tide and weather as we divided tasks aboard into what was best done on the mud of the estuary, or afloat, inside or outside, by day or night. We were already entering a very different routine and cycle from the one that defines an office life. The character of a good boatyard had a huge impact on our conversion experience, as we benefitted from a multitude of (often conflicting) opinions and many lifetimes of expertise from the community of mechanics, shipwrights, boat owners and strays who gathered in our little industrial corner on the UK's south coast.
With the support of our sea-loving community in the boatyard, some patient friends and family, as well as numerous encouraging and generous sponsors, we progressed the conversion slowly but surely. In the spring of 2019, the trajectory of the boat being ready for sea and our timeline for setting sail were fast converging and we knew that before long we would need to embrace the unknown and take to the open sea. In the middle of May after some short sea trials we packed our lives aboard and set out through Newhaven harbour, past the final reaches of the breakwater and out into the English Channel. Reaching Amsterdam within a week and Copenhagen within four, via the Kiel Canal. 
At the end of June after a tumultuous crossing of the Skaggerak north of Jutland, we arrived in Southern Norway from Western Sweden. Overwhelmed by the sequence of decisions that somehow led to this moment in our lives and this turning point in our voyage, we had three months to meander up the Norwegian coast to our eventual destination, Tromsø, where we planned to spend the winter. Many tribulations behind us at this point, as we spent the first six weeks getting attuned to the daily use of a 20-year-old diesel engine, our electrical consumption and compact living conditions, Stødig had fast become a comfortable home and we were becoming used to the freedom of life aboard, rather than the constraints of it.
We planned a port to arrive at weekly, to give some structure to our progress, but other than that each day started with a graze of the charts, perhaps a chat with a local fisherman or peering through the binoculars at where we might go that day. The allure of the sea and the dramatic coast guided our progress. We were sometimes drawn to spend four or five days on the same island and similarly we had weeks where we would have a unique anchorage each night. With a constantly changing view through our expansive windows as a backdrop for our day-to-day lives, no activity seemed repetitive or routine. It is hard to return to a static life after such rich variation. Life at sea for an extended period gave us such a strong sense of a connection to nature, clocks felt irrelevant, as decisions were made on the tide table and weather forecast. Instead of feeling controlled by a schedule, the pace of our voyage allowed us to make detours, delay a departure when the fishing was good, or the water deserving of just one more swim. 
Being afloat gave us a freedom to explore the Norwegian coast unrestrained by the presence of roads or paths. Many of the islands where we spent time had no permanent inhabitants or ferry service. The solar power on the boat allowed us to live comfortably and stay on top of our freelance work at anchorages and as our trip through Norway progressed, our visits to town quays and marinas became more and more infrequent. At points we ventured well inland, working our way nearly 50 miles down Geirangerfjord, with Stødig dwarfed by the near vertical 1,000m cliffs beside us. By contrast, in the seemingly never ending archipelagos south of Bodø, just after we crossed into the Arctic, few of them rose more than 50m above sea level and thousands of skerries and outcrops of rock scattered the horizon. A flat horizon in Norway was rare though, as indiscriminate slabs of rock rose straight out of the water, providing a good course to steer towards from our wheelhouse. 
The lifeboat provided an ideal base for our adventures, as we hiked and swam whenever the opportunity presented itself. Led by Shackleton we would leave Stødig safely anchored and try to climb the highest mountain in the vicinity, searching for the best views, or occasionally hiking tens of miles to reach the nearest pastry. The boat is both home and expedition vehicle, allowing us to enjoy these amazing places before coming back to a well-used kitchen, warm shower and familiar bed.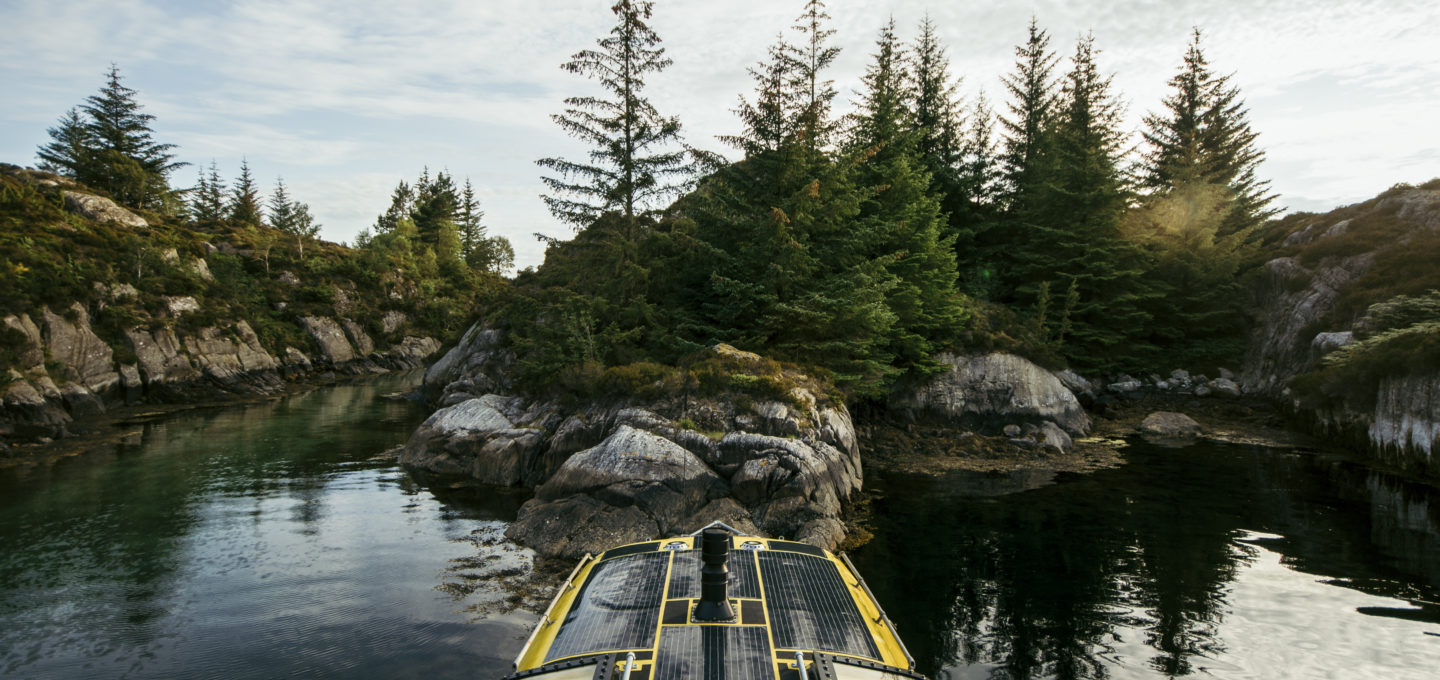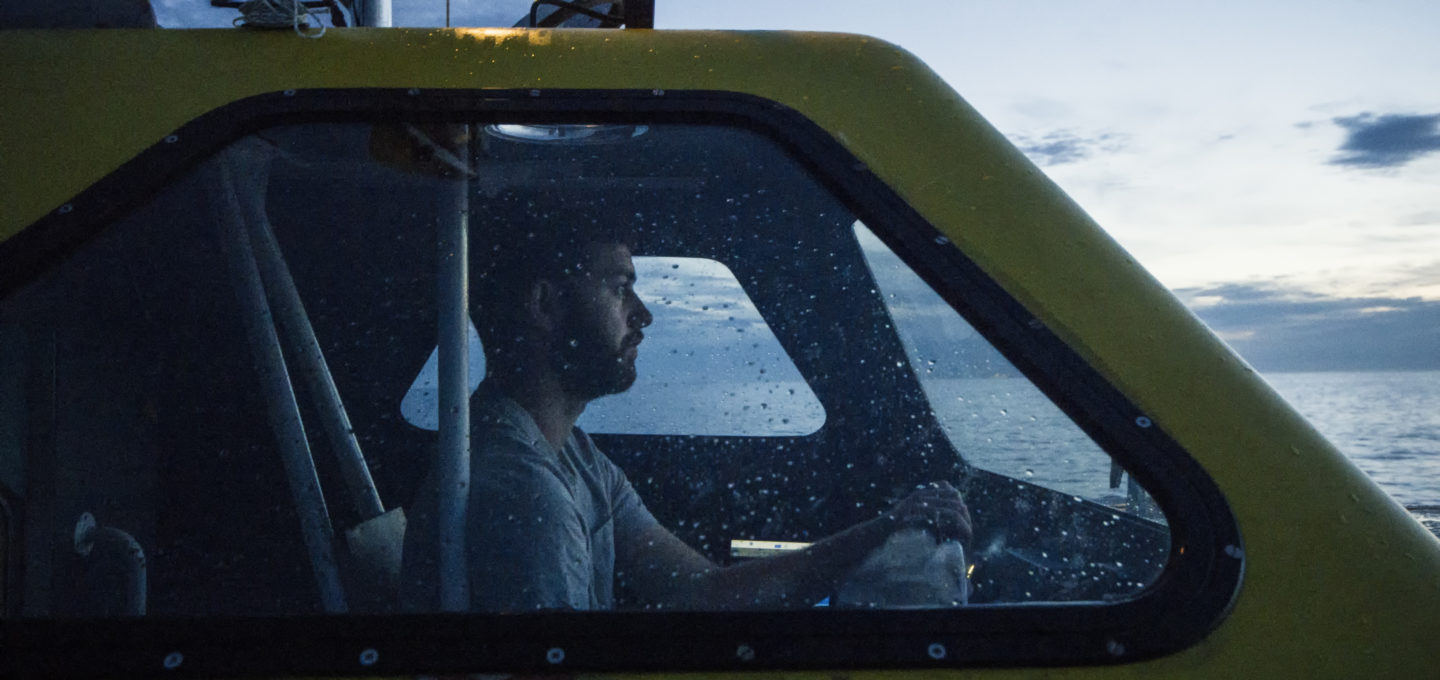 Photographs by
David Schnabel
Continue reading...
To continue reading this article – and enjoy full digital access across Oceanographic – sign up to Ocean Hub today! More info below…
Keep reading by signing up for an Ocean Hub subscription
Ocean Hub. More than a magazine subscription.
As well the delivery of all new editions, members unlock access to exclusive products, services and discounts, as well as EVERY digital back issue we have published.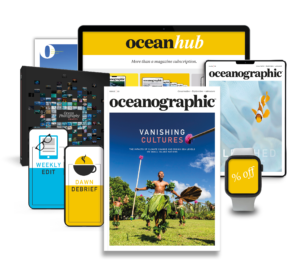 Find out more

about Ocean Hub subscription
Shop window
current issue
Back Issues
Enjoy so much more from Oceanographic Magazine by becoming a subscriber.
A range of subscription options are available.
Sea stories
Beautiful ocean stories straight to your inbox.
Join our community.