Conservation
Saving the sandpiper
An international team of conservationists is making progress in its bid to save the spoon-billed sandpiper, a small wetland wader, from extinction.
The spoon-billed sandpiper is facing extinction. Numbers of the diminutive, nomadic wader were, in 2010, declining at such a rate that conservationists didn't expect the species to survive to the end of the decade. Years of international scientific collaboration has seen to it that the species will certainly survive beyond 2020, but the long-term prognosis is unknown – the species remains one of the most threatened on the planet. 
The 'spoonie' – as it is commonly referred to – is a particularly enigmatic wetland wader. With its distinctive spoon-shaped beak, chicks the size of bumblebees and an astonishing ability to travel vast distances, it is a truly unique bird. And like so many of the great migrators, its evolution is evidence of the interconnectedness of our planet – the great landmasses and oceans above which it soars, and the varied and distant wetlands to which it descends. 
Spoonies live extreme lifestyles. They fly between tropical and arctic conditions, managing temperature changes of more than 30C. They breed on peninsulas in the Russian Far East, migrating through Russia, Japan, North Korea, South Korea and the Jiangsu coast of China to winter in southern China, Bangladesh, Myanmar and Thailand – 8,000km away.
In 2014, it was estimated that just 250 pairs of spoonies remained in the wild. By contrast, in the 1970s, there were believed to be up to 2,800 breeding pairs. That equates to a population decline of more than 90%. Between 2000 and 2009 the rate of population decline stood at a staggering 26% a year. Habitat loss, particularly the reclamation of inter-tidal staging sites in the Yellow Sea, is believed to have been a significant contributor to the decline, while trapping on wintering grounds is believed to be a leading cause for the acceleration in the rate of their decline.  
Since 2009, action has been undertaken throughout the flyway (the species' typical migratory routes) by conservation organisation WWT in partnership with a wide range of people and organisations working to halt the decline, including Leica Camera which continues to provide photography and monitoring equipment for survey work in China. 
The maintenance and protection of key site habitats is the programme's primary objective, ensuring critical flyway stopovers remain intact and healthy. A number of stopover locations in the Yellow Sea remain unidentified however, making their long-term protection a challenge. This list of unknown stopover sites includes one particularly crucial site – the site where spoonies are typically first observed in the autumn, the Jiangsu coast of China, is too far from the breeding grounds to be the first stopover site, meaning there must be a site in Russia that remains unfound. Furthermore, the disappearance of a portion of the spoonie population each year indicates additional breeding and wintering sites yet to be discovered. Saving the species will involve solving this series of puzzles. 
Ambitious targets have been set. Conservationists want to not only halt spoonie population decline by 2025, but increase the population by 50% to 300 breeding pairs. A hand-rearing – otherwise known as headstarting – programme began in Meinypil'gyno, Russia, in 2012. Specialists have been collecting eggs from incubating birds in the wild, hatching and hand-rearing the chicks in captivity to fledging age. They then release the birds back into the wild. Skipping the particularly risky wild incubation and rearing phases significantly increases the chicks' chances of survival. This technique has boosted the number of young spoon-billed sandpipers bred each year in the wild by 25%.
The international scope of the project has seen impactful gains made in a relatively short period of time. Illegal trapping and hunting has been stopped at several hotspots along the species' flyway. The authorities in China and Myanmar have cooperated with WWT and moved to protect the remaining wetlands along their coastline. WWT now regularly surveys shorebirds on the Jiangsu coast of China, a key site on the East Asian Australasian Flyway.
During WWT fieldwork in late 2018, a spoon-billed sandpiper that had been raised by conservationists in Russia just a month earlier was identified. The spoonie, known as 'White 4H' after the colour and code on its leg, had travelled 3,000 miles. It was akin to finding a message in a bottle. A total of 15 spoon-billed sandpipers were caught, with a further 100 sighted in a large flock of waders. On one occasion, the international team of conservationists – comprising experts from the UK, New Zealand, Hong Kong and China – saw six spoonies together. While that might seem insignificant, those six birds equated to approximately 1% of the total population. 
Continue reading...
To continue reading this article – and enjoy full digital access across Oceanographic – sign up to Ocean Hub today! More info below…
Keep reading by signing up for an Ocean Hub subscription
Ocean Hub. More than a magazine subscription.
As well the delivery of all new editions, members unlock access to exclusive products, services and discounts, as well as EVERY digital back issue we have published.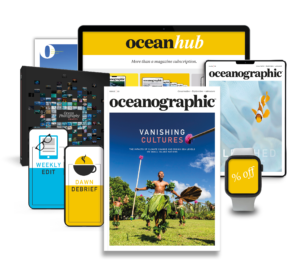 Find out more

about Ocean Hub subscription
Shop window
current issue
Back Issues
Enjoy so much more from Oceanographic Magazine by becoming a subscriber.
A range of subscription options are available.
Sea stories
Beautiful ocean stories straight to your inbox.
Join our community.