Conservation
Saving threshers
Shark fin traders are corrupting small communities across Indonesia. For the people of Alor, the insidious practice contrasts starkly with a heritage of deep ocean connection. What does the future hold?
Photography by
Shawn Heinrichs
"The first time I saw a live thresher shark was in Nusa Penida, off Bali. We were filming oceanic sunfish and it just appeared. It was beautiful – iridescent silver skin, massive deep dark eyes and a tail that propelled it forward, beating a rhythm like a ribbon in water. It looked so innocent and gentle – there was nothing that indicated aggression. I was captivated by it."
Shy and elusive, little is known about the behaviours and needs of the thresher shark compared to other pelagic species. Highly migratory, thresher sharks can be found in both tropical and temperate deep waters around the world. Despite their wary nature, they haven't escaped the threats plaguing all shark species in today's world. The commercial shark fin industry has become so adept at reaching even the most rural coastal communities, and as a result, their numbers are in steady decline. The thresher shark population of Indonesia, for example, has declined by 80.2% in the past 13 years.
Photography by
Shawn Heinrichs
Continue reading...
To continue reading this article – and enjoy full digital access across Oceanographic – sign up to Ocean Hub today! More info below…
Keep reading by signing up for an Ocean Hub subscription
Ocean Hub. More than a magazine subscription.
As well the delivery of all new editions, members unlock access to exclusive products, services and discounts, as well as EVERY digital back issue we have published.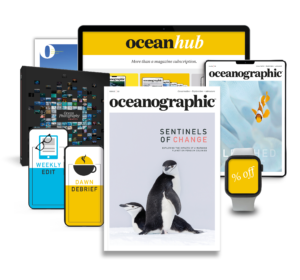 Find out more

about Ocean Hub subscription
Shop window
current issue
Back Issues
Enjoy so much more from Oceanographic Magazine by becoming a subscriber.
A range of subscription options are available.
Sea stories
Beautiful ocean stories straight to your inbox.
Join our community.