Adventure
Behind the lens: Scott Portelli
Behind the Lens places a spotlight on the world's foremost ocean photographers. Each edition focusses on the work of an individual who continues to shape public opinion through powerful imagery and compelling storytelling.
Interview by
Oceanographic Magazine
Photographs by
Scott Portelli
Interview by
Oceanographic Magazine
Wildlife Photographer of the Year winner and expedition leader For almost 20 years, Scott has been using photography to reveal the beauty of our wild blue spaces and highlight the many threats they face.
OCEANOGRAPHIC MAGAZINE (OM): THANKS FOR TAKING TIME OUT TO TALK WITH US, SCOTT. WHERE ARE YOU CURRENTLY?
SCOTT PORTELLI (SP): I'm on the northern shores of Baffin Island, in the Arctic. I've spent the last couple of weeks photographing base-jumpers in a frozen fjord. It's been an unusual trip for me so far, full of helicopters and adrenaline-seekers rather than the wildlife that I'm more accustomed to. Wild life rather than wildlife I suppose! The next two weeks will be wildlife focused, though. I'll be on the floe edge, where the ice breaks apart. I'm hopeful of some great marine mammal encounters. The rest of the trip will serve as a recce – an opportunity to get the lay of the land for future expeditions. I hope to put an itinerary together, sort logistics and get to grips with local procedures as best I can.
OM: EXPEDITIONS PLAY A CENTRAL ROLE IN YOUR WORK AS A PHOTOGRAPHER AND HOW YOU GO ABOUT COMMUNICATING THE BEAUTY OF THE NATURAL WORLD. WHAT IS IT YOU LOOK FOR IN EXPEDITION LOCATIONS?
SP: It's about intimate experiences and unique environments. There are plenty of places people can visit all over the world that give them exposure to natural, wild beauty, but the intensity and quality of those encounters can vary dramatically. I aim to take people to places that are unlike anywhere else and where encounters are near-guaranteed – well, as much as you can with wild animals. I could, for example, come out here to the Arctic in July and focus on walrus encounters. The whales in Tonga, one of my all-time favourite wildlife photography locations, is another great example of a location that provides powerful and intimate experiences for photographers and enthusiasts alike.
My focus is getting people out into nature and showing them invigorating places, connecting them with nature and the animals they are photographing. It's about ensuring they return home full of positivity, ready to share those experiences and encounters. It's a powerful form of conservation, getting people in those environments. I always take small groups. It guarantees a positive experience and minimises impact on the wildlife and their environment. On some expeditions, such as the program I run in the Azores, I take just three people. It's a concentrated way of highlighting an area, a cause or a plight. Small intimate groups are great for discussions and the quality of output is generally high. I also do lectures on some of my trips, such as when I'm in Antarctica. I work with professional photographers, filmmakers and media outlets, but also enthusiasts who want to connect with the ocean environment and the creatures that call it home.
OM: WHAT MOTIVATES YOU AS A PHOTOGRAPHER?
SP: I'm trying to show people there's no disconnect between them and our planet's wild places – or that there shouldn't be. Through the imagery that we create and the different experiences people have on expedition, they become more connected. I often get people who radically change their lifestyle after the profound experiences they've had in the wild. I had one person who snorkelled with whales in Tonga who was so affected by the experience they sold their home and travelled the world, deciding there's more to life than a 9-5 job. So, ultimately, it's reconnection that motivates me. These people pass their experience on to someone else, who in turn passes it on, and so on. As far as our wild places go – especially our ailing ocean – it's a great way to affect change.
OM: WHERE DID IT ALL START FOR YOU? WHEN DID YOU FIRST CONNECT WITH THE OCEAN?
SP: Born and raised in Sydney, Australia, the ocean has always been a huge part of my life. Throughout my childhood I was regularly in the water, interacting with marine life, seeing what the ocean had to offer. The more I was in it, the more curious I became. Curiosity leads to education, which in turn leads to a desire to protect. It was at university that I connected on a deeper level, living right on the coast. Since then, I've never been more than a five-minute drive away from the ocean. That period of my life was also the first time I had money and was able to take myself in a direction of my choosing – photography.
Photographs by
Scott Portelli
Continue reading...
To continue reading this article – and enjoy full digital access across Oceanographic – sign up to Ocean Hub today! More info below…
Keep reading by signing up for an Ocean Hub subscription
Ocean Hub. More than a magazine subscription.
As well the delivery of all new editions, members unlock access to exclusive products, services and discounts, as well as EVERY digital back issue we have published.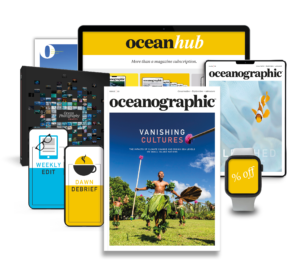 Find out more

about Ocean Hub subscription
Shop window
current issue
Back Issues
Enjoy so much more from Oceanographic Magazine by becoming a subscriber.
A range of subscription options are available.
Sea stories
Beautiful ocean stories straight to your inbox.
Join our community.