Conservation
Collaborative conservation and cucumbers
The detrimental effects of climate change can already be seen on most coral reefs around the globe. In Australia, the famous Great Barrier Reef has experienced several severe bleaching events in the past, all caused by rising sea temperatures. Some unlikely helpers, however, might hold crucial insights on how to protect this vital reef for future generations. 
Photographs by
Harriet Spark / Grumpy Turtle Creative
Elongated, alien-like bodies lined with tube feet. Long tentacles cover their mouth. While sea cucumbers might not have the looks, charm or charisma of a spinner dolphin or a great white shark, they are slowly emerging as a key species in the fight against climate change. Last year's Reef Women expedition, which was part of the Great Reef Census of 2021, a widespread citizen science effort to survey the Great Barrier Reef and capture large-scale reconnaissance data to help support research and management efforts, tried to collect further data on the importance of sea cucumbers. Over a six-day period, a team of 15 women established what role they play in the ocean ecosystem of the Great Barrier Reef, while also assessing the distribution of seagrass, amongst other things.
As part of the Reef Women expedition, a small team of women, comprising of female scientists, indigenous rangers, local tourism industry divers, master reef guides and conservationists trialled new and innovative methods to survey the world's largest natural wonder and monitor its health for the Great Reef Census, a project by the Citizens of the Great Barrier Reef conservation organisation. 
"With Reef Women I really wanted to bring together a diverse group of women who work on the reef in different capacities, but all passionate about protecting it for future generations. But there are of course larger issues at play. A recent report found that women and minorities are still vastly underrepresented in coral science globally. So, part of why this trip was conceived was to help highlight some of the important and growing contributions of women working in this field – and hopefully inspire some young girls and women considering a career in reef science and conservation as a result," explains Kate O'Callaghan, former director of communications at Citizens of the Great Barrier Reef at the time of last year's Reef Women expedition.
By reaching and surveying 46 priority reefs and 120 sites around the remote Ribbon Reef, the team was able to capture more than 11,000 reef survey images for the Great Reef Census; an important step towards supporting reef research and management in the face of accelerating climate change. This collaborative citizen science approach can also help fill some of the knowledge gaps identified by scientists and reef managers. "Despite being on a boat far from shore, we were able to upload images with GPS to the project platform using edge devices – a key piece of tech that we co-developed with Dell to enable data upload from remote locations," explains O'Callaghan. "While the primary aim was surveying priority reefs for the Census, ultimately our goal as an organisation is to build a collaborative, scalable conservation model that can be shared with other reef communities both in Australia and globally. With this in mind, we trialled some additional research projects on board to see if our Census infrastructure could also support data collection at scale for things like seagrass and sea cucumbers."
She adds: "The Census methodology is designed so that any competent snorkeller with a GoPro can do it – its simplicity is key. A survey is made up of 20 photos from a reef site taken at regular intervals on a snorkel, from a distance of at least 3m. This should be repeated on all four sides of a reef — fore reef, back reef, and the transitional zones — to count as a reef surveyed. While simple, it has been developed with some of the reef's leading scientists and was tested and verified during last year's Census, so we can be confident the data captured is valuable."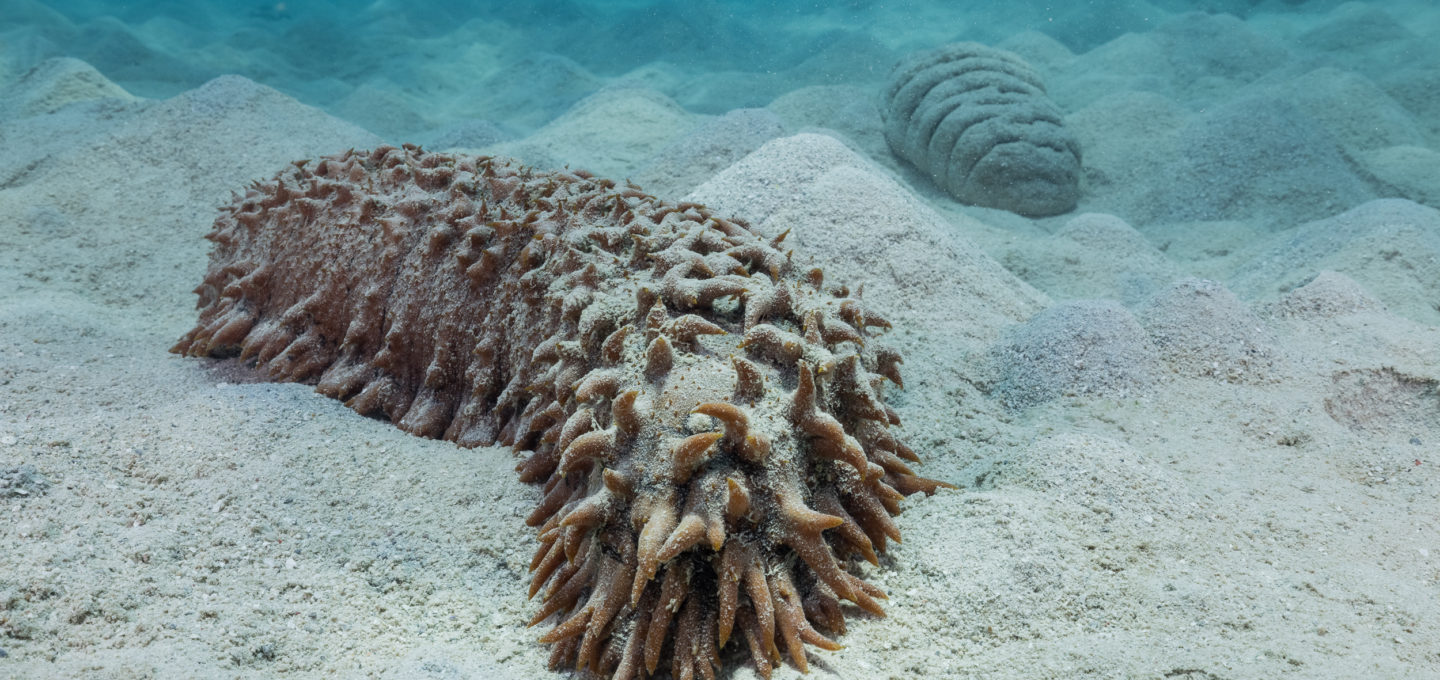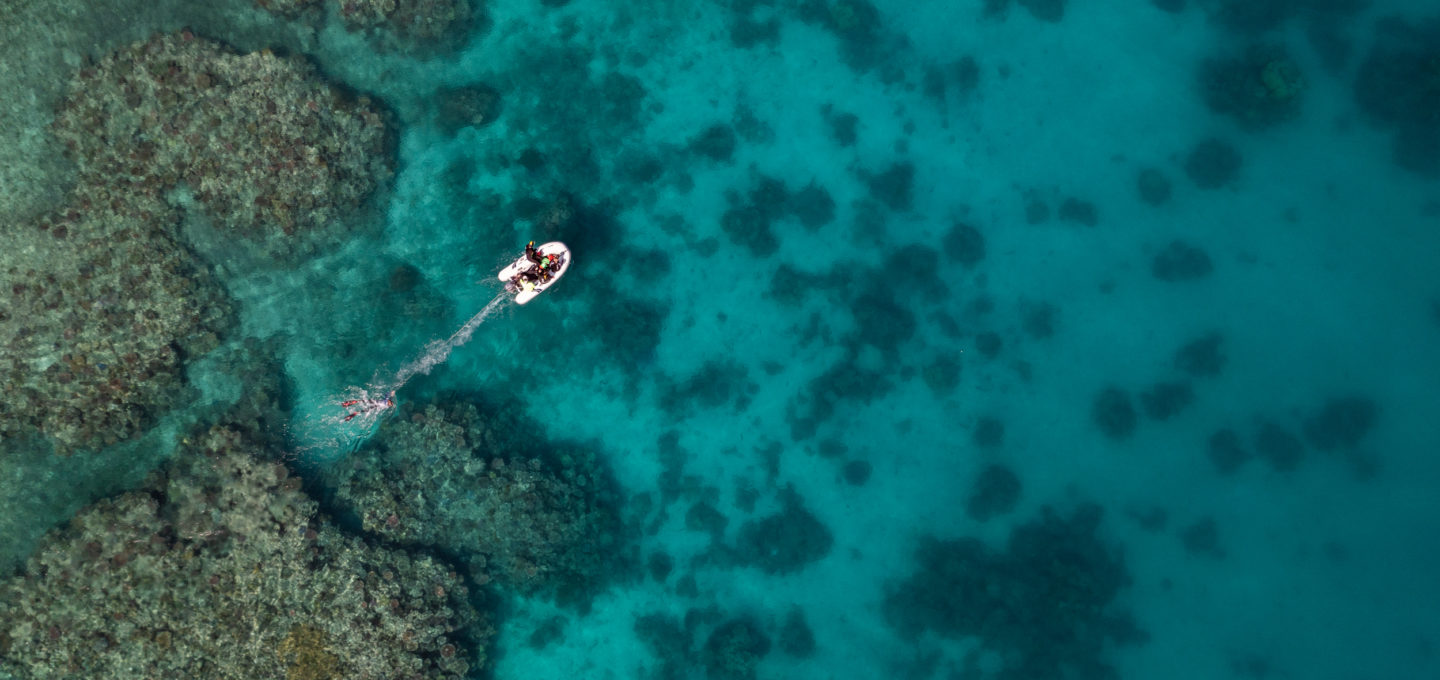 Photographs by
Harriet Spark / Grumpy Turtle Creative
Continue reading...
To continue reading this article – and enjoy full digital access across Oceanographic – sign up to Ocean Hub today! More info below…
Keep reading by signing up for an Ocean Hub subscription
Ocean Hub. More than a magazine subscription.
As well the delivery of all new editions, members unlock access to exclusive products, services and discounts, as well as EVERY digital back issue we have published.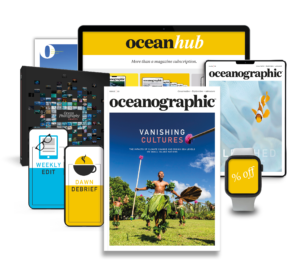 Find out more

about Ocean Hub subscription
Shop window
current issue
Back Issues
Enjoy so much more from Oceanographic Magazine by becoming a subscriber.
A range of subscription options are available.
Sea stories
Beautiful ocean stories straight to your inbox.
Join our community.