Conservation
Selling the seas
Location: A remote island in the South Pacific with limited connectivity to the outside world. Population: Around 2,500 locals, a dozen or so tourists and countless whales. With 4G set to arrive this year, conservationists ask themselves how it will affect locals, wildlife conservation and whale-focused tourism.
Words and photographs by
Pier Nirandara
Words and photographs by
Pier Nirandara
Initially formed by volcanic activity and battered by unrelenting waves for the next 12 million years, the island is a lush green mound of land similar in shape to the continent of Africa. Just over a million years ago, another geological occurrence led to the island being lifted 500 feet into the air, draining out rocky caverns carved out of coral and limestone. Sites which eventually became historical burial grounds for the cave-dwelling people of the island. While I hope I'm not succumbing to any clichés, according to our local guide, Paul, stories of cannibalism still abound. "This cave is called the oven," he tells us. The name is self-explanatory.
I'm here to lead an expedition to swim with humpback whales. The waters are a clear, vivid blue, and the waves can be rough with no protection from the open sea, but the ocean is alive with the vocalisation of migrating cetaceans on their first stop on the way up from Antarctica. They're here to mate, give birth, and nurse their young. There are playful juveniles, loud singers, escorts with mum and calf pairings, including some newborns barely a few days old that swim clumsily around as they learn to maintain buoyancy. On the verge of extinction earlier in the century, combined international efforts have led to a recovery in humpback numbers, a heart-warming sign of what is possible.
Each day, we launch the boat to circle the island on the lookout for the iconic blows that signal whales below the surface, led by locals Vai and Mali (names have been changed to protect anonymity), our captain and whale guide. By law, each vessel is required to have a guide from the island, something that helps make sure money circulates back into the community. There is very limited connectivity to the outside world. Polynesian culture still runs deep here, authentically, rather than on display for mass-tourism. So far, I've spotted a few French wanderers, the odd traveller who has washed up on these distant shores, and whale seekers, like us. The Wi-Fi is barely good enough for WhatsApp or a Google search, and cell signal is elusive. Surrounded by endless ocean, this is the most removed from the world I've ever felt.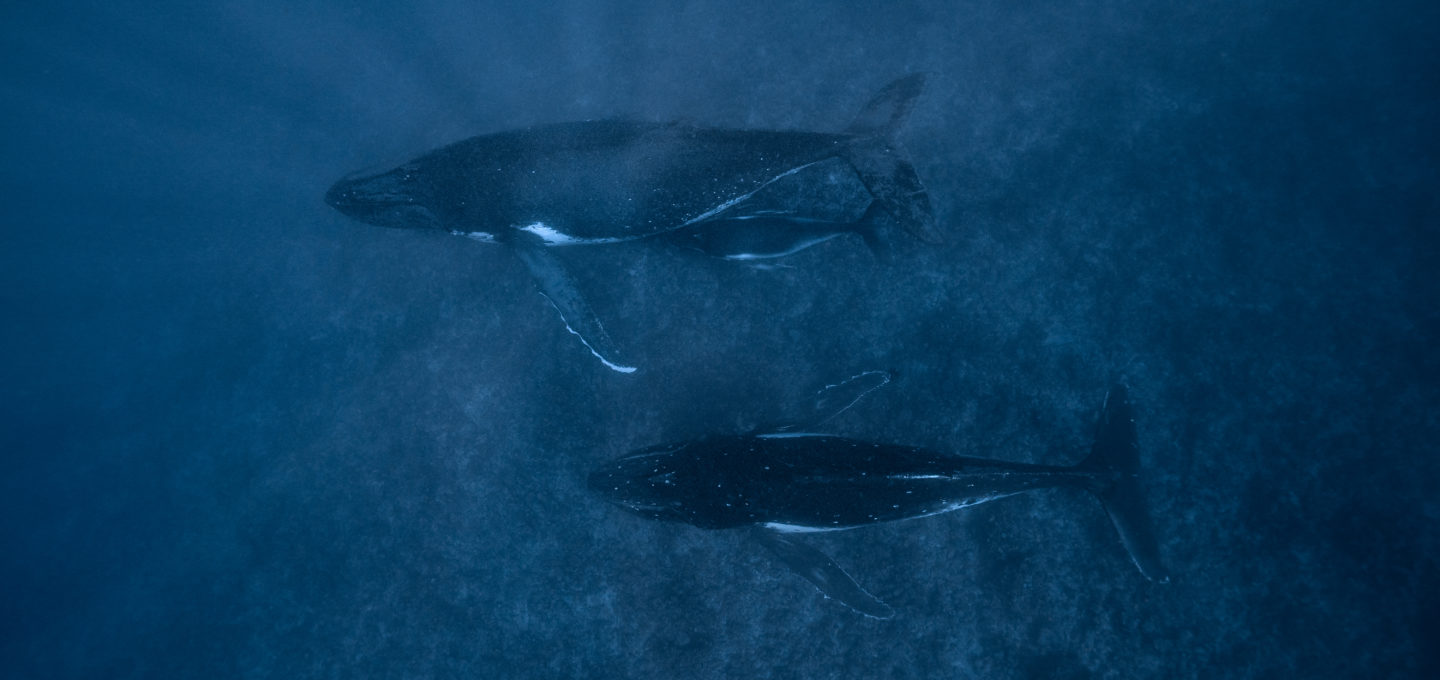 And yet, things are changing. Year after year, more tourists descend. Soon, 4G is set to arrive. When my expedition partners first came here, they were one of two boats. Then one of three. This year, there are five boats. While this is still few compared to the number of whale- watching and -swimming vessels that operate out of the nearby islands of Tahiti and Mo'orea, it is still a pattern of increase – one that Tahiti and Mo'orea would have experienced decades ago. (The operators have asked me to keep the name of this island redacted, concerned of over-tourism in a place that can't yet support it.)
"We're excited for 4G," Mali tells me. I can't help but wonder how the arrival of 4G will alter the fabric of the island's culture and its wildlife interactions. On the other side of the world, several years ago, I had my first encounter with a whale shark on Mexico's Yucatan Peninsula. Putting on a wetsuit, mask, snorkel and fins, I recall plunging into the blue to witness a colossal animal known in Malagasy as an "ocean of stars" as it passed below. Its wide mouth opened and closed with ease, and I was terrified of slipping into that gaping abyss, despite the fact that whale sharks are filter feeders that eat only shrimp, fish and plankton. Feelings of awe and wonder rushed through my body, accompanied by a sense of smallness in the presence of such giant creatures.
Years on, I believe the experience has changed. Many more tourists drop daily into the water during whale shark season around Isla Mujeres compared with when I experienced my first dive. The peaceful serenity of sharing the water with majestic creatures appears to have been replaced by something else: full face masks, jet skis, people towed on boogie boards, everyone vying for their slice of magic.
The thing is, I can't help but feel complicit. I've built a career over the years photographing wildlife and leading expeditions around the world to swim with marine megafauna. I share my photographs and experiences on social media, which influences people. There are, perhaps, people who have booked trips off the back of my posts. But while it may be the case that the lifestyle of modern adventurers is sellable, at the crux of why I do what I do is a deep passion for the underwater world, and a desire to share it with others, to break down the walls of apathy to encourage others to help conserve our beating blue heart. And as a female person of colour in a traditionally white, male-dominated space, I feel I have an important role to play. But that sense of complicity never disappears, so there's a persistent internal question: 'Am I doing enough?'
Social media has commodified wildlife experiences. Awe. Transcendence. The sublime. You, too, can experience all of this for a sizeable-but-not-unreachable sum. That sum is even less if you're a day tripper, a term used to describe those who book a brief encounter on holiday, squeezing in a quick swim with a manta, dolphin, or whale. This is a phenomenon that puts pressure on local communities to cater to tour buses, and captains and guides to deliver the experience advertised, often at the expense of the wildlife – with only a few hours at sea, they must try everything possible to get that GoPro shot of their guests with the desired animal.
Continue reading...
To continue reading this article – and enjoy full digital access across Oceanographic – sign up to Ocean Hub today! More info below…
Keep reading by signing up for an Ocean Hub subscription
Ocean Hub. More than a magazine subscription.
As well the delivery of all new editions, members unlock access to exclusive products, services and discounts, as well as EVERY digital back issue we have published.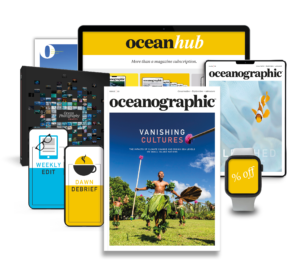 Find out more

about Ocean Hub subscription
Shop window
current issue
Back Issues
Enjoy so much more from Oceanographic Magazine by becoming a subscriber.
A range of subscription options are available.
Sea stories
Beautiful ocean stories straight to your inbox.
Join our community.