Conservation
Sharks and climate change
Despite having the largest shark sanctuary in the world, sharks in French Polynesia are threatened by a stressor that affects all life on Earth: climate change. The Physioshark research program, based in Moorea, investigates how early life stages of reef sharks cope with climate change. Can the sharks keep pace?
Words by
Jodie L. Rummer and Ornella C. Weideli
Photographs by
Victor Huertas and Tom Vierus
Words by
Jodie L. Rummer and Ornella C. Weideli
Overfishing represents the top threat to sharks and their relatives worldwide. Despite 450 million years of evolution and surviving five mass extinctions, the 1,154 known shark and ray species on the planet today are now facing new challenges and changes to their habitats that are occurring at rates that have never been documented in human history. Today, an estimated 18% of shark and ray species are threatened with extinction due to human-induced stressors. Yet, that number could be much higher because scientists are lacking data on nearly 42% of shark and ray species.
Marine protected areas – especially shark sanctuaries – help remove this top stressor from the lives of sharks and rays. In 2020, shark sanctuaries protected nearly 16 million km2 of ocean – an area nearly the size of Russia. Although seemingly enormous, this accounts for less than 5% of the total area of the Earth's ocean. Of the 15 countries supporting shark sanctuaries in their waters, French Polynesia protects the largest area, totalling nearly 4.8 million km2. But, prior to implementing its shark sanctuary, the country was exporting more than 500 tonnes of sharks and eight tonnes of fins to China, annually.
While sanctuaries are hugely important, they do not protect sharks and rays from the other top stressor facing the ocean today: climate change. In fact, evidence suggests the ocean is heating up about 40% faster than previously estimated. The Great Barrier Reef, for example, has warmed by 0.8 degrees Celsius since 1880 due to human-induced climate change. It has bleached three times between 2016 and 2020. While warming of less than a degree since the Industrial Revolution may not seem like much, it has been enough to kill nearly two thirds of the corals on the largest reef on the planet. Moreover, the Paris Agreement target, which was agreed upon by nearly all global nations and called for limiting the global average temperature rise to 1.5°C in an effort to significantly reduce the risks and impacts of climate change, is close to being surpassed. 
Sharks and rays are perhaps more at risk than other fishes because they have extremely slow generation times. They take a long time to reach sexual maturity, from a few years to a couple decades, depending on the species. They grow slowly and do not produce many young. Put simply, they cannot reproduce fast enough to keep pace with the rate in which humans are changing the planet. 
The Physioshark program was founded in 2013 and is led by Dr Jodie Rummer, an Associate Professor at James Cook University in Australia. The goal of the research program is to investigate how climate change impacts newborn and juvenile reef sharks – the sharks born today represent the adult shark populations of the future. Moreover, understanding how human and environmental impacts affect these sharks is crucial knowledge for developing effective shark conservation strategies.
The Physioshark program chose the island of Moorea, French Polynesia because of its status as a shark sanctuary – the team can focus solely on the effects of climate change, as the local shark population faces no fishing pressures. The approach is physiology-based because physiological traits such as oxygen uptake (breathing), energy use, digestion, swimming, and reproduction are all key to securing healthy populations and future generations. The team largely investigates newborn and juveniles because they are already using challenging habitats, such as coastal lagoons and mangroves, that experience dramatic fluctuations in water quality and extreme temperatures and oxygen levels. Therefore, the way in which the newborn sharks cope with these conditions could shed light on how other sharks need to be prepared to cope with future climate change conditions. The team has identified ten potential nursery areas over the years around the coasts of Moorea in which newborn reef sharks can be reliably observed during "pupping months" (October – February) and, through collaboration with the Centre for Island Research and Environmental Observatory (CRIOBE) on Moorea, can investigate key physiological traits not only in the field, but also in the laboratory under controlled experimental conditions.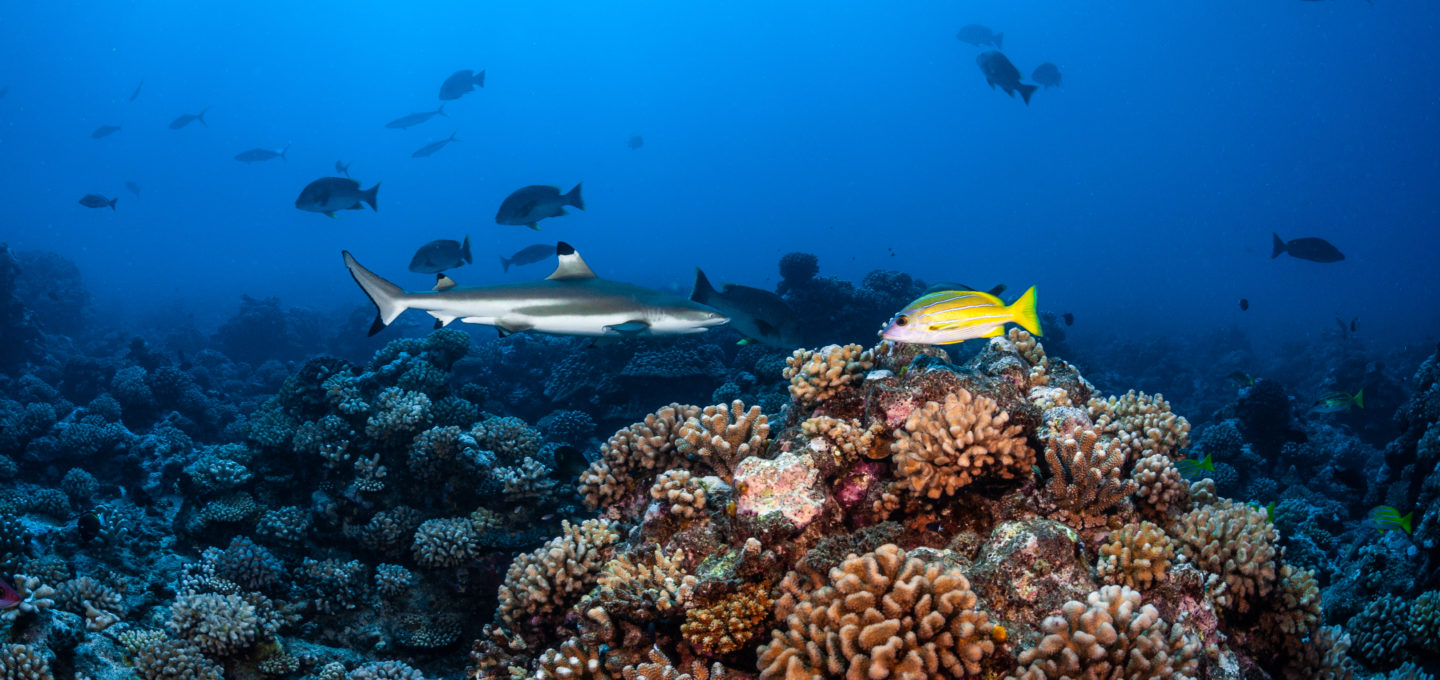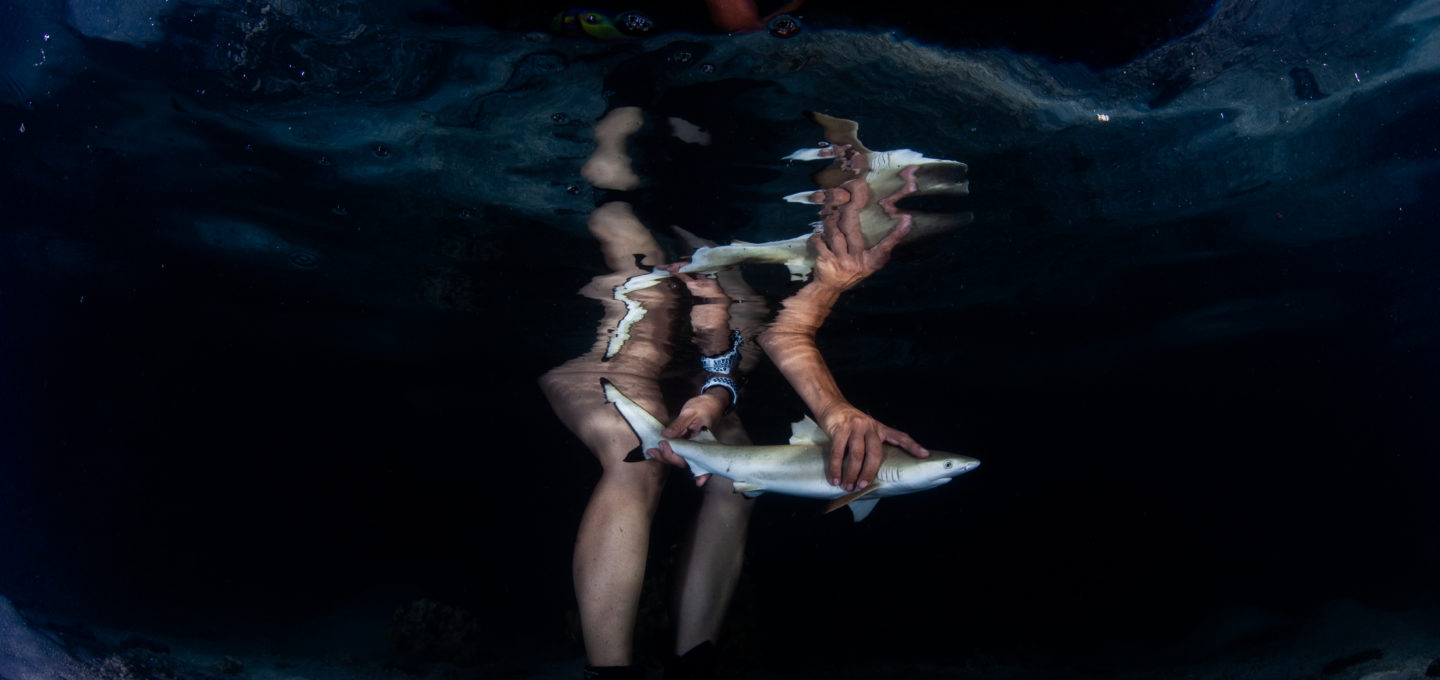 Photographs by
Victor Huertas and Tom Vierus
Continue reading...
To continue reading this article – and enjoy full digital access across Oceanographic – sign up to Ocean Hub today! More info below…
Keep reading by signing up for an Ocean Hub subscription
Ocean Hub. More than a magazine subscription.
As well the delivery of all new editions, members unlock access to exclusive products, services and discounts, as well as EVERY digital back issue we have published.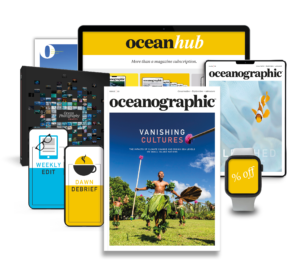 Find out more

about Ocean Hub subscription
Shop window
current issue
Back Issues
Enjoy so much more from Oceanographic Magazine by becoming a subscriber.
A range of subscription options are available.
Sea stories
Beautiful ocean stories straight to your inbox.
Join our community.