Conservation
Behind the lens: Simon Ager
Behind the Lens places a spotlight on the world's foremost ocean photographers. Each edition focusses on the work of an individual who continues to shape public opinion through powerful imagery and compelling storytelling.
Interview by
Oceanographic Magazine
Photographs by
Simon Ager
Interview by
Oceanographic Magazine
Sea Shepherd Conservation Society campaign photographer and SeaLegacy Collective member 
Simon has spent the last ten years working as a diver and stills photographer for Sea Shepherd Conservation Society. His work has featured in numerous publications, including the NY Times, National Geographic NZ and Le Point Magazine.
Oceanographic Magazine (OM): When did you first connect with the ocean?
Simon Ager (SA): As a kid I was lucky to have parents who would take me on vacations to the ocean. I was born in Canada but I grew up in the UK. Devon and Cornwall were a big part of my childhood, so I spent a lot of time by the sea, looking in rockpools, that sort of thing. I also had a fascination for frogs and toads. Every house we moved to my dad would help me build a fishpond in the back yard. The ocean and marine life has always been with me, from a young age. It's something that's stuck with me.
OM: When did you first pick up a camera?
SA: Again, I was fascinated with media at an early age. Combined with a fascination of nature I had a love of the Armed Forces. I'd spend a lot of time at air shows with my dad and got my first camera at nine or ten years old. I started photographing airplanes and that sort of thing. Broad media has always been a big interest of mine and that's where most of my career has been spent – in visual media, in one realm or another. 
OM: As an Alberta native, have you always felt a connection with the natural world? 
SA: I think so. I love the outdoors, and was lucky growing up where I did. You see the outdoors more than most, so there's more connection there – more than someone who grows up in a city, certainly. That connection has allowed me to understand and appreciate what allows us to exist on this planet. I was lucky to have folks who wanted to go places, to travel. I was surrounded by countryside. I was in it. That connection is in me for that reason. 
OM: How important is it then that we find a way of connecting with people who've always lived in cities and perhaps don't have that connection with the natural world? Is that one of the biggest challenges we face
SA: Absolutely, particularly where kids are concerned. There are so many young people growing up in cities who don't have the opportunity to go to the coast, to rivers, to connect and realise that it's an ecosystem that's allowing them to survive, to live and breathe on this planet. I think schools need to be a lot more focussed on an itinerary that includes conservation to bring kids into that fold of being interested in wildlife and realising it's a big part of their existence. That's the challenge. It's easy to preach to the choir – those people who love nature in every form – but the real challenge is getting the masses involved. We've fallen off a cliff. We need to capture the attentions of the average Joe and make them realise we're all involved in this. Everyone can play a small part. 
OM: When did you focus your attentions – and your camera – on the ocean? 
SA: That's interesting, because it was around nine or ten years old that I was introduced to Greenpeace. My aunt was a member. I didn't know anything about conservation groups at that age and I remember her showing me some iconic videos and clips from TV of these guys called Greenpeace ripping around in zodiacs and having barrels of nuclear waste dumped on their heads. That stuck with me from that early age. I knew back then, man I want a piece of this! Those visuals grabbed me. So she's the one to blame for where I'm at today and the work I'm doing. I was already, at that stage, trying to take pictures of the frogs in my fishpond. They weren't very good back then, but it was in me to start taking photos of that stuff. I'd do a lot of illustrations too. 
OM: As a visual artist (having worked in graphics) and with an aforementioned love of nature, was professional photography – and, indeed, conservation photography – perhaps an inevitability for you?
SA: I think it was a path that was in the back of my mind from an early age. I spent a lot of time in the film industry doing visual effects and news graphics, that sort of thing, but during vacations I'd go on dive trips, camera in-hand. I love sharks, so often returned home with lots of images of those. When I went on my first Sea Shepherd (SS) trip, I was taken on as a deckhand – I wasn't there as a media guy. It was purely by chance that one of the officers onboard saw me messing around with some of my shark photos one day. He didn't know I was a diver and underwater photographer. He turned to me and said: "You're a photographer now." And that was it. I moved up from deckhand off the back of my shark images. My time as a deckhand was hugely valuable from a seamanship point-of-view, but it was great to suddenly be one of the shooters. It took off in a bigger way from there on in. 
OM: You've done a lot of work with Sea Shepherd in recent years. How did that first mission come about? 
SA: I started watching this show called 'Whale wars' on Discovery Channel. I knew about Greenpeace but I didn't know so much about SS. There were these guys down in Antarctica facing off the Japanese whaling fleet, direct action, getting into the think of things, banging steel on steel. I thought: I want a piece of that. I felt I needed a change from being in the film industry this feeling I'd had as a kid resurfaced. I wanted to be with these guys. It took a little while of me bugging them, but I got there. It was meeting Paul Watson in Vancouver that changed things. I got to sit down and have a cup of tea with him in 2009. I told I loved what he was doing and that he was a huge inspiration. I told him I wanted to get involved, and asked how I could help. A little while later a got an email from Paul: "We're going to Libya for the bluefin tuna. Get your ass to New York and get aboard the Steve Irwin (SS's flagship) if you want a piece of this." I ached over it for a few days – leaving a good job and its security, and going into the fray, doing something completely different. I decided to take the leap.  
OM: How did that feel? What were those first moments on deck like?
SA: I showed up in New York in the small hours of the morning and looked up at the Steve Irwin. I thought: Man, I'm really doing this thing. I'd seen these guys on TV, and now I was climbing aboard. Initially I thought it might last a year. I knew Libya would be interesting, but after that, who knew? It's now been almost ten years!  
OM: Having done ten years with SS, what are your emotions now, pre-departure, compared to that first outing? Do you still feel pressure? Nerves? Trepidation? 
SA: I think I've done almost twenty campaigns, but the first is still one of my favourites. I was old school SS – got out there, direct action, mayhem. We did it all – jumping inside tuna nets, cutting the nets and setting the fish free; having a fishing boat ram us; having fisherman throwing missiles at us. I felt like a big kid. I'd been promoted as we were crossing the ocean from New York. I was running around, camera in-hand with a big smile on my face, in the middle of this action. Then I'd be jumping in the water to set tuna free. It was spectacular. I was then asked to go to Antarctica to mix it up with Japanese whaling fleet. I think that was the flagship campaign at the time, and I did five seasons. There's always a heightened level of expectation on those campaigns. Everyone's looking at you to get down to the Southern Ocean and kick some ass, to try and stop the Japanese from killing more than 1,000 whales. All eyes are on you. 
I was on the Bridget Bardot during that time. A lot of money went into making those campaigns happen. You feel pressure from the public. Conservation group vs Japanese whalers also made mainstream news. We had to return home with a victory. 
OM: Was there particular pressure as a photographer? Images play such an important role in garnering that mainstream media coverage…
SA: There was always a pressure to get 'the shot', something that said something about the campaign as a whole. That's where I prefer photography over videography – the ability to capture one image that pulls it all together, that shows the world what we're doing. I like that side of things. I perform better under that pressure, when it's all kicking off. That's a better environment for me than having all day to turn something around. My better shots are when the action is unfolding. That's when I'm in my element. 
OM: Do you feel progress has been made in the ten years you've been at SS?
SA: The TV show 'Whale wars' put conservation on the map. A lot of people didn't know whaling was still going on. It definitely got the general public involved more – we saw more applications to get involved as crew on our ships, to be actively involved in trying to stop illegal activities on our ocean. Now, conservation is in the foremost of a lot of young people's minds. They don't like where we're heading. So I think things are moving forwards, but it's an ongoing fight against big corporations and governments who don't seem willing to move away from big profits in order to do what's right. I feel, sometimes, that the world's conservations groups – including SS – are putting band aids on problems. We need formal, decisive action from governments and big business to stop those band aids from falling off. 
The whaling campaign made a lot of progress, for sure. The Japanese were down there trying to kill 1,033 whales every year. We did that campaign for ten years, until they got taken to court at the International Court of Justice at the Hague where they were found to be conducting commercial whaling in the guise of research. Their quota was then reduced to 333 whales, which is roughly actually 500 whales because they kill pregnant females, but it's progress. Iceland and Norway are now the biggest perpetrators of whaling. Iceland landed a blue whale this year, a highly endangered species. They're harpooning crossbreed blue and finn whales, and there are no repercussions. It's a sad state of affairs. It's an ongoing battle. 
Photographs by
Simon Ager
Continue reading...
To continue reading this article – and enjoy full digital access across Oceanographic – sign up to Ocean Hub today! More info below…
Keep reading by signing up for an Ocean Hub subscription
Ocean Hub. More than a magazine subscription.
As well the delivery of all new editions, members unlock access to exclusive products, services and discounts, as well as EVERY digital back issue we have published.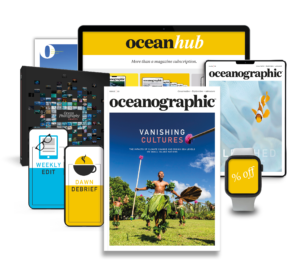 Find out more

about Ocean Hub subscription
Shop window
current issue
Back Issues
Enjoy so much more from Oceanographic Magazine by becoming a subscriber.
A range of subscription options are available.
Sea stories
Beautiful ocean stories straight to your inbox.
Join our community.