Exploration
Southern sanctuary
Southern right whales were almost hunted to extinction at the beginning of the century. They have since made an impressive recovery. In New Zealand, a team of researchers gained access to one of the species' most remote breeding grounds off the Auckland Islands to reveal more about the species by collecting skin samples and tracking data. 
Words and photographs by
Julie Chandelier
Words and photographs by
Julie Chandelier
The raging storm has finally eased and the sky is clearing. "Come to the upper deck," I shout to my partner Scott, as we drop anchor in Erebus Cove in Port Ross. I gaze at the bay bathed in a timid morning light. Everywhere I look I can see and hear spouts. Whales everywhere, as far as the eyes can see. 
It is June 2021, in the middle of New Zealand winter, and together with a team of nine, we have spent the last 36 hours crossing the infamous stretch of water between Bluff, the bottom of Aotearoa New Zealand's South island, and Maungahuka, the Auckland Islands, in the Subantarctic. I am taking part in a three-week scientific expedition, documenting the hard work of Dr Emma Carroll, the onboard scientist and associate professor from the University of Auckland Waipapa Taumata Rau, who has been studying Southern right whales for 15 years. 
Southern right whales are a critical species for conservation efforts in New Zealand. Historically, the population was hunted to near extinction during the late 1800s by commercial whaling, and their slow reproductive rates made them particularly vulnerable to annihilation. Southern right whales were the perfect quarry for whalers; the species was considered the 'right' whale to hunt due to its slow speed and ability to float after being killed.
Today, the whales continue to face threats from climate change, entanglement in fishing gear or vessel collisions. But in recognition of the importance of protecting these whales, New Zealand has established a number of conservation measures. For example, the Auckland Islands – Motu Maha Marine Reserve, created in 1993, is the only known breeding ground in New Zealand for this species. The whales gather here annually from May or June to September to mate and give birth. The government has further instituted regulations to limit the speed and proximity of boats in areas where the whales are known to congregate.
The remote Auckland Islands are located in the southern Pacific Ocean about 465 kilometres south of New Zealand. They are part of New Zealand's subantarctic archipelago, which also includes the Campbell Island group, the Antipodes Islands, and the Bounty Islands. They encompass a total area of 57,000 hectares and are a UNESCO World Heritage Site due to their unique ecology and biodiversity. They are home to a significant number of subantarctic invertebrates and some of the rarest birds on earth. The sanctuary spans approximately 12 nautical miles around the archipelago. Entry is heavily regulated by governmental permits, and visitor numbers are limited. During the winter season, these islands are strictly closed to all tourism, allowing just a handful of research vessels. In 2021, our 78-foot-vessel Strannik is one of the only two allowed.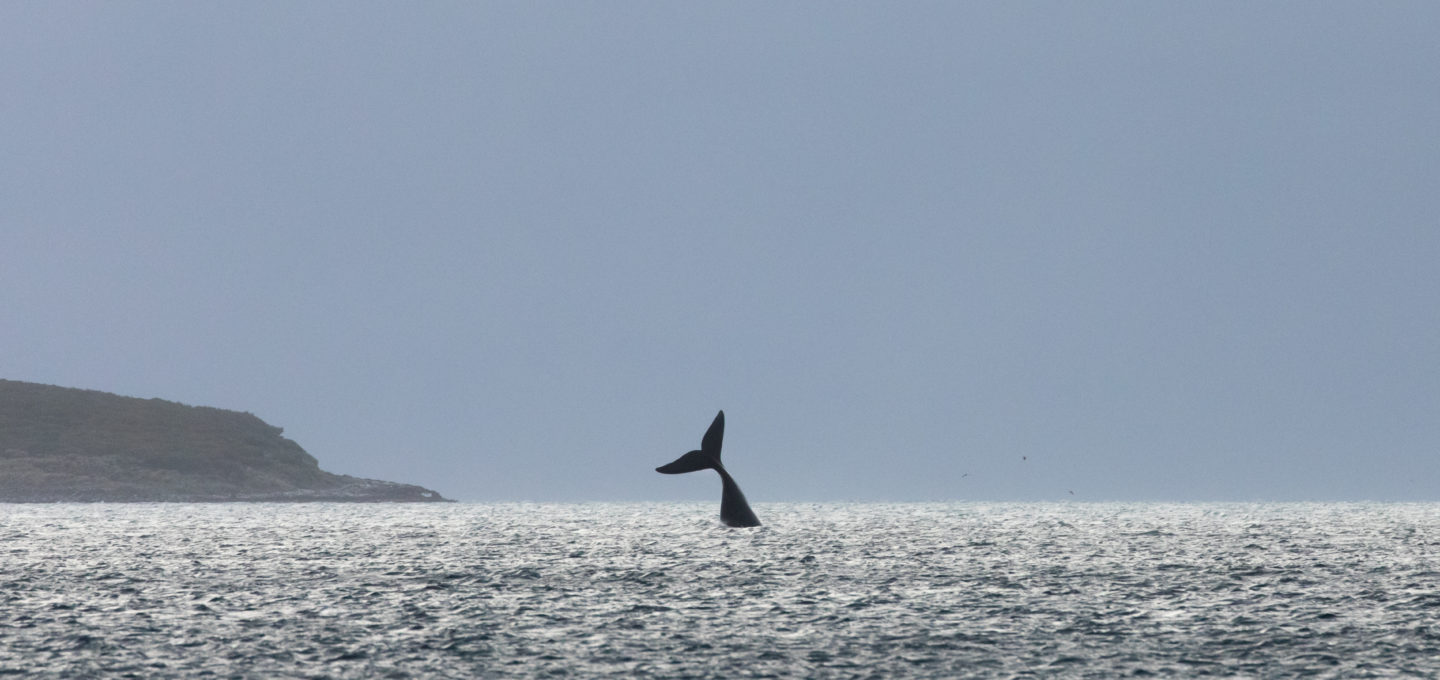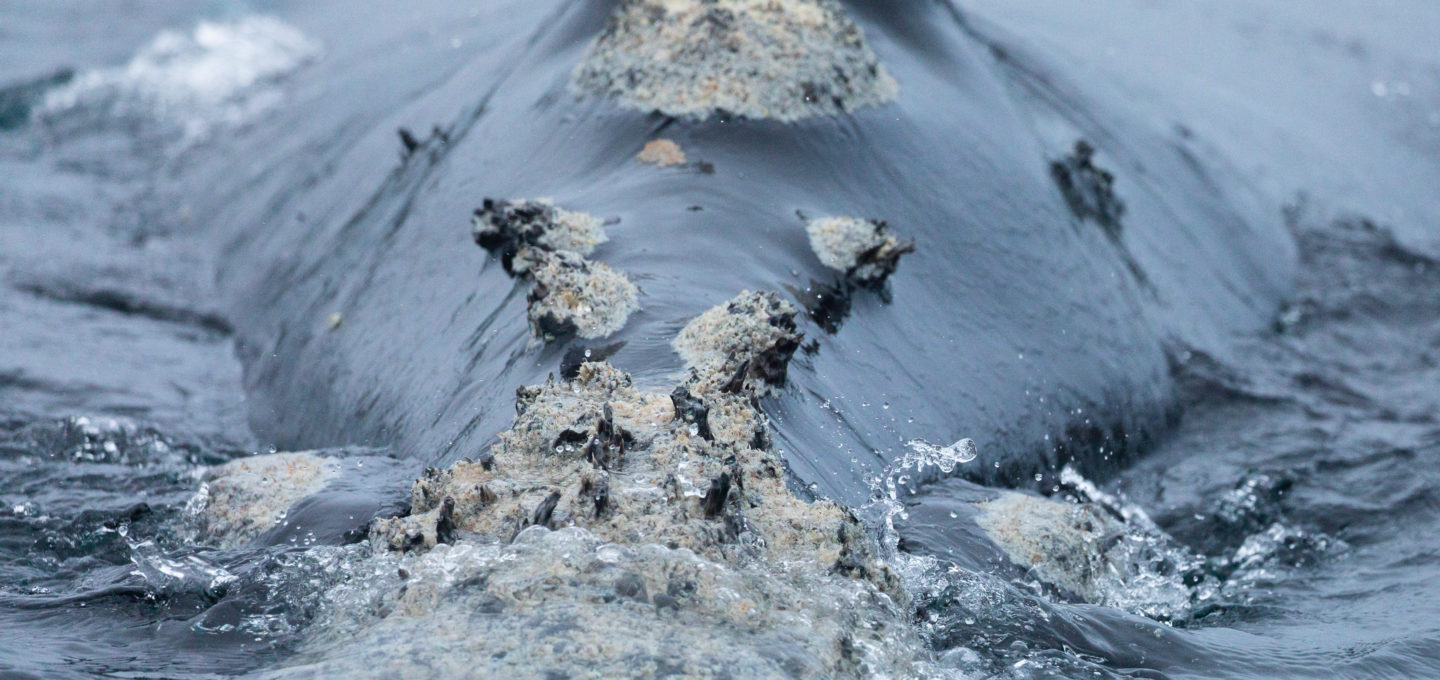 Our moorage is in a safe and sheltered spot, in this rugged bay that is Port Ross. Beautiful vistas surround us with subantarctic vegetation, including tussock grasslands and low shrublands. I am in awe of the dense rātā forests that line the shores of these islands, ancient trees that have been shaped and beaten by the prevailing westerlies. They form a dense canopy that usually does not exceed a height of 20 metres.
As sea sickness fades from the rocky journey south, the next few days leave me speechless. From early morning to dawn, we observe dozens of whales feeding, socialising and breaching directly from our mooring. Being at anchor allows us to see individuals swim under our boat or circle us. Moms and calves often visit us in the early hours, while hot coffee is still brewing inside our floating home. On many occasions, I find myself putting on all of my warm layers and wet weather gear in a hurry, still wearing my pyjamas underneath. It is not uncommon to hear one of my comrades' voices shouting to everyone to come outside as whales approach us yet again. We can hear spouts directly from our cabins almost every day and night. At these moments, I am oblivious to the challenges I've overcome to be here. One evening before shutting our eyes, Scott tells me: "How lucky we are to be here, so few people get to visit the Subantarctic in the middle of winter, let alone share it with hundreds of whales.
Scott and I are glued to our cameras most of the day and are blessed by many special encounters. One morning, a calf breaches more than 20 times in a row, playing with sea birds at the surface. Groups of females roll around and rub against each other, showing us their pectoral fins and tails. On three occasions, we come across rare white calves that grow up to be grey morph adults: "The proportion of calves born white seems to vary from population to population, " says Dr Carroll. 
The Southern right whale is an impressive animal. It can reach a maximum length of 18m and weigh nearly 80 tonnes. Scientists are not sure how long they live but North Atlantic right whales have been documented to live into their 70s, and Southerns are believed to have a similar age range. Dr Carroll's ongoing research involves identifying feeding habitats of the various populations of Southern right whales. The overarching objective of her work is to grasp the recovery of these populations in relation to these foraging habitats over the last decade, which coincides with a period in which climate change has had the most profound influence on the ocean. She builds on 25 years of research initiated by University of Auckland researchers C. Scott Baker and Nathalie J. Patenaude in 1995 by advancing genetic monitoring.  
Everyday – hail or shine – Dr Carroll surveys the bay in one of the zodiacs with her team, observing and counting individuals. She also collects skin biopsies from as many individuals as possible by carefully using darts and a crossbow. The darts bounce off the chosen whales' backs without harming them, with the tip of the dart collecting a tiny skin sample about the size of a human fingernail. This small piece of blubber collected is full of information for her research. The DNA extracted is used to identify individual whales, their relatives and estimate the population size, including historical population size. Dr Carroll can also identify their diet and even give them a pregnancy test with this piece of blubber. One of my jobs throughout this expedition is to join Dr Carroll's team in the zodiacs and collect photo IDs to help her catalogue the whales. 
Continue reading...
To continue reading this article – and enjoy full digital access across Oceanographic – sign up to Ocean Hub today! More info below…
Keep reading by signing up for an Ocean Hub subscription
Ocean Hub. More than a magazine subscription.
As well the delivery of all new editions, members unlock access to exclusive products, services and discounts, as well as EVERY digital back issue we have published.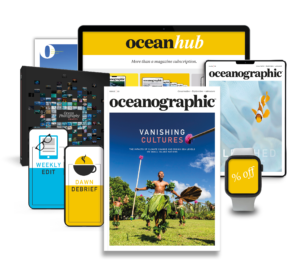 Find out more

about Ocean Hub subscription
Shop window
current issue
Back Issues
Enjoy so much more from Oceanographic Magazine by becoming a subscriber.
A range of subscription options are available.
Sea stories
Beautiful ocean stories straight to your inbox.
Join our community.