The elusive spirit bears of British Columbia are one of Canada's most treasured subspecies. But with extreme and persistent declines in salmon populations, how long will they be able to survive?
Words by
Cheryl Lyn Dybas
Photographs by
Jack Plant
Words by
Cheryl Lyn Dybas
This is the story of a creature almost as mythical as Sasquatch – a white bear called a spirit bear. Unlike Sasquatch, however, scientists have verified that spirit bears exist. In British Columbia's (BC) remote Great Bear Rainforest, this extremely rare bear appears, seemingly out of nowhere, in the coastal rainforest's shadows. It is also the story of the spirit bears' kin – black bears and brown bears – and how they all share salmon, their common prey, in a dusky, moss-covered realm.
Scientists know the spirit bear as Ursus americanus kermodei, the Kermode bear, named after biologist Frank Kermode. Kermode, a former director of the Royal British Columbia Museum in Victoria, was among the first to research the subspecies. The spirit bear is a colour morph of the black bear Ursus americanus. The trait is recessive; both parents must carry a copy of the mutated gene for their offspring to be white.
"Spirit bears have one of the most distinctive and conspicuous 'polymorphisms' of any mammal," says ecologist Tom Reimchen of the University of Victoria. Reimchen has spent much of his life studying the bears. "The white morph," he says, "comes from a mutation in the same gene associated with coat colour variation in other mammals."
Spirit bears are relics of the last ice age, a time when being white likely conferred an advantage to animals living near icy glaciers. Some scientists think that black bears on what is now the BC coast might have become separated from mainland Canada by ice, then inbreeding in this "refuge" increased the mutation's frequency. As the glaciers melted, the bears became stranded on newly formed islands.
Today, spirit bears live in the most distant places on the planet: BC's Princess Royal and Gribbell Islands, some 50 miles north of Klemtu. Klemtu itself lies 330 miles due north of the city of Vancouver. Gribbell Island has two major salmon streams; Princess Royal Island has 30. These islands are ruled by salmon and bears. In late summer and early autumn, salmon migrate upstream to spawn in their thousands – and the bears await their arrival.
The white bears were likely never common, but now no more than a few hundred exist, according to conservation biologist Chris Darimont of the University of Victoria and the Raincoast Conservation Foundation. Darimont has studied the bears' genetics through the ursids' hair and scat. "We can estimate how many of the black individuals carry the white form of coat- colour gene," he says, "giving us insights into the natural processes and human pressures that maintain the white version or lead to its demise." Around one in every ten black bears in the region is a spirit bear, says Darimont. By 'region', he's referring to the Great Bear Rainforest (GBR), also known as the Central and North Coast forest, on the BC coast. The GBR is a 6.4-million-hectare expanse that's part of the largest coastal temperate rainforest in the world. The GBR was officially recognised by the Government of British Columbia in February 2016 in an announcement that 85% of the region's old-growth forests would be off-limits to industrial logging.
"It's an incredibly special place for spirit and black bears, as well as brown bears and the many other species that depend on Pacific Coast salmon runs to survive," says Darimont. From late summer through autumn, spirit, black and brown bears frequent fast-running, boulder-lined coastal streams brimming with salmon. In spring and early summer, they pad through lowland estuaries. There they feed on protein-packed sedges, barnacles, mussels and other invertebrates they wrest from rocks in the intertidal zone. "But they're always waiting for the return of the salmon in fall," says Reimchen.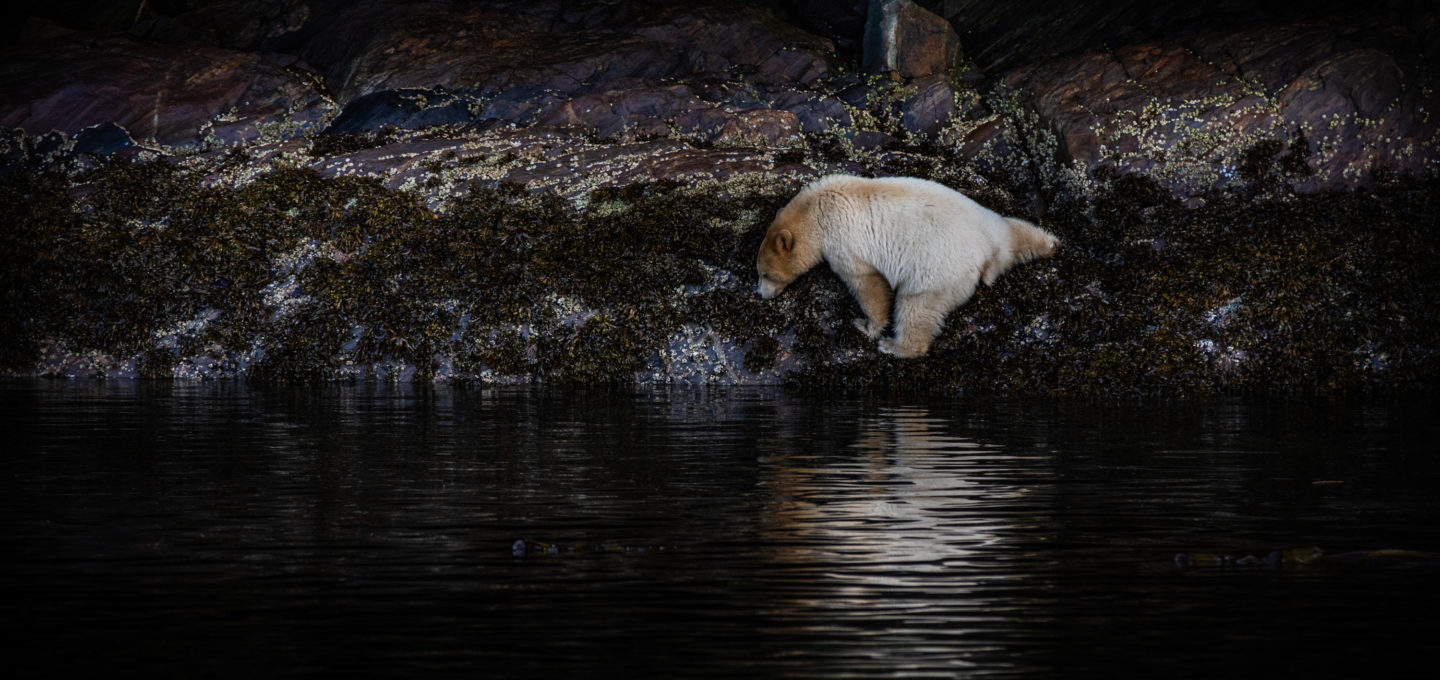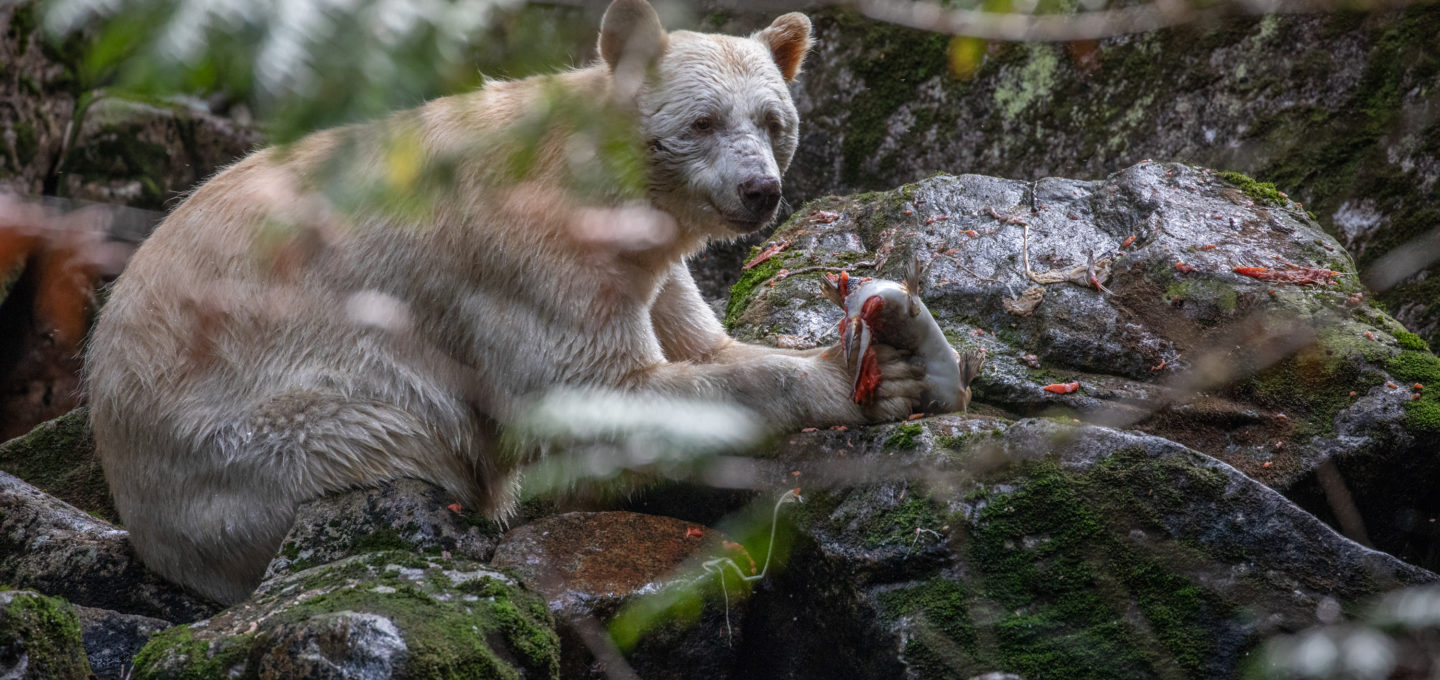 Photographs by
Jack Plant
Continue reading...
To continue reading this article – and enjoy full digital access across Oceanographic – sign up to Ocean Hub today! More info below…
Keep reading by signing up for an Ocean Hub subscription
Ocean Hub. More than a magazine subscription.
As well the delivery of all new editions, members unlock access to exclusive products, services and discounts, as well as EVERY digital back issue we have published.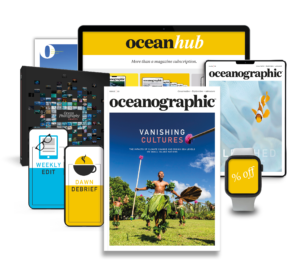 Find out more

about Ocean Hub subscription
Shop window
current issue
Back Issues
Enjoy so much more from Oceanographic Magazine by becoming a subscriber.
A range of subscription options are available.
Sea stories
Beautiful ocean stories straight to your inbox.
Join our community.