Adventure
Behind the lens: Steve Woods
Behind the Lens places a spotlight on the world's foremost ocean photographers. Each edition focusses on the work of an individual who continues to shape public opinion through powerful imagery and compelling storytelling. This interview focuses on Steve Woods, a British adventure and wildlife photographer, based in Vancouver, Canada.
Interview by
Oceanographic Magazine
Photographs by
Steve Woods
Interview by
Oceanographic Magazine
Steve Woods' aim is to photograph the natural world to show people how beautiful and awe-inspiring it is. He seeks to highlight the danger humans are inflicting on the different ecosystems of the world through his photography.
OCEANOGRAPHIC MAGAZINE (OM): THANKS FOR TAKING TIME TO SPEAK TO US, STEVE. LET'S DIVE RIGHT IN. WHEN DID YOU FIRST CONNECT WITH THE OCEAN? IS THERE ONE PARTICULAR MOMENT THAT SPRINGS TO MIND?
STEVE WOODS (SW): I've always been interested in the oceans. As a kid, I've been fascinated by sharks. Living in a landlocked city, it was always quite difficult to access that. I remember that my parents drove 4 hours because they heard there was a shark in an aquarium somewhere up in the north of England. And when we got there, it was just a model shark made from paper mache (laughs). We started to spend more time by the ocean and I did my first try dives when I was about nine. I then learned to dive when I was 13. Ever since, it has been such a passion for me. All of my school projects dealt with sharks and the ocean. However, the moment that you learn to love the ocean, the realisation hits you that everything is disappearing. And that there seems to be a complete disconnect between the idea of how precious the oceans are and of how threatened they are.
OM: WHY DID YOU START TAKING UNDERWATER PHOTOS?
SW: That's quite an interesting story. When I came out of school, I was really interested in photography, but the ocean and photography were kind of separate passions at the time. At the beginning of my photography career, I wanted to be a war and conflict photographer. I was working for newspapers at the time. I had an entire career shooting politics and sport in England. I wanted to give a voice to the people who didn't have a voice. I wanted to change the world, to right the wrongs. But after a while, I fell out of love with newspapers and realised that my strengths were the underwater and natural world. When I was about 28, I wanted a change of scenery. I moved to Indonesia and that's exactly where I needed to be. I used the skills that I developed as a journalist to help the natural world and worked completely underwater, doing conservation photography.
OM: YOU HELPED SET UP THE GILI SHARK FOUNDATION IN INDONESIA. TELL US MORE ABOUT THAT.
SW: When I first started working in Indonesia, I would see sharks pretty regularly. But there was no structure around what we were doing and what we were seeing when we were over there. I really wanted to go a bit deeper, find out what was going on and see how we could can protect these animals. We started to gather all images from the island, created a photo database, analysed individuals that we would see all the time, and then we started to speak to the government in order to create a protected area around the Gili Islands. It's always tricky because the main thing you need to do within conservation is to always work with local people. It's all well and good for tourists to come in but if you don't work with the local people, it's really difficult. We had varying levels of success. We still saw plenty of shark fishing boats – even in protected waters. But we really tried to make a difference. Because it's such a touristic area, by raising awareness of sharks, the tourists really got on board. And then the locals also started to see the impact of tourists being so interested in rays and sharks. It meant that they were also keen to protect these animals, because, in a sense, they were protecting their own livelihoods. We started to rescue sharks from fishermen in Bali which we would release in the Gili Islands. It was amazing because we really started to see an increase in sharks. It was the first foray for me, in terms of running a shark conservation organisation.
Photographs by
Steve Woods
Continue reading...
To continue reading this article – and enjoy full digital access across Oceanographic – sign up to Ocean Hub today! More info below…
Keep reading by signing up for an Ocean Hub subscription
Ocean Hub. More than a magazine subscription.
As well the delivery of all new editions, members unlock access to exclusive products, services and discounts, as well as EVERY digital back issue we have published.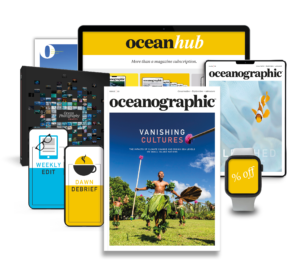 Find out more

about Ocean Hub subscription
Shop window
current issue
Back Issues
Enjoy so much more from Oceanographic Magazine by becoming a subscriber.
A range of subscription options are available.
Sea stories
Beautiful ocean stories straight to your inbox.
Join our community.