Exploration
Stories from a fertile realm
In the great circle of life, estuaries represent the point at which the circle closes, where land meets sea and this planet's interconnectedness completes. Fertile realms bursting with life.
Words & photographs by
Jack Plant
Words & photographs by
Jack Plant
There is a vast temperate rainforest on the West Coast of British Columbia, Canada. Passages of Pacific Ocean scar deep into the fjordlands, and clusters of volcanic islands peter off into the distance. Grizzly bears roam the grasslands while pods of killer whales freely explore the channels. Trees of cedar, hemlock and Douglas fir stand tall, quietly boasting that they were able to grow from such a small seed. It is of course the Great Bear Rainforest. Scattered throughout this 6.4-million-hectare rainforest, in the bays, are pockets of fertile marshes that make this entire ecosystem possible: estuaries. They take up an exceedingly small fraction of British Columbia's coastline, and less than 1% of the rainforest's landscape. Yet, incredibly, these estuaries are used by 80% of all coastal wildlife species in BC.

As a wildlife guide and photographer, I have spent many hours sitting and pondering these wonderful habitats. It does not take long to realize that it is here where we witness the relationship between ocean and land, a convention between fresh and salt water. The ocean life feeds the land, and the rivers cleanse the sea with fresh nutrients washed down from the forest. Clasp you hands together, and you get an idea of the multiple ecosystems that meld to create one. As I observe, appreciating the sheer life that is all around me, it feels like I am quite literally watching the circle of life happening before my eyes. When a grizzly bear scoops a salmon from the river, eating only the tastiest bits and leaving the rest for the scavengers to disperse further throughout the forest. Ravens, eagles and shorebirds sprinkle the nitrogen around the flora, nature's greatest fertilizer. Next spring comes and I see the same grizzly bear, but this time she is a mother of three tiny cubs, hardly a day out of their winter den. They are feeding on Lyngby's sedge, a long, grassy-looking plant that grows abundantly in these estuaries. Studies show that this important food source has an equal amount of protein value to that of a salmon. Not surprising when you realise that it is the salmon that originally nourishes the sedge. The family's diet will follow the seasons. Roots, berries and as much milk as mother can provide. Then comes the great salmon migration. Now, the circle continues. I feel such desperation, as I watch, to be a part of this circle, and not to be a part of what breaks it. 
As well as the circle of life, we can even witness a circle of protection. In some cases, an animal's conservational status can lead to the protection of a variety of other species or a certain natural environment. They are known as an umbrella species. An example of an umbrella species is North America's largest waterfowl, the trumpeter swan. Many trumpeters overwinter in BC's estuaries and in the late 1800's, populations drastically declined mostly due to overharvesting. So, in order to save the population, large estuaries that the swans were known to inhabit were protected, passively creating a haven for many other species within. The swan's numbers have since bounced back and they remain protected. Even some red and yellow cedar trees have become an umbrella species, known as monumental trees. If they are of a certain width and height, they can be claimed by Coastal First Nations as a traditional resource, thus protecting the cedar and its close-by neighbours from commercial logging. To think, thousands of insects reside within the tree's bark and needles; insects that feed songbirds and bears. Generations of eagles have trusted the ancient cedar's strong limbs to support the 2-meter-wide nests to nurture their young; the same eagles that have carried that special salmon nitrogen from the estuary into the forest, feeding the cedars and allowing them to become giants. Now, can you start to see the circle?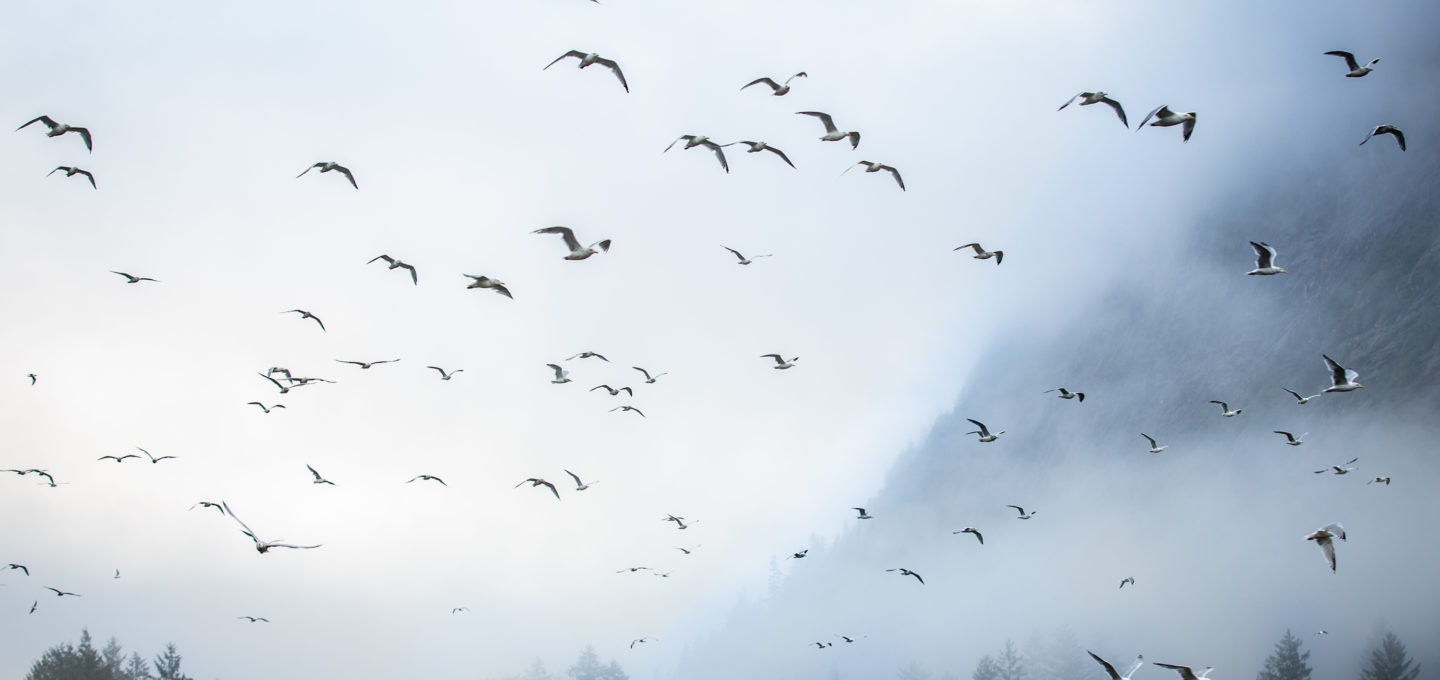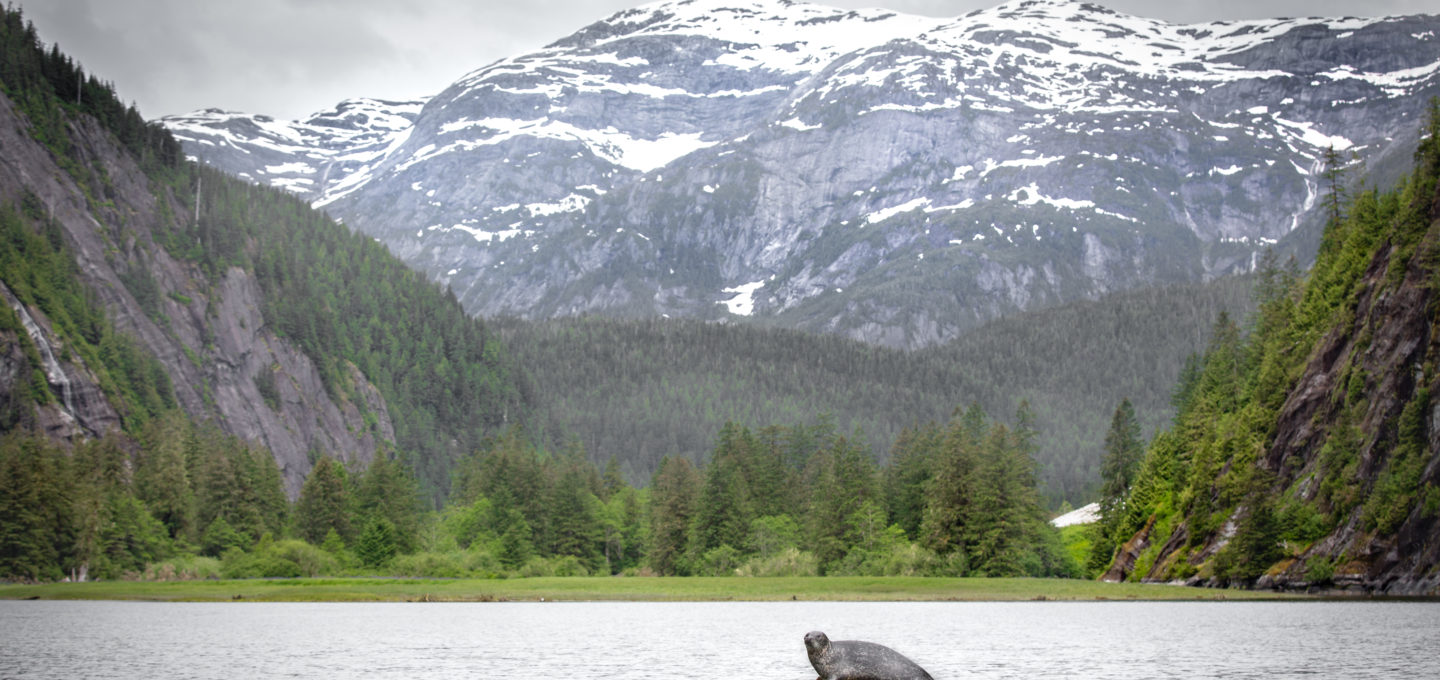 Continue reading...
To continue reading this article – and enjoy full digital access across Oceanographic – sign up to Ocean Hub today! More info below…
Keep reading by signing up for an Ocean Hub subscription
Ocean Hub. More than a magazine subscription.
As well the delivery of all new editions, members unlock access to exclusive products, services and discounts, as well as EVERY digital back issue we have published.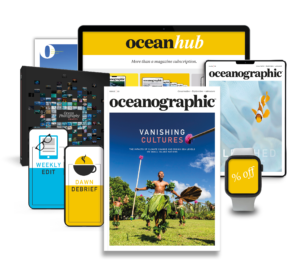 Find out more

about Ocean Hub subscription
Shop window
current issue
Back Issues
Enjoy so much more from Oceanographic Magazine by becoming a subscriber.
A range of subscription options are available.
Sea stories
Beautiful ocean stories straight to your inbox.
Join our community.