Conservation
Chasing lightning
Words and photography by
Jay Clue
Words and photography by
Jay Clue
"These are the annual hunting grounds of Kajikia audax, the striped marlin."
Baja California boasts some of the most biodiverse waters in the world, hosting a variety of migratory species throughout the year. As a result, it has become a hotspot for sportfishing, but at what cost? In Issue 11 of Oceanographic, Jay Clue shares how he hopes to connect people with the incredible marine life in these waters
It's a cool autumn morning and the warm rays of Baja sunshine are just beginning to dance over the horizon, illuminating the grey sky with splashes of orange and pink. Our guests are huddled up scanning the water as we speed across the glassy bay heading for open ocean. This group has travelled from all over the world to be here. To wake up in a Mexican fishing village and be led 20 miles offshore in a small panga by a marine conservationist, an ex-fisherman turned eco-tourism captain, and a tattoo-covered adventurer and photographer.
Signs of the battle we are in search of are on the horizon – flocks of frigate birds are hovering above the action, ready. I can already see fins cutting through the water. Our captain Melecio yells 'vamonos!' and we slip into the water. As the bubbles clear, the frenzied scene is unravelling rapidly before us. Shards of silver explode just in front of us, then reform into gigantic metallic bait balls. The fish look like liquid metal twisting and bending through the Pacific Ocean. They are being hunted by one of the oceans fiercest predators and we are currently surrounded by more than 30 of them. Two-metre-long, sword wielding warriors are ripping through the waters around us at lightning speed. Their stripes ignite flashes of neon blue before they dart back into the shimmering bait ball, smashing it into pieces.
Streams of bubbles burn off their long bodies giving the impression of underwater rockets. They have a form evolved for speed. Pure muscle capped off with a sword-like bill and a large crescent shaped fin on the other, delivering enough torque to propel them to 50 miles per hour. These are the annual hunting grounds of Kajikia audax, the striped marlin. Packs of sea lions rest on the outer edges waiting for their turn to join in. They speed into the hunt the moment the marlin stand down. It is an incredible behaviour to witness, mammal and fish cooperatively hunting together. A fin whale slowly cruises below, turning to its side to look up at the commotion. We spend our entire day trying to keep up with the frantic sardines and mackerel.
Bahia Magdalena, or Mag Bay as it's affectionately called, is one of Baja's unique natural gems. A gigantic shallow bay edged with rocky and mountainous barrier islands. Flowing white sand dunes meet the lush green mangroves that play a vital role in this local ecosystem. Pods of dolphins can regularly be seen searching the mangroves for snacks. Groups of sea lions can be found lounging on buoys and beaches. In winter, grey whales journey here to give birth and raise their young in the protected waters of the bay. I've been visiting the area since I first came to Baja and began exploring its natural wonders for what would become the foundation of Dive Ninja Expeditions, an ecotourism platform that bridges the gaps between tourism, marine research and conservation. I visit the area throughout the year to see its seasonal visitors, whether it be whales, mako sharks or marlin. I impatiently wait for the marlin's return every year and once they arrive, I spend as many days as possible in the area.
This past season on a quick stop home between trips to Mag Bay, I received a message from a concerned friend. At first, I was a little confused as to why they had sent me a photo of a luxury fishing yacht. But then as I read the caption, my stomach began to knot. It was announcing a new sportfishing world record – 330 striped marlin caught in a single day by one vessel at Bahia Magdalena. My heart sank, but my brain tried to rationalise that there was no way that it was physically possible. It must be a marketing stunt. I would be returning to Mag Bay the following morning so I would investigate once there.
The next morning, I headed back out on the water with Melecio, shark conservationist Regina Domingo, and a new group of guests. The waters seemed different. As we reached the marlin area it all began to sink in. There were no frigates. No gulls. No pelicans. Our sea lion friends were nowhere to be found. The ocean that had been teeming with life only 72 hours earlier had become desolate. After searching for six hours we decided to call it a day. I'll never forget the dramatic change we witnessed during those days after the world record was broken.
Sportfishing and Baja go hand in hand. It makes up a gigantic portion of the tourism dollars that come through the area. This is easily seen by any short walk around Cabo San Lucas Marina, where there are hundreds of sportfishing vessels ready to take tourists out. The area is home to many of the largest tournaments in the world with some offering multimillion-dollar prizes. It's these tournaments that were the reason I was 20 miles offshore in the middle of the ocean. Witnessing them first-hand became the inspiration for our striped marlin citizen science expeditions…
The IUCN classifies striped marlin as near threatened with their population trends continuing to decrease, with stocks in some areas showing declines of more than 40% in recent years. Regina explains: "Marlin populations have plunged over the past several decades as a direct result of commercial tuna and swordfish fleets, which catch marlin and other billfish through longline fishing or through netting." Yet, a paper published in 2010, showed that a four-year closure of long line fishing in Baja California Mexico 'had a rapid effect on local abundance of striped marlin', with 'regional striped marlin abundance likely increased by 12–22% following the four-year closure'. It begs one to question: why they are still being fished?
Read the full article, Chasing lightning, in Issue 11 of Oceanographic Magazine – available worldwide. 
__________
Unplug. Reconnect. 
#WhereWillYouReadYours?
Explore the current issue
Beautiful photography. Captivating storytelling.
Take a look inside the latest issue of Oceanographic Magazine.
DIGITAL SUBSCRIPTIONS
Subscribe to the digital edition for just £20 a year, or enjoy it for free courtesy of Oceanographic's partnership with Marine Conservation Society. No cost, no catch.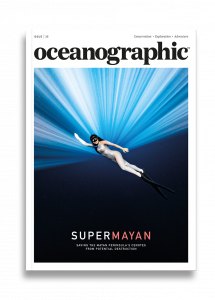 Sea stories
Beautiful ocean stories straight to your inbox.
Join our community.