Conservation
Tag and click
A conservation expedition photographer offers a personal  perspective on what it's like to be behind the lens on an impactful ocean mission. 
Words & photographs by
Daniel Norwood
Words & photographs by
Daniel Norwood
As an underwater photographer who has spent hundreds of hours underwater with sharks, no species has intrigued me and captivated me more than the tiger shark. Their impressive size combined with their calm and inquisitive nature make them one of the most amazing animals you can encounter underwater. 
There are a number of places around the world where it is possible to swim alongside these iconic creatures in a responsible and safe way. While ecotourism is an excellent way to change the public perception of sharks and contribute to their conservation, there is still a lot we don't know about tiger sharks. Although they have a wide ranging distribution and give birth to large litters of pups, they are considered near threatened on the IUCN Red List of Threatened Species, and global populations have been significantly depleted due to overfishing, habitat degradation and the well-documented demand for shark fin soup. 
In order to protect migratory species such as the tiger shark in the future, scientists record their movements using satellite tags and other tracking devices. I have always wanted to witness this work taking place in the field, so was thrilled last August when I was invited to join a team of researchers from the Dutch Caribbean on a seven day expedition to study shark populations on the Saba Bank. Tiger sharks are often seen in the area, and the expedition's objective was to catch sexually mature females, use the latest in ultrasound technology to assess if the animals were pregnant, before attaching satellite tags to further investigate their life cycle. The trip was organised by Tadzio Bervoets, director of the Dutch Caribbean Nature Alliance (DCNA), included members from Sint Maarten, Bonaire, Aruba, and St Eustatius, and was funded by the World Wildlife Fund for Nature in the Netherlands (WWF-NL). The data recorded during the trip, and from the tagged animals in the future, will hopefully help the team to answer some important questions such as why large female tiger sharks frequent the Saba Bank, and if they are pregnant where do they go to give birth? My job as the trip photographer entailed getting in the water once the sharks had been caught, and capture images of the tagging and ultrasound process from all angles. 
Saba Bank Sharks 
Our home for the week of the tagging mission was the Caribbean Explorer II liveaboard, a boat that usually divides its time between the islands of Sint Maarten, St Kitts and Saba, an island well known for its spectacular pinnacles and drops offs. Caribbean reef sharks and nurse sharks are often seen during dives, but to find the tiger sharks we had to deviate from the captain's usual itinerary and go further offshore to the fish at the Saba Bank, the largest national park in the Kingdom of the Netherlands and the largest submarine atoll in the Atlantic Ocean. Every day we departed the mother ship at around 7.30am and spent the entire day fishing for sharks on board the Saba Conservation Foundation's two vessels, Lady Rebecca and Queen Beatrix. The team would select a location based on previous shark activity on the bank, and then drop baited drums attached to a buoy in lines called sets. Each set consists of approximately 8-10 separate baited hooks that are left to soak for at least 90 minutes, before hauling them out to see if anything has been caught. Baited Remote Underwater Cameras (BRUVS) were also deployed regularly to help assess activity underwater, and every single piece of information is recorded including drop time, bait used and depth.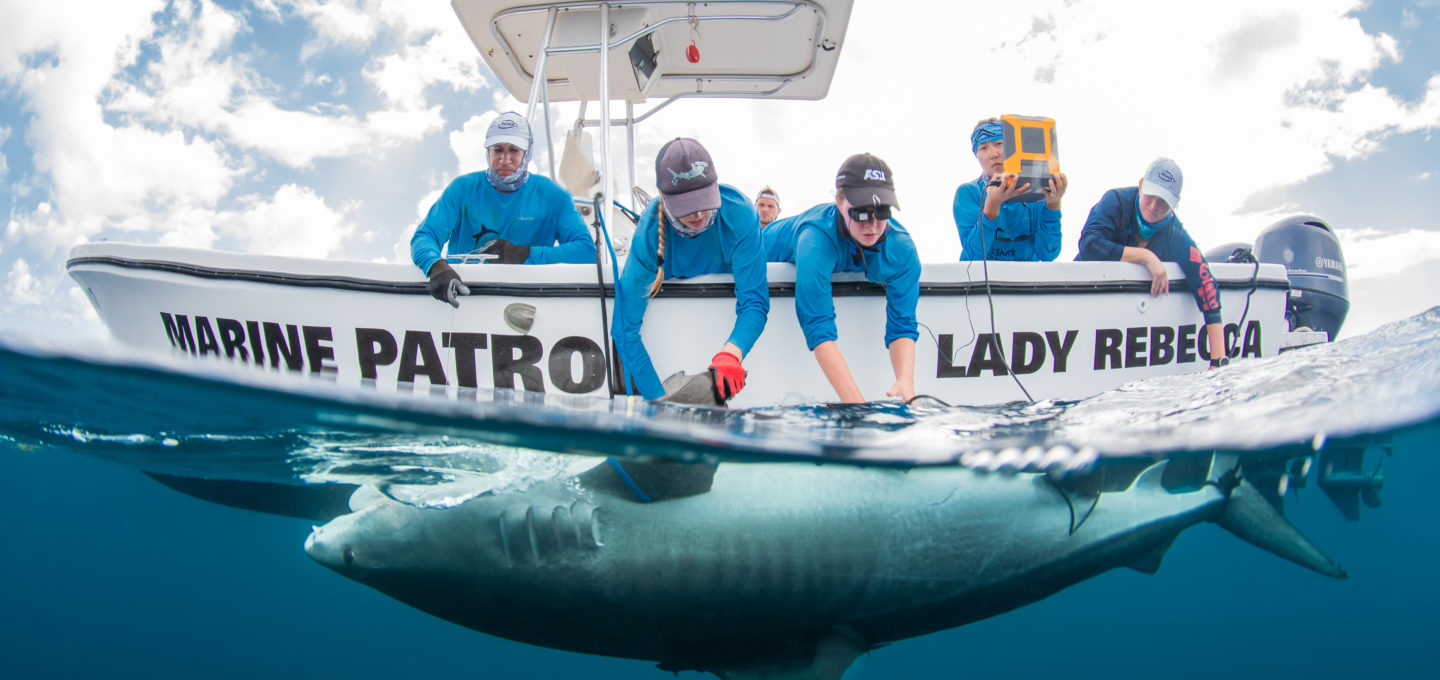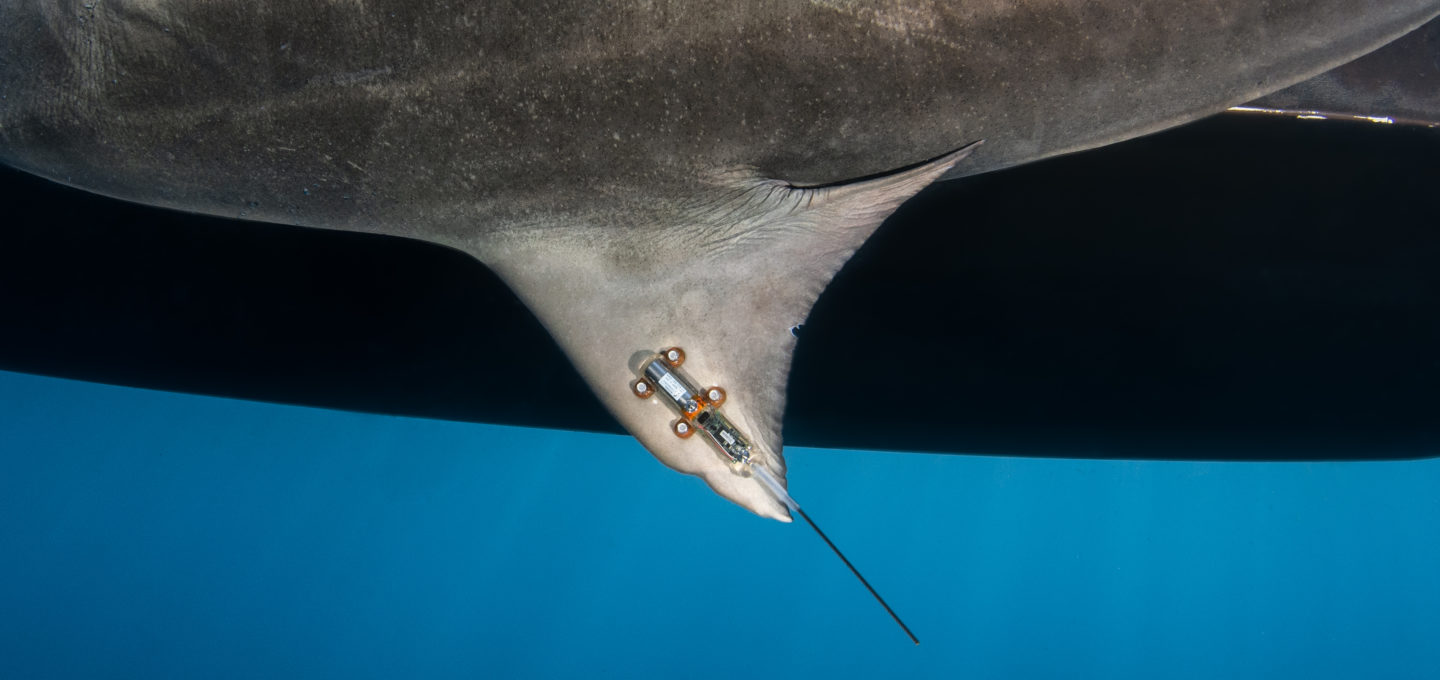 Continue reading...
To continue reading this article – and enjoy full digital access across Oceanographic – sign up to Ocean Hub today! More info below…
Keep reading by signing up for an Ocean Hub subscription
Ocean Hub. More than a magazine subscription.
As well the delivery of all new editions, members unlock access to exclusive products, services and discounts, as well as EVERY digital back issue we have published.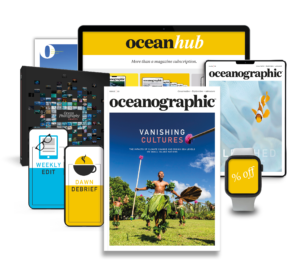 Find out more

about Ocean Hub subscription
Shop window
current issue
Back Issues
Enjoy so much more from Oceanographic Magazine by becoming a subscriber.
A range of subscription options are available.
Sea stories
Beautiful ocean stories straight to your inbox.
Join our community.