Conservation
The balance of things
For some, the ocean is an ever-present part of their existence, perhaps even identity. For others, it is a distant and unknown expanse, never seen or felt or smelled. For one girl brought up in Italy's Po Valley, the ocean was a near-mythical obsession, as were the whales that called it home. Then, in adulthood, she headed for the coast, to a place she had never been but always known...
Words & photographs by
Lucia Vinaschi
Words & photographs by
Lucia Vinaschi
Raised in northern Italy in the middle of the Po valley, I have spent the majority of my life far from the sea. I have simultaneously spent most of my life feeling a tension, an inclination to leave life inland behind and head for the coast, that endless place of unbroken horizons. I thought relentlessly about the ocean and the creatures that live in it. As the years passed, I started to listen to that voice within, to give shape to the unformed ideas and feelings that had always – and uncompromisingly – just been there. It was important for me to learn, to experience, first-hand, the life of the sea, its sights, sounds, smells: the lifeblood of this planet. My fascination centred most acutely on cetaceans; when thick fogs descended upon the Po valley, a mythical sea of sorts, I always imagined the huge flukes of whales emerging from within the mist before crashing back within the great shifting and temporary waters. Whales have, for a reason unknown to me, always lived in my heart. 
As a photographer, one of the things that fascinates me almost as much as the cetaceans themselves, is the people who dedicate their lives to the pursuit of understanding these creatures – their biology, their behaviour, their unknown futures. The pull of the sea, and of the creatures that live within it, soon transformed into a fascination with the people who speak the language of the sea, who live by it, on it, in it, who feel it and breathe it. I wanted to tell their story through the only language I have ever really known: photography. 
In 2018, I contacted Michelle Gelippi, an Italian marine biologist who moved to Baja California, Mexico to study grey whales during their reproduction season. I suggested I join her for an upcoming field season in the Ojo de Liebre lagoon, to tell her story as a woman of the sea, the reveal the importance of the breeding ground that these whales used to reproduce and, excitingly, to connect with the whales myself. 
I arrived to Mexico with a wealth of knowledge, acquired from books, about the beautiful baleen whales that I would encounter on their annual migration – 15-metre, 35-tons and up to 70 years old. Incredibly, the grey whale is the sole living species in the genus Eschrichtius, which in turn is the sole living genus in the family Eschrichtiidae. This mammal descended from filter-feeding whales that appeared at the beginning of the Oligocene, more than 30 million years ago. Today, there are two remaining grey whale populations: a critically endangered population in the Western North Pacific, believed to have as few as 150 individuals; an Eastern North Pacific population that, having been reduced to low numbers due to whaling, has returned to healthier numbers – in 1994 this population was removed from the US Endangered Species list. There was also once an North Atlantic population of grey whales. Intensive whaling over many centuries drove this population to extinction – the heart-wrenching reality of the impact our species' actions can have on the underwater world and the creatures who call it home. 
Whatever knowledge I arrived to Mexico with, I knew it would soon be bolstered – if not usurped – by a much more compelling and authentic – perhaps even reconstructed – first-hand knowledge, one that you can acquire only with direct experience. 
When I first met Gelippi, in the village of Guerrero Negro, nearby the Ojo de Liebre lagoon (a 12-hour bus ride from La Paz), I felt an instant connection with her. It is a rare thing, something I cannot explain fully – an affinity that binds me to the people of the sea. Michelle has courageously chosen, for the love of the ocean and whales, to move full-time to Mexico, with her husband Marco, also a marine biologist, and her son Gioele. During my time in Guerrero Negro, I lived in a tent at the local headquarters of the Cibnor, the research centre where Michelle is enrolled in a doctoral program. Being there was a gift. I was able to observe all aspects of the lives these biologists lead. I got to know their routines, to discreetly be part of it. Michelle's work, developed under the supervision of Dr Javier Caraveo, serves to build a complete view of the health of grey whales during the crucial period of reproduction. Whales, and all cetaceans, are great bioindicators of the health of the ocean, so Michelle's work will add to the broader conversation around ocean health as well as add information and data to the grey whale research.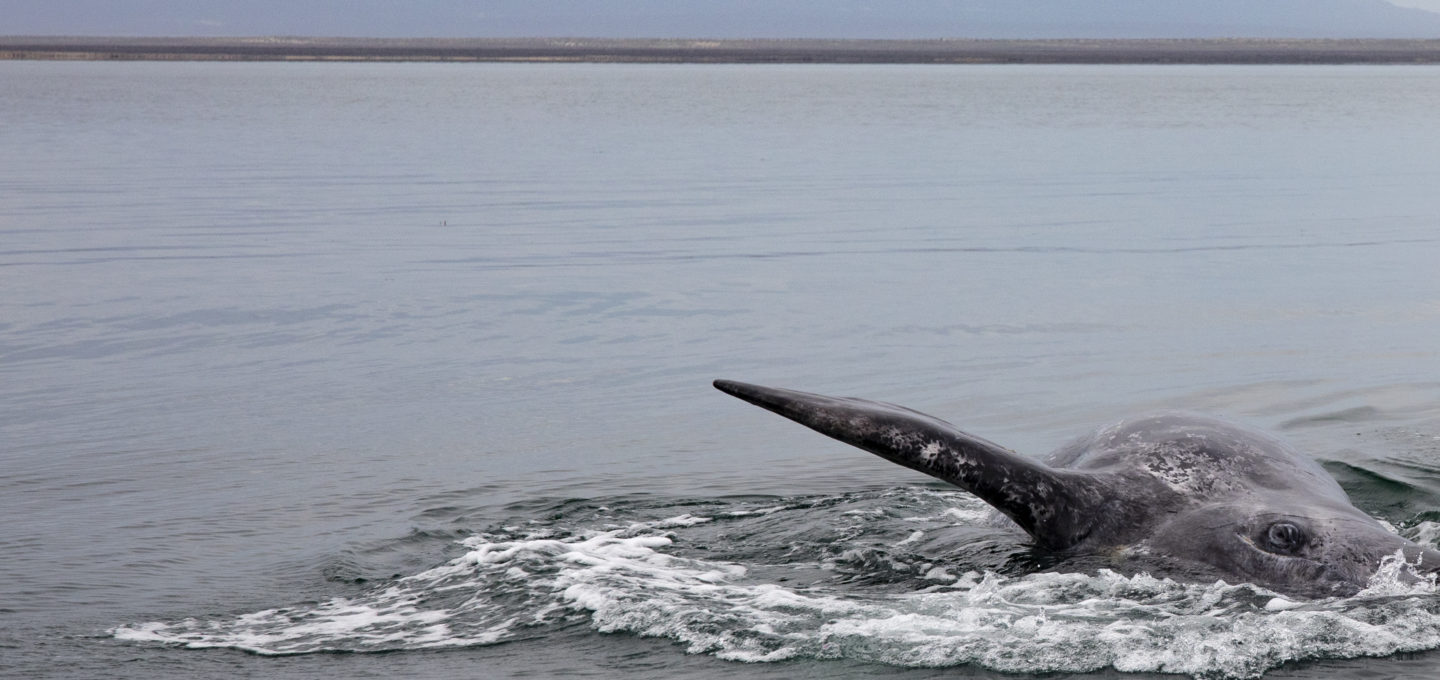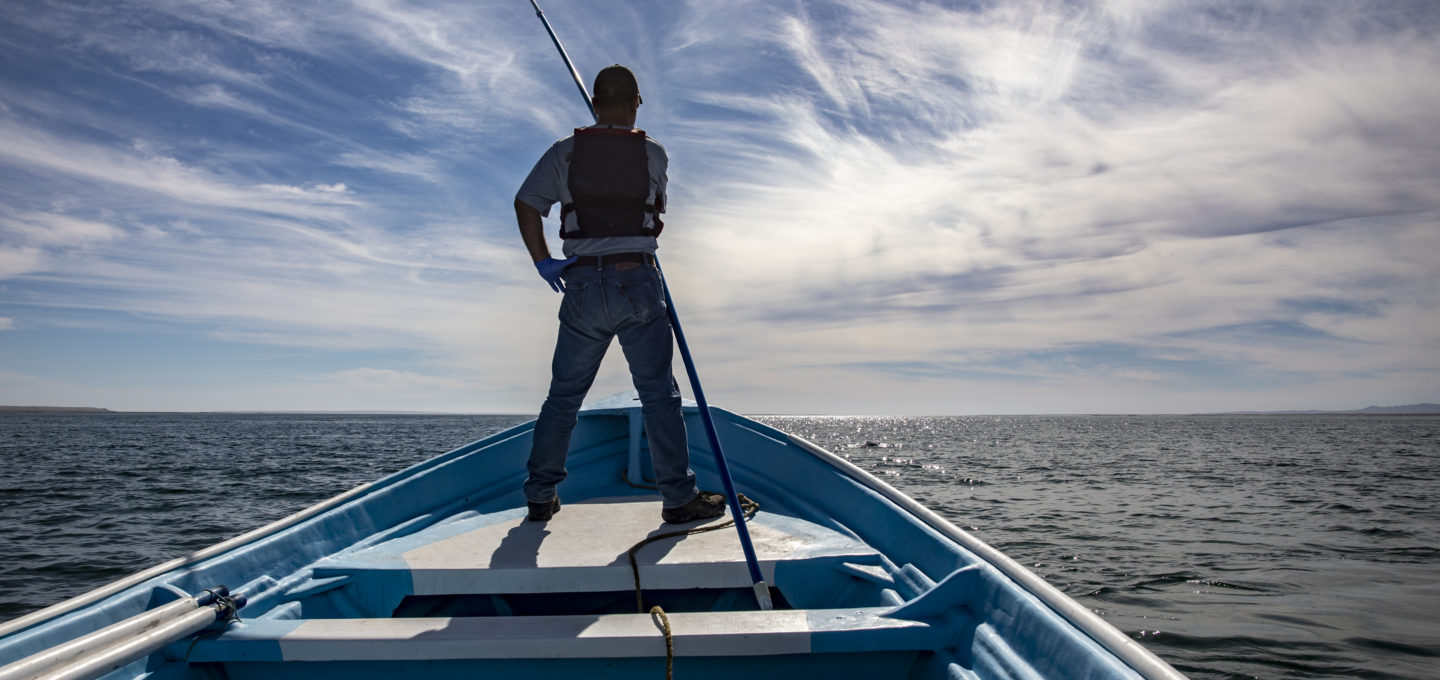 Continue reading...
To continue reading this article – and enjoy full digital access across Oceanographic – sign up to Ocean Hub today! More info below…
Keep reading by signing up for an Ocean Hub subscription
Ocean Hub. More than a magazine subscription.
As well the delivery of all new editions, members unlock access to exclusive products, services and discounts, as well as EVERY digital back issue we have published.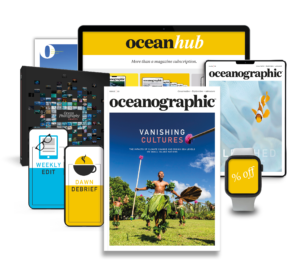 Find out more

about Ocean Hub subscription
Shop window
current issue
Back Issues
Enjoy so much more from Oceanographic Magazine by becoming a subscriber.
A range of subscription options are available.
Sea stories
Beautiful ocean stories straight to your inbox.
Join our community.