Environmental activist and founder of Plastic Patrol, Lizzie Carr, battles Hurricane Florence on the Hudson River in a bid to highlight the issue of single use plastics blighting the world's waterways.
Photographs by
Joel Caldwell & Max Guliani
The air is hot and humid – the kind that's difficult to breathe in. It's early morning on September 6, 2018 and I'm alone on the water. There's a stillness around me, the calm before the storm, as I get ready to embark on my biggest challenge yet.
Initially the weather forecast looked good. New York had been in heatwave before I flew out, but with Hurricane Florence on the way the whole weather system is thrown. The dynamics of what lies ahead have changed drastically. 
As I make last-minute checks, photographers, press and camera crews gather to capture the moment. The realisation hits – this is finally happening. It's a milestone trip for me, one that's been months in planning. In the final build-up to launch the excitement is palpable. I'm ready for this. 
The plan is to paddleboard the entire tidal length of the Hudson River – launching from Albany in New York State, finishing at the Statue of Liberty 170 miles downriver, where New York City meets the Atlantic Ocean.
As first days go, mine on the Hudson could have gone better: 33C heat, zero cloud cover, paddling against an incoming tide. I did, eventually, settle into a steady rhythm, but had to work for every stroke. It was beautiful though. I made sure I soaked it all in.
Suddenly conditions changed. Dark clouds rolled in, bringing torrential rain, choppy water and the first crackle of thunder with them. Then lightning struck. Storms were forecast, but not for another two hours. With no support boat, an inflatable board and a carbon paddle in my hand, I couldn't get off the water quickly, which is exactly what I needed to do. The shoreline was thick with brambles and vegetation – there was nowhere to land.
My only option was to paddle hard to a huge road bridge about ten minutes downriver and take refuge. Crackles turned into claps. The thunderstorm was in full swing. Lightening struck the horizon in all directions. 
The power of nature can be intimidating. It's easy for fear to kick in, for panic to set in, but it's important to keep a level head. I made the decision to push past the bridge, paddling harder than I thought I could to reach the logistics team on the ground, half a mile ahead on a landing pontoon. My arms burned as I raced to reach them. I felt sheer relief when I reached them. 
The weather wasn't the only challenge. Cargo ships also offered a very real danger. The Hudson might be beautiful, but it doubles-up as a wide commercial shipping lane. The boats that move freight up and down the waterway leave huge wakes. I had to be alert to both the boats and the waves they created, particularly as we often shared the same part of the Hudson river – the points where the water flowed fastest.
Four days in and the weather took yet another turn for the worse. Heavy rainfall, crosswinds of up to 36mph, and then thunderstorms. Hurricane Florence was due to hit the East Coast the following week, and New York was in her path. Dauntingly, I knew the weather would only worsen as I made my way to the city. At this point it felt like everything was pitted against me.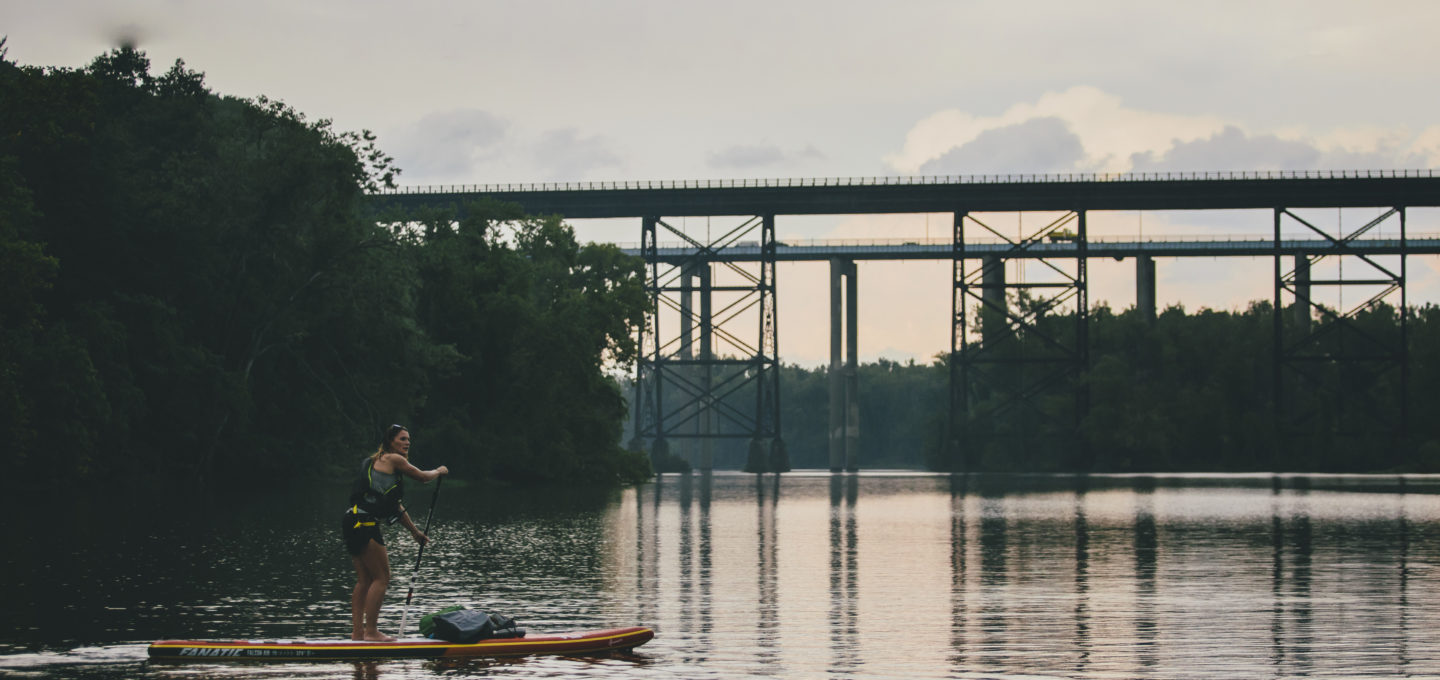 Photographs by
Joel Caldwell & Max Guliani
Continue reading...
To continue reading this article – and enjoy full digital access across Oceanographic – sign up to Ocean Hub today! More info below…
Keep reading by signing up for an Ocean Hub subscription
Ocean Hub. More than a magazine subscription.
As well the delivery of all new editions, members unlock access to exclusive products, services and discounts, as well as EVERY digital back issue we have published.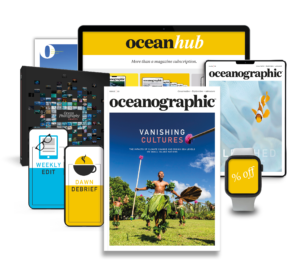 Find out more

about Ocean Hub subscription
Shop window
current issue
Back Issues
Enjoy so much more from Oceanographic Magazine by becoming a subscriber.
A range of subscription options are available.
Sea stories
Beautiful ocean stories straight to your inbox.
Join our community.