Exploration
The ocean and me: Lizzie Daly
Words & photographs by
Lizzie Daly
Additional photographs by
Ocean Image Bank - Toby Matthews, Thomas Horig & Unsplash
Words & photographs by
Lizzie Daly
As I write this, I stand just a few hundred miles from the North Pole watching two Polar bears hunt under the midnight sun. Our small expedition ship pushes up against the fast ice, all I can hear is kittiwakes calling and the sound of cracking ice under the bow.
Here I am, reminded of how, in this moment, there is no separation between myself and the ocean below me. There are no boundaries. This is a surreal and humbling feeling. Confronting the role I play in the bigger picture is the surest way for me to grow, improve and expand the scope of how I see the world. I'm constantly trying to learn more about our role on this planet which in turn directly impacts my connection to it. I believe that the best way to build a better connection with anything is to understand it and for me this means spending time out in nature. It is in these moments that I'm reminded of my primitive connection.
I must have saltwater running through my veins as I have always loved the sea. Throughout my career I have managed to immerse myself in a lot of it from the freezing Southern Ocean to the icy high Arctic, the wild Pacific to the warm Indian Ocean. Despite this, my connection always is strongest when I'm home, exploring Pembrokeshire in Wales. There is nothing like that fuzzy feeling of the bubbling tide as it wraps around my feet. The glow of the sun as I bob around in the murky swell. Over the years I have come to know who my underwater neighbours are, how tides shift and how these environments are changing. I've gone diving along vibrant reefs, swum among shoals of sand eels, have snorkelled with spider crabs, and met seals and puffins. It feels so invigorating swimming in the Welsh sea and that feeling has never gone away.
But there is also always something new to learn too. I remember sitting in a rib boat, skimming across a calm Southern Ocean trying to film leopard seals. We pushed past icebergs which floated by like submarines, crackling and fizzing as we moved through the water. The ocean was murky with an algal bloom hanging in the water column.
These rich waters underpin the survival of so many of the species we have come to love in the Antarctic regions. Leopard seals, whales and multiple penguin species indirectly depend on the algae as it is vital food for the Antarctic krill which is a large part of their diet. Scientists are unsure on what is driving the decline, but Antarctic krill has been declining over the past 50 years. I watched on as a Leopard seal hid around the back of an iceberg ready to hunt an unsuspecting Gentoo penguin. I remember thinking that there is fragility and fierceness that exists in the natural world.
A place very close to my heart are the freezing inky winters in the fjords of Northern Norway. In November every year, these fjords come alive with hundreds of humpback whales and orca which all arrive to feed on the overwintering spring spawning herring. I have had the pleasure of filming up in Northern Norway for the past three seasons now. My time in Skjervoy consists of being out on the water, making the most of what little light there is – from sunrise to sunset (around 10am – 3pm) with temperatures reaching -15 degrees Celsius. The moment you spot an Orca pierce through a dark, moving cloud of herring through the water you forget everything around you.
You forget the freezing cold water and instead become immersed in a completely new world – their world. On the boat you can feel the deep breaths of a humpback whale travel through your body, the smell of herring as they leap out the water and hear the melodic calls of orca which travels up from below the inky dark waters. So much of life depends on the herring in these waters. It supports one of the world's best managed and most sustainable herring fisheries in the world and therefore supports jobs, livelihoods and food.
This has been ingrained in the way of life for so many people in Norway and as a result the herring numbers in these waters are not like anywhere else in the world. This also means the herring are a crucial food resource and maintain a balanced ecosystem for a lot of the whales here.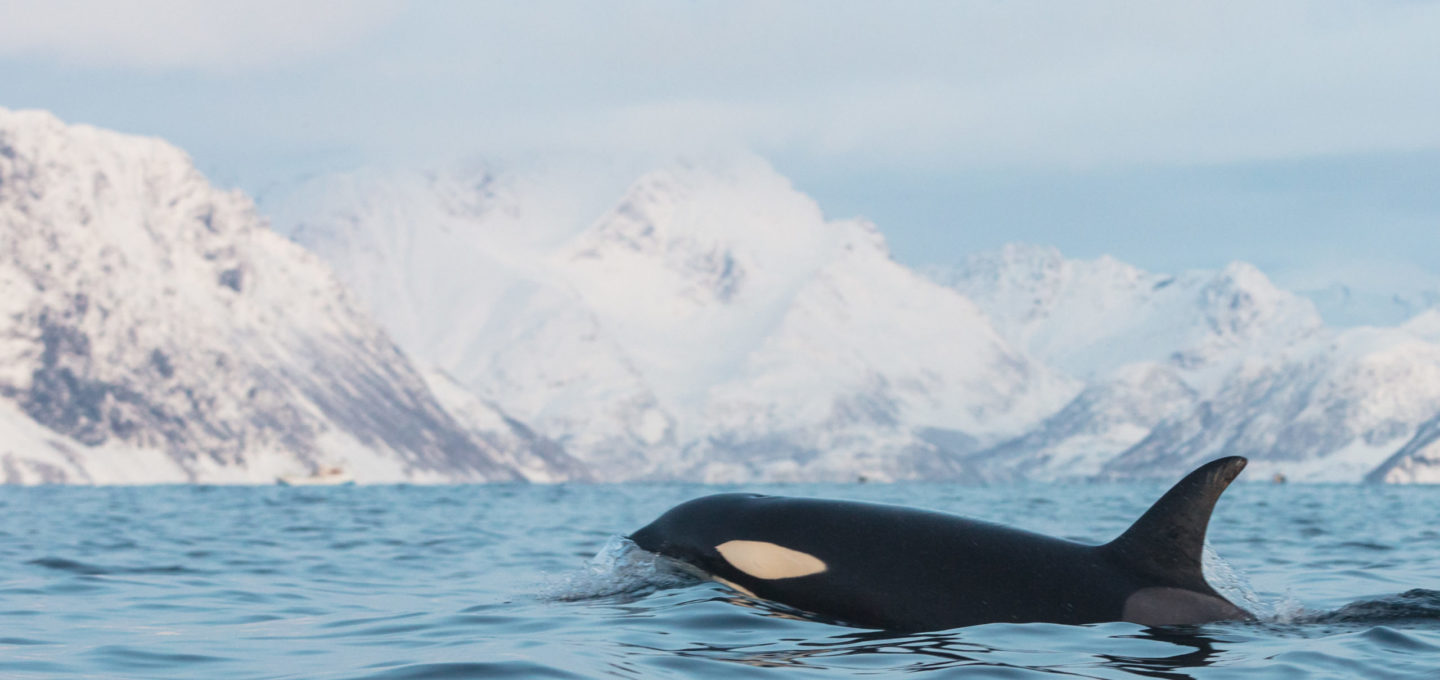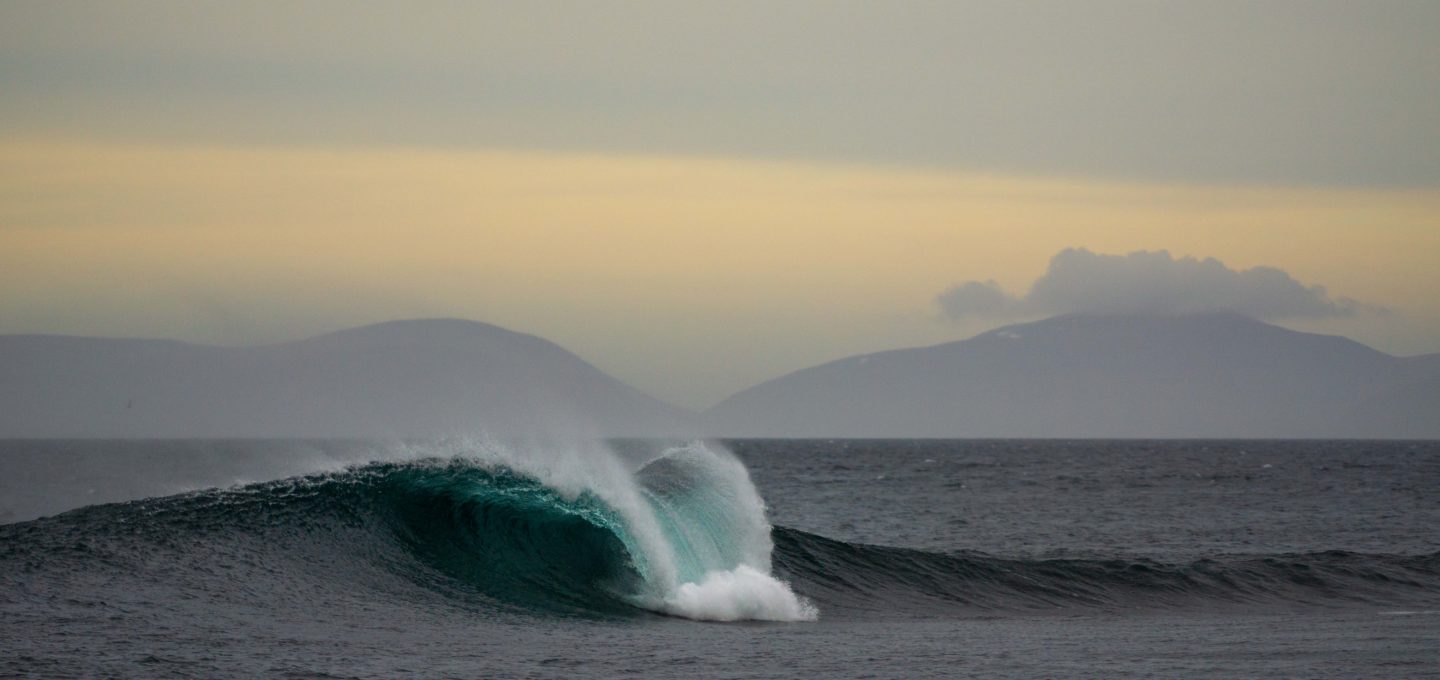 Over the years, in understanding my connection with the sea, I've learned a lot about myself too. Somehow the sea has a way of unpicking any mixed emotions from my day and keeping me grounded. It gives me clarity. On a very basic level, science has shown us the physical and health benefits of spending time near or in the sea. We know that our feet have more nerve endings than any other part of the human body and so merely standing on the lapping shore can be hugely relaxing. There is even a medical term for going to the ocean and using the seawater for medical benefits. It's called 'thalassotherapy' which is helpful because of the amounts of minerals in the sea which include sodium, chloride, sulphate, magnesium and calcium. For me it is all of this and more. For my mental health it has been so important over the years. In moments of misjudgement, pain or just lack of focus, the sea always seems to have the answers.
We are all on our own personal journeys to redefine our connection with our seas and oceans and that is needed now more than ever. Through curiosity we open ourselves up to an infinite stream of possibility. So be curious. Pick up a snorkel or try dipping your toes in the sand. Make that trip out on a boat, go for a swim, or watch a sunset. Though we all have our own stories, we are all connected in one way or another.
_ _
Lizzie Daly is a wildlife biologist, filmmaker and explorer from Wales. She is also an ambassador for Fourth Element. Learn more about her here.
Meet Lizzie Daly's inspiring ambassadorial colleagues – people who share her passion for the water, including ocean adventurers, explorers, photographers and filmmakers – here. 
Additional photographs by
Ocean Image Bank - Toby Matthews, Thomas Horig & Unsplash
Shop window
current issue
Back Issues
Enjoy so much more from Oceanographic Magazine by becoming a subscriber.
A range of subscription options are available.
Sea stories
Beautiful ocean stories straight to your inbox.
Join our community.