Adventure
The shifting sands
Words and photographs by
Tony Plant
Words and photographs by
Tony Plant
"A canvas is defined by its edges. We refer to it by it's shape. A beach is exactly the same, but the edges are always moving."
Cornwall-based artist Tony Plant is renowned for creating vast works on beaches, all of which rely on their environment to determine how long they will feature. Inevitably, they are washed away by the tide. He later transposes each of these pieces into partner paintings made in his studio, which further highlight these themes and how nature and art come together. His work is a wonderful celebration of the ever-changing coastal environment and a reminder that impermanence can be treasured.
Oceanographic Magazine (OM): What connects you with the ocean?
Tony Plant (TP): I've been wondering that myself recently because it's been going on for so long, what exactly was it at the start? I grew up on the south coast of Cornwall and now I live on the north coast, so in effect I've travelled all around the world but moved less than 30 miles, from the English Channel to the North Atlantic. Growing up on a coast, as I did, means spending a lot of time looking at a horizon, a hard line, over which practically anything can arrive, disappear and reappear – people included. It pays to get down to the beach early and to stay late. It pays to check everywhere twice. Then there are the tides, two a day, every day, forever. Where the sea meets the land, that proximity of horizon feeds the imagination. I've surfed for nearly 50 years now (but if you saw me surfing you'd never know it, I'm sure I'm getting worse). Way back then, I did everything my father did – he played water polo, swam, dived and surfed, he taught me to read a weather map, to predict if/when or where the surf will arrive, where the next weather might hit. So my shared love of the sea came from my parents.
As for the connection, I'm comfortable in and around water, alongside painting, I supplemented my living as a water photographer until about 10 years ago when digital cameras exploded. Overnight, everyone became a photographer – surfers started using Go Pro cameras themselves. So I've travelled many miles based purely on five-day weather charts and been swimming in some amazing places. I got bounced off the reef at Padang Padang, thrown up on my camera whilst swimming Aileens in Ireland, cried like a baby swimming off Mullaghmore (also Ireland) and watched good friends do impossible things in insane situations. I'm very, very lucky, the same proliferation of digital technology that so heavily impacted the surf magazine industry simultaneously created new and affordable ways for me to time-lapse big drawings from multiple angles. The internet spread the images far and wide, now I get commissions from anywhere and everywhere. I love technology, when it works.
OM: When did you first pick up a paintbrush?
 TP: I was one of those kids who was always drawing on things, paper, walls, inside airing cupboards, on arms, underneath tables and shelves, etc. It's always seemed very natural – I have no qualms about making marks. Now, all these years later, painting, walking and drawing seem interchangeable, one feeds into the other.
Earlier this year I was selected to spend a very intense month painting in Patrick Heron's studio in St Ives, Cornwall. Crossing through the doorway of studio five was like stepping over the horizon every morning. Some of the most accomplished artists have conjured up some of my favourite paintings and work from Porthmeor Studios, including Trevor Bell, Peter Lanyon, Wilhelmina Barns-Graham, Patrick Heron and Sam Bassett.
I walked from Heron's old studio, out along the beaches, across cliffs, over hedges, past his house and Zennor Church to Zennor Carn, where Bryan Wynter lived and had a studio. My month was spent, painting in the studio, sketching and walking that trail and various incarnations of it, day and night. Drawings like 'Forever' are made in that way, by walking, walking forwards, out into empty space, like the first marks on a canvas, like a boat over the horizon. At some point, these walking drawings are channelled back into partnered paintings in the studio. I walk and draw, sometimes for days along a coastline, to gain an understanding of how the shadows move, where the weights and balances of the landscape are, what shape the beach takes, where the likely view points are etc., when I have an understanding of where I am, then I know what to draw on the beach and in the studio.
OM: You work a lot with driftwood and foraged materials – why is this important to you?
TP: I find no real need to use expensive materials and it allows me to travel light. You yourself probably have a few special or lucky pebbles or shells dotted around your house, car or garden, they are not random objects, they have been selected, chosen if you like, they have within themselves something the other stones or sticks didn't have, they are at least special and at best, charmed, those are the objects I look for to work with or paint on, this way its easy to make work anywhere in the world, work which is connected to place. As a site specific artist my intention is never to produce work which looks like it has been parachuted in, my goal is to make work in such a way that it may be seen as either 'fitting into the space' or even as an extension of its surroundings.
One of my tutors at art school was Roger Ackling, he made work with a magnifying glass, burning a mark into found objects using the energy from an object 90 million miles away. To work in that way means spending a lot of time looking, watching, anticipating. It's very much like working with tides, and with the tides come many of the found objects I choose to work with, whether it be broken pieces of boat or the whole beach.
 OM: The short film you've made is called 'Forever', despite the short-term nature of your work. What does 'forever' mean to you?
TP: These large scale, whole beach drawings barely last minutes. My piece "Forever" never really existed at all, it was being taken away all the time, but even as they disappear, something tangible remains, maybe nothing visible, but something, a feeling or even simply a memory shared.
I remember once at Park Head, Bedruthan Steps, I'd finished a large drawing, had climbed three-quarters of the way back up the cliff and hunkered down out of the wind to sketch, keeping my fingers crossed that at least one of the three cameras I'd used wouldn't run out of power before the tide had taken the beach back in another two hours. It became clear that a lone figure, now separated from a small group breaking the horizon above me was in fact getting closer. At this stage of a drawing I'm usually shattered, chilling down rapidly and incapable of stringing together much more than three or four words at a time, so conversations are often very one-sided. I will always remember her opening line:"I admire your optimism. We were walking to Mawgan Porth when we saw someone had started drawing on the beach. So we decided to stop and watch for a few minutes. Next we ate our packed lunches. Now the waves have begun taking the drawing away, we've been here for two hours already and now we are going to have to watch the tide come in and take the rest of it away. We haven't got to Mawgan Porth, we'll have to do it some other time." Nobody ever really ends up on a cliff top by accident, it takes planning. Decisions are made and choices happen, so, any landscape that can scupper the best laid plans of two carloads of American tourists on day three of their seven-day soiree back to the motherland has to be taken seriously. Nothing 'real' lasts forever, its true, but stories do – stories last forever. Sometimes it's good to remember that, and tell someone else about it.
OM: What inspired you to make a film documenting your work process?
TP: I'm a painter, so I wanted to strip everything right back as far as possible, just 1 figure in landscape, no multiple camera angles, no post production, fast edits or trickery. I discussed that outline with the Festival Director and then spent the next 3 years figuring out what to do and where to do it. Then all I had to do was to wait for a further 3 years for the conditions and tides to all line up, draw it, shoot it, edit it and submit it. Thankfully, it was selected and it's being really well received.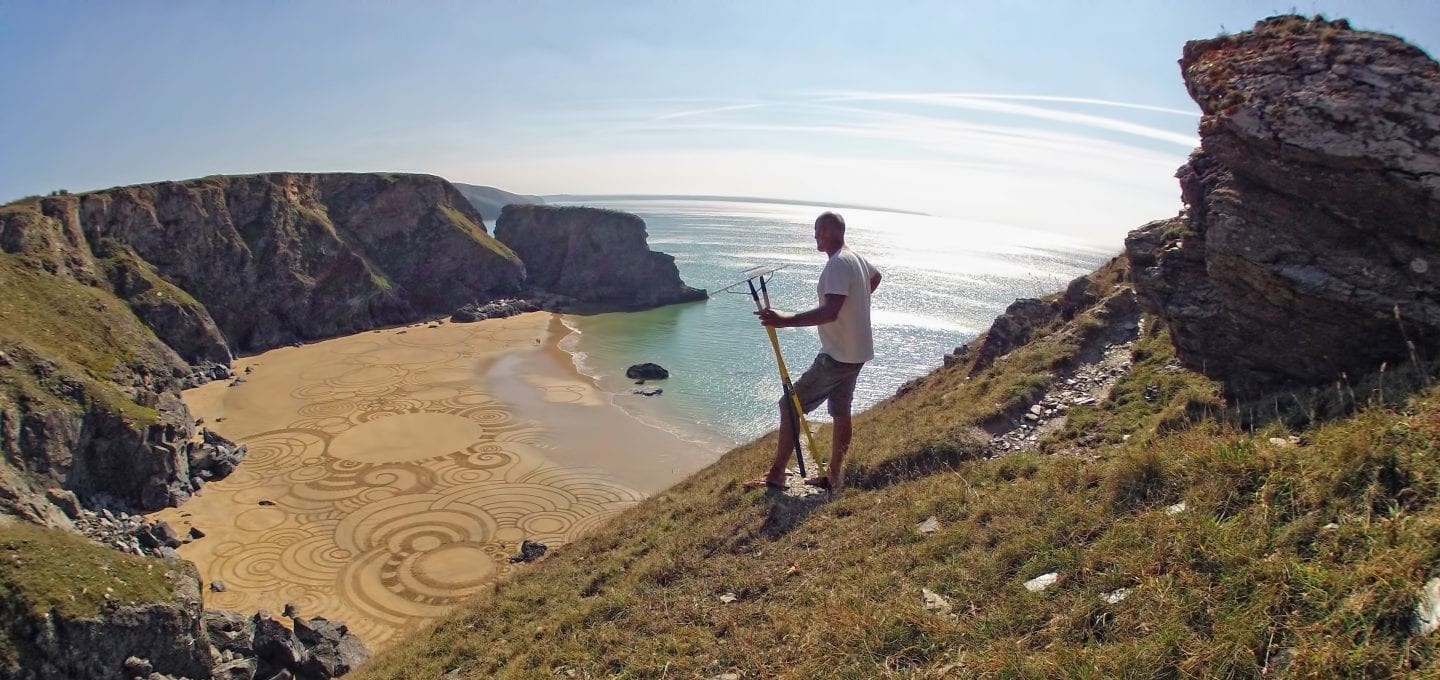 OM: Do you find it frustrating when the waves wash away sections of your piece before finishing?
TP: Not at all, its like a wash of colour across a canvas. New possibilities and random, chance occurrences reveal themselves. It's actually very rewarding to open your work up to pure chance. Surfaces are essentially improvised and unguarded, and the factor of chance provides energy, whether it be a canvas, a beach or a hillside. The space isn't to be treated preciously. A couple of years ago, I was commissioned to make a large-scale, temporary work in the Shropshire Hills. For me, it was fascinating, to watch the seasons wash through the drawing instead of a tide, changing the colours and the texture. It emphasised the fluidity and delicacy of landscape.
OM: What has this art form taught you about patience?
 TP: I think its probably taught me that patience and urgency go hand in hand, but in truth, that could just as easily be an age thing.
OM: What do you hope to provide with your work?
 TP: I think the most successful drawings are actually the ones that don't give people anything other than an opportunity to stop and look. To look at what is already there and what is already happening. A drawing may be what it takes to make someone actually stop in the first place, but with no visible clues or explanation nearby it's not long before the viewers' eyes leaves the drawing and start looking around for information, moving their attention away from the drawing and out into the wider landscape. As for the paintings, that's always been very different. The response to the paintings, with their seemingly abstract lines, titles, human scale dimensions and bright colours is always best when the viewer recognises the connection between the landscape, the paintings and the large scale, temporary drawings.
OM: Do you think it's important for people to connect with nature?
 TP: I think people are deeply connected to landscape and nature, it's just that sometimes the memory of it needs to be triggered. Many people seem to live almost vicariously through screens, with their heads constantly turned downwards – the trick is to get them to look up and away.
OM: How do you think art can contribute to ocean and coastal conservation?
 TP: It's clearly a double-edged sword. There's a fine balance between shining a light and overexposure, but the alternative is to do nothing and that's surely not an option any more. With absolutely no supporting evidence whatsoever, I can categorically state, that in the brief 56 years that I've been stomping around this rock I've seen the top end of beaches all around the planet change colour. Where the sea gasps its last breath, where all the energy finally runs out, when it can carry no more – there's just plastic. Nurdles, billions of them, where there used to be shells, glass, seaweed and wood. Now, at the top of the beach, there's plastic, multi shades of opaque whites, greys and purples. I believe art can focus attention, initiate and punctuate dialogue.
'Forever', a time lapse film created by Tony Plant that features the creation and destruction of a beach drawing of the same name, will feature as a part of this year's Ocean Film Festival, which runs until October 25 and will travel to different spots around the UK and Ireland. Click here to discover events near you.
__________
Unplug. Reconnect. 
#WhereWillYouReadYours?
Sea stories
Beautiful ocean stories straight to your inbox.
Join our community.