Adventure
Voyage to the wild
Wandering over the mudflats we could see the mast of the wreck in the distance. Without a sail, she looked bare and skeletal. Like a ghost standing tall in the sunshine.
Words & photographs by
Charlie Young
Words & photographs by
Charlie Young
As we approached, we could see the ware of time left abandoned to the elements etched across her frame. Her hulls had become home to cities of barnacles. Snails, sponges, sea squirts and other beasties sprawled densely across her length. On deck, we could see she had become the favourite perch for a gang of gulls who now stood watch like pirates eyeing our approach. Incredibly confused by two humans climbing on deck they swiftly took flight, leaving behind the spoils and leftovers of their raids littered on every surface. 
It didn't take long for the feeling of excitement which had brought us here on a ten-day voyage from the Azores to fade. Before we arrived the owner had warned us the boat was in need of a serious refit, but neither of us had quite imagined this. Taking a deep breath, we began to inspect the extent of the damage and looked deep into her hulls for all those reasons why this was a bad idea, and of those, there were plenty. 
Six years left abandoned on the beach at the mercy of countless storms had not been kind to her. Her whole deck was missing. Her cabins and berths were ransacked and port holes smashed. A thick layer of dirt baked into her seams and the sharp smell of guano lingered in the air, burning our noses. On close inspection, we found a hole in the starboard hull. As we peered closer, our reflections distorted on the surface of the stagnant water filling the bilge, it was as if our faces were screaming "Don't do it!". 
Maybe it was the lack of sleep or the fact that we had just spent ten days confined to a small cabin at sea egging each other on, but all we could see was potential. It was clear that beneath the mess she had once been a beautiful and much-loved ship. What was to say she couldn't be that again? On top of that, Alexis had always dreamt of owning a wooden catamaran, a dream that had also become my own. Lovestruck we met with the owner that afternoon and shook hands on a deal. Taking a leap of faith into the unknown we got ready to start work the very next day, a project that would take us eight months to complete.
Five weeks into the build it was time to enter dry-dock and to take on the task of repairing the dreaded hole in the starboard hull. Up until this point, her past had remained a complete mystery. Apart from her name, "If Dogs Run Free" and her being under British flag, who, when and where she was built remained an enigma. Sitting on deck one evening I couldn't help but wonder of the daring people who had painstakingly built her and of all the places they might have sailed. But weeks passed and endless Google searches led to no new clues. Soon we came to peace with the fact that we might never know. Then one day, a chance encounter changed all that. 
Motoring to dock through the winding tributaries of the Ria Formosa wetlands was quite an adventure. We attracted no end of bemused looks from local fishermen as the boat jangled along with her loose rigging, hodgepodge paintwork and smashed portholes. Lifted out and expertly parked in her spot we began work, when one day, we saw a beautiful Chinese junk rig tacking towards us. Dropping anchor we watched as the owner, an older solo-sailor, made his way towards us. Stepping out of his rib he waved a friendly hello and wandered over to chat with Alexis. He introduced himself as Pete and as they spoke, a thoughtful look began to cross his face. He was certain he had seen the boat before and even met the original builders back in the 70s. Needing to dash off, he left us with instructions to look up "Jimmy Green Chandlery" and off he went. Filled with excitement by this new lead we followed it up. One email and three weeks later, we were standing together on deck with Mike and Carol Green, the original builders, who constructed her in 1975 in their hometown of Beer, England. 
In our two days together they shared a beautiful history of the boat. Named after the lyrics of a Bob Dylan song 'If dogs run free, then why can't we?' they built her in the spirit of adventure and seeking a freer way of life. They too partially built her on the beach, with the whole community coming out to help launch her. With no prior sailing experience, they learnt on the go and took her on a loop of the Atlantic where they visited far-flung places such as Senegal and the Caribbean. As they recalled beautiful details of the places they sailed and the things they saw, their eyes sparkled as if it was yesterday.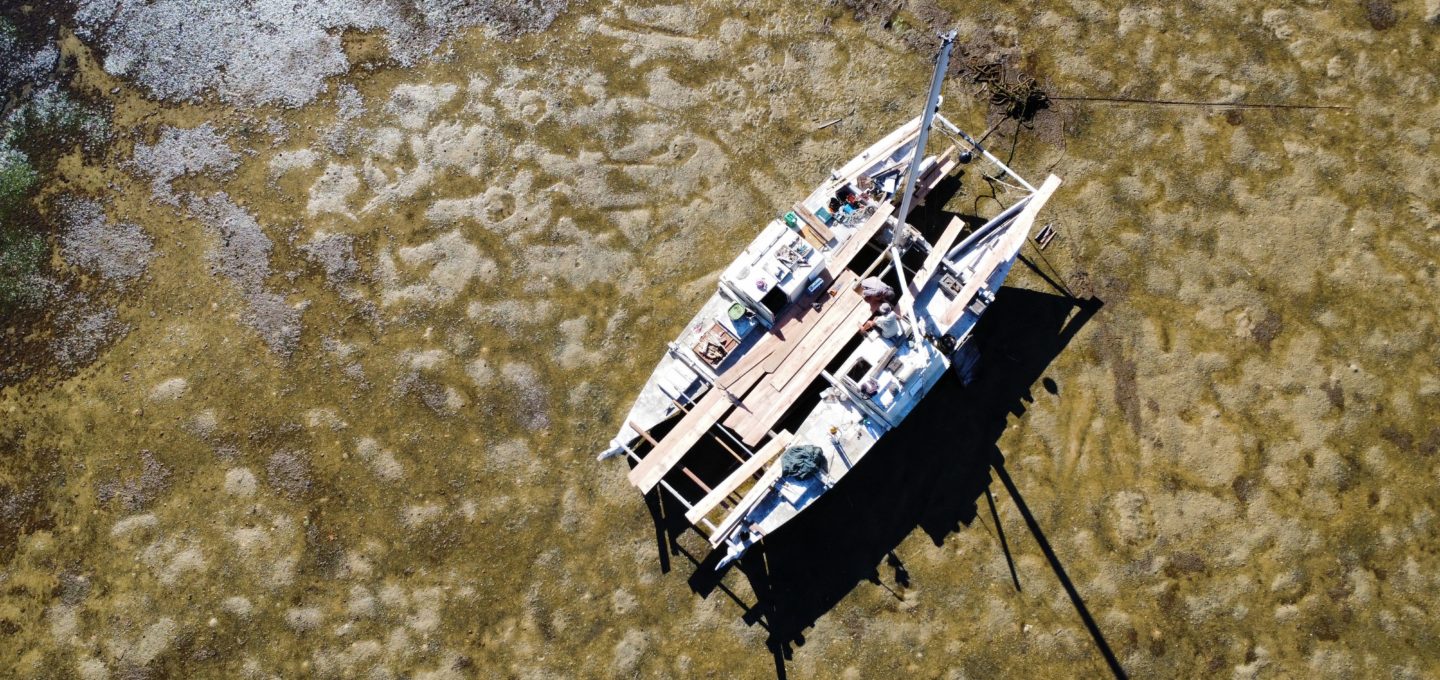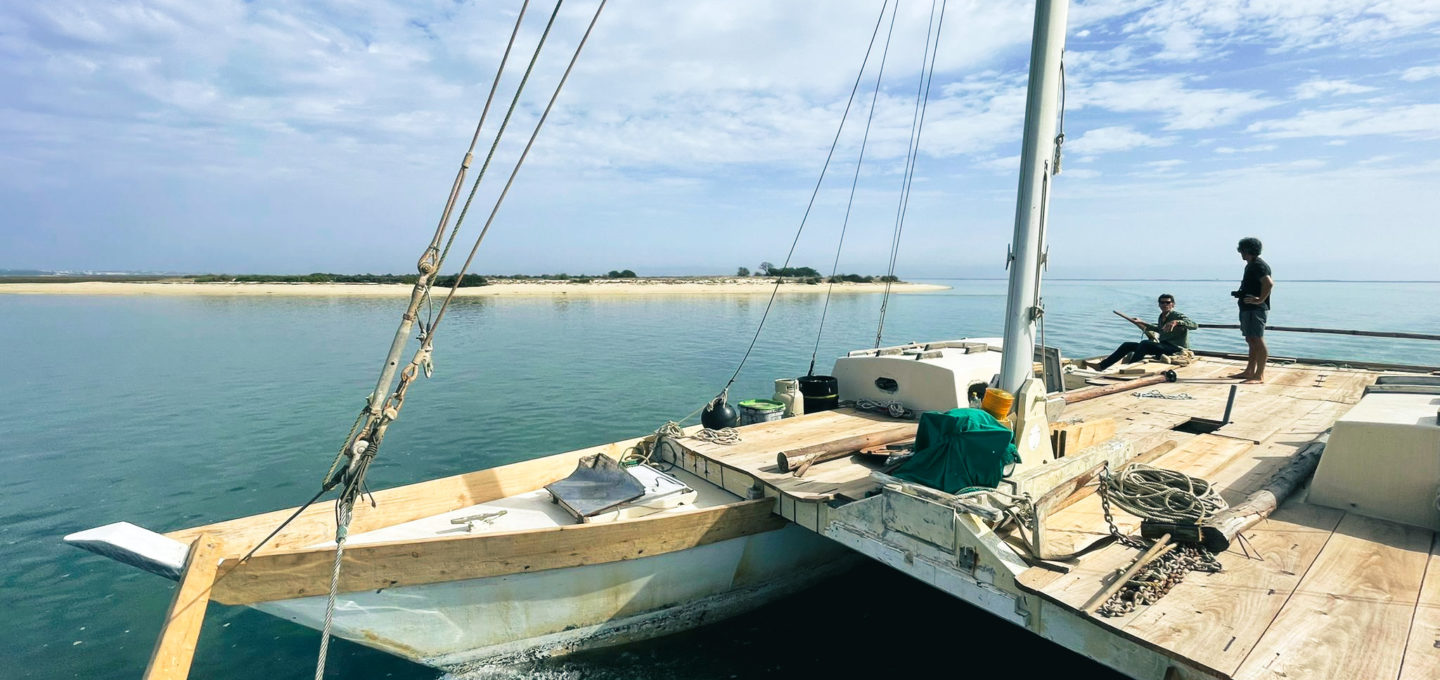 The parallels in our stories were uncanny. Meeting them was something like meeting our spiritual doppelgangers. The only thing separating us was time and a couple of generations. But even that felt miniscule. Before us sat two worldly people who shared the same vision as us, only they had had that brainwave long before we were born. Amazingly they had dared, at a time when it was even less conventional, to pursue that dream, and throughout their lives, they had held onto that adventurous spirit. I thought back to the first moment we saw the boat. All of a sudden it felt like owning her was so much more than chance. Somehow it felt like she was always meant for us. 
Sharing our plans for the future, they were thrilled to learn that nearly 50 years later, history was once again repeating itself. 'Dogs', now named 'Feral', was about to embark on the same voyage around the Atlantic, giving two more young adventurous souls the chance to chase a freer life. One more connected to the ocean.
On parting, they vowed to come see us again. Then, just a few months later, the sad news came that Mike had suddenly passed away. In the last message we shared with him, he spoke of the spirit of adventure and taking on things that challenge you. In that message, he perfectly summed up our mindset in taking on the rebuild. "But that's what adventure is about. Set a goal and see if you can do it".  
As one chapter of the boat closed, another continued to open. From day one, our spirit tackling the project had taken on an unconventional approach. Opting to work almost entirely on the beach, our schedule ebbed and flowed with the tides. When Feral was dry we would work on the hulls, and when it returned, we would retreat on deck to carry on work whilst afloat. Our vision of how to restore her was equally out of the ordinary. Inspired by ancient voyaging craft, Wharram catamarans are multi-hulled sailboats similar in look and design to the Pacific double-hulled canoes used by early man to migrate and traverse entire oceans. Given this Indigenous heritage, our vision wasn't to bring Feral up-to-date with metal fittings, fibreglass structures and flashy gizmos. Instead, we decided to look to the past for inspiration and knowledge. 
Holding fast to the ethos of simplicity that underlines the philosophy of these vessels, we began applying low-tech techniques in the build, recycling and repurposing as many materials as possible and using only hand tools to get the work done. Sourcing wood from the Azores, we laid and lashed the new deck with lines instead of screws. One day whilst out exploring the coast we discovered a partly sunken wreck and salvaged its perspex windows to use as portholes. We replaced the old mast with a reclaimed wooden electricity pole, lowering and raising it with nothing more than a wooden a-frame, some pullies and lines. We built a custom gaff rig with branches from the forest, and lines donated to us by fellow sailors and fitted it with an old secondhand genoa which we cut and painstakingly hand-stitched to shape. As the weeks and months went by, our once wreck began to bloom into a beautifully unique and rustic ship. Our unlikely cheering squad, the local cockle pickers, seemed to be in complete disbelief of the transformation, often stopping on their commute to and from the tidal flats to inspect the most recent updates and remark "Muito bom". 
Come April, the never-ending to-do list was almost complete, and with the last reef point stitched, we hoisted the sails and stood in the shallows to marvel at what we had achieved. Few moments have ever tasted so sweet. An ode to a bygone era of sailing, Feral looked like something of a modern-day pirate ship. Our very own Waterworld. Exhausted and elated, we were now ready to live it. 
Feral in name and nature, she took no convincing to leave the shallow waters that had seen her domesticated and tied down for so long. Racing out to sea, she galloped towards freedom, not once looking back. Marked by light winds and fair weather, the days of our passage to the Canary Islands drifted into one. Cruising downwind, Feral fizzed with happiness the whole way as she surfed the following seas, averaging 5.5 knots throughout. We spent our days speaking and reading in the shade of the sails, and our nights camped on deck stargazing and keeping watch. It didn't take long for the stress of the build to wash away and the magic that is offshore sailing to transport us to a rare place of peace on this busy planet, and by the sixth day, restored and replenished, the rays of the rising sun revealed the silhouette of Lanzarote high on the horizon before us. As we approached land, a beautiful welcome party of Cory's Shearwaters came out to greet us. Their flight looked effortless. Skimming the swell around Feral, they danced between crests of waves and swooped in at times for a closer look. Catching eyes with some I am sure they were impressed with the boat. Either that or I needed to catch up on some sleep.
Since arriving in late April, we have been living at anchor, exploring the rugged volcanic shores of these islands, a place I called home for half my childhood. It's here that the next chapter of our journey begins.
Building Feral was always about more than just having a home on the water and a means to travel for a few years. For us, this was about building a self-sufficient and sustainable lifestyle, one where we don't just survive but thrive. Built simply, we can repair Feral wherever we are in the world, giving us the freedom to venture and explore off the beaten track and do other things other than constant boat repairs and sitting at port waiting for parts. The reality of a lot of cruisers! As a marine scientist and storyteller, I have also always dreamt of stepping in the footsteps of early ocean explorers and embarking on a journey to document and discover the natural world. Right now, that dream has never felt more important or poignant, and so, with the freedom and opportunity that Feral affords us, we are setting sail on a mission-driven adventure.
Lifting anchor this November we will embark on a multi-year voyage around the planet. Our mission is simple. To dive below the surface of the greatest challenges facing our natural world, and tell its story. In doing so, we aim to raise vital awareness for wildlife and important funds for those protecting it. Along our journey we will drop anchor in a wealth of different countries, often venturing off the beaten track in search of the last wild places. In each new location, we will join local experts, scientists and rangers in the field to investigate the unique challenges facing wildlife and habitats, using film and audio to bring these stories to life. People will be able to follow our journey by tuning in to our Voyage to the Wild podcast episodes and film releases on our YouTube channel.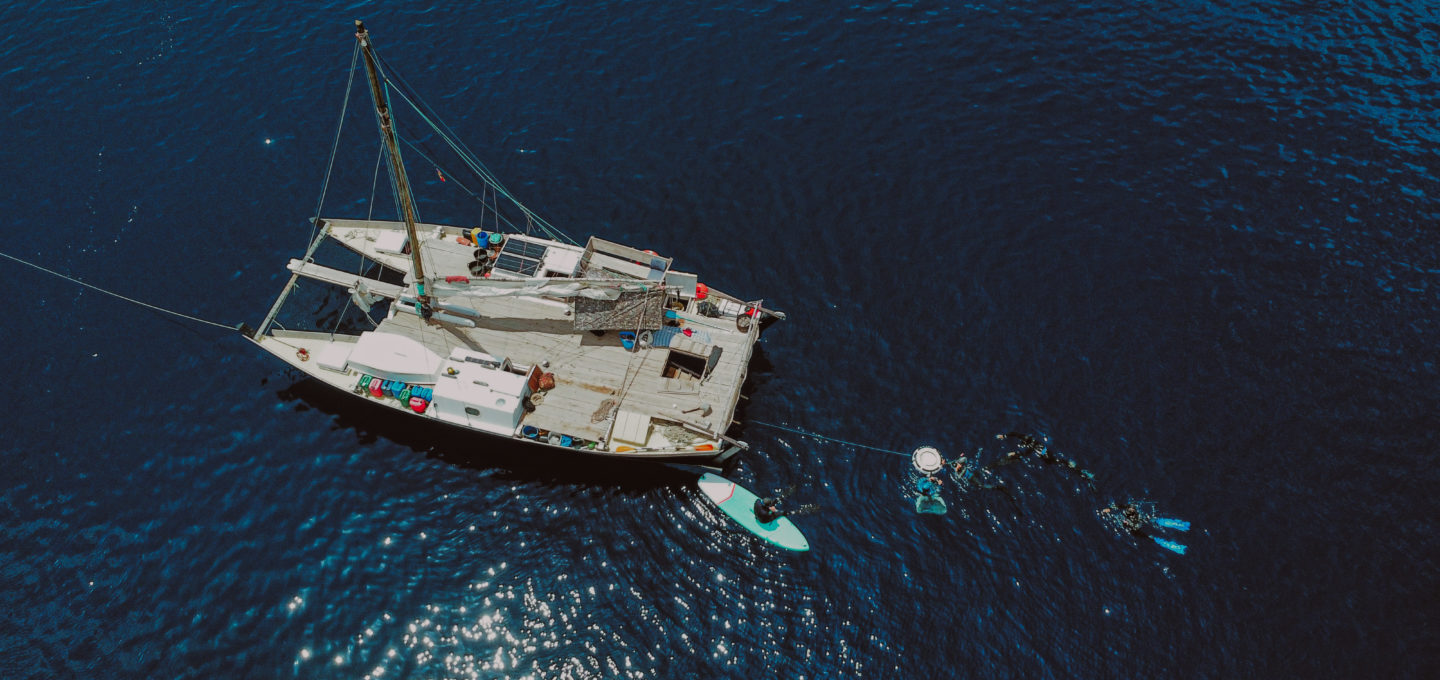 Like any ambitious adventure, there will be challenges along the way, but as we face an ever-growing climate emergency and ecological breakdown, I feel a responsibility as a scientist and storyteller to rethink how I tell stories. Powered by the sun, the wind and the waves, this low-impact adventure will showcase a new approach to wildlife storytelling. An adventure that doesn't cost the earth.
Follow Feral's journey across the globe here. 

Shop window
current issue
Back Issues
Enjoy so much more from Oceanographic Magazine by becoming a subscriber.
A range of subscription options are available.
Sea stories
Beautiful ocean stories straight to your inbox.
Join our community.