Conservation
The whale sharks of South Ari
The wind is coming from the South today, gusting as if to rally the palm trees awake.
It has changed direction in the last few days as we are closer to the end of the Maldivian South West monsoon season. One could be disgruntled by a change in winds; after all, the Maldives is often represented only as the luxury tourist destination with clear skies and calm turquoise waters. However, in my experience, adverse weather conditions make for a more productive reef, with less people on the water and more intimate encounters with the iconic and endangered whale shark.
As Basith, the Maldives Whale Shark Research Programme's (MWSRP) lead in-field coordinator, and I walk to the harbour we are greeted by a line of colourful boats bobbing gently. Our captain Adam walks just behind us, a picture of true Maldivian ease as he steps aboard our research dhoni (Dhivehi for boat). We set up for our survey, prepping the GPS, the data collection logs and briefing our volunteers. Our friends Hannah and Aaliph from Manta Trust have joined us for the day. Today we plan to cruise slowly around the outside of Dhigurah. Dhigurah is our home island that, at 3km long and a maximum land width of 300m, sits at the beginning of South Ari Marine Protected Area known also as SAMPA.
Whale sharks are present all over the Maldives, however South Ari is unique as this is the only year round whale shark aggregation site of its kind in the world, and so SAMPA (the largest MPA in the Maldives) is where MWSRP conducts in-field surveys so that we can learn more about why the whale sharks are here. In the programme's 14 years of research, encompassing 7539 encounters, MWSRP have come to believe that these predominantly juvenile male individuals are using the area as a secondary nursery. South Ari provides perfect conditions to suit their feeding habits and thermoregulation process until they reach maturation around 30 years of age, at which point they move on to new pastures. We have also found that this 'staging ground' for juvenile sharks has the highest re-sighting rate of individual sharks anywhere in the world. One could say South Ari provides the closest thing some whale sharks will ever get to a home.
As we turn the corner from the harbour, keeping a steady pace at a distance from the edge of the reef, the survey begins, and we are greeted by a reef manta circular feeding. The reef at Dhigurah corner is a productive place and has the most beautifully live and varied corals I have seen while snorkelling in SAMPA. Once we have passed the manta and recorded the observational data, we have barely reached midway along the island before spotting a pod of resting dolphins; as well as Green and Hawksbills turtles coming up to breathe. It's set to be a good day already despite the grey skies that threaten rain, and now all we need is a whale shark.
We're approaching the reef outside of LUX* resort and suddenly Basith shouts 'shark, shark, shark! Everyone get ready'. I'm ready first and sit patiently near the edge of the dhoni whilst eyeing up two other boats, which have turned around upon noticing our sudden activity. I focus on my breathing and find my calm headspace amidst the flurry of snorkel preparation behind me. Freediving to obtain vital data on the whale sharks is part of our job every day; for me, freediving definitely lives up to its reputation for being more mental than physical. Over the last two years of doing it I've learnt a lot about myself; my bodily intuition in the water, how to enjoy the stillness of such moments and how I best relax for freediving. The boat stops completely about 20m from the reefs' edge and we take the plunge. I look back to Basith, who is on the top the deck of the dhoni ready to record the encounter time and co- ordinates, once I've signalled that I see the shark.
In the water every sensation is amplified. I hear an excursion boat's snorkelers muffled splashes of entry, as I fin across the moody blue depths to reach the reef where the shark is. My mind and body engage and assess; I've spotted the shark around 10m away, its huge face looms before the famous spots come in to vision. It is swimming at a depth of 5m and descending slowly, indicating that this could be a short encounter. I snap my left flank pectoral photo ID and kick with haste to the other side of the shark, freediving down again for the right side. Photo-identification forms the backbone of our database for whale sharks all around the Maldives, as every individual has its own unique spot pattern allowing us to track movements and overall health of the individuals. Photo ID also lends itself brilliantly to our research, along with many other wildlife studies, due to its non-invasive and citizen science friendly nature. Much of our data now comes from local contributors ranging from liveaboards, resort excursions and guesthouses. Without their assistance our register of whale sharks would not include the 486 individuals that it does today.
At a depth, the whale shark continues to travel slowly at the edge of the reef. He appears sluggish as his caudal fin swipes gently, so we don't have to work hard to keep up with this six-metre-long juvenile giant. After a few minutes the other snorkelers leave the water and their excursion boat takes off as we continue collecting behavioural data. Over time the shark begins rising gradually, appearing more alert but still swimming at a comfortable pace, until he arrives at a resting depth just below the water's surface. What we are observing as cruising is the whale sharks 'rest phase' in the warmest layer of the water column. Whale sharks are deep diving sharks, and they need this recuperation time to warm up after diving regularly in excess of 300m, and occasionally beyond 1500m where temperatures plummet to 3 degree celcius. It is important that we don't disturb this essential process (especially in the more lethargic first stages of cruising) as we swim alongside him.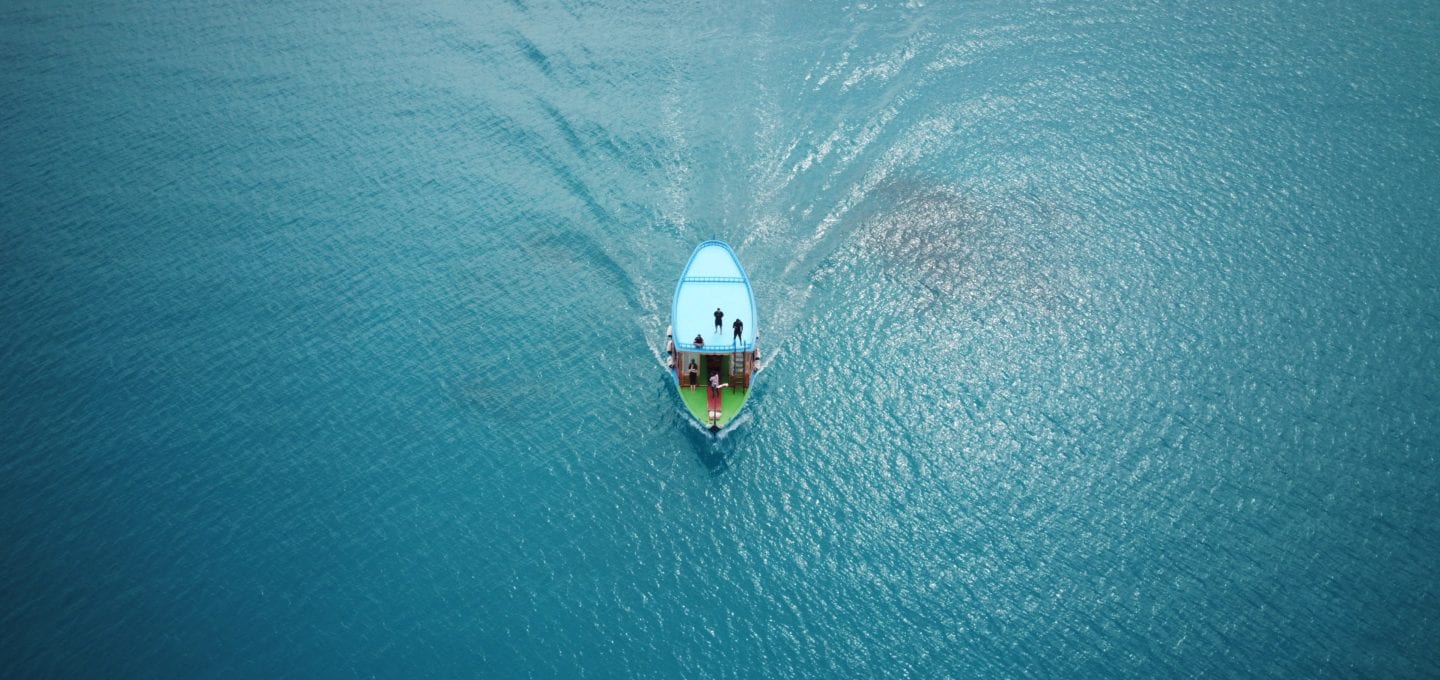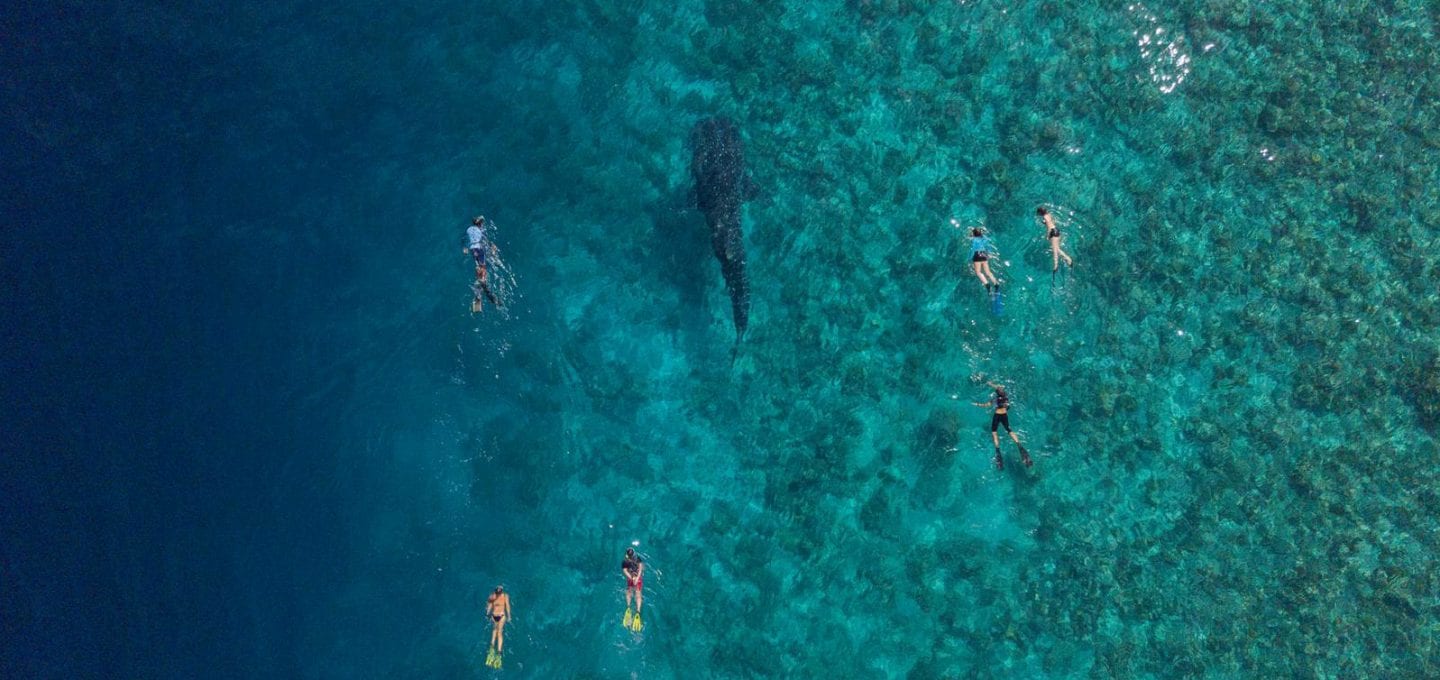 For the rest of the encounter the individual cruises at a shallow depth, unperturbed by our presence. These are the best kinds of encounters – as a researcher you have time to step away a little from what I call 'data brain' and indulge more in the experience itself. As we swim alongside it, I am in awe of the shark's physical magnificence and its beautiful, deep lateral lines, which are streaked along the body like marble. The individual's spot pattern is particularly bright and appears to almost fluoresce as sunlight begins to peep from behind the clouds, scattering reflective ripples across the back of the shark. A few minutes later, the shark makes a slight turn off the reef and the group stops, our collective intuition in sync with the shark's wish to leave the encounter. For a few minutes more we hang there watching light rays spin around the shark before he disappears.
Even though the shark did not display a diverse range of behaviours, this encounter is among my most cherished whale shark encounters. He seemed calm and behaved naturally with our small group in his space, and in turn I felt such an overwhelming feeling of contentment and fascination. I believe that this beautiful encounter is largely attributed to a stringent Code of Conduct that we as a research organisation endeavour to uphold and educate others on. In addition to minimising general disturbance to the shark, the code of conduct also seeks to prevent more lasting damages to the whale shark in the form of boat strikes. This is one of the whale shark's biggest threats in the Maldives, one that significantly hinders overall health, especially for a species that grows slowly and reproduces infrequently. As the charismatic whale shark continues to rise to fame as a docile giant of the sea, it is one of my hopes that ethical practises be acknowledged globally, with an emphasis on appropriate distancing from boats and snorkelers and a no touch policy. This is what every animal deserves in any wildlife interaction.
Back on the dhoni, everyone is talking excitedly about the encounter. The wind whips at our papers as we collect our environmental variable data and note behavioural observations. For the rest of the day we're beaming and consumed by our shared experience with the shark who we would later identify as Pakawa, whale shark number 133. The shared experience of the work we do is one of the values that resonates with me the most. Historically, research and protection for a species is better acknowledged and sustained when a whole community, from locals and children to councils and governments, work together to ensure their survival. The challenge of education and outreach, on top of our daily survey work, is a big one considering our small team of five staff. However, I personally consider it to be the most important.
Our encounter with Pakawa stands as such a testament to why areas like SAMPA need ongoing protection, as well as the implementation of sufficient management policies. This not only benefits the whale shark population but also other animals residing in this ecosystem. Later that afternoon I saw my first blue whale, an incredible feeling on top of our abundant megafauna morning and our encounter with Pakawa. Although a daunting prospect, I feel that it is our duty to leverage the whale shark's iconic status to educate with regard to protecting entire ecosystems, and ultimately local livelihoods. After all, the world's biggest fish relies on a diet of tiny plankton, production of which is enormously affected by climate change, coastal run off, microplastics and other such human activities.
The MWSRP seeks to advance the field of whale shark knowledge first and foremost, so that we have a better understanding of how best to protect and conserve this enigmatic species and its critical habitats. As we often only see it for a small amount of time, in only the most accessible fraction of its geographic range and some 100-year-long life cycle, there are still many unanswered questions surrounding this shark. The global community of whale shark researchers have only started getting closer to answering questions about their highly mobile nature, their reproduction, rate of aging and growth in the past few years. When we re-enter the field, one of our aims is to further expand our understanding of whale shark growth rates, harnessing technologies such as stereo-photogrammetry and drone measurement. Although manual tape measuring is a thrilling form of collecting length estimates, drone measurement surveys will be a lot easier than trying to tape measure the largest fish in the ocean.
With big sharks come even bigger questions. None more pressing in terms of the survival of this species is establishing where its critical habits are and why these are so important. We can then work on what we humans can collectively take responsibility for, to ensure our impact is minimised and this species can thrive and continue to be a source of joy, inspiration and action for generations to come.
To help support the Maldives Whale Shark Research Programme through the devastating impacts of the COVID-19 global pandemic, click here.
Photographs by: Chloe Winn, Lewis Jefferies, Kushiik Subramaniam, Basith Mohamed and Nicki Meharg.
Sea stories
Beautiful ocean stories straight to your inbox.
Join our community.