Despite surviving and thriving for thousands of years, the endemic coastal wolves of the Pacific Northwest are under threat. Unsurprisingly, it is humans that are driving them into scarcity.
Words & photographs by
Steve Woods
Words & photographs by
Steve Woods
The spine-tingling howls of a pack of wolves is something you never forget. Under the cover of darkness, we slipped out of our tents and trekked along the beach in the pouring rain. We were headed to the hides we had strategically placed the day before at the tip of a small headland. We crawled in on the first day of what would turn out to be one of the most memorable and exhilarating experiences of my life.
Usually, when you enter a photographic hide, you settle in and expect hours, days, even weeks of inaction as the animals you are hoping to photograph slowly get used to the humans hiding in tents on their turf. This experience was very different.
No sooner had we managed to settle into position – cameras semi-dried and wet sand dusted off – when a pack of coastal wolves sprinted onto the beach in front of us. They fanned out and proclaimed to every occupant of the beach and forest that this was their territory by letting out an ethereal and continuous barrage of howls.
From youngest to oldest, their howls were so loud they were audible more than a kilometre away at base camp. They could be heard even over the crashes of the waves that were rolling in from the stormy Pacific Ocean a dozen or so metres from our cold toes and expensive camera gear.
Two days prior, shortly before boarding the small aircraft that would deliver us to our destination, we were ruthlessly eliminating pieces of equipment from our kit list to reduce the carrying load, only allowing ourselves the most basic personal gear. As we rearranged our bags, we patiently watched the weather forecasts and eyed the storm that was headed right for base camp.
Paul Nicklen, Maxwel Hohn, John Kelsey and I were headed out to photograph a story for a number of NGOs on the plight of the endemic Coastal Wolf of the Pacific Northwest. Our destination was the outer islands of the temperate rainforests of British Columbia. Due to hunting pressure, I can't reveal the exact location of our expedition.
The weather was fierce. As the storm rolled in, it looked increasingly likely that our pilots would have to keep the planes grounded due to safety concerns. Then, a small weather window opened up, giving us an opportunity. We moved quickly, loading up the planes with our streamlined gear, 600lbs of camera equipment and essential supplies.
As we flew low over the majestic forests and peaks of coastal British Columbia, the impact of logging was stark. The loss of the wolves' natural habitat is obvious, with clear cuts everywhere, only visible from altitude due to the clever way the forests are felled to preserve aesthetics from the ground.
Through the low cloud and driving rain, the white sand beach that was to be our landing strip came into view and our pilot circled it a couple of times to recce the best landing spot. It was important to land on the thin strip of hard damp sand sandwiched between the soft dry sand and the unstable sludge near the water's edge. I'll admit Paul and I both breathed a small sigh of relief as she expertly put us down safely on target.
Our friend Tom McPherson at Seaforth Expeditions greeted us and we ferried our gear to safety, looking forward to some warm food in the tents as the weather closed in and battered us with wind and rain.
We had made it.
Coastal wolves are genetically different from their inland cousins. They are slightly smaller and leaner as they don't have to withstand the harsh temperatures and conditions of the interior. Like their cousins, however, they are becoming increasingly rare. Habitat loss due to human activity is, as usual, a factor, from trophy hunting to deforestation and broader government policies. The Canadian government's Wolf Cull program has killed more than 1,000 wolves so far, at a cost of $2.2 million (Pacific Wild). Wolves are a keystone species under significant threat. Culling their numbers is misguided and irresponsible.
Also known as rain wolves (because of the very heavy rainfall in BC) and sea wolves (because of their habitat's close proximity to the Pacific Ocean), coastal wolves occupy a near mythical role in British Columbia's natural history. They are a charismatic species, as well as biologically fascinating.
Rain wolves are part of an exclusive group of mammals that derive part or all of their food from the sea. They have discovered a source of regular and varied protein that is delivered to them daily and in abundance. It is no coincidence that many of these mammals live in the nutrient rich and biodiverse Pacific Northwest regions of North America.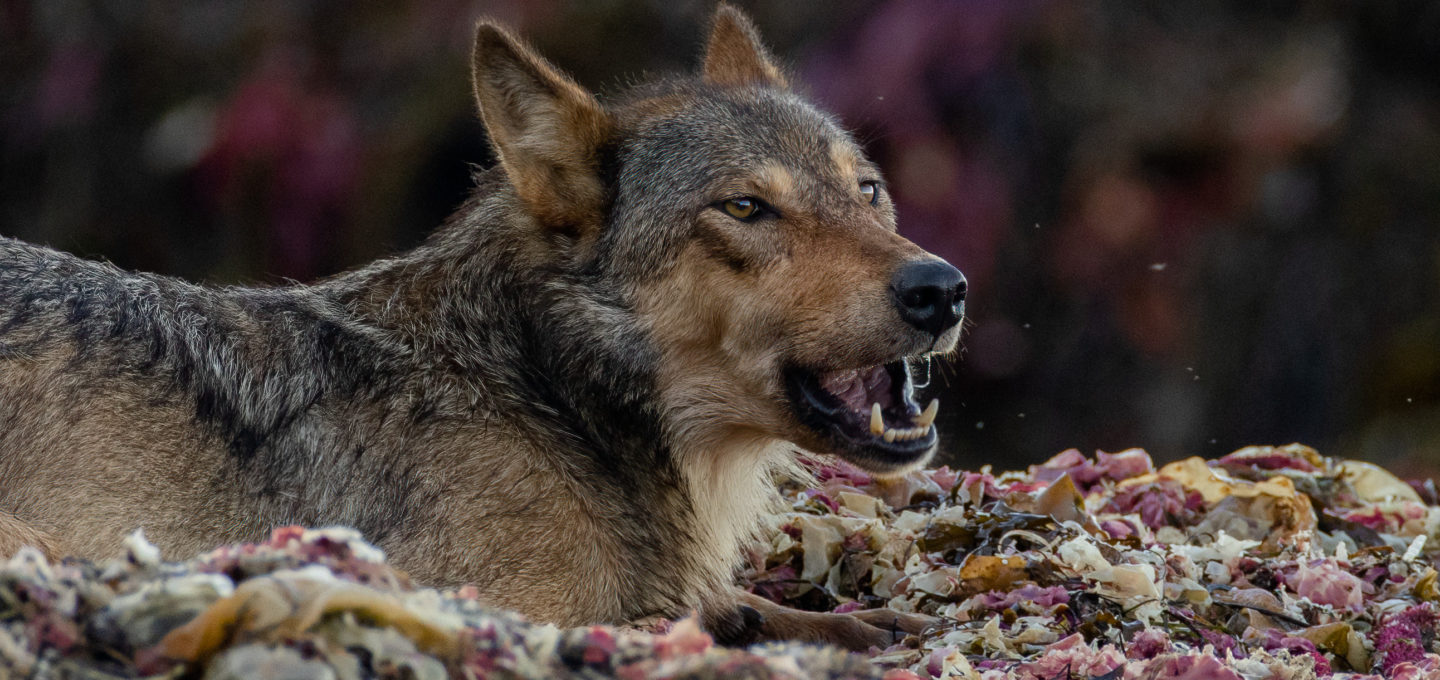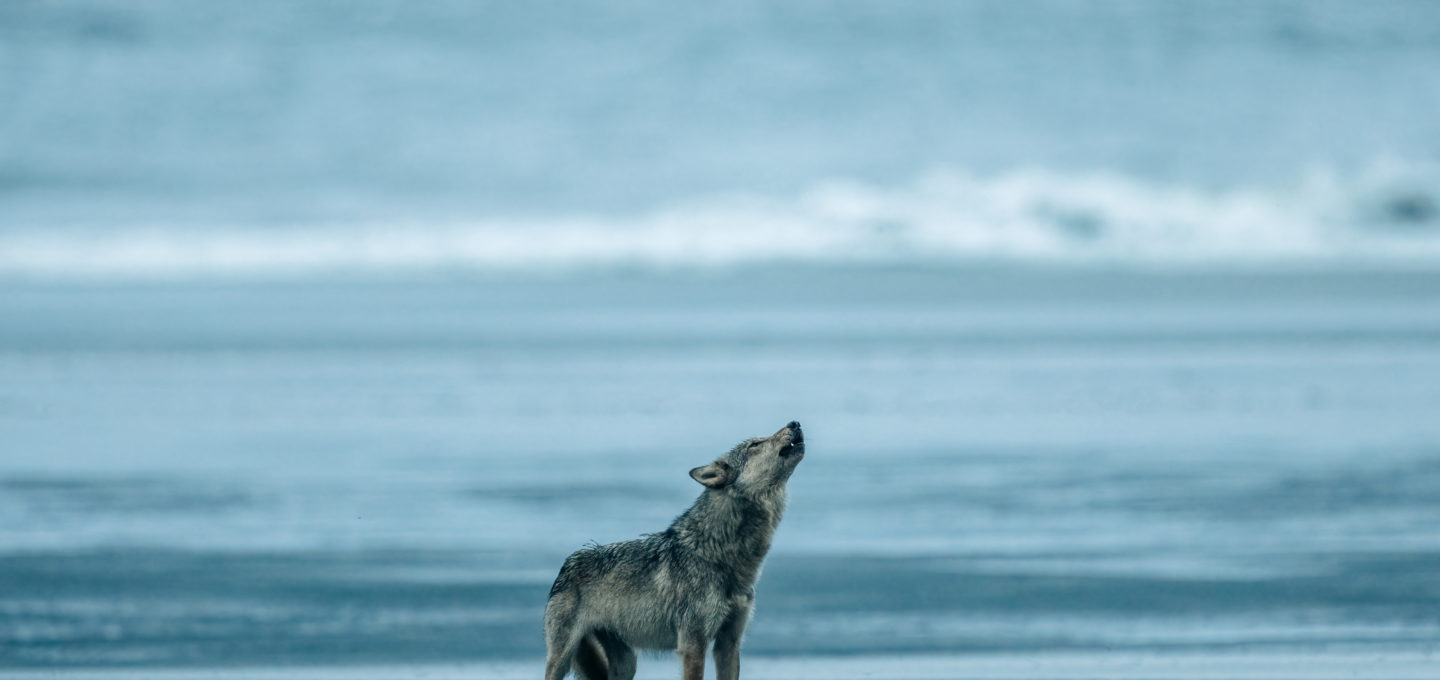 Continue reading...
To continue reading this article – and enjoy full digital access across Oceanographic – sign up to Ocean Hub today! More info below…
Keep reading by signing up for an Ocean Hub subscription
Ocean Hub. More than a magazine subscription.
As well the delivery of all new editions, members unlock access to exclusive products, services and discounts, as well as EVERY digital back issue we have published.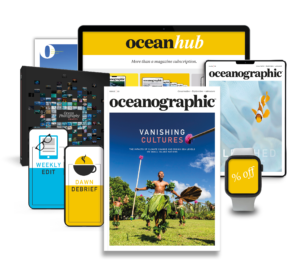 Find out more

about Ocean Hub subscription
Shop window
current issue
Back Issues
Enjoy so much more from Oceanographic Magazine by becoming a subscriber.
A range of subscription options are available.
Sea stories
Beautiful ocean stories straight to your inbox.
Join our community.