Ocean Plastics
4ocean collects record-setting 30 million pounds of trash
Written by
Oceanographic Staff

Operating in 12 locations across three countries worldwide, including the USA, Guatemala, and Indonesia, 4ocean has become one of the leading ocean cleanup company dedicated to ending the ocean plastic crisis.
"4ocean is incredibly proud to have accomplished this record-setting feat," said Alex Schulze, 4ocean CEO and co-founder. He adds: "We've built an entire business for the sole purpose of cleaning the ocean. With hundreds of local captains and crew members recovering trash from our oceans and coastlines seven days a week and the support of millions of people doing their part to prevent plastic pollution, I'm sure our work will have a lasting impact on the ocean."
Schulze made the announcement after the 4ocean TrashTracker, a proprietary database used to document the company's recovered materials from recovery through their entire supply chain, was independently audited and verified by GreenCircle Certified, an internationally recognised third-party certification entity whose thorough evaluation process provides independent verification that sustainability claims related to an organisation's products and operations are honest, valid, and verified.
The world has produced an estimated 18.3 trillion pounds of plastic since the 1950s; less than 10% of it has been recycled while 79% accumulates in the environment. Global plastic production is expected to triple by 2050, according to the World Economic Forum, which means an increase in the amount of plastic waste polluting the environment.
But plastic pollution isn't just an environmental issue; it also threatens the global economy and global food security. Ocean-based industries like fishing and tourism employ billions of people; the blue economy also contributes several trillion dollars of goods and services to the global economy every year. More than 3 billion get their primary source of protein from seafood.
According to Schulze, "plastic pollution disproportionately impacts poor and marginalized communities around the world. That's why it's important to us that our operations have a direct impact on the people and places most impacted by plastic pollution."
He adds: "All of our captains and crews live in the communities we serve and are hired as full-time employees. All of our bracelets are handcrafted by artisans living in either Guatemala or Bali. Every bracelet purchased funds our cleanups and creates jobs that provide the steady income people in these communities need right now."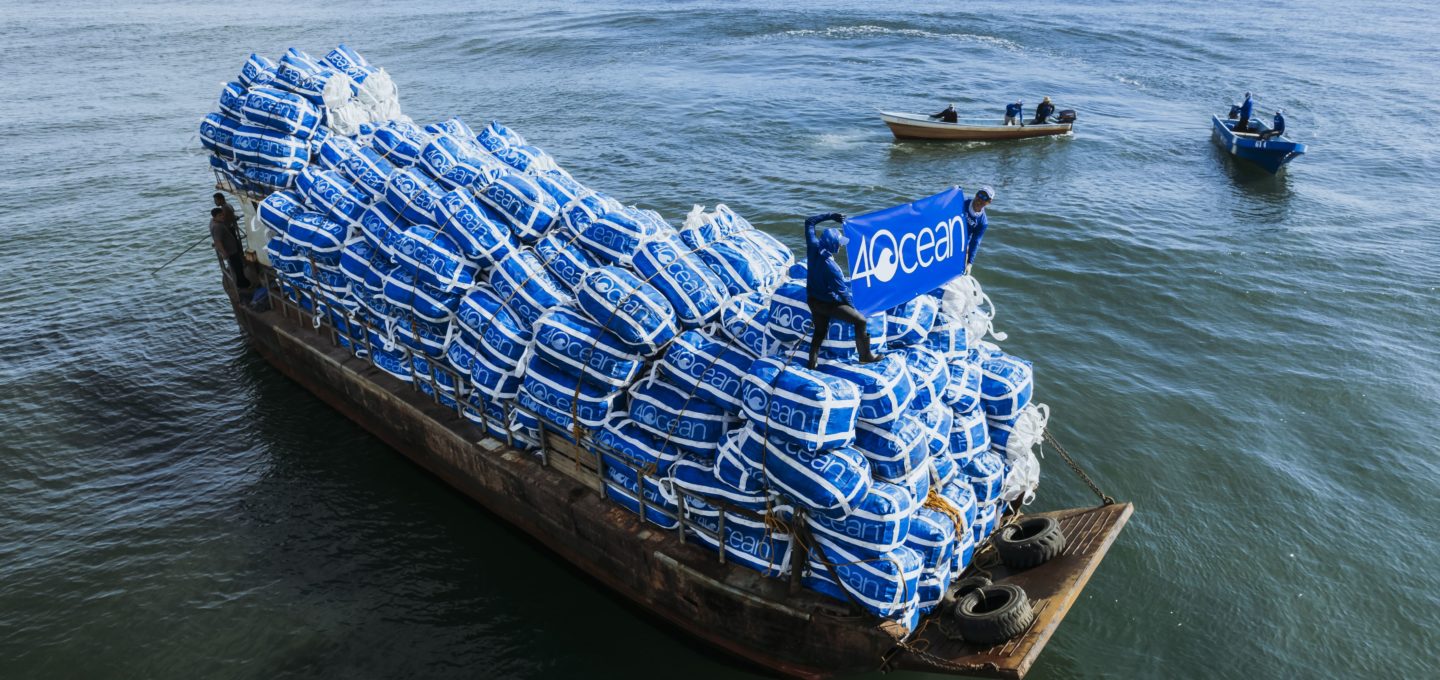 While 4ocean's cleanup operations are funded primarily through their product sales, the company recently introduced new programmes that have helped accelerate their progress and maximise their impact.
In 2021, 4ocean introduced its multifaceted Corporate Partnerships Program, which works with companies to offset their plastic usage and aid in waterway cleanup efforts around the globe. Brands who have received 4ocean Plastic Neutral Certification and/or become Certified Cleanup Partners include John Frieda, Mount Gay Rum, Nature Gnaws, and U.S. Polo Assn.
"There's no way we could do this on our own," said Ryan Dick, 4ocean partnerships marketing manager. "By partnering with other environmentally-conscious brands, we've managed to offset hundreds of thousands of pounds of plastic and committed funding to remove millions more. But this crisis won't be solved by cleanups alone."
"Waste is ultimately a design flaw, which means preventing plastic pollution starts with changing the way we design, produce, market, consume, and dispose of the products we use each and every day. Our partnership program isn't the final solution to plastic pollution, but a critical stepping stone on the path to a more sustainable future," he explains.
On World Oceans Day (June 8, 2023), 4ocean also announced a new partnership with Corona International that seeks to reduce plastic pollution in our oceans by moving collection efforts upstream into highly polluted rivers like the Rio Motagua in Guatemala. One of the most polluted rivers in Central America, the Motagua River accounts for roughly 2% of all the plastic waste entering our oceans each year.
The ive-year project, called "A River of Change from Corona x 4ocean," will help restore natural ecosystems and biodiversity; create full-time, living-wage jobs for people who are directly impacted by plastic pollution in the river and surrounding areas; and build infrastructures for lasting change.
"When they say a small group of dedicated people can change the world, believe them," says Schulze. "Reaching 30 million pounds of plastic and trash removed from the oceans is just the first step. We still have a lot of work to do."
For more from our Ocean Newsroom, click here. 
Written by
Oceanographic Staff
Shop window
current issue
Back Issues
Enjoy so much more from Oceanographic Magazine by becoming a subscriber.
A range of subscription options are available.
Sea stories
Beautiful ocean stories straight to your inbox.
Join our community.