Adventure
Adventurer Cal Major paddles around Scotland in new docuseries
A world-record adventurer – who in 2018 became the first person to stand-up paddleboard the length of the UK from Land's End to John O'Groats – takes on a new 800-mile journey around Scotland's coastline in captivating docuseries.
Written by
Oceanographic Staff

Cal Major, a veterinary surgeon and ocean advocate, made headlines across the UK when she earned a Guinness World Record title for her paddleboarding feat in 2018 which saw her paddleboard the length of the UK from Land's End to John O'Groats. Her latest challenge, filmed across ten weeks, sees Cal battle through wind, waves and weariness to discover more about Scotland's waters, both above and below the surface.
The three-part series, produced by Reel Soul Movies, begins on the River Clyde in the centre of Glasgow and follows Cal as she traverses the stunning west coast, the unforgiving northern coastline, then back down the east coast to the last harbour in Scotland – all atop a small paddleboard.
"This is a wonderfully unique, important series and Cal's incredible journey across Scotland's seas makes for a truly awe-inspiring piece of factual filmmaking. I'm delighted that STV Player viewers can now join her for every exhilarating moment of the ride," commented Richard Williams, managing director of digital at STV.
While the journey brings Cal some of the most rewarding moments of her life, it also puts humans' abuse of the ocean into sharp focus when she encounters a humpback whale calf entangled in fishing rope, a gannet with barbed hooks stuck in its feet, and remote islands piled high with waste from fish farms.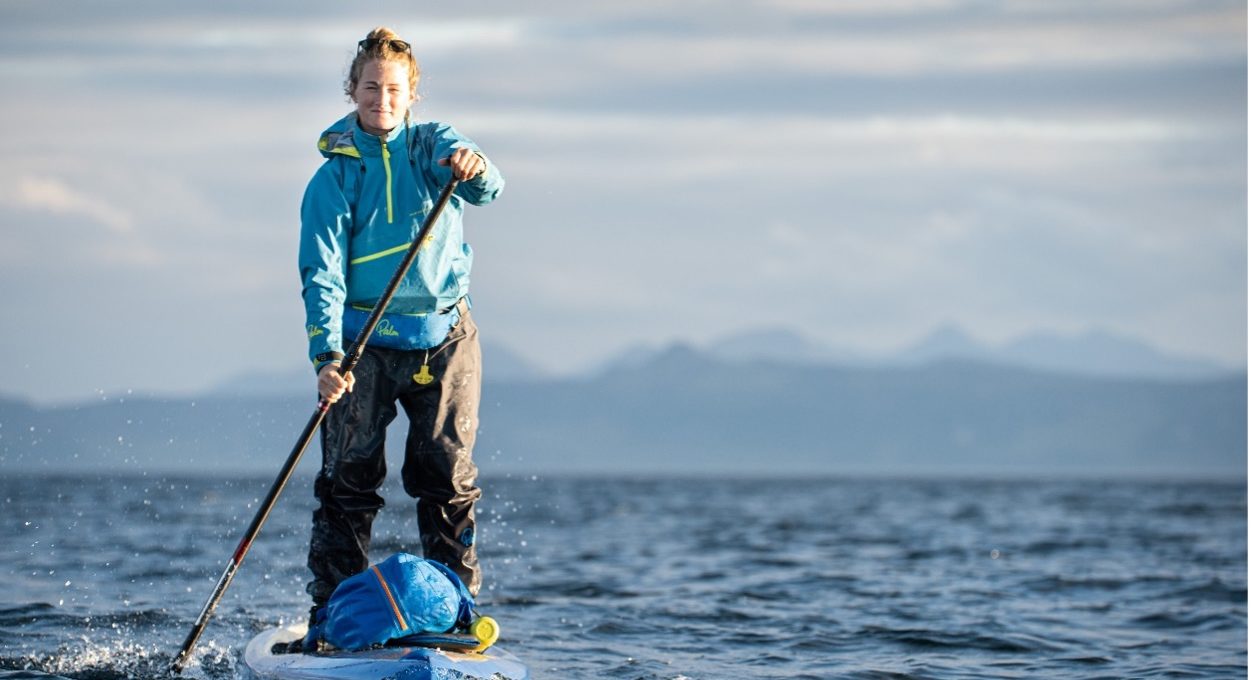 Elsewhere along the way, Cal meets an array of fascinating people whose lives are intertwined with the ocean, to learn more about their personal connection to the sea. Through individual and community stories, we discover the vital role our seas play, both locally and globally, in the climate crisis. She also meets the many creatures, big and small, that call the seas around Scotland home, from the tiniest starfish to an inquisitive orca pod.
"The sea is undoubtedly the place I feel most alive, and Scotland's seas in particular are home to some truly remarkable life that it was a privilege to encounter on this journey," said Cal Major and added: "Whether we spend time there or not, the ocean is vital for all of us, producing the oxygen in every second breath we breathe! People will protect what they love, but they can only love what they know, so I'm excited to be able to share what is so often out of sight and out of mind in our glorious ocean."
A deeply emotional yet thrilling adventure, Scotland: Ocean Nation provides viewers with a one-of-a-kind insight into the current state of Scotland's marine ecosystem – and what people can do to preserve it.
Scotland: Ocean Nation is streaming now for free here. 

Written by
Oceanographic Staff
Shop window
current issue
Back Issues
Enjoy so much more from Oceanographic Magazine by becoming a subscriber.
A range of subscription options are available.
Sea stories
Beautiful ocean stories straight to your inbox.
Join our community.