Issue 20
Antarctica: Cousteau's call

£

10
What's in this issue: Captivating storytelling. Beautiful imagery. World-class writers and photographers combine to bring the wonder of our blue planet to life and highlight some of the biggest threats it currently faces. Scroll down to leaf through a selection of this issue's pages, followed by synopses of our editorial features and columns.
Prefer digital? Click here.
subscribe today and never miss an issue
Shipping details
All orders shipped from the UK. Postage prices vary depending on shipping destination. Delivery times may be impacted by the global pandemic. EU customers may have to pay an additional Customs charge on deliveries after July 1st, 2021.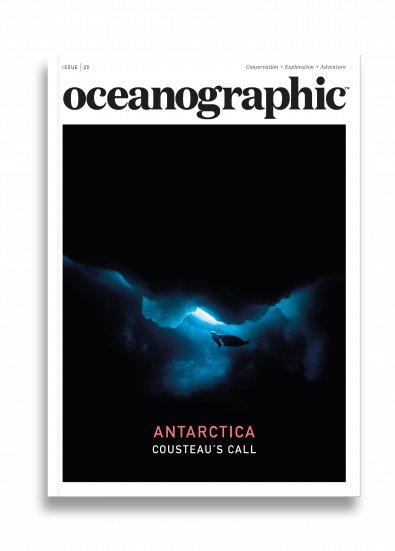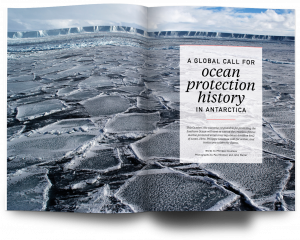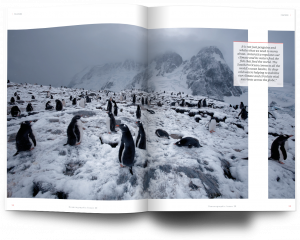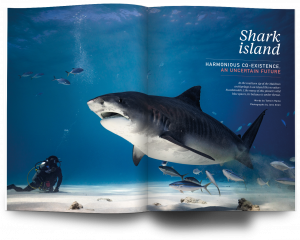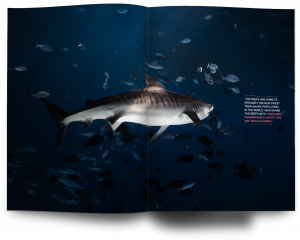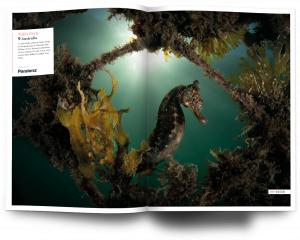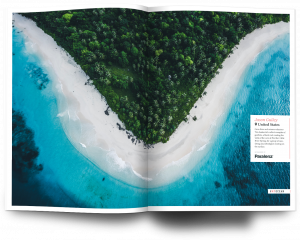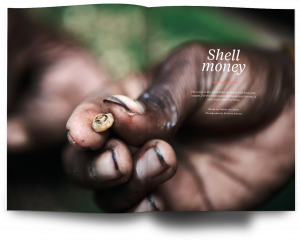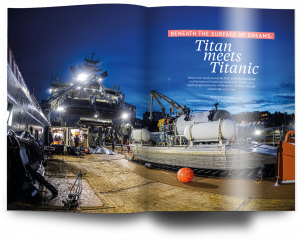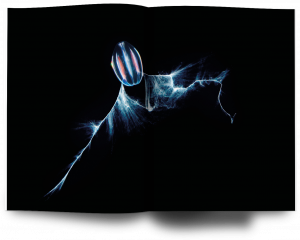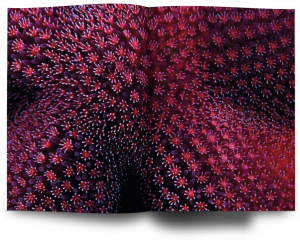 What's in ISSUE 20 /
ANTARCTICA: COUSTEAU'S CALL

?
ANTARCTICA: COUSTEAU'S CALL
This October, the countries responsible for protecting the Southern Ocean will meet to vote on protecting 4 million km2 of ocean. Here, Philippe Cousteau calls for action, and invites you to join the chorus.
sHARK ISLAND
At the southern tip of the Maldives archipelago is an island like no other: Fuvahmulah. Like many of this planet's wild blue spaces, its balance is under threat.
SHELL MONEY
The ocean is life. It provides the world with food, jobs, oxygen. For the Tolai people in Papua new Guinea, it also creates their currency.
TITAN MEETS TITANIC
History was made on July 10, 2021, when Stockton Rush and his team at OceanGate reached the Titanic, at a depth of approximately 4,000 metres, in Titan, the only submersible of its kind.
THE LIFE OF LEMONS
Mangroves are a critical habitat for many species - a place where young can thrive before venturing into the open ocean as adults. But are these important ecosystems appreciated as they should be?
behind the lens (in association with sealegacy)
Each issue, we chat with one of the world's leading ocean photographers and showcase a selection of their work. In this special edition, we focus on the staggering beauty of Antarctica - a continent that needs protecting
.
Columnists:
Big wave surf champion, environmentalist and social change advocate Dr Easkey Britton 

discusses the inclusivity of the ocean, and how it can be a leveller for people of all abilities

.

Marine biologist, photographer and writer Dr Lou Luddington writes about an experience of witnessing majestic tuna landed in a marine park in the Canary Islands.

Environmentalist and Surfers Against Sewage CEO Hugo Tagholm 

discusses the importance of personal action and grassroots campaigning to affect meaningful change in the face of the many crises facing Planet Ocean

.