Moving sand
Issue 29
In this issue: Marvel at the epic drama of Western Australia's turtle hatching season / Marvel the work being done to protect seahorses in Portugal's Ria Formosa / Meet Koh Lipe's Urak Lawoi and their quest to preserve their ocean culture from the influences of the modern world / Dive on vibrant and life-filled seagrass meadows off the Orkney Isles / Investigate the future of Scott Reef, a pristine reef in the Timor Sea being sized up for fossil fuel extraction
£10
Make this edition the first of a new subscription!
Ocean Hub is more than a magazine subscription. As well as each new magazine – starting with this one – you'll have digital access to EVERY edition of Oceanographic ever published, in addition to a range of other products, services and discounts exclusive to Hub members.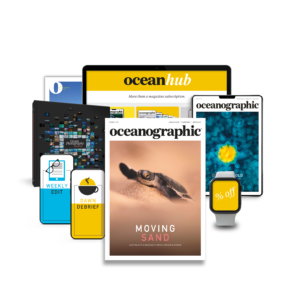 Find out more

about page
MOVING SAND
Across the shores of the Ningaloo Reef, wildlife photographer Lewis Burnett joins one of nature's great spectacles, the annual turtle hatching season.
portugal's last seahorses
A unique biotope on the Algarve coast in southern Portugal was once home to some of the world's densest seahorse populations. Today, these populations are on the brink of extinction. Marine protectors want to turn the tide.
a life shaped by the sea
On Koh Lipe, a small island in the Andaman Sea popular with tourists, the Urak Lawoi are trying to preserve their ocean culture from the influences of the modern world.
orcadian meadows
Wild, windswept, rugged, beautiful. All words that spring to mind when one thinks of the Orkney Isles. Below the surface, a team of researchers seeks to evidence and restore the region's healthy seagrass ecosystems.
keeping the drills at bay
250 nautical miles off the coast of Western Australia lies the pristine Scott Reef. Fossil fuel giant Woodside is currently seeking approval for extensive seismic testing and long term extraction of natural gas and oil deposits from directly below the reef, a practice that might throw this paradise off balance forever.
BEHIND THE LENS (IN ASSOCIATION WITH SEALEGACY)
Each issue, we chat with one of the world's leading ocean photographers and showcase a selection of their work. In this edition, we met up with award-winning underwater photographer Brooke Pyke.
COLUMNISTS:
Investigative journalist and director of The Outlaw Ocean Project, Ian Urbina addresses the complexity of offshore crimes.

Hugo Tagholm, former Surfers Against Sewage CEO and executive director and vice president of Oceana in the UK, talks about how biodiversity and climate targets are threatened by new offshore oil and gas.

Cal Major, ocean advocate and founder of the charity Seaful, explains what feelings the word 'home' evoke for her.
All orders shipped from the UK. Postage prices vary depending on shipping destination. EU customers may have to pay an additional customs charge. Please note that non-UK delivery times vary. While most international deliveries take 1-2 weeks, in the most extreme cases we have seen (though very rare) delays of 8 weeks+. If you would like to avoid the times and costs associated with shipping you may wish to explore our Digital Ocean Hub subscription.
A taste of what´s included
Learn more about the magazine
Oceanographic Magazine uses beautiful photography and captivating storytelling to transport both the wonder and plight of the ocean into people's homes. It is a magazine that aims to bring our blue planet to life, to connect and inspire.
About the ocean. For the ocean.
Read more

about magazine