Sentinels of change
Issue 32
In this issue: Find out how climate change affects the breeding success and survival rates of penguins / Dive amidst the underwater sculptures of the Great Barrier Reef / Join an expedition and find out why the red sea fans of the Mediterranean are able to resist climate change / Meet Chesapeake Bay's ospreys and find out why their survival is threatened / Travel to the whale shark hotspot of La Paz and experience a multi-dimensional wildlife tourism approach 
£10
Make this edition the first of a new subscription!
Ocean Hub is more than a magazine subscription. As well as each new magazine – starting with this one – you'll have digital access to EVERY edition of Oceanographic ever published, in addition to a range of other products, services and discounts exclusive to Hub members.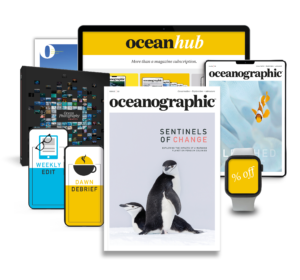 Find out more

about page
sentinels of change
Researchers have  established that penguin species are already feeling the brunt of global warming. What does the future hold for these charismatic flightless birds?
inspiring change
On Australia's John Brewer Reef, situated within the realms of the Great Barrier Reef, the Museum of Underwater Art seeks to foster change by blending art, marine science, and conservation.
last refuge
During the summer of 2022, the red sea fans of the western Mediterranean basin experienced a major mortality episode. Shortly after, a scientific exploration programme came across a glimmer of hope: red gorgonians in deeper realms were able to resist climate change.
ground zero for ospreys
Around 20,000 ospreys are attracted to Chesapeake Bay annually. The decline of one little fish, however, is playing a significant role in the decreasing breeding success of the species.
swimming with purpose
Every year, over 100 juvenile whale sharks visit the waters around Mexico's La Paz. As seen in many whale shark hotspots around the world, a rapidly growing whale shark tourism sector quickly resulted in numerous problems for the animals. Widespread campaigning and a collaborative conservation approach, however, managed to turn the face of the city's whale shark tourism programme around.
BEHIND THE LENS
Each issue, we chat with one of the world's leading ocean photographers and showcase a selection of their work. In this edition, we speak with award-winning underwater photographer Shane Gross.
COLUMNISTS:
Investigative journalist and director of The Outlaw Ocean Project, Ian Urbina meets a woman who traverses the globe in a converted medical ship to provide abortions in places where it has been criminalised.

Hugo Tagholm, former Surfers Against Sewage CEO and executive director and vice president of Oceana in the UK, explains how healthy ocean ecosystems play a crucial part in our wellbeing and outlines why it is so important to protect marine parks.

Cal Major, ocean advocate and founder of the charity Seaful, reveals why the Treshnish Isles in Scotland are so special to her.
Magazines & books: All orders shipped from the UK. Postage prices vary depending on shipping destination. EU customers may have to pay an additional customs charge. Most international deliveries take 1-3 weeks. Want to avoid shipping? Explore our Digital Ocean Hub subscription. Any orders fulfilled by a third party are subject to that party's shipping T&C's.
A taste of what´s included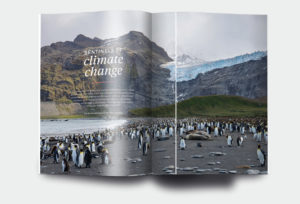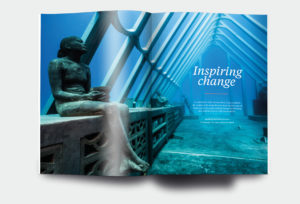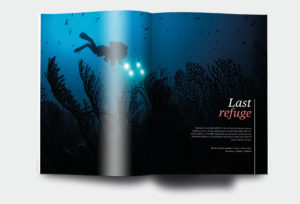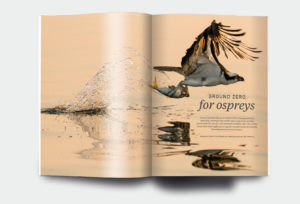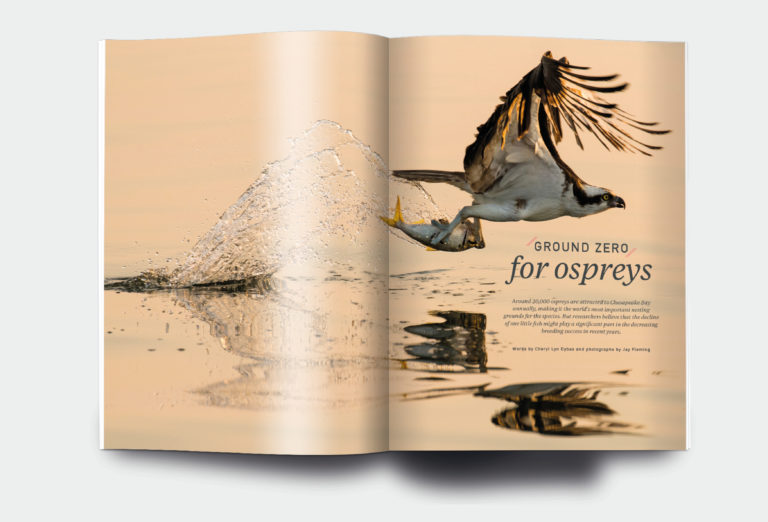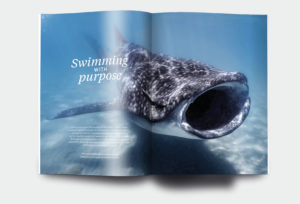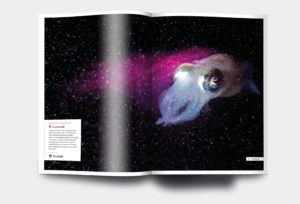 Learn more about the magazine
Oceanographic Magazine uses beautiful photography and captivating storytelling to transport both the wonder and plight of the ocean into people's homes. It is a magazine that aims to bring our blue planet to life, to connect and inspire.
About the ocean. For the ocean.
Read more

about magazine