The billion $ shark
Issue 08
Meet the mako shark / Find out what impact micro and nanoplastics have on whale populations / Join the Barbados Sea Turtle Project / Travel to the most plastic-polluted island in the world / Learn more about why sand tiger shark numbers continue to recover along the east coast of the US
£10
THE BILLION DOLLAR SHARK
Shark biologist and freediver Riley Elliott reveals his personal shark story, his connection with mako sharks and why it is critical the species achieves increased protection at the upcoming CITES conference.
AMBASSADORS OF THE OCEAN
As the amount of micro and nanoplastics in the ocean rises, what impact is this having on whale populations? A team of scientists and researchers set sail in the North Atlantic to find out.
NO HATCHLING LEFT BEHIND
The Barbados Sea Turtle Project has been running for more than 30 years, its team working to protect foraging and resident sea turtles from myriad dangers. As an endangered and keystone species, what more needs to be done to protect them?
LIBERATING PARADISE FROM PLASTIC
A personal account of a recent multidisciplinary expedition to the most plastic-polluted island in the world, in the recently- formed Pitcairn Island Marine Reserve. What does the future hold for the protected Henderson Island, and can it be cleaned-up?
RAGGED REVIVAL
After a 70-90% population decline towards the end of the last century due to overfishing, sand tiger shark numbers continue to recover along the east coast of the US. In North Carolina, species recovery is particularly strong. Why?
behind the lens (in association with sealegacy)
Each issue, we chat with one of the world's leading ocean photographers and showcase a selection of their work. In this edition, we meet Brazilian photographer and SeaLegacy Collective member, Luciano Candisani.
Columnists:
Freediver and founder of I AM WATER, Hanli Prinsloo, looks at the nature of sharks and how each species is unique from the next. That variety, she says, should be celebrated and enjoyed.

Shark Week presenter and Veterans for Wildlife director, James Glancy, talks about his connection with sharks, the critical role they play in ocean health and his hopes for better protection.

The team at Project AWARE, Oceanographic's primary charity partner, discuss how community and collaboration are critical to claiming victories for the ocean and the species that inhabit it.
Magazines & books: All orders shipped from the UK. Postage prices vary depending on shipping destination. EU customers may have to pay an additional customs charge. Most international deliveries take 1-3 weeks. Want to avoid shipping? Explore our Digital Ocean Hub subscription. Any orders fulfilled by a third party are subject to that party's shipping T&C's.
A taste of what´s included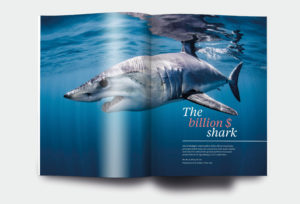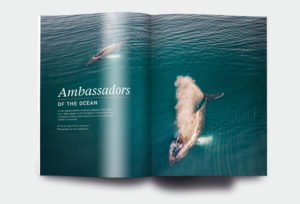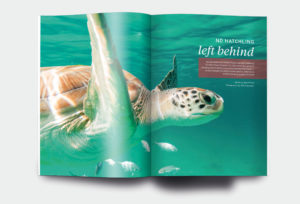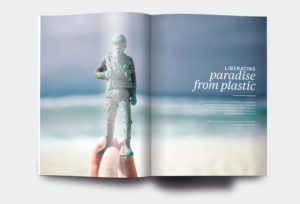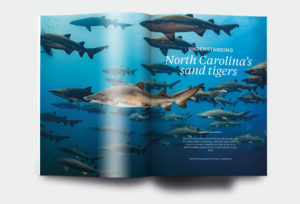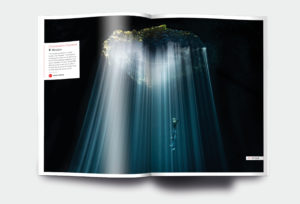 Learn more about the magazine
Oceanographic Magazine uses beautiful photography and captivating storytelling to transport both the wonder and plight of the ocean into people's homes. It is a magazine that aims to bring our blue planet to life, to connect and inspire.
About the ocean. For the ocean.
Read more

about magazine