The hunt
Issue 11
Meet the grey reef sharks of Fakarava Atoll in French Polynesia with explorer Laurent Ballesta / Travel to Baja California and see how sportfishing impacts the area / Join the Maewan IV crew who are making a 66,000km sailing journey / Be part of the recent Hope for Reefs mission at Fernando de Noronha National Marine Park in Brazil / Visit Antarctica with drone photographer Florian Ledoux
£10
Sold Out
the hunt
The grey reef sharks of Fakarava Atoll in French Polynesia are remarkable and numerous. Explorer Laurent Ballesta first encountered them in 2014 during his Gombessa II mission. Intrigued by their behaviour he has returned every year since. What has he learned?
chasing lightning
Baja California boasts some of the most biodiverse waters in the world, hosting a variety of migratory species throughout the year. As a result, it has become a hotspot for sportfishing, but at what cost?
connecting the dots
An 11-metre sailboat, Maewan IV, is making a 66,000km journey to reconnect the dots between wilderness and civilisation. What can Maewan's crew learn from the remote communities they visit? And, in turn, what wisdom can they leave behind?
for the love of reefs
A team of biologists from the California Academy of Sciences is working to better protect deep mesophotic reefs around the world. Their most recent Hope for Reefs mission took them to the Fernando de Noronha National Marine Park in Brazil.
white continent, dark future?
Drone photographer Florian Ledoux visits Antarctica to capture life from above. But what of life below the waterline, the basis of life on the continent? What does the future hold for the white continent, and what impact might that have on the rest of the planet?
behind the lens (in association with sealegacy)
Each issue, we chat with one of the world's leading ocean photographers and showcase a selection of their work. In this edition, we meet with Canadian photographer and SeaLegacy Collective member, Tavish Campbell.
Columnists:
Big wave surf champion, environmentalist and social change advocate Dr Easkey Britton writes about our relationship with the ocean and the species that live within it.

Freediver and founder of I AM WATER, Hanli Prinsloo, discusses the power water can have on our sense of self, and how important it is to reconnect in such a way – particularly in the busy, modern world.

Marine photographer Toby Dickson shares an image of a pod of rarely-seen southern right whale dolphins, as well as the story behind how the image was captured. Could it be the first photograph of its kind?
Magazines & books: All orders shipped from the UK. Postage prices vary depending on shipping destination. EU customers may have to pay an additional customs charge. Most international deliveries take 1-3 weeks. Want to avoid shipping? Explore our Digital Ocean Hub subscription. Any orders fulfilled by a third party are subject to that party's shipping T&C's.
A taste of what´s included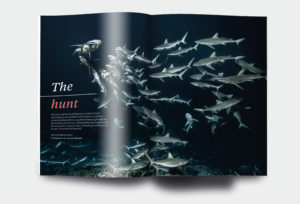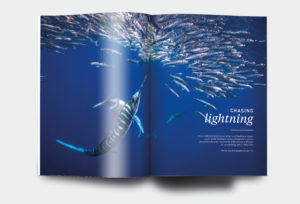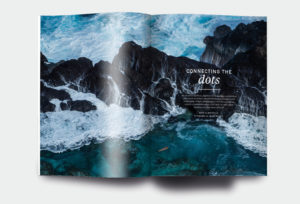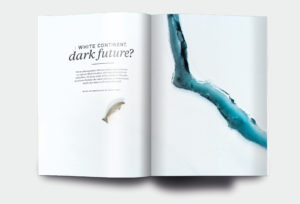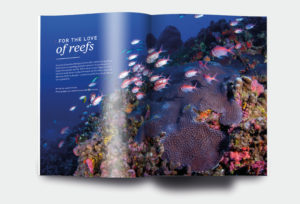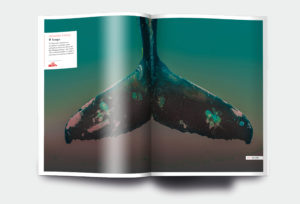 Learn more about the magazine
Oceanographic Magazine uses beautiful photography and captivating storytelling to transport both the wonder and plight of the ocean into people's homes. It is a magazine that aims to bring our blue planet to life, to connect and inspire.
About the ocean. For the ocean.
Read more

about magazine