Dancing with orcas
Issue 09
Freedive with orca whales while they hunt / Join endurance swimmer Ben Lecomte on his quest to swim 300 nautical miles through the Great Pacific Garbage Patch / Find out how one tiny coral atoll in French Polynesia paves a path to rejuvenation / Explore the secrets of dwarf minke whales / Travel to a small collection of island communities in the Maldives that is trialling a new programme / Learn more about why a resident pod of dolphins suddenly disappeared from a site in the Bahamas
£10
Sold Out
DANCING WITH ORCAS
What is it like to freedive with orca whales while they hunt? A team of filmmakers, in association with Favre-Leuba and its #ConqueringFrontiers mission, visited the wild west coast of Norway to find out.
INTO THE VORTEX
Endurance swimmer Ben Lecomte swam more than 300 nautical miles through the Great Pacific Garbage Patch. He hopes his feat of endurance, and message of ocean connection, will convince others to join the fight to protect it.
REINSTATING RAHUI
Small islands around the world suffer from similar social, economic and environmental problems. In French Polynesia, one tiny coral atoll is trialling a set of initiatives they believe might be able to pave a path to rejuvenation.
DWARF MINKES, BIG QUESTIONS
Little is known about dwarf minke whales, a subspecies of northern minkes. A team of researchers from the Minke Whale Project is harnessing citizen science in a bid to better understand the mysterious cetaceans.
COMMUNITY-DRIVEN OCEAN CHANGE
A small collection of island communities in the Maldives is collaborating on a new programme that could revolutionise the sustainability not just of their own islands, but the whole country
THE DOLPHIN DIASPORA OF LITTLE BAHAMA BANK
In the summer of 2013, a resident pod of dolphins suddenly disappeared from a site in the Bahamas. Why? And if they were still alive, where had they gone?
behind the lens (in association with sealegacy)
Each issue, we chat with one of the world's leading ocean photographers and showcase a selection of their work. In this edition, we meet Australian photographer and SeaLegacy Collective member, Paul Hilton.
Columnists:
Freediver and founder of I AM WATER, Hanli Prinsloo, discusses the wonders of her local forest – a kelp forest off the shores of Cape Town where she swims with sharks, seals and penguins.

Shark biologist, conservationist and author Riley Elliott discusses how people power impacted the recent CITES decision to protect 18 species of sharks and rays.

The team at Project AWARE, Oceanographic's primary charity partner, discuss how the implementation of the UN's Sustainable Development Goals is everyone's responsibility.
All orders shipped from the UK. Postage prices vary depending on shipping destination. EU customers may have to pay an additional customs charge. Please note that non-UK delivery times vary. While most international deliveries take 1-2 weeks, in the most extreme cases we have seen (though very rare) delays of 8 weeks+. If you would like to avoid the times and costs associated with shipping you may wish to explore our Digital Ocean Hub subscription.
A taste of what´s included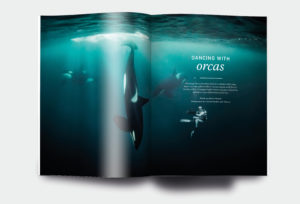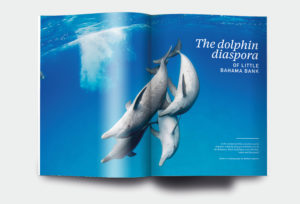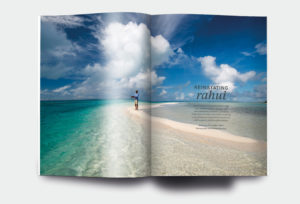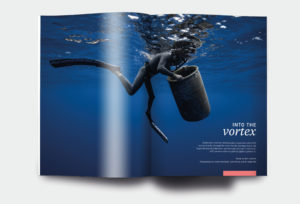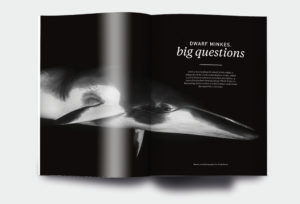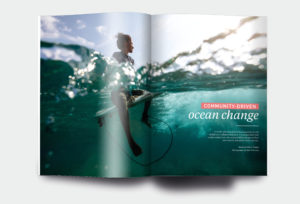 Learn more about the magazine
Oceanographic Magazine uses beautiful photography and captivating storytelling to transport both the wonder and plight of the ocean into people's homes. It is a magazine that aims to bring our blue planet to life, to connect and inspire.
About the ocean. For the ocean.
Read more

about magazine