Saving the Arctic
Issue 01
Explore the Arctic Ocean with Polar Explorer Pen Hadow / Learn more about the importance of wild salmon in British Columbia / Meet shark conservationist Mike Coots / Find out why thousands of albatross chicks die every year on a remote island in the North Pacific Ocean / Hear from the maker of My Octopus Teacher / Explore the deep ocean with Nekton / Dive with the whale sharks of Mafia Island
£10
Protecting the Central Arctic Ocean
Explorer Pen Hadow writes exclusively for Oceanographic about his mission to create a marine protected area in the Central Arctic Ocean. The campaign, proudly supported by Oceanographic, aims to permanently protect the international waters of the Arctic before international restrictions on commercial fishing are lifted. Pen contextualises his aims and ambitions against a personal history of Arctic adventure, including his solo and unsupported journey to the North Pole in 2003.
The fish that feeds the forest
British Columbia's wild salmon population is under threat. Investigative photojournalist and local resident Tavish Campbell reveals the devastating effects imported Atlantic salmon are having on local Pacific populations. Open-net pens and poor farming practices – including the discarding of disease-ridden 'blood water' into wild migration routes – are affecting the health of local stocks, a food source on which many species – and the forests themselves –
rely.
Love bite
When surfer Mike Coots lost a leg in a shark attack his attitude towards sharks changed dramatically – he fell in love with them. Interviewed all over the world in the aftermath of the incident and on his return to the water as an amputee surfer, Mike now speaks with Oceanographic Magazine about the conservation campaigns he is involved in and what it was like recently returning to the ocean to freedive with tiger sharks – the species that took his leg.
Deep sea exploration
The deep ocean is the beating heart of our planet. It is also a place we know precious little about. Dr Lucy Woodall, Principle Scientist at Nekton Mission, is part of a team of explorers and academics unlocking the mysteries of the deep, descending into a rarely-explored realm in a bid to better understand our blue planet and determine its health. Here, she describes the thrill of deep sea submarining and offers an insight into the discoveries her team made.
End of the line at Midway
Remote islands should be pristine environments. That is, at least, how we imagine them to be. The mid-Pacific island of Midway is about as remote as they come, but it is far from pristine. Plastics litter its beaches, carried there by ocean currents. The bodies of albatross litter its interior, small piles of plastic where their now-decomposed stomachs used to be. Chris Jordan, who spent three months on Midway filming the acclaimed Albatross, gives a compelling
account of his time on the island.
the whale sharks of mafia island
The whale sharks of Mafia Island are a curious bunch. Unlike other populations of whale sharks around the world, which migrate an average of 10,000km a year, the Mafia Island sharks have a habit of staying put. Dr Simon J Pierce, one the world's leading authorities on the species and a regular visitor to the waters off Mafia Island, offers an insight into what might be behind this curious anomaly.
Interspecies sentience
Naturalist and filmmaker Craig Foster made a promise to himself: to swim in the ocean every day for ten years. He is seven years in. Throughout his time snorkelling and diving amongst the kelp forests near his South African home, Craig has encountered a number of never-before-seen marine life behaviours. Most startling of all has been the kinship he has developed with a resident octopus – a level of interspecies sentience he could never have contemplated. Pippa Ehrlich meets and dives with Craig, joining him on his journey of reconnection, two urbanites returning to nature.
Columnists:
Marine biologist Dr Simon J Pierce discusses the surprising case of a whale that eats sharks.
Big wave surf champion Dr Easkey Britton assesses the power of the ocean for
bringing about social change.
Underwater photographer Matt Draper talks of an inspiring encounter with
humpbacks in Tonga.
Shark ethologist – and 2018 Shark Ambassador of the Year – Ocean Ramsey shares her advice for freediving with tiger sharks.
All orders shipped from the UK. Postage prices vary depending on shipping destination. EU customers may have to pay an additional customs charge. Please note that non-UK delivery times vary. While most international deliveries take 1-2 weeks, in the most extreme cases we have seen (though very rare) delays of 8 weeks+. If you would like to avoid the times and costs associated with shipping you may wish to explore our Digital Ocean Hub subscription.
A taste of what´s included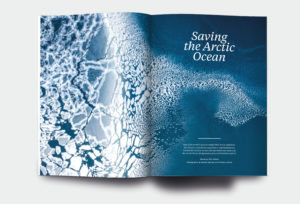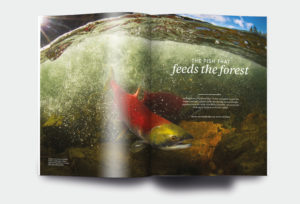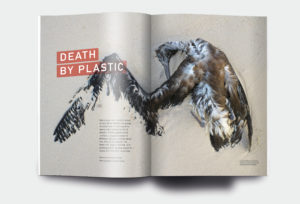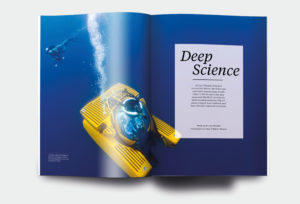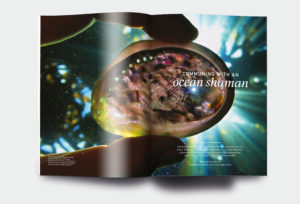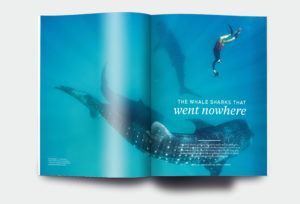 Learn more about the magazine
Oceanographic Magazine uses beautiful photography and captivating storytelling to transport both the wonder and plight of the ocean into people's homes. It is a magazine that aims to bring our blue planet to life, to connect and inspire.
About the ocean. For the ocean.
Read more

about magazine