Frozen breath
Issue 07
Explore beneath the waves of the Southern Ocean with international freediver and record-holder Johnathan Sunnex / Discuss the threat of 'the unseen' in our interlocking waterways / Dive the artificial reef off the coastal Lebanese city of Sidon / Learn more about the impact of salmon farms on the Patagonian wilderness / Join deep sea exploration organisation Nekton on their quest to reveal the deepest secrets of the Indian Ocean / Travel to Indonesia to learn how business and community have combined to set up a more sustainable future
£10
ONE FROZEN BREATH
International freediver and record-holder Johnathan Sunnex explores beneath the waves of the Southern Ocean – in the name of science and adventure.
INVISIBLE OCEAN
Professor Michael Depledge, founder of the European Centre for Environment and Human Health, discusses the threat of 'the unseen' in our interlocking waterways.
A REEF FOR SAIDA
The waters off the coastal Lebanese city of Sidon – known locally as Saida – have, for many years, been used as a dump for city waste. Following an extensive clean-up operation, local ocean activists hope to attract fish and dive tourists back to the their corner of the Mediterranean by creating an artificial reef made up of old aircraft. Will it work, or are they simply dumping more trash into the sea?
WILDERNESS LOST
Poorly-regulated, under-managed and overfished salmon farms are having a devastating impact on the Patagonian wilderness. Is one of the planet's last great wild places at risk of being lost?
INTO THE UNKNOWN
Deep sea exploration organisation, Nekton, rlier this year embarked n a two-year quest o reveal the deepest secrets of the Indian Ocean. Programme director Oliver Steedsthe first phase of their newest mission, conducted in waters off the Seychelles.
KEEPING CHANGE AT BAY
As the world's marine ecosystems face unprecedented pressures, marine parks able to balance the critical need for sustainability with the benefits of tourism have perhaps never been more important. In one corner of Indonesia, business and community have combined to set up a future that looks as bountiful as its past.
behind the lens (in association with sealegacy)
Each issue, we chat with one of the world's leading ocean photographers and showcase a selection of their work. In this edition, we meet British Columbian photographer and co-founder of Pacific Wild, Ian McAllister.
Columnists:
Marine biologist Dr Simon J Pierce, 

Principal Scientist at 

the Marine Megafauna Foundation, 

discusses the many record-breaking facts that make the whale shark such a fascinating species.

Big wave surf champion, environmentalist and social change advocate Dr Easkey Britton 

discusses gender equality and the ocean. Are the world's blue spaces as accessible as they should be?

Freediver and founder 

of I AM WATER, Hanli Prinsloo, reconnects with her wild self. Instead of looking for wilderness 

in the ocean – as she normally does – she looks inland, to a place a little less familiar.

The team at Project AWARE Foundation

, 

Oceanographic's primary charity partner, 

discuss their Adopt a Dive Site initiative, revealing how divers around the world can become a part of a global movement safeguarding local reefs.
All orders shipped from the UK. Postage prices vary depending on shipping destination. EU customers may have to pay an additional customs charge. Please note that non-UK delivery times vary. While most international deliveries take 1-2 weeks, in the most extreme cases we have seen (though very rare) delays of 8 weeks+. If you would like to avoid the times and costs associated with shipping you may wish to explore our Digital Ocean Hub subscription.
A taste of what´s included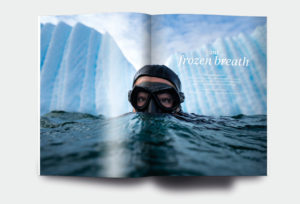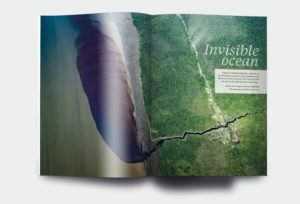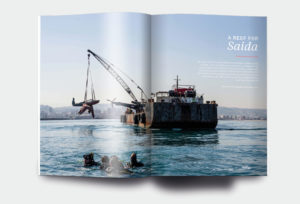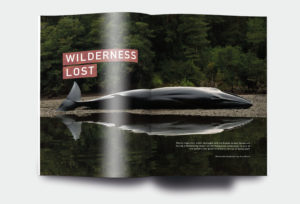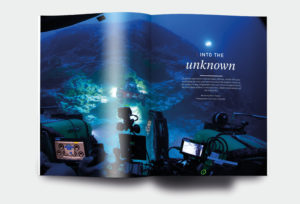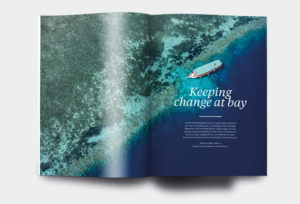 Learn more about the magazine
Oceanographic Magazine uses beautiful photography and captivating storytelling to transport both the wonder and plight of the ocean into people's homes. It is a magazine that aims to bring our blue planet to life, to connect and inspire.
About the ocean. For the ocean.
Read more

about magazine