Wolf mother
Issue 17
Meet the endemic coastal wolves of the Pacific Northwest / Protect the largest aggregations of whale sharks in the world / Find out how sharks deal with climate change / Dive with the elusive and rare ornate eagle ray / Travel to Palau, the most ocean-friendly nation on Earth
WOLF MOTHER
Despite surviving and thriving for thousands of years, the endemic coastal wolves of the Pacific Northwest are under threat. Unsurprisingly, it is humans that are driving them into scarcity.
symbol of hope
Since discovering one of the largest aggregations of whale sharks in the world, great progress has been made in protecting these giants of Isla Mujeres. But there is much more work to be done, and we must all play our part.
Sharks and climate change
Sharks in French Polynesia are threatened by a stressor that affects all life on Earth: climate change. The Physioshark research program, based in Moorea, investigates how early life stages of reef sharks cope with climate change. Can the sharks keep pace?
ray of rarity 
There have been fewer than 60 confirmed sightings of the ornate eagle ray, often referred to as the unicorn of the sea. Is this species emblematic of the beauty and mystery of the ocean, as well as the threats we pose to it?
The most ocean-friendly nation on earth
When it comes to marine conservation, we have a lot to learn from Palau's historical traditions. However, implemented conservation strategies require all nations to commit to a more sustainable future, before it's too late.
behind the lens (in association with sealegacy)
Each issue, we chat with one of the world's leading ocean photographers and showcase a selection of their work. In this edition, we meet renowned National Geographic photographer, David Doubilet.
Columnists:
Big wave surf champion, environmentalist and social change advocate Dr Easkey Britton reflects on the power and benefits of being in water – especially at a time of such collective trauma as is being faced around the world currently.

Freediver and founder of I AM WATER, Hanli Prinsloo, reveals how she is managing to stay connected with the ocean at a time when she is unable to visit it due to the pandemic: mind diving.
All orders shipped from the UK. Postage prices vary depending on shipping destination. EU customers may have to pay an additional customs charge. Please note that non-UK delivery times vary. While most international deliveries take 1-2 weeks, in the most extreme cases we have seen (though very rare) delays of 8 weeks+. If you would like to avoid the times and costs associated with shipping you may wish to explore our Digital Ocean Hub subscription.
A taste of what´s included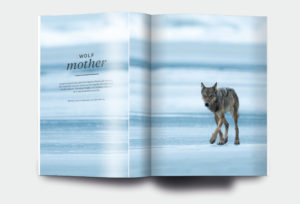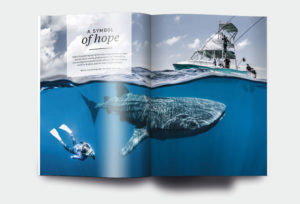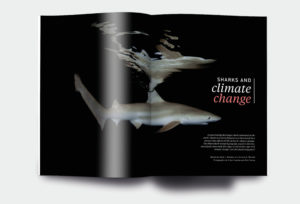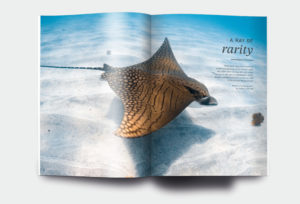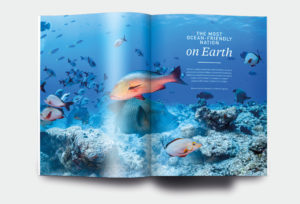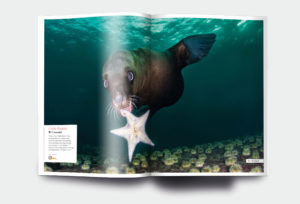 Learn more about the magazine
Oceanographic Magazine uses beautiful photography and captivating storytelling to transport both the wonder and plight of the ocean into people's homes. It is a magazine that aims to bring our blue planet to life, to connect and inspire.
About the ocean. For the ocean.
Read more

about magazine