Changing winds
Issue 03
Join the all-women crew of eXXpedition and sail the Great Pacific Garbage Patch / Explore Patagonia's underwater world / See marine sculptor Jason deCaires Taylor's latest project: Coralarium / Learn more about the High Seas / Analyse the Svalbard bear population / Meet the manta rays of the Sea of Cortez
£10
CHANGING WINDS
Ocean advocate, adventurer and plastic pollution campaigner Emily Penn reveals the shock and optimism felt by the all-women crew of eXXpedition, who sailed the Great Pacific Garbage Patch this summer on a research and public awareness mission.
CHILEAN PATAGONIA
Revered as one of the planet's last true wild places, Patagonia is under threat. Scientist Vreni Häussermann reveals the beauty of the area's marine environment, along with some of her biggest concerns and what gives her hope for the future.
SCULPTING VIEWS
Renowned marine sculptor Jason deCaires Taylor discusses his latest project: Coralarium. The installation looks at our connectedness with the natural world as well as the generational divide regarding climate change and our (un)willingness to change.
HIGH SEAS FISHING BAN
The high seas are lawless.This year the UN convened for the first of four summits to discuss the implementation of a treaty that would include protections from overfishing. What would such a fishing ban look like, and how would it work?
BIG BEARS ON THIN ICE
With rapidly retreating sea ice and the associated loss of hunting grounds, polar bears face an uncertain future. Biologist and explorer Jonathan Green analyses the Svalbard bear population, which seems to be managing the changing climate just fine.
THE RETURN OF BAJA'S MANTAS
The Sea of Cortez was once regarded as a haven for manta rays. Then they disappeared. After nearly two decades they have returned once more. Joanna Lentini meets the biologist monitoring their return.
behind the lens (in association with sealegacy)
Each issue, we chat with one of the world's leading ocean photographers and showcase a selection of their work. In this edition, we meet International League of Conservation Photographers member Nick Hawkins.
Columnists:
Marine biologist Dr Simon J Pierce, 

Principal Scientist at 

the Marine Megafauna Foundation, discusses whale shark tourism and reveals the places that offer the best shark- friendly interactions.

Big wave surf champion, environmentalist and social change advocate Dr Easkey Britton discusses the power of our inner cycles and how we should work to tune into our natural ebb and flow.
Underwater photographer and artist Matt Draper, whose mantra is to 'replace fear with fascination', discusses how art and science can work together for the benefit of lasting conservation.
The team at Project AWARE Foundation

, 

Oceanographic's primary charity partner, reveal how, contrary to popular belief, the global shark trade isn't all about fins and Asia.\
Magazines & books: All orders shipped from the UK. Postage prices vary depending on shipping destination. EU customers may have to pay an additional customs charge. Most international deliveries take 1-3 weeks. Want to avoid shipping? Explore our Digital Ocean Hub subscription. Any orders fulfilled by a third party are subject to that party's shipping T&C's.
A taste of what´s included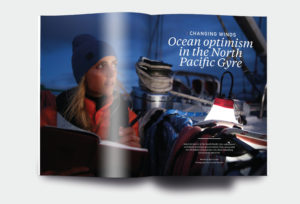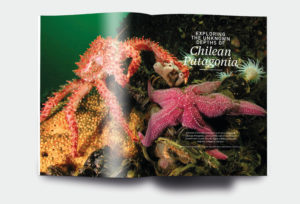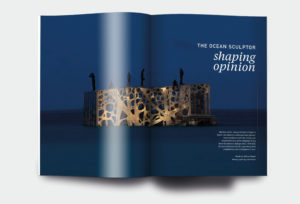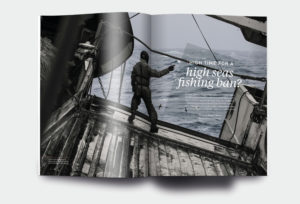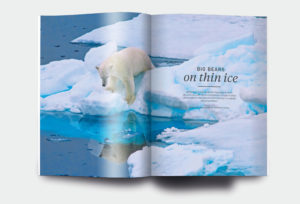 Learn more about the magazine
Oceanographic Magazine uses beautiful photography and captivating storytelling to transport both the wonder and plight of the ocean into people's homes. It is a magazine that aims to bring our blue planet to life, to connect and inspire.
About the ocean. For the ocean.
Read more

about magazine