Biomass boom
Issue 02
Discover what makes Raja Ampat so special / Learn more about the plastic problem in Galapagos / Find out more about a new app that is hoping to put the power to change in the palm of fisherfolk's hands in Mozambique / Join adventurer Sian Sykes on her circumnavigation of Wales / Freedive a famous local reef off Plymouth, England / Be part of an exciting experiment that casts two 'shipwreck survivors' adrift in the open ocean for two days to learn more about oceanic whitetips
£10
BIOMASS BOOM IN INDONESIA
In a remote corner of Indonesia, reefs are flourishing and shark populations are booming. As other parts of the world's ocean continue to decline – both in terms of reef health and species stocks – what makes Raja Ampat so different?
CREATING A CLEANER FUTURE IN GALAPAGOS
The pristine shores on which Charles Darwin landed are no more; Galapagos, like all archipelagos, has a plastic problem. But could the mapping of ocean currents help alleviate – or perhaps even solve – the problem?
SMART PHONE FISHING
Coastal communities in Mozambique rely on the ocean for food and jobs, but small-scale fisheries lack the means to create a sustainable future for both the ocean and the industry. A new app is hoping to put the power to change in the palm of fisherfolk's hands.
PADDLING AGAINST PLASTIC
Stand-up paddleboard versus single-use plastic. Adventurer Sian Sykes circumnavigated Wales in a bid to highlight the problem of marine plastics. Her two-month journey is a tale of endeavour, reconnection and change.
COMMUNITY CONSERVATION
A famous local reef off Plymouth, England, dredged to near-destruction by scallop trawlers, is recovering thanks to protection from government and funding from local business. Some of the UK's top freedivers went to check it out.
'SHIPWRECKED' WITH OCEANIC WHITETIPS
Legend has it that oceanic whitetips are the scourge of shipwreck survivors. For this year's Shark Week, a Discovery Channel team put the theory to the test by casting two 'shipwreck survivors' adrift in the open ocean for two days.
behind the lens
Each issue, Oceanographic talks with one of the world's leading ocean photographers and showcases a selection of their work. In this edition, we meet renowned conservationist Cristina Mittermeier, Co-Founder of SeaLegacy.
Columnists:
Marine biologist Dr Simon J Pierce, 

Principal Scientist at the Marine Megafauna Foundation, discusses the magnetic mystery of whale sharks in Galapagos.

Big wave surf champion Dr Easkey Britton 

talks candidly about the life lessons we can learn through surfing, such as living in the moment and developing the ability to 'just let go'.

Shark ethologist – and 2018 Shark Ambassador of the Year – Ocean Ramsey 

offers advice on how readers can contribute 

to the protection of the ocean and the many species, including sharks, that call it home.

The team at Project AWARE Foundation

, Oceanographic's primary charity partner, reveal how they are working to protect North Atlantic Shortfin Mako sharks – and how readers can help.
Magazines & books: All orders shipped from the UK. Postage prices vary depending on shipping destination. EU customers may have to pay an additional customs charge. Most international deliveries take 1-3 weeks. Want to avoid shipping? Explore our Digital Ocean Hub subscription. Any orders fulfilled by a third party are subject to that party's shipping T&C's.
A taste of what´s included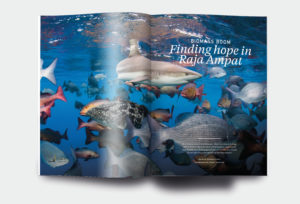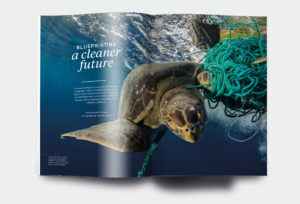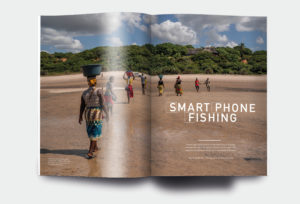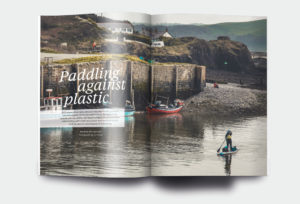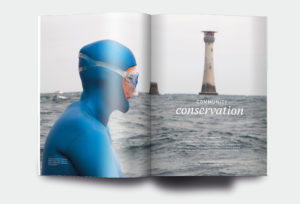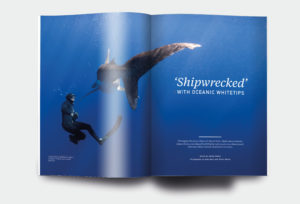 Learn more about the magazine
Oceanographic Magazine uses beautiful photography and captivating storytelling to transport both the wonder and plight of the ocean into people's homes. It is a magazine that aims to bring our blue planet to life, to connect and inspire.
About the ocean. For the ocean.
Read more

about magazine